Smoky & Spicy Mezcal Paloma Cocktail
If you like a margarita made with tequila, you will also like a refreshing paloma cocktail. The paloma is made with smoky mezcal, a close cousin of tequila. Both cocktails are citrus-forward, yet the paloma is infused with the spice of a jalapeño pepper and the smoke of mezcal. You definitely will want to try a paloma this summer.
Like myself, you might be wondering what the difference is between tequila and mezcal. Aren't they the same? Yes and no. Tequila and mezcal are both made from the agave plant that is native to certain regions of Mexico. Tequila is produced mainly in the Pacific coast state of Jalisco. Mezcal is specific to two regions of Mexico: Durango, north of Jalisco, and Oaxaca, farther south.
To be more specific, Tequila is only produced from blue agave while mezcal can be distilled from over 40 different varieties of agave plants. Basically, tequila is a very specific variety of mezcal. However, the distillation processes are quite unique. Tequila is produced in ovens while mezcal is distilled in below-ground fire pits using wood charcoal. This is what gives the spirit its smoky flavor and what we are looking for in a smoky and spicy paloma cocktail.
In addition to the smoky mezcal, a paloma is made with grapefruit and lime juice. It also has simple syrup that is infused with fresh jalapeño peppers. The drink is topped with sparkling water or seltzer. I like to use a combination of smoky mezcal and good tequila for this recipe. Like a margarita, the glass can be rimmed with salt or smoked salt to further enhance the smoky theme.
This smoky and spicy paloma cocktail is actually pretty easy to make. This recipe is for 2 cocktails. I highly recommend doubling or tripling the recipe and making a pitcher for you and your friends. This is a perfect cocktail to accompany a hot summer evening barbeque with dry-rubbed chicken drumsticks or melt-in-your-mouth barbequed ribs, coleslaw, and chorizo mac and cheese.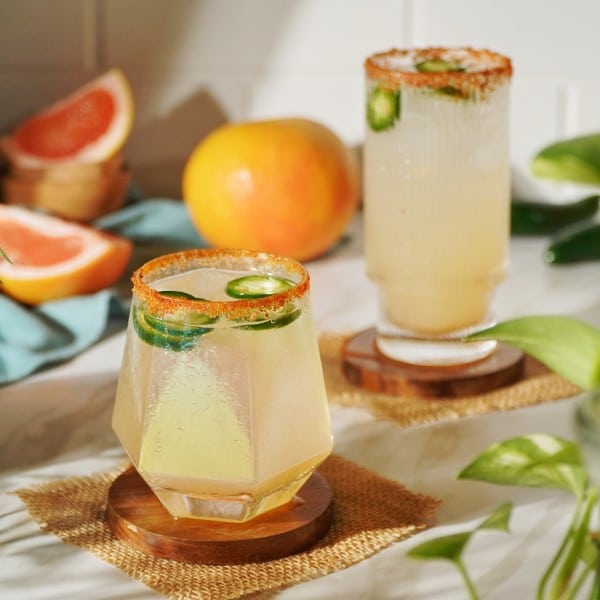 Ingredients
½

cup

of water

½

cup

sugar

1

large jalapeño pepper

sliced in half lengthwise

1

Tbsp

smoked salt

1

tsp

chipotle chili powder

1

ounce

infused simple syrup

2 ½

ounces

mezcal

1

ounce

silver tequila

4

ounces

¼ cup freshly squeezed grapefruit juice

2

ounces

freshly squeezed lime juice

Wedge of lime

Ice for serving

2

splashes of sparkling water or seltzer

Jalapeño slices or grapefruit peel twist for serving

optional
Instructions
All ingredients ready? Let's begin!

The simple syrup: In a small saucepan over medium-high heat, bring the water and sugar to a simmer. Add the halved jalapeño pepper. Stir occasionally until the sugar has dissolved. Remove the pan from the heat, cover, and allow this to sit until cool. Remove the pepper halves and store the simple syrup in a sealed jar in the refrigerator until ready to use. You will have extra for more cocktails.

On a small flat plate, combine the smoked salt and chipotle powder. This will be the rim for the glasses.

Using a cocktail shaker or small pitcher, combine 1 ounce of the simple syrup, the mezcal, tequila, grapefruit juice, and lime juice. Shake or stir to combine well.

Coat the rims of 2 (8-ounce) old-fashioned cocktail glasses with lime from the wedge. Dip the rims of the glasses in the salt and chipotle powder.

Fill the glasses with ice. Pour the mezcal cocktail over the ice and top each drink with a good splash of sparkling water.

Serve right away. You can garnish with a slice of jalapeno or a twist of grapefruit peel.
Nutrition
Calories:
388
kcal
|
Carbohydrates:
71
g
|
Protein:
1
g
|
Fat:
0.5
g
|
Saturated Fat:
0.04
g
|
Polyunsaturated Fat:
0.1
g
|
Monounsaturated Fat:
0.03
g
|
Sodium:
3619
mg
|
Potassium:
210
mg
|
Fiber:
1
g
|
Sugar:
68
g
|
Vitamin A:
470
IU
|
Vitamin C:
43
mg
|
Calcium:
46
mg
|
Iron:
1
mg
Notes & Tips
You can make the simple syrup a day or more in advance. There will be more than enough simple syrup for this cocktail. You can store it in the refrigerator for a couple of weeks or triple this recipe to make a pitcher of paloma cocktails.
When using fresh citrus, it is best to juice it shortly before adding it to the cocktail for the best flavor.
I enjoy serving this cocktail in an old-fashioned glass. This is a short glass also referred to as a lowball. If you want a larger cocktail, this works in a highball glass just as well. You can also serve a paloma in a stemmed margarita glass for a touch of elegance.
Substitutions & Shortcuts
If you want a little more spice, try a habanero or red Thai chili pepper instead of jalapeño.
There isn't a real substitute for the smoky flavor of mezcal in this recipe. I like to combine mezcal and silver tequila for a smoother tasting cocktail. You can use all mezcal if you really want a smokier flavor. Or, just use good silver tequila if the smoke isn't your thing.
There is not a great substitute for freshly squeezed grapefruit and lime juice. If you are pressed for time or can't find fresh citrus, feel free to use a good refrigerated grapefruit juice. Though, I wouldn't use bottled lime juice. It would be better to use fresh lemon juice or just leave that component out of the cocktail and add a little bit more grapefruit juice.
If you would like to enhance the citrus flavor, top the cocktail with grapefruit or lime-infused seltzer. I have even seen recipes that call for grapefruit soda. If you use soda, you might want to skip or go lightly on the simple syrup.
---
Recent Recipes