Simple Vegan Bulgarian Potato Salad
I wish I had known about this Bulgarian Potato Salad earlier as it is easy and quick and saves a ton of time. And with a few variations, can have a different flavor profile each time you make it. Potato is the vegetable of choice when I am pressed for time but need a wholesome meal. The fact that it is so versatile is an added bonus. It can be cooked, baked, roasted, mashed, fried and so much more. And what is more it is filling and nutritious. I am not recommending loading up on French fries, but generally potatoes make a wholesome addition to most meals. Soups, sides, fillings, entrée it runs the entire gamut and always comes out on top. Traditional potato salad with mayo was my favorite growing up. But this Bulgarian potato salad is outstanding. Potato salad is usually creamy and heavy, this is light and has no mayonnaise and the interesting assortment of herbs and condiments make it sing. But because it is not heavy, it is easy to overindulge.
I love making this, because if I ever have any leftovers, they make a nice filling for a sandwich, or it can be eaten over warm rice.
This is a straightforward, super simple recipe. You just need good, solid, waxy potatoes that are cooked right. That's the hard part, see how easy this dish is. Then a sprinkling of herbs and garnishes and it makes a great addition to a picnic or big potluck or even just brighten up and simplify a weekday meal. Add this Bulgarian potato salad to your menu rotation.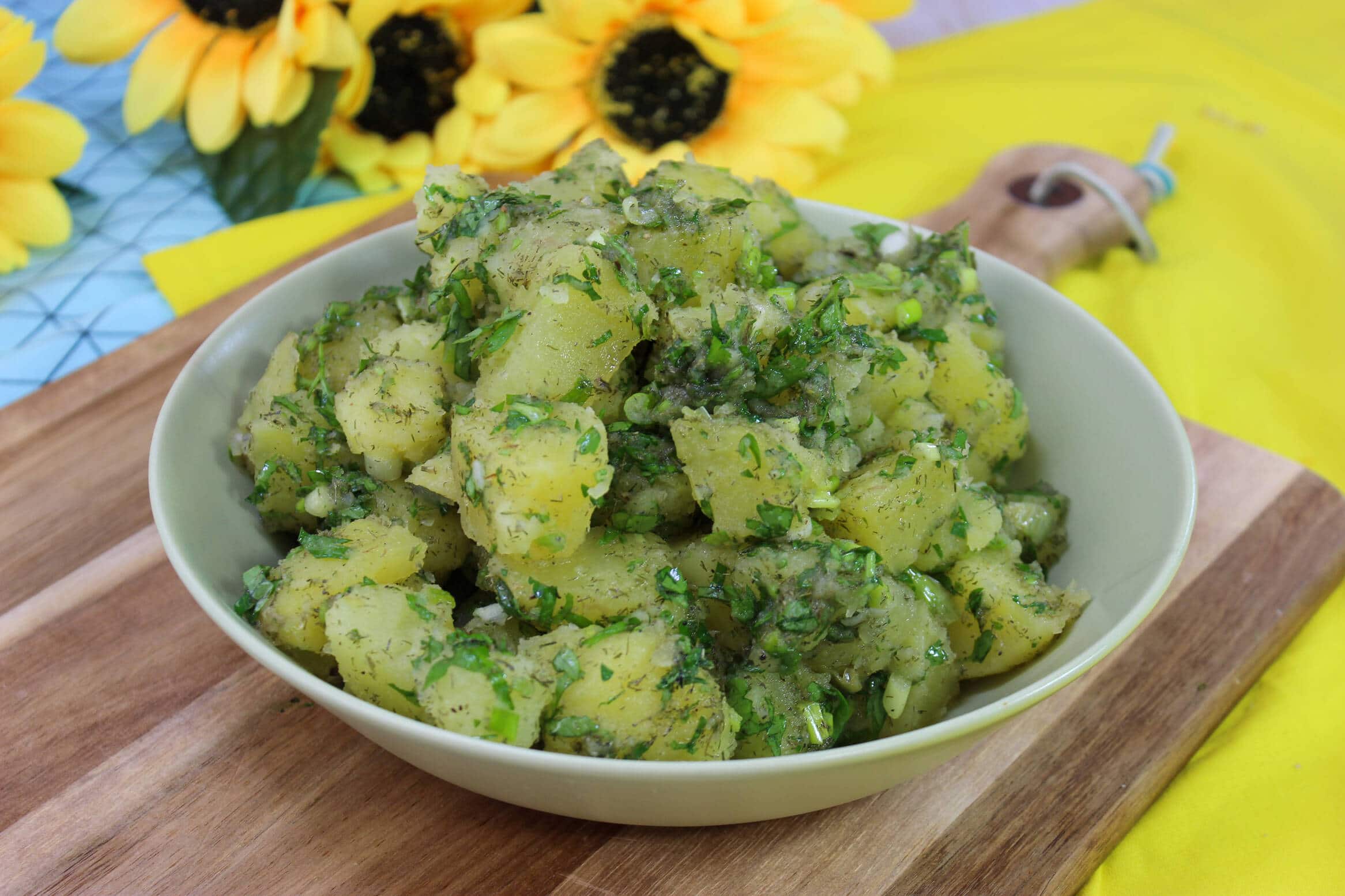 Ingredients
6

medium potatoes

3

scallions

chopped finely

3

tablespoons

extra virgin olive oil

1 ½

tablespoons

fresh lemon juice

Handful of dill

chopped,

Handful of parsley

chopped

Salt and pepper
Instructions
In a large pot place the potatoes skin-on and fill with water until all the potatoes are fully submerged. Sprinkle generously with salt.

Bring to a boil over low to medium heat and cook till the potatoes are done. This should take about 15 minutes. The potatoes should get soft.

Drain and run the potatoes under cold water to stop the cooking process. Let them cool.

Now peel (optional) the potatoes and cut them into cubes.

Cut the scallions finely

In a bowl add the olive oil, lemon juice, salt, pepper, dill and parsley and mix well.

Now add the potatoes and spring onions and mix well together till the vegetables are well coated in the dressing.

You can garnish with more pepper and parsley or dill.
Video
Nutrition
Calories:
342
kcal
|
Carbohydrates:
56
g
|
Protein:
7
g
|
Fat:
11
g
|
Saturated Fat:
2
g
|
Polyunsaturated Fat:
1
g
|
Monounsaturated Fat:
8
g
|
Sodium:
21
mg
|
Potassium:
1370
mg
|
Fiber:
7
g
|
Sugar:
3
g
|
Vitamin A:
96
IU
|
Vitamin C:
65
mg
|
Calcium:
45
mg
|
Iron:
3
mg
Tips and Tricks
Choose a nice waxy potato over a starchy one, as they tend to fall apart.
The potato should have thin skin, small red potatoes are the best choice for this salad.
You can choose to leave the skin on as it adds an extra yummy texture to the salad
Make sure the potatoes have not sprouted and are not wrinkly, green or old. You have to use fresh, ripe, waxy potatoes.
Smaller potatoes work well for this recipe
Don't overcook the potatoes, as it will then fall up apart and become mushy with the dressing.
You can add some herbs and spices to the water when cooking the potatoes, it lends it a subtle flavor. I like to add garlic to the water, as adding raw garlic or garlic powder directly to the salad gets too overpowering. You can also add chives or any other herb of your choice to the water.
Storage
This salad refrigerates great for up to 3-4 days. You can also make it ahead. Boil the potatoes and put in an airtight container or cover with saran wrap and refrigerate for 3-4 days. You can take them out peel and use them when you need it.
I would not recommend freezing the salad with the dressing on it as it will get soggy and it will get even mushier after thawing.
FAQs:
What happens if I overcook the potatoes?
There is no easy answer or solution to this age-old problem. If you have overcooked potatoes, there are one of two things you can do: go ahead with the recipe as planned but will come out clumpy. Or what I would suggest is mash the potatoes slightly and add the dressing and serve as smashed potato salad. It tastes exactly the same, just a softer texture. Make sure it isn't as mushy as mashed potatoes.

But if you chronically overcook potatoes, steam them for this salad. Sometimes it takes a bit longer to get them as tender, but it is well worth the effort.
Can I use regular onions if I don't have scallions?
Yes, absolutely. In fact, red onions work great with this. I prefer scallions as I don't like the taste of raw onions; and scallions, shallots and chives are much milder.
Substitutions
Potatoes: small red potatoes are the best for this. If you don't have any, you can go with a gold or Yukon, just avoid Russet potatoes as the skin is too thick and they are too starchy to hold up.
Scallions: You can use red onions, shallots or chives.
Parsley: Cilantro is a fantastic substitute
Dill: Basil, sage, tarragon and chives are good replacements
Olive Oil: any vegetable oil or even avocado oil will work
Lemon juice: It gives this dish some freshness, and you can replace with lime or lemon pepper
Garnish: You can garnish with pepper and chili flakes.
Accompaniments
This Bulgarian potato salad is ideal for a summer's lunch. It is perfect for barbecues, picnics and big Sunday lunches. It goes well with everything. Barbecued meat, chicken wings, burgers or hotdogs, the potato salad is the perfect accompaniment. It also pairs well with this Diablo Sandwich.
For more interesting salad recipes, try the Eggplant Salad or Thai Beef Salad.
---
Recent Recipes