One cool November Sunday morning, I made the trek to Manhattan to cheer on family members who were running in the NYC Marathon. After the race, I met up with the weary and battered participants to hydrate and load up on depleted carbs and protein. My niece had planned for us to walk from Central Park to Tribeca to a little bar with great food that wouldn't mind sweaty bodies wrapped in mylar blankets.
When we got there, the place was packed with football fans watching a Giants game. We had to instead go to a cute little dive next door. Everyone was exhausted, so it was fine. We ordered beverages and I went to the bar to order food. I am not kidding when I say that the only thing this place served was tater tots. You could order tater tots several different ways, but only tater tots. I was perplexed but went with the flow and ordered a variety of tater tot platters. They were insanely good.
I think tater tots are an overlooked food group. Yes, they are fine right out of the oven, hot and crispy, served with ketchup. But these magic bullets can transform a dish into something fun and fairly healthy for kids to enjoy. A tater tot casserole is an ingenious and sneaky way to get them to eat more vegetables.
You can make a complete one-pan meal that has protein, vegetables, dairy, and carbohydrates that hits all the food groups and will please most palates. My tater tot casserole has ground beef, eggs, spinach, cheese, and tots. I bake it until crisp on the top in a cast-iron skillet. Then, you cut it into wedges like a deep-dish pizza. This is definitely a fun casserole to make and to eat.
I will offer variations for those with particular dietary needs or restrictions after the recipe.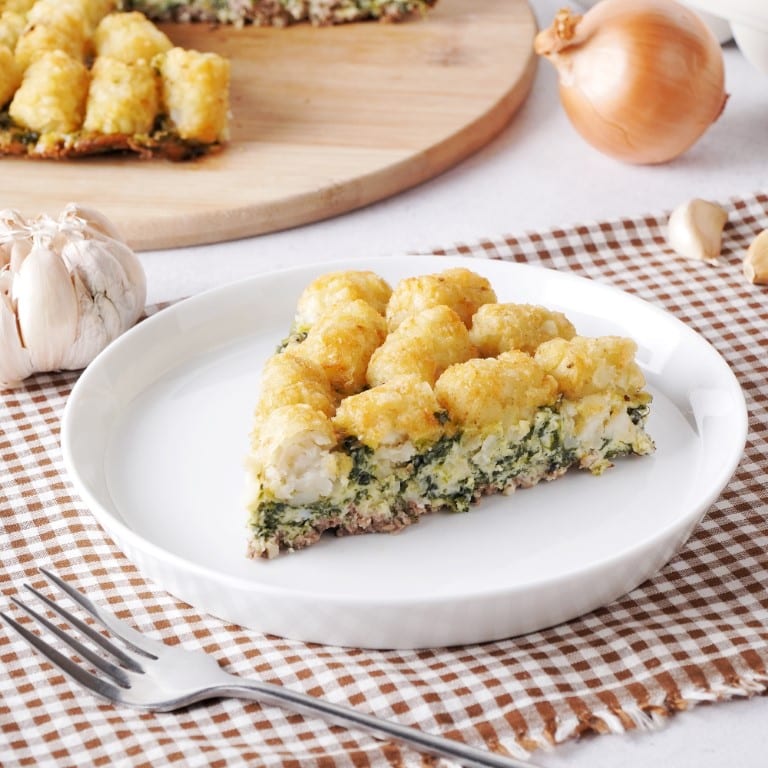 Ingredients
2

Tbsp

butter

½

cup

finely chopped onion

Two 10-ounce packages of frozen spinach

defrosted and drained of all moisture

1

cup

heavy cream

1

cup

whole milk

¼

tsp

ground nutmeg

4

ounces

cream cheese

4

ounces

grated parmesan cheese

¼

tsp

sea salt

½

tsp

freshly ground pepper

3

whole eggs

beaten

1

Tbsp

extra virgin olive oil

2

cloves

of garlic

minced

2

tsp

Italian seasoning herbs

1

pound

of lean ground beef

½

tsp

sea salt

½

tsp

freshly ground pepper

A few dashes of Worcestershire sauce

2

pounds

of frozen tater tots

Extra virgin olive oil for brushing on top
Instructions
All ingredients ready? Let's begin!

In a 12-inch heavy-bottomed and oven-proof skillet, preferably cast iron, over medium heat, melt the butter. Add the onions and cook until softened. This will take approximately 5 minutes, stirring often.

Squeeze any excess moisture out of the spinach. Add it to the onions in the pan and cook until warmed through, about 2 minutes.

Stir in the cream, milk, and nutmeg. Cook, stirring often until the liquid has nearly evaporated, approximately 8 minutes. Add the cream cheese, parmesan, salt, and pepper. Stir well until the cheese is incorporated throughout. Transfer the creamed spinach to a large bowl and allow it to cool.

Preheat your oven to 425°F. Using a paper towel, wipe out the skillet.

Return the skillet to the stove and turn the heat to medium-high. Add the olive oil and the garlic. Cook the garlic until it is fragrant, about 1 minute. Add the Italian herbs to the pan and cook another 1 minute.

Add the ground beef to the pan and cook until completely browned. Break the meat up with a wooden spoon. This step should take about 5 minutes. Season with salt and pepper and a couple of dashes of Worcestershire sauce. Stir well and then spread the meat out into a single layer in the pan. Remove from the heat.

Add the beaten eggs to the spinach mixture and stir well to combine everything. Using a silicon or rubber spatula, spread the spinach over the beef in a single layer.

Arrange the tater tots in a nice circular pattern over the spinach.

Brush the tots lightly with olive oil. Place the skillet in the oven and bake until golden brown and bubbling hot, approximately 40 minutes.

Slice the casserole into wedges as you would a pie and serve while warm.
Nutrition
Calories:
888
kcal
|
Carbohydrates:
52
g
|
Protein:
31
g
|
Fat:
64
g
|
Saturated Fat:
26
g
|
Polyunsaturated Fat:
8
g
|
Monounsaturated Fat:
23
g
|
Trans Fat:
1
g
|
Cholesterol:
221
mg
|
Sodium:
1558
mg
|
Potassium:
1361
mg
|
Fiber:
6
g
|
Sugar:
6
g
|
Vitamin A:
10075
IU
|
Vitamin C:
39
mg
|
Calcium:
426
mg
|
Iron:
6
mg
Notes & Tips
I always like to place my eggs on the counter to allow them to come to room temperature before adding them to pretty much anything. Likewise, the creamed spinach should be at room temperature before adding the eggs so the eggs don't scramble.
You can actually prepare both the spinach and the beef layers a day ahead of time for easy assembly and baking after a long day of work or school. The only thing you can't do is add the eggs to the spinach and cheese until you are ready to assemble and bake the casserole.
Swap-Outs & Variations
Butter: I know this dish is heavy on dairy with butter, milk, cream, and cheese. If you want to ease off of some of that, start with the butter. You can for sure use olive oil, vegan butter, or ghee if preferred.
Cream and Milk: Again, if you want to go light on the dairy, you can substitute full-fat and unsweetened coconut milk for the cream and almond beverage for the milk.
Cheese: There are some excellent vegan cream cheeses that you can use instead of the real thing. I like nutritional yeast in place of parmesan. But……. if you want to stay with real cheese and want to change that up, use gruyere in place of cream cheese and mild cheddar instead of parmesan. I think this is a combo that would appeal to both adults and kids. 
Eggs: The eggs make this casserole a little fluffy in the center, like a frittata. I love that. But I don't eat eggs often, due to a minor allergy. I think plant-based liquid eggs work just as well in this recipe. Sometimes, I will substitute butternut squash puree for eggs in loaves of bread and casseroles. I often make my own, but there is a great canned organic butternut squash that has nothing else added to it.
Ground Beef: I make a mean shepherd's pie without meat. I use a combination of cooked lentils and chopped mushrooms as the base layer. That would work great here as well if you don't eat meat. I also think this could be an interesting seafood casserole by using flaked salmon or crabmeat as the base layer.
Tater Tots: Well, there really isn't a great substitute for the tots in a tater tot casserole. However, there are gluten-free tater tots if you look closely in the freezer section of your market. Yes, many tater tots have a gluten-based flour coating to help them crisp up. I think you could also use frozen hashbrowns as the top layer. I also like really crisp frozen waffle fries layered on top of this dish. They get crunchy like potato chips. And don't forget the new kids on the block – sweet potato and cauliflower tots. These are great options if you are avoiding nightshade vegetables and fruits.
---
Recent Recipes