Easy Chicken Tempura Roll
I make sushi rolls often because they are delicious for a quick weeknight dinner and then I can have any leftovers for lunch the next day. Because I often eat leftover sushi rolls, I tend to avoid raw seafood in my rolls if I am going to have them the next day. I leave raw fish rolls to the experts at my insanely good sushi bar right down the street from me. They source the freshest seafood.
For my homemade rolls, I often use canned tuna or salmon, cooked shrimp, braised short rib meat, or leftover shredded chicken. I also love a completely vegetarian roll with avocado, carrots, and cucumber. The rolls will either be eaten as is or fried in a tempura batter, as we are making here.
You will see many chicken tempura sushi roll recipes that call for using frozen, breaded, cooked chicken tenders. These are basically chicken nuggets. I don't often eat frozen chicken nuggets. I find many of them to be gummy and full of ingredients that I really don't want to eat, such as gluten, sodium, and msg. As well, these nuggets aren't even remotely close to tempura.
My chicken tempura sushi roll recipe calls for nori, sushi rice, cooked chicken, veggies, and fruits (avocado). The rolls are dipped in a rice flour tempura batter and sautéed in a neutral-tasting oil until a little crispy on the exterior. You dip the fried rolls in your sauce of choice and eat them warm.
You will need 2 cups of cooked sushi rice and cooked chicken breast that you can slice thinly or shred. 1 large boneless chicken breast should be enough. I generally roast or grill chicken on a Sunday so I have plenty for the week that I can top salads with, make sushi, and add to vegetable soup.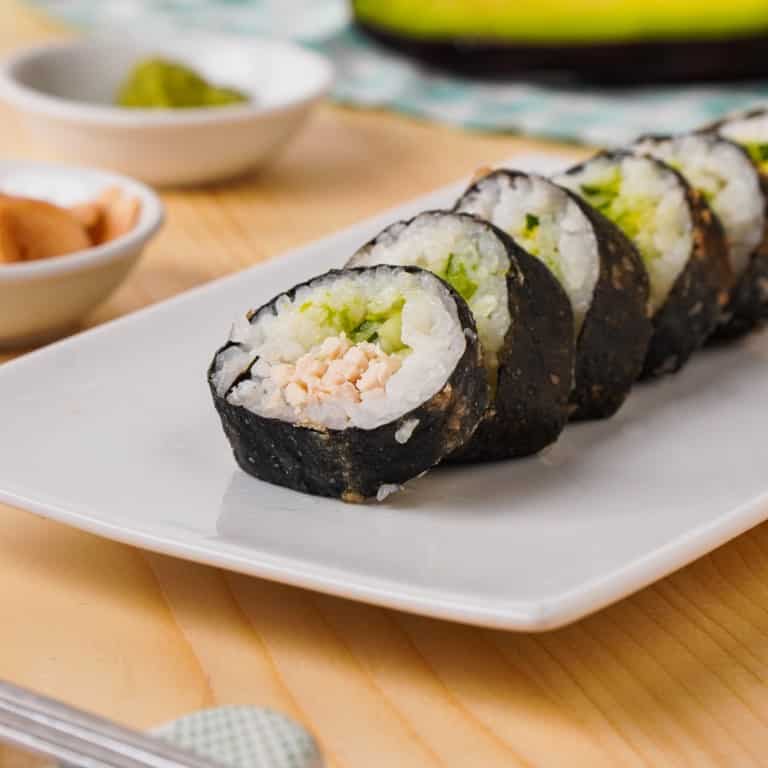 Ingredients
¾

cup

rice flour

2

tsp

cornstarch

1

cup

+ 2 Tbsp sparkling water

¼

tsp

sea salt

4

sheets of toasted nori

2

cups

cooked sushi rice

1

large cooked chicken breast

sliced or shredded

1

small cucumber

sliced thinly lengthwise into sticks

1

small avocado

pitted, peeled, and sliced

Vegetable oil for frying

canola, grapeseed, or avocado

Pickled ginger for serving

Wasabi paste for serving

Soy sauce or tamari for serving
Instructions
All ingredients ready? Let's begin!

In a medium mixing bowl, whisk together the flour, cornstarch, sparkling water, and salt. Set aside

Line your bamboo sushi mat with plastic wrap. Place one sheet of nori, shiny side facing down at the top edge of the mat.

Spread 1/2 cup of rice on the top 2/3 of the nori, using wet fingers to press it down.

Layer 1/4 of the chicken across the rice, approximately 1-inch from the side closest to you. Place a layer of 1/4 of the cucumber next to the chicken. Follow that with a layer of 1/4 of the avocado slices.

Starting at the full end, carefully roll the nori over the filling with the aid of the mat. Continue to roll tightly until all the filling is rolled up. Dampen the lower edge of the nori without rice with water or soy sauce. Continue to roll and press the damp end over the rest of the roll.

Set the roll aside, seam side down, and make the other 3.

In a large sauté pan over medium-high heat, warm 1/3 cup of oil.

Dip the sushi rolls in the tempura batter to coat them evenly.

Add the rolls to the skillet and cook until golden and crisp, turning the rolls a few times to cook all surfaces. This will take about 4 to 6 minutes if the oil is hot enough.

Transfer the tempura rolls to a clean cutting board and slice them into pieces with a very sharp chef's knife or a specialty serrated knife.

Place the rolls on serving plates and enjoy with pickled ginger, wasabi, and soy or tamari sauce for dipping. Eat while still warm and crisp.
Nutrition
Calories:
364
kcal
|
Carbohydrates:
49
g
|
Protein:
18
g
|
Fat:
11
g
|
Saturated Fat:
2
g
|
Polyunsaturated Fat:
2
g
|
Monounsaturated Fat:
6
g
|
Trans Fat:
0.01
g
|
Cholesterol:
38
mg
|
Sodium:
488
mg
|
Potassium:
575
mg
|
Fiber:
5
g
|
Sugar:
1
g
|
Vitamin A:
250
IU
|
Vitamin C:
9
mg
|
Calcium:
27
mg
|
Iron:
1
mg
Notes & Tips
You can make your rice and chicken a day ahead of time and simply store them in your refrigerator until ready to assemble the rolls.
It helps to line the sushi mat with plastic wrap when rolling the sushi.
When placing the sushi rice on the nori, have a bowl of water nearby so you can wet your fingers. Sushi rice is very sticky and will cling to your hands if you don't wet them while pressing the rice onto the nori.
Substitutions & Variations
Rice Flour: I use white rice flour to make tempura batter. You can use brown rice four or all-purpose flour.
Sparkling Water: Sparkling water is a key ingredient in tempura batter. You can use club soda or plain seltzer if you don't have sparkling water on hand.
Rice: Sushi rice is Japonica or glutinous rice that is seasoned with vinegar and something a little sweet, such as mirin. It is naturally sticky and that is enhanced by the acid and sweet components. If you don't have time to make your own, you can pick up a container from your favorite takeout place. If you prefer brown rice, be sure to use short grain and cook it according to the package directions with the addition of vinegar and mirin.
Chicken: I mostly cook and eat skinless, boneless chicken breast that I will brine in a saltwater bath for about 30 minutes before roasting or grilling. You could make tempura rolls with shredded pork, beef, shrimp, or simply vegetables.
Vegetables: What I like about this roll is the different textures in the filling and the crust. Chicken is chewy, cucumbers are crisp and fresh, and avocados are creamy. You can definitely use carrots, scallions, daikon radish, or roasted red bell peppers for variety and color. There is no rule when it comes to the veggie and fruit components.
Wasabi: You can forgo the wasabi paste if you aren't a fan of spiciness of horseradish. Or, try sriracha sauce for the heat component.
Soy Sauce: Soy sauce is the salty component in this dish. I often use tamari or liquid aminos because they are both gluten-free. For something a little more interesting, try coconut aminos. This condiment is not made with soy and resembles a combination of soy and teriyaki sauce in flavor.
---
Recent Recipes