Awesome Air Fryer Chicken Fries
These are the best chicken fries you will ever make and have. They're delicious!! And they are so easy to make, you can whip them up in less than 30 minutes. And we are going to make them in the air fryer so no grease on your counters afterwards, so win, win, win!
Your main ingredients are going to be the chicken and the "batter". Make sure you get fresh, boneless, skinless chicken cutlets. This is going to save you time and make the cutting process easier. Chicken cutlets are generally thinner cuts of chicken, which make them perfect for the Best Air Fryer Chicken Fries. Slice them evenly into thin strips.
Now for the coating, we need panko breadcrumbs seasoned with herbs and spices. I have kept it simple, but you can go with seasoning you and your family prefer. We also need a couple of eggs whisked and of course flour. We then have to run the chicken strips through flour, eggs and breadcrumbs and we are ready to Air Fry them.
That's it, that is how simple the Best Air Fryer Chicken Fries are to make, not to mention quick. They make a great snack, a quick bite, a delicious appetizer and a filling side. I nice sauce or dip go wonderfully with these fries.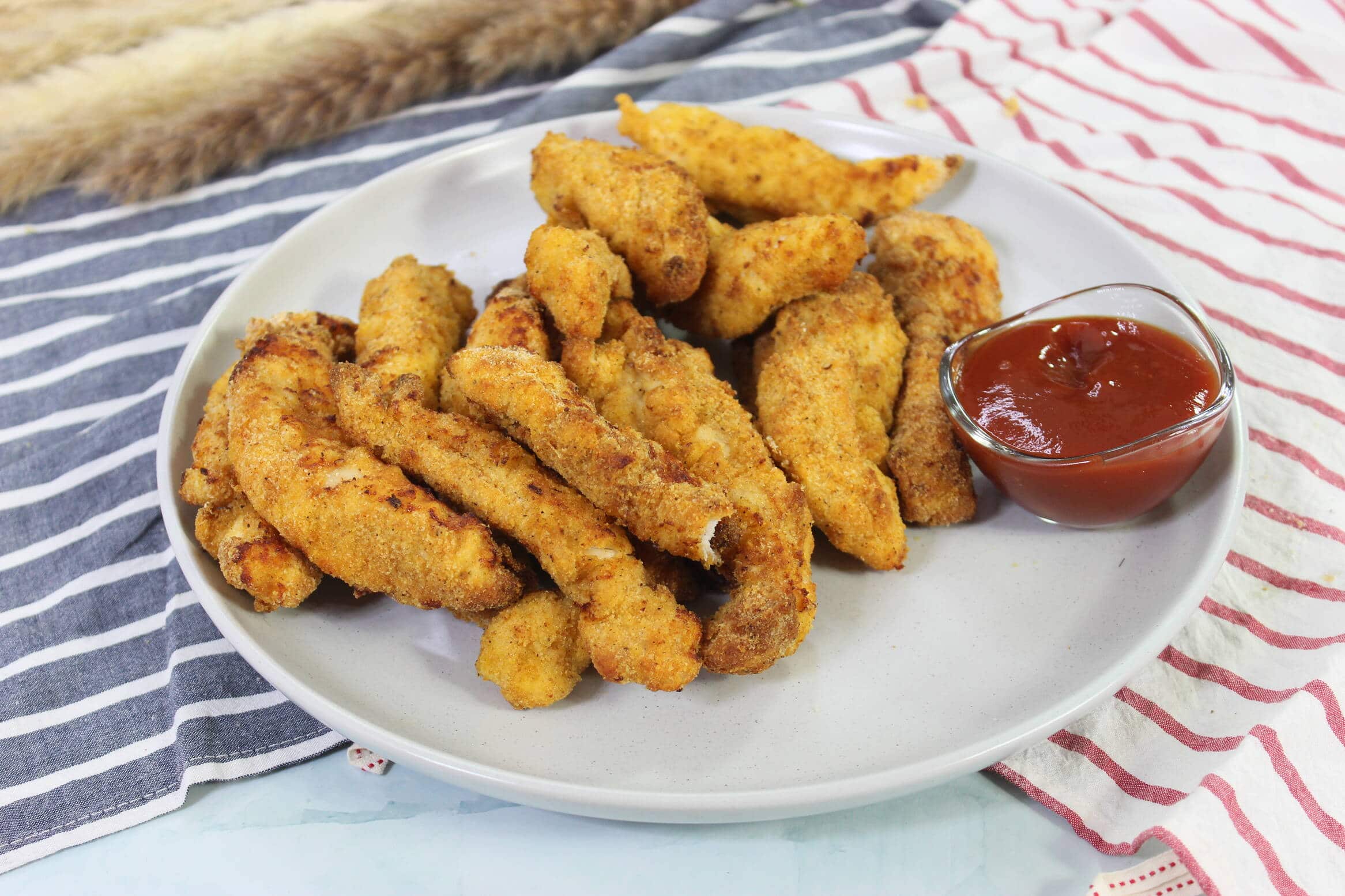 Ingredients
4

boneless

skinless chicken cutlets

2

cups

panko breadcrumbs

2

large eggs

1

cup

all-purpose flour

½

teaspoon

black pepper

½

teaspoon

paprika

½

teaspoon

garlic powder

Salt

Cooking spray
Instructions
Preheat the Air Fryer to 400 degrees F

Cut the chicken into thin strips and set aside

In a bowl add the panko breadcrumbs, the pepper, paprika, garlic powder and the salt. Combine with a fork.

In a shallow bowl whisk together the two eggs

In another shallow bowl place the all-purpose flour

Take a strip of chicken and dredge it through the flour, then dip it in the egg and finally coat it with the seasoned panko breadcrumbs. Repeat for all the strips of chicken.

Spray the air fryer and place the chicken strips in the fryer. Ensure they are not one on top of the other but spaced out well. Spray the chicken and then fry for 10-12 mins, flipping them halfway through. You will have to make the chicken fries in batches.

Remove from the air fryer basket once done.

Enjoy with your favorite dip.
Video
Nutrition
Calories:
460
kcal
|
Carbohydrates:
46
g
|
Protein:
46
g
|
Fat:
8
g
|
Saturated Fat:
2
g
|
Polyunsaturated Fat:
2
g
|
Monounsaturated Fat:
2
g
|
Trans Fat:
1
g
|
Cholesterol:
191
mg
|
Sodium:
449
mg
|
Potassium:
761
mg
|
Fiber:
2
g
|
Sugar:
2
g
|
Vitamin A:
190
IU
|
Vitamin C:
3
mg
|
Calcium:
82
mg
|
Iron:
4
mg
Storage
Okay, on the rare occasion you do have leftovers of the Best Air Fryer Chicken Fries, I would recommend tightly sealing them with either foil or in air-tight container and refrigerating them. They will last for about two days.
You can also freeze the chicken fries. Again, wrap them in foil or seal them in an air-tight container. Remember to let the chicken fries sit out for at least an hour before reheating. Else they will get soft and soggy.
If you want to make it ahead, the only prep you can do is cut the chicken strips and freeze them or put them in an air-tight container and place them in the coldest part of the fridge, right at the back, and they will last for a day or two.
Questions
Is this like chicken nuggets?
These are very similar to chicken nuggets, except for the shape. Chicken nuggets and chicken fries both have breaded batter and are deep fried, air fried or can even be baked. The staple of most fast-food chains, chicken nuggets and chicken fries have similar taste and texture.
How can I fry them without the Air Fryer?
It's easy to deep fry them in oil. Follow the recipe instructions from step 2 to step 6. Heat oil in a deep pan, once it is sufficiently hot, drop the breaded chicken in the hot oil. Once the chicken takes on a dark golden color and crispy texture, take the chicken fries out with a slotted spoon and place on paper towels to absorb the excess oil
Substitutions
This is a pretty straightforward dish, so there is not much that can be replaced in the Best Air Fryer Chicken Fries. You need to use chicken strips and for any kind of frying you need something that binds it and makes it crisp, which is where the flour, egg and panko breadcrumbs come in. One thing you can change up is the seasoning in the breadcrumbs. You can customize it to suit your taste, adding spices and herbs of your choice. Dried basil, onion powder, cayenne and oregano are just some of the alternatives you can use. You can also use a seasoning blends like Italian, Caribbean, Cajun and Peri Peri seasoning to name a few.
Accompaniments
What makes a good side for chicken fries? Everything. Hear me out, sure dips and sauces are obvious accompaniments to the Best Air Fryer Chicken Fries. Good old ketchup, ranch and honey mustard are all fantastic to dip chicken fries in. But they are also a solid side dish for burgers and sandwiches. The chicken fries are obviously a little heavier than regular French fries, but they still don't qualify as an entrée. You can have them along a nice warm sandwich or a juicy burger. For lighter alternatives, pair with soup and salad.
For a few more delicious chicken recipes, try the devilishly delicious Spicy Chicken Diavolo and these juicy Greek Chicken Wings.
---
Recent Recipes