Preparing an exotic dish like baba ganoush can seem quite daunting, especially considering it's not a homegrown recipe. But, as you're about to discover, you'll find that nothing is overwhelming about making this excellent eggplant dip. With a little bit of planning and armed with some knowledge, you can easily add baba ganoush to your menu.
Baba ganoush is made of roasted eggplant, olive oil, lemon juice, tahini, and various seasonings, pureed into a smooth and creamy paste. It is served with pita or flatbread, roasted meat, or vegetables for dipping. Roasting the eggplant, straining, and pureeing the flesh, are critical to a great dip.
Whether you regularly prepare exotic dishes or not, baba ganoush is not something you have to shy away from. Preparing it, serving it, and even storing it, can be pretty simple. It will undoubtedly be a popular dish at your next soiree. Let's look at some of the most frequently asked questions about baba ganoush.
What Is Baba Ganoush?
Like many dishes from the Middle East, the origin of baba ganoush is often debated, with countries like Lebanon, Syria, even Yemen, claiming credit for it.
We know that it came from The Levant, a name given to the entire region along eastern Mediterranean shores, which includes modern Syria, Egypt, Palestine, Jordan, Iraq, and Palestine.
Baba Ganoush is a spread, dip, or thick sauce made from roasted eggplant, which is pureed and mixed with olive oil, lemon juice, and various spices and seasonings.
It is often served as an appetizer but can form part of larger mezze platters or a side dish to meals like lamb chops, grilled chicken kebabs, or shawarma.
Mediterranean dishes like these are becoming more and more popular in the United States, with numerous restaurants now serving such items as baba ganoush, hummus, pita, shawarma, falafel, and the like.
All Your Baba Ganoush Questions Answered!
If you love Mediterranean flavors and feel a little adventurous in the kitchen, baba ganoush is one of the easiest and tastiest dishes to make. You're sure to impress your dinner guests when you serve it up, too. So, if you have some questions about baba ganoush, how to cook, serve, and store it, we're here to answer them all.
Where Does The Name Baba Ganoush Come From?
Most sources seem to agree that regardless of where the dish originated, the most probable meaning of the phrase baba ganoush comes from the Arabic saying baba gannuj. 'Baba' is a term of endearment for father (akin to daddy or pops), and 'gannuj' refers to being spoiled or pampered.
The story goes that the rich, luxurious taste of baba ganoush is linked to royalty, meaning the dish was likely prevalent in the palace of the Sultan. In this regard, the pampered father reference is most likely about the ruler himself.
What Does Baba Ganoush Taste Like?
As recipes for baba ganoush vary, the dish's taste can differ, depending on the ingredients used. For the most part, however, baba ganoush is savory with a strong, distinctive taste that you can enhance with the flavors of lemon juice, garlic, sesame seeds, chili, and even mint.
The most notable thing about baba ganoush is its texture. Made correctly, it is wonderfully smooth and velvety, with a thick, luxurious feel on the tongue.
How Long Does It Take To Make Baba Ganoush?
Recipes to make baba ganoush vary from region to region, but for the most part, making it shouldn't take too long, nor should the variance in seasoning and spices draw out the process.
Roasting your eggplant in a conventional oven will take the longest. You'll need around 45 minutes for them to get soft. If you're grilling or charring the eggplant for a smokier flavor, this will be quicker on an open flame.
Once your eggplant is ready, it needs to be scooped out of the skin and left to cool. A vital step also requires draining the moisture from the eggplant flesh. All of this could take another 25 minutes.
Once done, the other stages are quick and easy, with only a few minutes needed to blend, spice, and plate up. A reasonable estimate from start to finish is an hour or two in total.
What's The Best Way To Make Baba Ganoush?
Although the ingredients vary slightly depending on who you ask, the basics remain the same. In its simplest form, you'll need eggplant, tahini, lemon juice, olive oil, and salt. Tahini is a classic middle-eastern addition to the dish and is a paste made of toasted, ground sesame seeds.
An essential step in making baba ganoush is roasting the eggplant. There are various methods of doing this, although the traditional approach is worth noting as it brings out the smokiest taste in the eggplant.
Traditionally, eggplant is charred in the ashes of a wood fire, baked in a wood-burning oven, or roasted over an open flame.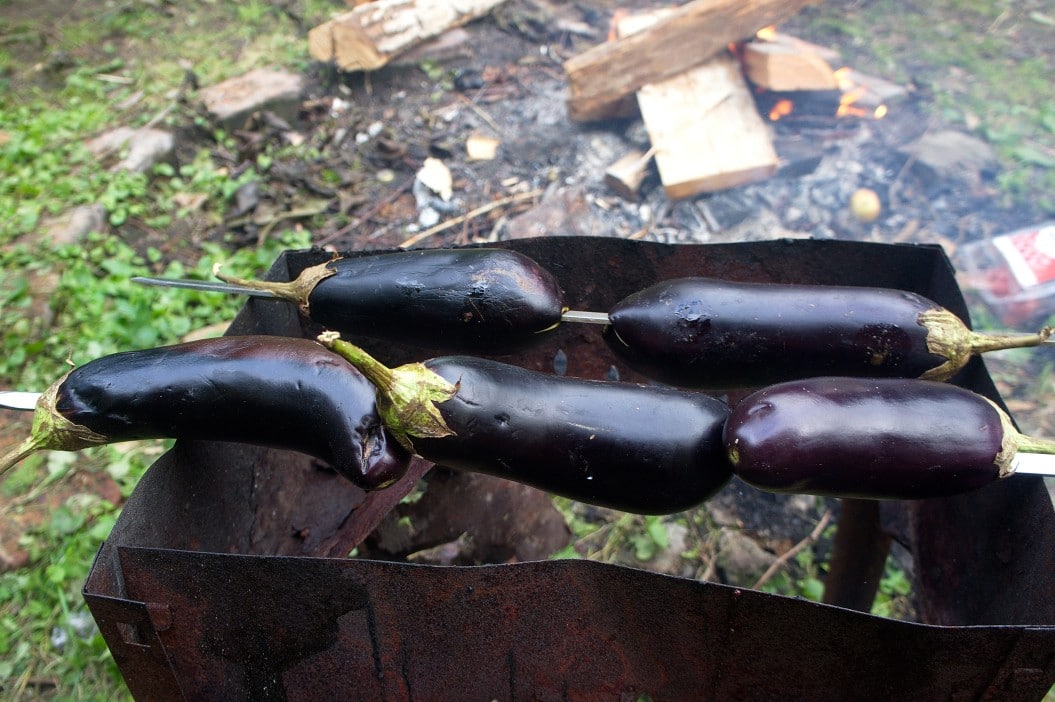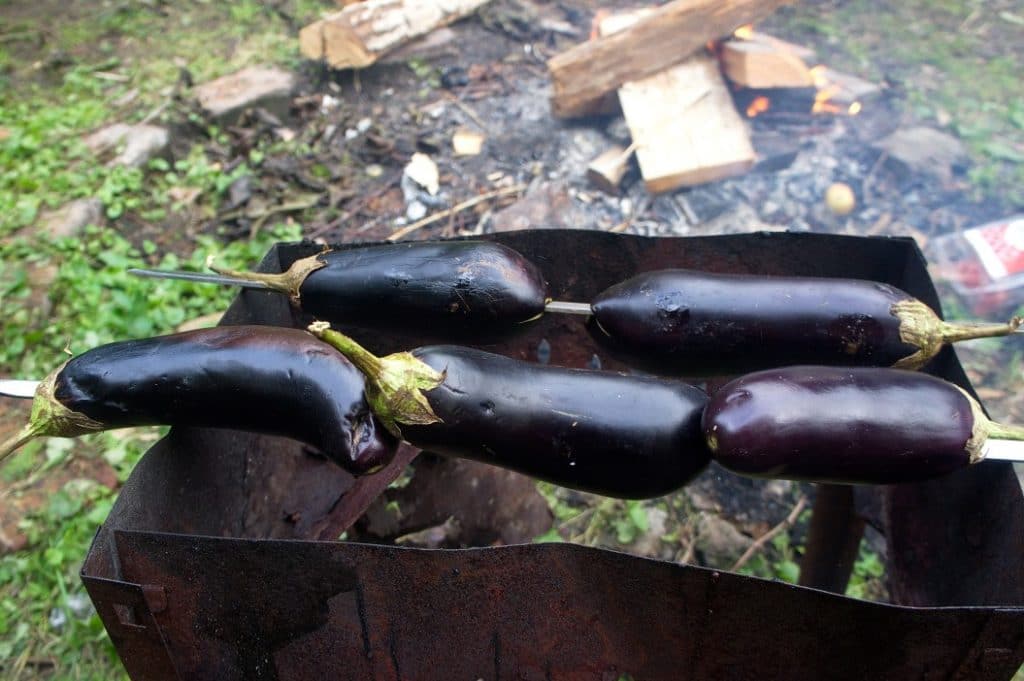 There are many modern iterations of this, but the most common include pricking the skin of two or three whole eggplants and popping them into a preheated oven for 45 minutes (turning them over halfway through).
If you have a grill with an open flame, you can roast or char the eggplant as burning the skin all over adds to the smoky flavor of the dish. To make baba ganoush, follow these simple steps:
Once the eggplant has collapsed in on itself in the roasting process and is quite squishy when you touch it. Remove it from the oven or fire, and set it aside to cool down.
Peel the skin or simply scoop out the flesh of the eggplant and strain it in a colander to remove the excess moisture. You can do this by pressing the back of a big spoon or ladle against the flesh.
Add the flesh to a blender with lemon juice, olive oil, and salt. Optional ingredients that you can add are garlic, smokey paprika, Greek yogurt, and chili flakes. Coriander and even mint leaves make for interesting variations too. Pulse until silky smooth.
Taste and adjust seasoning as needed before plating and serving.
Where Can You Buy The Ingredients For Baba Ganoush?
Most of the ingredients you'll need are easily found, and since the recipe is relatively simple, it's just a matter of sourcing fresh items. Eggplant can be found in most fresh produce sections, while the spices are easily sourced.
Tahini, which was historically not as readily available as it is today, shouldn't be problematic to find either. And, if all else fails just shop online. Tahini adds a great, smoky, sesame flavor to the dish and is worth keeping on hand if you love Mediterranean food.
Finding a high-quality extra virgin olive oil is also worth investing in.
How Do You Serve Baba Ganoush?
Once you've made the baba ganoush, you may be wondering how to serve it or what you can present to eat it with. It's imperative to note that you should always serve baba ganoush at room temperature.
So, once you've made your delicious, luxurious dip, you can drizzle some olive oil over the top for added flair and top with a variety of items that match your ingredients. Mint or coriander leaves, a sprinkle of paprika, some pine nuts, or even chili flakes for a pop of color as all look great.
The most popular way of serving baba ganoush is with pita, or as a spread on bread. It is incredibly delicious when used in a pita with grilled meat or falafel. It looks incredible when served with various colorful and fresh vegetables for dipping as part of a Mediterranean spread.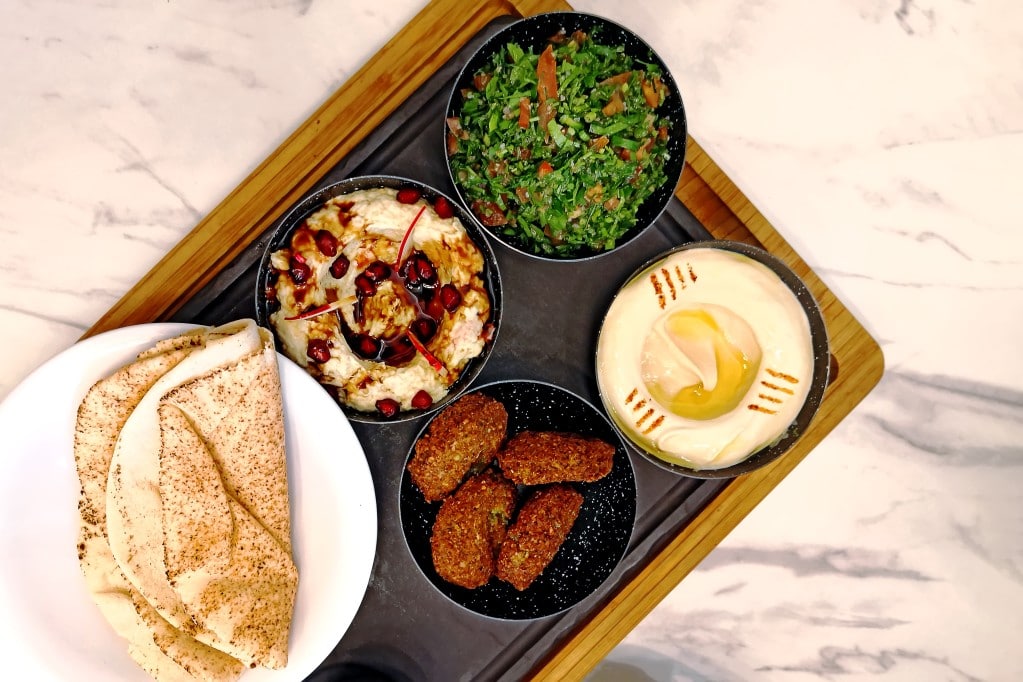 Some examples to pair it with include:
Carrot sticks
Sweet bell pepper slices
Sliced cucumber or zucchini
Roasted veggie chips
Falafel, pita chips, or flatbread wedges
Roast meat (lamb or chicken is great) or kebabs
How Long Does Baba Ganoush Last And How To Store It?
If you store your homemade baba ganoush in an air-tight container in the fridge, you should be able to keep it fresh for around five days. In some cases, you may even get it to last for about a week. Fortunately, it's so delicious, chances are it'll be eaten up way before then.
If you've made a large serving of baba ganoush and would like to freeze it, there are ways that you can do this too. For the most part, the spongy and porous flesh of the eggplant isn't great for freezing, but since it's been pureed in the process of making baba ganoush with most of the moisture already removed, it's possible to freeze and thaw it successfully.
Additionally, using lemon juice helps to prevent any bitterness that may arise after thawing.
The best tips for storing baba ganoush in the freezer include straining it first to remove as much of the water as possible to avoid ice crystals forming, which also leads to a change in consistency and the ingredients separating.
But, if you strain the baba ganoush through a cheesecloth first to remove moisture, spoon it into a freezer bag, and smooth it out as flat as possible, you should be good to go!
When you want to thaw the mixture, let it sit in a strainer lined with cheesecloth at room temperature. This will allow the remaining ice crystals and water to drain out.
Nutritional Facts About Baba Ganoush – Is It Healthy?
With all-natural ingredients and being relatively low in carbohydrates, baba ganoush is a healthy dish. Since it's served with vegetables, roasted meat, pita, or other flatbread, there's nothing particularly unhealthy about the way it's served either. Here are some nutritional facts about baba ganoush:
A quarter cup of baba ganoush has only 120 calories
Olive oil and tahini are both sources of good fat, which are suitable for heart health
A quarter-cup contains up to four grams of fiber, which meets more than 10% of your required daily intake
Hummus vs. Baba Ganoush: What's The Difference?
As both hummus and baba ganoush have a smooth, creamy texture and a similar coloring, it can be easy to confuse these two dips. To complicate matters, they also share many ingredients. The most significant difference lies in the main components and subsequent taste.
While baba ganoush uses roasted eggplant as the core ingredient, hummus is made from chickpeas. The rest of the ingredients are the same – garlic, tahini, lemon juice, olive oil, and salt, to name just a few. Both can be customized a little with your choice of seasoning.
The difference in taste is in the smokiness of the charred eggplant versus the starchy, almost nutty flavor from the chickpeas. Nutritionally, hummus is slightly higher in calories than baba ganoush too, courtesy of the calory-dense chickpeas.
Is Baba Ganoush Vegan-Friendly and Gluten-Free?
One of the benefits of serving baba ganoush is that it is acceptable by most people – even those with food intolerances or allergies. Baba ganoush is gluten-free, nut-free, and fully vegan friendly.
This makes it an ideal all-around appetizer for parties. The only thing to watch out for is what you serve it with. Pita and flatbreads could be problematic for those with allergies, and you'd need to be careful with roasts and other animal products if you're serving vegan guests.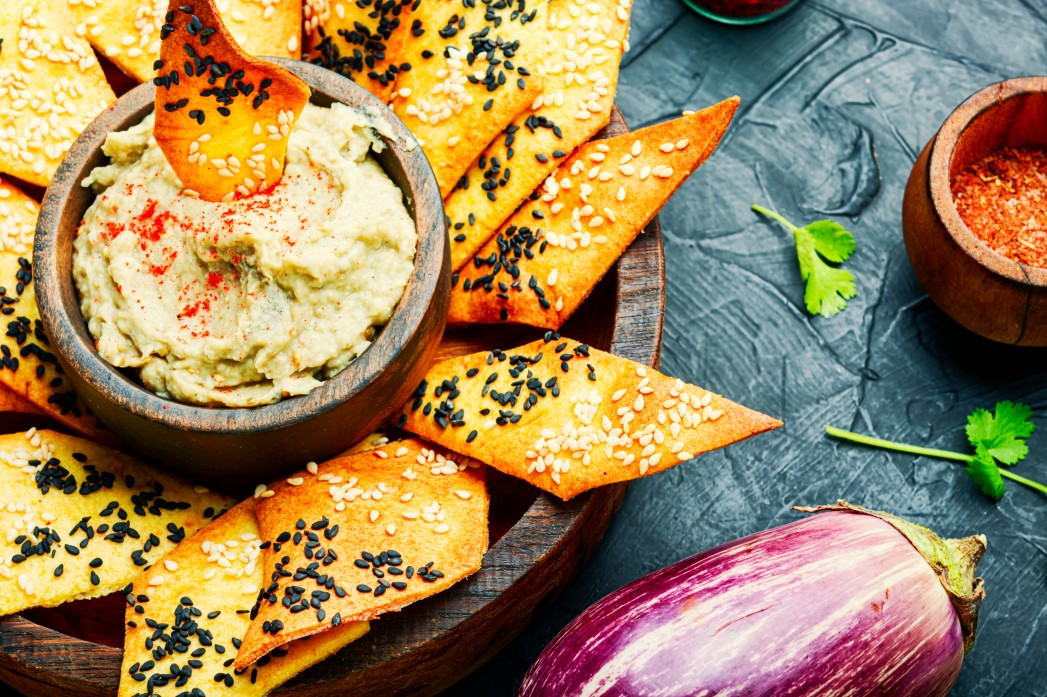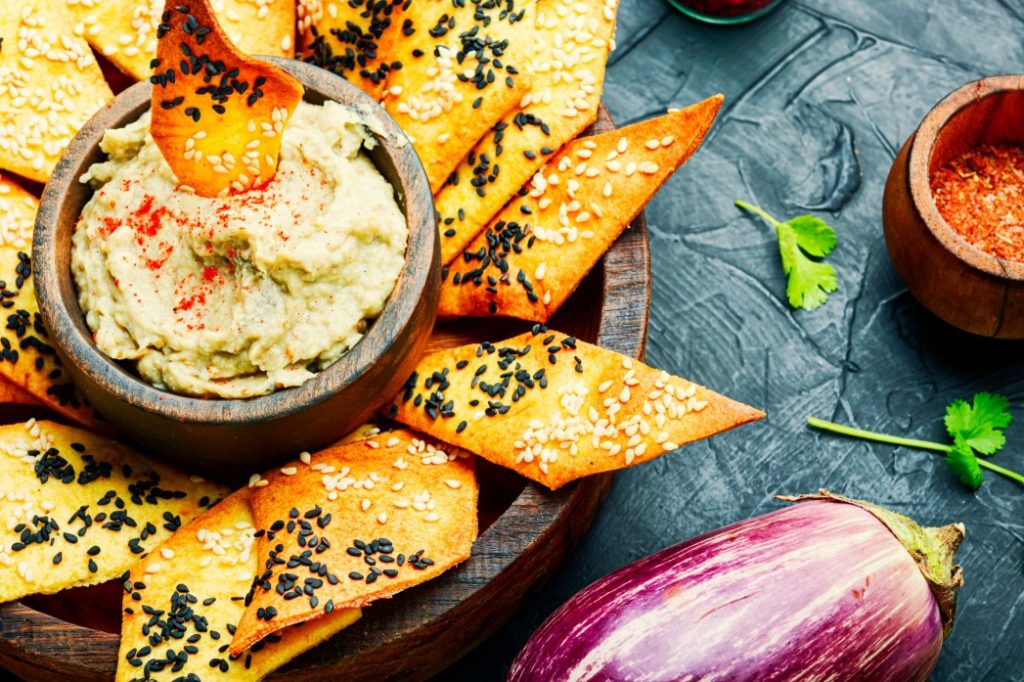 Can You Offset Bitter Baba Ganoush?
While the simple answer to this is yes, figuring out the reason for a bitter baba ganoush will help prevent a batch in the future. Eggplant can sometimes have an astringent and bitter taste, which can be counteracted after the roasting process by letting it drain properly of all moisture.
There's no harm in letting it sit in a strainer for a while, or pressing it through a cheesecloth. The best tip is to let it cool before doing this.
Many experts also recommend choosing smaller, more slender eggplants when you're shopping. These tend to be slightly sweeter than larger, chunkier types.
It's also important to check your ingredients and get the quantities right. Certain tahini brands can be too strong or have a bitter taste, so make sure to use just the right amount.
Enjoying Baba Ganoush
The rich, silky taste and texture of baba ganoush is a winner as an appetizer or part of a mezze platter spread. It's not overly difficult to make, and the only part of the process that takes a lot of time is correctly roasting the eggplant.
One of the most important tips when making baba ganoush is to strain the moisture from the roasting eggplant flesh before blending and adding other ingredients. This helps to get the right consistency and prevent bitterness.
Flavors in baba ganoush are predominantly smoky and savory but can be enhanced with spices of your choosing, too. It's an excellent part of any menu as it's suitable for vegans and most people who have food allergies. With a variety of serving options, it makes for a genuinely luxurious starter or main course accompaniment.
Now that most of the questions relating to baba ganoush have been answered, you should feel confident about attempting it yourself. Enjoy the adventure!
---
Recent Recipes