Easy Crocchè Di Patate (Potato Croquettes)
Crocchè, pronounced "croquet", is just that – a croquette, as spelled by the French. This is a popular street food or appetizer that originated in Sicily. It is made with potatoes that are mashed and then fried. The dish is more definitively referred to as crocchè di patate. It is believed to be influenced by French croquettes that are fritters made with a variety of ingredients, including potatoes. Potatoes were introduced to Sicily by Atlantic explorers in the seventeenth century.
It is believed that 17th and 18th-century Italian aristocrats employed French chefs and cooks to run their kitchens. Wealthy southern Italian families thought that the presence of a French chef raised their profiles and impressed those they entertained. These chefs were the ones who likely brought their croquette recipes to Italy.
The basic Italian croquette recipe is prepared with cooked and mashed potatoes that are fried until crunchy on the exterior and soft or fluffy on the interior. This is typical of most varieties of crocchè. There are variations of this recipe that include cheese, eggs, and herbs. This mixture is rolled in flour, breadcrumbs, or both and deep-fried or pan-fried in oil.
This specific crocchè di patate recipe is rich and flavorful because the potatoes are combined with melted butter, parmesan cheese, egg yolks, and fresh herbs. They are then coated in flour, egg whites, and breadcrumbs and fried in sunflower oil until golden brown and delicious.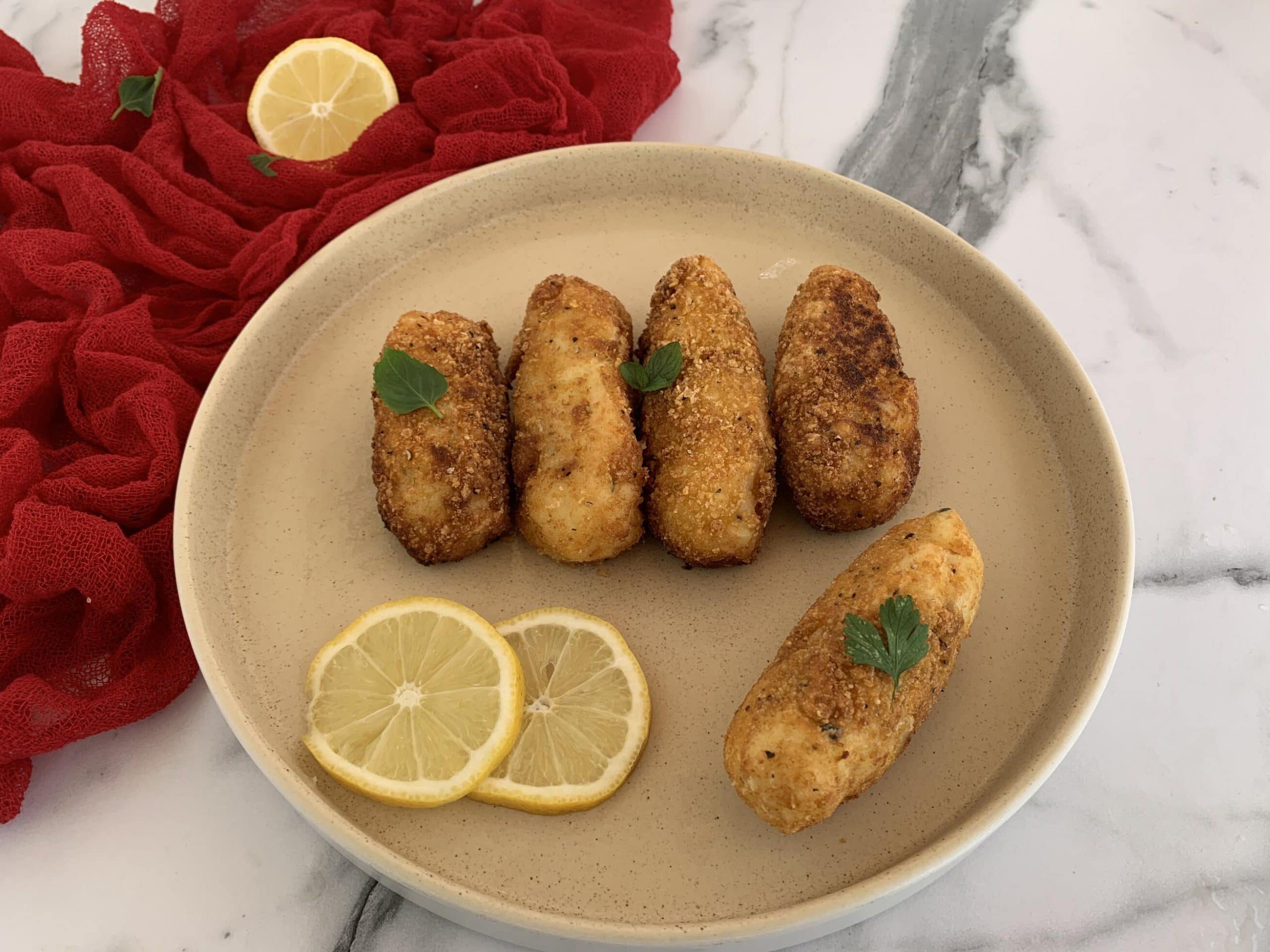 Ingredients
2-1/4

lbs

Idaho potatoes

washed and peels intact

3

TBS

unsalted butter

melted

4

TBS

freshly grated parmesan cheese

1

TBS

fresh parsley leaves

finely chopped

1

TBS

fresh mint leaves

finely chopped

1/2

tsp

sea salt

1/4

tsp

freshly ground black pepper

2

whole eggs

separated

2/3

cups

all-purpose flour

1

cup

fine breadcrumbs

4

cups

sunflower oil

Sea salt and freshly ground black pepper for seasoning

Lemon wedges for serving
Instructions
Assemble ingredients.

Place the potatoes in a large pot and cover them with cold water. Add a pinch of salt to the water. Bring the water to a boil. Turn the heat down to a rolling simmer and cook the potatoes until tender when pierced with a sharp knife.

Drain the potatoes in a colander and set aside until cool enough to handle. Once cool, yet still warm, peel the potatoes. Press them through a ricer or food mill into a large bowl. Alternatively, you can mash the potatoes. They can remain a little rustic. No need to purée them.

Add the butter, parmesan, parsley, mint, salt, and pepper. Mix together using your hands. Gradually add in the egg yolks, one at a time, and continue to mix with your hands until the yolks are well incorporated. Form the mixture into croquettes or cylinders that are 2 inches long. Set aside on a plate.

Grab 3 shallow bowls and set up a workstation. Place the flour in one bowl. Place the egg whites in the second bowl and whisk until frothy. In the third bowl, place the breadcrumbs and season well with salt and pepper.

Coat each crocchè with flour. Then dip into the egg whites and finally coat evenly with the breadcrumbs.

In a large, deep pan over medium-high heat, bring the oil to 350°F, or until a small cube of bread browns in about 40 seconds. Fry the crocchè in batches, about 4 at a time, until golden brown and crunchy. Remove with a spider or slotted spoon to a platter lined with paper towels or kitchen paper.

Enjoy the crocchè while hot with lemon wedges as a snack or appetizer.
Video
Nutrition
Calories:
1450
kcal
|
Carbohydrates:
18
g
|
Protein:
5
g
|
Fat:
153
g
|
Saturated Fat:
19
g
|
Polyunsaturated Fat:
6
g
|
Monounsaturated Fat:
124
g
|
Trans Fat:
1
g
|
Cholesterol:
72
mg
|
Sodium:
272
mg
|
Potassium:
206
mg
|
Fiber:
1
g
|
Sugar:
1
g
|
Vitamin A:
372
IU
|
Vitamin C:
3
mg
|
Calcium:
59
mg
|
Iron:
1
mg
Notes & Tips
There is no need to peel the potatoes for this recipe. When boiled with the skins on, the potatoes retain their form and texture. This is especially true when using a baking potato, such as Idaho.
You do want to fry these croquettes in a neutral-tasting oil with a high smoke point. Sunflower, grapeseed, or avocado all work well. While native to Italy, olive oil would be too strong of a flavor and doesn't really fare well with high heat.
You want the crocchè to be crunchy on the exterior and fluffy on the interior, almost like a fat French fry.
Substitutions
I call for Idaho potatoes because these are plentiful in the US. You could also use Russet potatoes. I don't recommend waxy potatoes, such as Yukon Gold or Red Bliss. You want the interior of the crocchè to be somewhat fluffy, not creamy.
Parmesan cheese is pretty perfect for these fried croquettes. It is dry and light when freshly grated. You could use pecorino instead. If making these for kids, your could add some stringy mozzarella cheese to the centers of the crocchè.
As for the herbs, mint is common in many Sicilian dishes. If you aren't that fond of the flavor of mint, you can use all parsley or whatever herbs you like in place of the mint, such as thyme or basil.
Accompaniments
I realize I likened these to French fries, but Nonna would turn over in her grave if you served ketchup with these. A little squeeze of fresh lemon juice is just fine. If you are trying to entice kids to eat them, you could serve a marinara dipping sauce on the side.
I like fried potatoes just as they are. If you are one who enjoys jazzing up your potatoes with more complex flavors, you might want to try peach jalapeño hot sauce to dip your crocchè in. This sauce is sweet and hot and very complex.
---
Recent Recipes