Simple Homemade Chicken Piadina
Almost any bustling village, city, or beachside town in Italy has street vendors with all kinds of tasty treats. One of the favorites is the piadina that is very popular in the Emilia-Romagna region of Northern Italy.
Piadina is a round flatbread that is cooked on a hot griddle or over a grill. It is then layered with fresh vegetables, cheeses, and salumi (cured meats) or chicken. The bread is folded over and wrapped in paper or a napkin so it can easily be eaten with your hands while strolling around town.
The flatbread itself is typically made with just a few ingredients: flour, oil or butter, salt, and baking soda. I experiment with all kinds of flatbread recipes and I am particularly fond of the ones with the fewest ingredients so that you get a nice chew from the flour.
This particular recipe for piadina with grilled chicken breast hits all the marks for a complete meal. It has carbohydrates from the bread, protein from the chicken and cheese, and lots of vitamins and fiber from the fresh tomatoes and greens.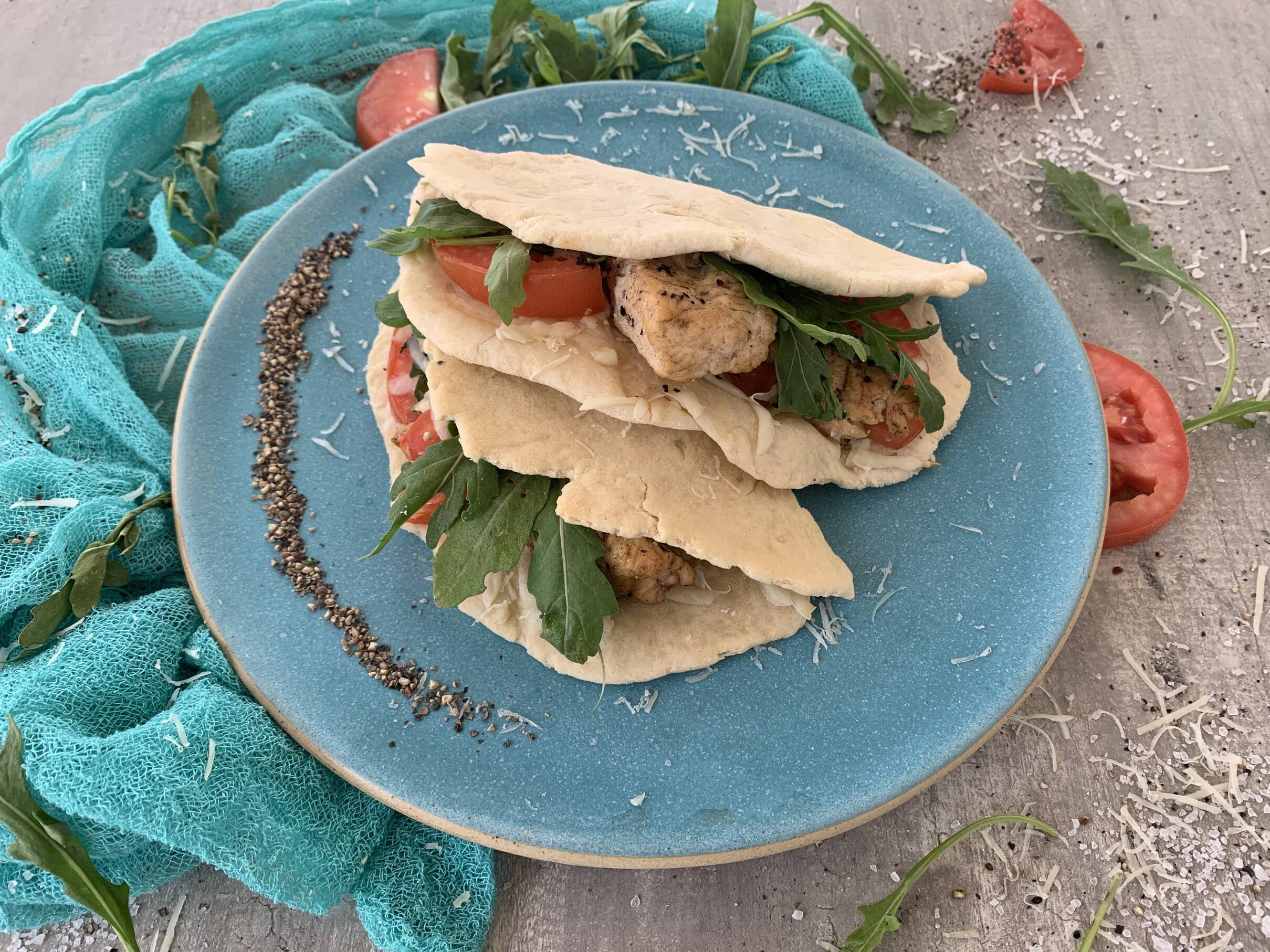 Ingredients
3-1/2

cups

all-purpose flour + extra for dusting

1/2

tsp

baking soda

1

tsp

sea salt

3/4

cup

water

10 to 12 TBS

1

stick butter

cut into 1/2-inch pieces and at room temperature

2

TBS

extra virgin olive oil

8

ounces

thinly sliced

or shredded mozzarella cheese

2

grilled boneless

skinless chicken breasts, sliced into 1/4-inch thick pieces

2

medium ripe tomatoes

sliced into 1/4-inch thick rounds

1

cup

fresh arugula leaves

Sea salt and freshly ground black pepper to taste
Instructions
Assemble all your ingredients together.

In the bowl of a stand mixer with a dough hook attachment, combine the flour, baking soda, and salt. Add the butter and mix on low speed until well incorporated, approximately 2 minutes. While the mixer is running, slowly add the water one tablespoon at a time until the mixture forms a dough around the hook.

Transfer the dough to a lightly floured work surface and knead for 5 minutes until smooth. Cut the dough into 4 equal pieces and pat them into round disks. Cover with plastic wrap and refrigerate for 30 minutes.

Place a grill pan over medium-high heat or light a charcoal or gas grill. Dust a work surface lightly with flour. Roll out each piece of dough into an 8 to 10-inch circle, approximately1/8-inch thick. Brush each circle of dough with extra-virgin olive oil and grill for 3 to 4 minutes on each side. Remove the flatbreads from the grill and set them aside while you gather the ingredients for the filling.

Layer one-half of each flatbread as follows: mozzarella cheese, chicken, tomatoes, arugula, salt and pepper, and another layer of cheese.

Fold the flatbread over the filling and place back on the grill just to melt the cheese and warm the piadina through, approximately 2 minutes.

Wrap the piadina in parchment paper or napkins and eat them with your hands.
Video
Nutrition
Calories:
546
kcal
|
Carbohydrates:
40
g
|
Protein:
42
g
|
Fat:
23
g
|
Saturated Fat:
9
g
|
Polyunsaturated Fat:
2
g
|
Monounsaturated Fat:
10
g
|
Trans Fat:
1
g
|
Cholesterol:
117
mg
|
Sodium:
1214
mg
|
Potassium:
676
mg
|
Fiber:
2
g
|
Sugar:
2
g
|
Vitamin A:
1048
IU
|
Vitamin C:
11
mg
|
Calcium:
315
mg
|
Iron:
3
mg
Notes & Tips
The flavor from smoke on an outdoor grill is really nice for piadinas. If you are using an outdoor grill to cook your piadinas, make sure you keep an eye on them. An open fire can be unpredictable with some spots hotter than others. Otherwise, use an indoor grill pan or a cast-iron skillet, if you have either.
You can use the same pan or grill to cook your chicken breasts. You can even cook the breasts a day ahead of time. Or, grab some pre-grilled or rotisserie chicken up at your local market.
I recommend using the freshest cheese, tomatoes, and arugula for the tastiest piadina. In Italy, this street food is generally made with fresh ingredients that were gathered from the farmer's market that same morning.
Substitutions & Shortcuts
You do not have to make your own bread for these chicken piadinas. You can save a step by using pre-made flatbreads, such as pitas. You could even grab some pizza dough, roll it out, and grill it for a simpler "homemade" piadina. If you are gluten-free, make the flatbread with a gluten-free flour mix or corn flour.
When it comes to tomatoes, it is perfectly fine to use sun-dried. The flavor of these is highly concentrated, so use less than you would with fresh tomatoes.
Piadinas do not have to be filled with chicken. Many versions of the recipe call for cured meats, such as prosciutto or salami. Or, you can go completely vegetarian. Just load the flatbreads up with any cheese, tomatoes, and fresh greens.
Arugula is a classic Italian ingredient in piadina. Feel free to use your favorite greens or those that are available, such as spinach, shredded kale, and even fresh basil leaves.
What to Serve with Piadina
While piadina is thought of as street food, you could make a really nice lunch with these stuffed flatbreads. I envision a hot summer afternoon, sitting out in the yard or on a terrace enjoying a piadina sandwich with lots of fresh vegetables. I would pair this with sparkling water that has been flavored with citrus slices. Oranges and lemons come to mind.
If you are inclined, enjoy a glass of chilled, crisp, dry, white wine. In Italy, it is not uncommon to have some wine with your lunch and then take a nap before going about the rest of your day.
I think the best way to finish the meal is with fresh fruit that is in season. A platter of melon wedges, ripe green figs, and peach slices would be perfect. If you are looking for something a little more decadent, try this healthy avocado chocolate mousse with a cup of espresso.
---
Recent Recipes