Simple Baked Potato In A Toaster Oven
Baked potatoes are cheap, simple, and really delicious. I find that it's one food item that really does not require a lot of bells and whistles to taste down-right delicious. You also don't need to have top notch kitchen skills to pull off a solid baked potato.
Have you tried baking a potato in your toaster oven yet? A toaster oven is one of those kitchen tools that can be used for a number of things (aside from its major purpose which is toasting). While I'm not a huge fan of the amount of counter space it takes up, I do appreciate using a smaller, electric appliance instead of firing up my gas oven.
There are a few other good reasons to use your toaster oven to cook a potato. For example, it's really easy to use and kid-friendly. If you do a lot of cooking with children and as a family, using the toaster oven is something most school-aged kids could figure out.
Additionally, a toaster oven will turn off by itself. So, if you find yourself busy after you put the potatoes in the toaster oven, and forget about it, there's nothing to worry about. The timer goes off and so does the heat.
So, how do you cook a baked potato in a toaster oven? The simple recipe is below for you to try.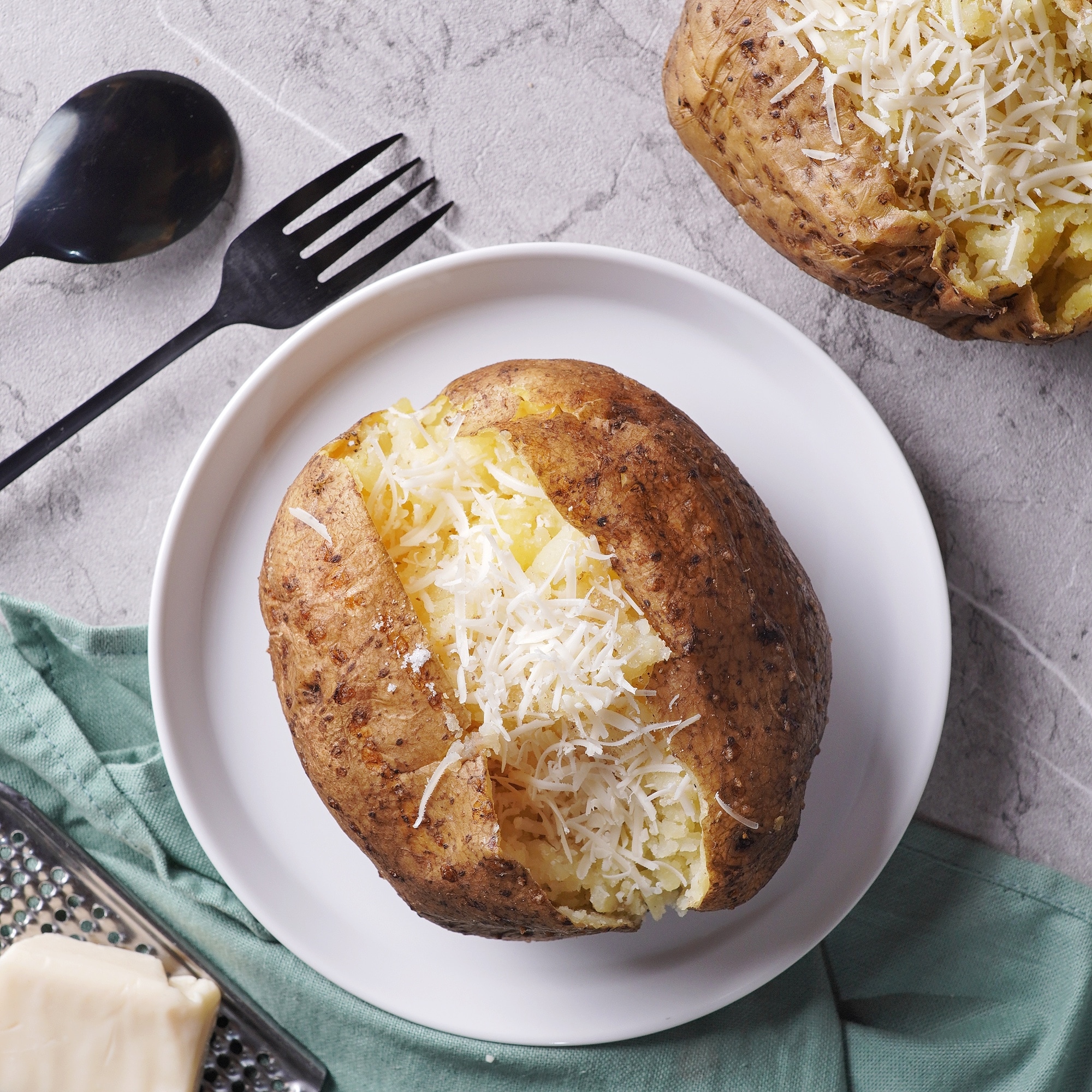 Ingredients
4

Russet potatoes

1

teaspoon

extra virgin olive oil

1

teaspoon

Lawry's seasoning

optional, salt & pepper is also fine
Instructions
All ingredients ready? Let's begin!

Preheat the toaster oven to 400F.

Wash and scrub the potatoes. Pat them dry with a towel and get them as dry as you can.

Poke the potatoes with a fork a few times.

Rub the potatoes with the extra virgin olive oil. If desired, season with the Lawry's seasoning or salt and pepper.

Pull out the baking rack and place the four potatoes (not touching) on the rack.

Close the door and set the timer for 45 minutes.

Check the potatoes after 45 minutes. You want the skin to be crispy and the potatoes to feel tender when they are poked with a fork.

Cut a slit in the potatoes and squeeze each side to open the potatoes. Gently fluff the potatoes with a fork.

Season with salt, pepper, butter, or some of your other favorite toppings.
Video
Nutrition
Calories:
177
kcal
|
Carbohydrates:
38
g
|
Protein:
5
g
|
Fat:
1
g
|
Saturated Fat:
1
g
|
Polyunsaturated Fat:
1
g
|
Monounsaturated Fat:
1
g
|
Sodium:
592
mg
|
Potassium:
888
mg
|
Fiber:
3
g
|
Sugar:
1
g
|
Vitamin A:
2
IU
|
Vitamin C:
12
mg
|
Calcium:
28
mg
|
Iron:
2
mg
Notes & Tips
Make a few extra baked potatoes when you make this recipe. Having them on hand will be great for meal prep. Read below and you'll find a few other ways you can use baked potatoes.
Toaster oven temps may vary. Some ovens might be older than others. You can be sure that it's reached the temperature that you need by checking it with an oven thermometer.
Be sure to work quickly when opening and closing the toaster oven door. As with a regular oven, the longer it's open, the more heat will escape. You want that high temperature for crispy potatoes!
Should You Season A Potato Before Baking It?
Salt is your friend when it comes to starchy, bland foods, like a potato. A little salt goes a long way when it comes to flavor.
Salt is something we have been told to avoid, but it might not be as bad as we originally thought. Ultimately, suggested salt intake varies by person, but it's an essential kitchen tool that when used properly makes a big difference in taste.
With that being said, rubbing just a little salt on the outside of the potato will result in a tastier potato. This is especially true if you like eating the crispy skins.
To make the potato have even more depth, I suggest trying Lawry's seasoning. Lawry's is a blend of spices like paprika, turmeric, garlic, and onion. It's a really fun alternative to standard table salt, especially when it comes to seasoning potatoes.
Should Baked Potatoes Be Wrapped In Tin Foil?
Sometimes, you'll see baked potato recipes and they require that you wrap tin foil around the potato before baking it. While the potato will still cook perfectly fine, you will not get that crispy, delicious skin.
Instead, the aluminum foil actually helps steam the potatoes and the moisture is trapped in and around the skin. So, the potato is still cooked but it won't have the variety of texture we love in a baked potato.
Also, you should avoid wrapping potatoes in tin foil for health and safety reasons. Wrapping and storing a potato in tin foil can result in botulism.
What Potatoes Are Best For Baked Potatoes?
Russet potatoes are the best potato for baking. Their thick skin acts as a strong cooking barrier for the soft, butter-like potato in the middle.
Sweet potatoes also have thicker skins which are great for baking.
Can Baked Potatoes Be Reheated?
You can certainly reheat a baked potato. Using the toaster oven again would be the best way to do it. Simply preheat the toaster oven to 400F and heat the potato for 20-30 minutes.
Instead of reheating the whole baked potato, you could use your leftover potato in a number of different ways.
For example, you could smash the whole potato (using a cast iron skillet) so that it's about an inch thick. Then you can pan fry it with some butter or oil. You could use this potato as a base for a meat topping (like sloppy joes or pulled pork) or even a fried egg would be really tasty.
Here is another option if you have an air fryer. Chop the baked potato into 1" pieces. Then, spray with cooking spray or toss with oil and spread the pieces out on the baking tray. Air fry the pieces for about 4-6 minutes at 450F. Season with salt and pepper (or another seasoning of choice) and you have crispy home fries!
Another great idea would be to mash up the baked potato (or chop it up really fine) and add to scrambled eggs or a vegetable frittata.
What Are The Best Toppings For Baked Potatoes?
The best part about baked potatoes is that there are so many different toppings that you can put on them. There are options for everyone. Here are a few favorites.
Vegan Baked Potato Toppings
Dairy-free Butter
Fresh or Dried Herbs
Meatless Chili
Baked Beans
Non-Vegan Baked Potato Toppings
Sour Cream
Beef Chili
Broccoli and Cheddar Cheese
Bacon or Chopped Ham
Shredded Buffalo Chicken
Shredded Cheeses
---
Recent Recipes