Simple Guyanese Cheese Straws
Cheese straws are like if cheese and churros had a baby that was also a chip. Let me elaborate: this recipe uses cheddar cheese to be the foundation of a spreadable dough before being shaped through a piping bag, similar to churros. The result in a crispy, finger-shaped, cheese flavored snack that is popular in Guyana. If you try this recipe, I'm sure you'll see why!
This is a very easy and quick dish to make. It has only 7 ingredients (one of which can be omitted) and takes 45 minutes to make from start to finish. The end result in a crunchy, tasty snack perfect for all ages. Guyanese cheese straws are great to bring to a party or eat on your own when you're feeling peckish. The cheese used is cheddar cheese, which you might already have in your fridge (though read below the recipe for which types of cheddar work best for this recipe).
Overall, this is a great savory snack option to keep in your back pocket for any occasion.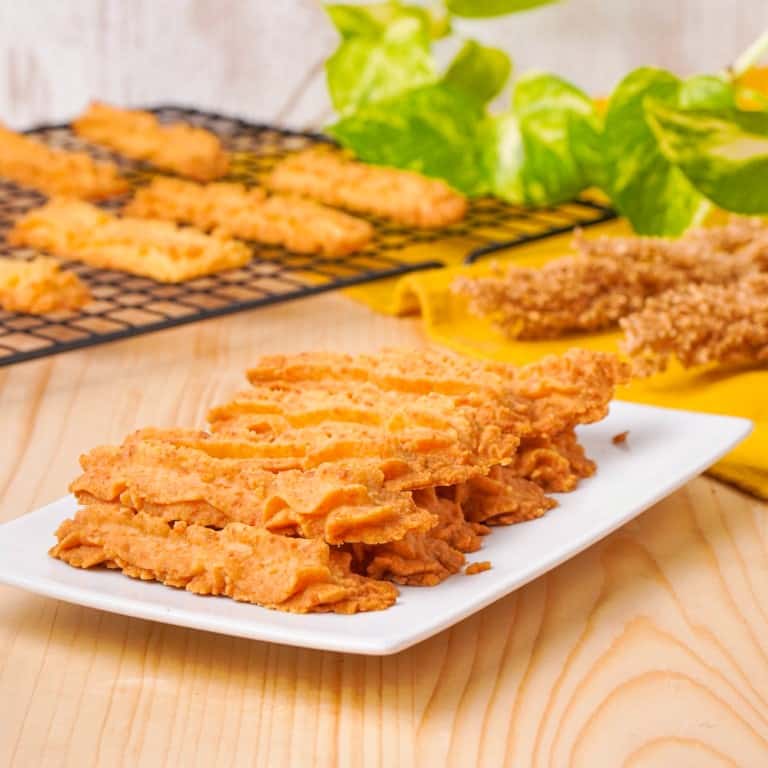 Ingredients
1 ½

cups

of butter

1

lb

cheddar cheese

2

wiri wiri peppers

1

tsp

spicy mustard

1 ½

tsp

salt

1

tsp

paprika

4

cups

flour
Instructions
All ingredients ready? Let's begin!

Set the butter out so it reaches room temperature or heat it in the microwave for a few seconds (you don't want it melted though).

Preheat oven to 400F. Prep a large baking sheet (or two) with parchment paper.

Cut the wiri wiri peppers in half and remove the stem and seeds. Roughly chop.

In a food processor or heavy-duty blender, add the wiri wiri pepper, grated cheese, butter, spicy mustard, salt, and paprika.

Pulse to blend until it all comes together in a creamy cheese paste without any lumps.

Add the flour and combine until there are no lumps. You should have a thick dough-like substance.

Alternatively, without a food processor:

Cut the wiri wiri pepper into fine dices then add to a bowl with the cheese, butter, spicy mustard, salt, and paprika.

Use a fork, pastry cutter, or potato masher to mix everything together until smooth and creamy. You can also do this with your hands.

Prep a piping bag with a large, star shaped tip. If you do not have a piping set, use a ziplock bag instead.

Use a spatula to transfer the cheese mixture into the piping bag or ziplock bag. If using a ziplock, get as much air out as possible before sealing it, then cut off a corner to pipe through.

Pipe the cheese onto the previously prepared baking sheets. Pipe it into a thick, finger-length shape. Leave a little bit of space between each one.

Put in the oven and cook 10-15 minutes or until they begin to brown.

Remove from oven and allow to cook on the baking tray for 10 minutes before using a spatula to move them to a cooling rack.

Allow to cool fully before serving and enjoy!
Nutrition
Calories:
612
kcal
|
Carbohydrates:
40
g
|
Protein:
16
g
|
Fat:
44
g
|
Saturated Fat:
26
g
|
Polyunsaturated Fat:
2
g
|
Monounsaturated Fat:
11
g
|
Trans Fat:
1
g
|
Cholesterol:
119
mg
|
Sodium:
871
mg
|
Potassium:
105
mg
|
Fiber:
1
g
|
Sugar:
0.4
g
|
Vitamin A:
1340
IU
|
Vitamin C:
4
mg
|
Calcium:
337
mg
|
Iron:
2
mg
Notes & Tips
Leftovers can be stored in an airtight container at room temperature for up to a week. I recommend carefully placing them (so they don't break) into a large ziplock bag. I do not recommend freezing them after being baked, but if you want to freeze the cheese mixture beforehand, that should be fine as long as it is fully covered. You will need to allow it to fully defrost before cooking it and avoid reheating it in the microwave.
The texture of the cheese before baking should be like a thick frosting. If it seems thin and oily, it won't cook right, but you also need it soft enough to push through the piping bag. It's not a difficult texture to achieve, but it's always good to know what to look for.
You can save yourself a lot of time if you buy your cheese already shredded. Alternatively, some stand mixers have shredding attachments, so you could use that if you have it. My mom always used it to shred blocks of mozzarella for pizza nights and it can do a pound in a couple minutes without you needing to wear out your arm muscles.
Substitutions
Although this recipe is simple and doesn't have a lot of ingredients, there are still a few alterations you can make if you want to. Many people dislike pepper or spicy foods, so if you fall into that category, feel free to omit the wiri wiri pepper entirely. If you want EXTRA spicy cheese straws, add more wiri wiri pepper. If you're just a fan of pepper, why not try these stuffed Hungarian wax peppers?
You can also adjust spices to try different tastes. This recipe calls for paprika, but it could be worth a shot trying to mix and match your favorite herb combinations to come up with a totally new taste.
You can switch butter for vegetable shortening, but I do not advise it because the taste and texture will not be quite the same.
What Cheddar Cheese Should I Buy?
There is a lot of cheese in the supermarket and, while cheddar sounds like it might be self-explanatory, the truth is that are are several different kinds of cheddar. In general, cheddar ranges in sharpness from mild to extra-sharp and the difference can definitely be noticed. What kind you use for your cheese straws is up to you, based on your preferences. I like to use sharp cheddar because the taste is stronger. If you want a softer, gentler flavor and don't want to be bombarded by intense flavor, opt for a milder cheese. If you want to know more about cheddar and how to pick the right one, check out this article on the best cheddar cheeses to buy.
---
Recent Recipes