Homemade Tequilaberry Salad
Much to my personal chagrin, this is not a salad using tequila and berries. I was super excited to tell all my friends how healthy I'm being while actually just drinking tequila, but alas, it was not to be. There isn't even any tequila in the salad which, when I truly think about it, makes sense, but I'm still sad about it. Despite that disappointment, this is genuinely a really lovely salad.
Tequilaberry's was a restaurant in the Midwest and this recipe was their incredibly popular and widely coveted salad. It's what you want from good Midwestern food; cheesy, healthy(ish), and with bacon. If you want to optimize your Tequilaberry salad, consider using this candied bacon. You won't regret it!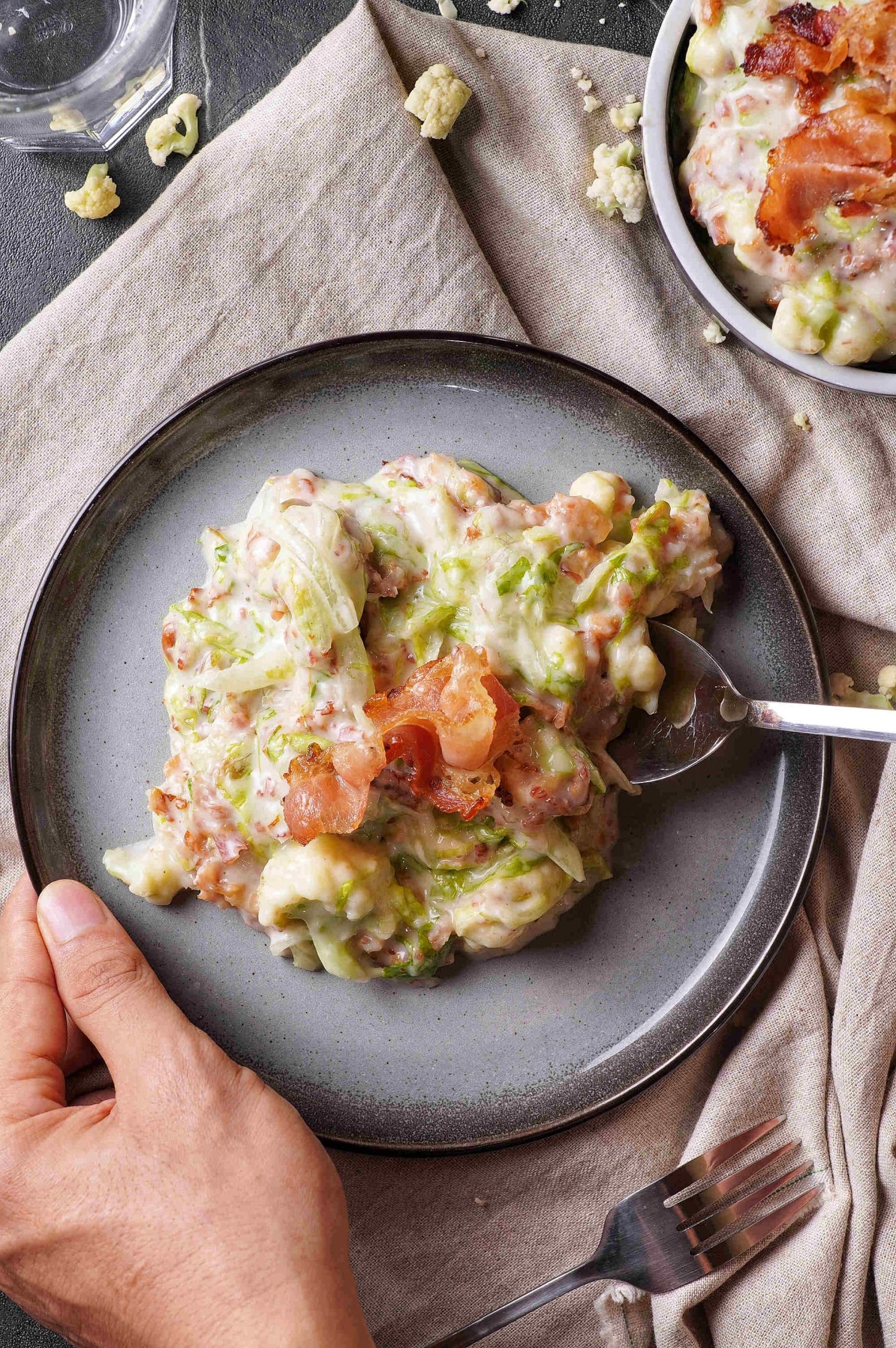 Ingredients
1

head iceberg lettuce

1

head cauliflower

1

lb

bacon

2/3

cups

shredded parmesan

1

cup

mayonnaise

1

tbsp

bacon grease

¼

cup

sugar

2

tbsp

apple cider vinegar
Instructions
Get all your ingredients together.

Before anything else, you need to prepare the bacon. Follow this recipe for extra yummy candied bacon. Reserve the bacon grease instead of throwing it away (you'll need some later).

If you don't want to use the candied bacon recipe, here's how to make some regular bacon: preheat your oven to 392F. Prep a baking tray with a lip by lining it with tin foil.

Place the bacon strips on the baking sheet. You can put the bacon down with no spaces or even slightly overlap the edges to save space. The bacon will shrivel up in the oven anyway.

Cook the bacon for 15-25 minutes. The thickness of your bacon slices will determine how long you need to leave them in the oven.

Once the bacon is done, move it from the pan and onto a plate or tray lined with paper towels to absorb some of the grease. Keep the grease that is left in the pan for later.

Allow the bacon to cool completely then chop or crumble it into small pieces.

Chop the lettuce to your preferred texture. I like using a serrated knife to thinly slice from the top of the lettuce so I get thin shreds.

Chop the cauliflower by cutting off the florets from the stem. Chop the florets into bite-sized pieces or smaller.

In a large bowl, add the chopped lettuce, cauliflower, bacon pieces, and shredded parmesan cheese. Use salad tongs to toss everything together.

In a smaller, clean bowl, add the mayo, reserved bacon grease, sugar, and apple cider vinegar. Use a small whisk or fork to mix everything.

Just before serving, add the salad dressing to the large bowl and toss to coat. Plate up and enjoy
Video
Nutrition
Calories:
6398
kcal
|
Carbohydrates:
98
g
|
Protein:
42
g
|
Fat:
652
g
|
Saturated Fat:
220
g
|
Polyunsaturated Fat:
153
g
|
Monounsaturated Fat:
253
g
|
Trans Fat:
1
g
|
Cholesterol:
584
mg
|
Sodium:
3420
mg
|
Potassium:
2608
mg
|
Fiber:
18
g
|
Sugar:
76
g
|
Vitamin A:
3372
IU
|
Vitamin C:
292
mg
|
Calcium:
1033
mg
|
Iron:
6
mg
Notes & Tips
If you don't mix all the salad and dressing, you can save the extras in the fridge for about two days. If you do mix all the dressing in with the salad, I don't recommend saving it for more than a couple of hours, as the leaves will wilt and everything will get soggy.
The bacon grease is used to thicken the salad dressing, but if you accidentally threw it away, don't worry about it. It does help coat the salad and it adds a bit more bacon flavor, but it's not super important.
Other Ingredients & Substitutions
This salad has a lot of versions floating around, so don't feel like you need to be a super stickler with the ingredients. Some people like to use two heads of lettuce instead of one because it stretches the ingredients and flavors farther. It does feel a little healthier to have a higher ratio of lettuce!
Some people swear by a certain brand of mayonnaise, but I think that's silly. Of course, I like a well-rounded mayo as much as the next person, but I don't think it's necessary to be so specific. Lots of people also add more parmesan cheese to their salad. If you love parmesan, just add more! No one can stop you.
It is also common to exchange apple cider vinegar with white vinegar. While that can work, apple cider vinegar has a more unique taste and sweeter flavor than white vinegar, so it lends itself to a salad better.
You can adjust the proportion of ingredients in the salad to suit your personal preferences. Make this recipe your own! If you want to experiment a bit more, consider adding a few more toppings. Almond slices (raw or toasted) work great. Broccoli along with or instead of cauliflower works too. If you want a heavier flavor, change the apple cider vinegar to balsamic vinegar. If you'd like to make the salad feel more summery, chop up some green grapes to toss in.
Salads are so easy and simple to make, so there is no way to get them wrong. Keep experimenting to find the combination you enjoy the most!
Serving Suggestions
Of course, if you've been misled by this salad's name, I strongly suggest incorporating a little tequila into your meal anyway. To stick with the salad's theme of healthy-but-kinda-not, I recommend a tequila screwdriver. All you need is tequila and orange juice! Drink this alongside your salad and feel the benefits of all that sweet vitamin C alongside a little something extra. If you want to drink a tequila berry salad alongside your Tequilaberry salad, drop some mixed berries in a glass of tequila and add a little juice. Don't forget to eat the berries once you have drunk the liquid, they'll be yummy and boozy.
If you're drinking with your salad, you probably need something a bit more filling as well. While this salad goes excellently with pretty much any meal (especially meat dishes), I particularly recommend these stuffed pork chops. The salad is so easy to make, so I don't want to recommend another dish that will be too time-consuming, that's why the stuffed pork chops are a great accompaniment. Aside from prepping the ingredients, the pork chops are simple. All you really need to do is toss it in an instant pot and let it cook.
---
Recent Recipes