Homemade Potato Milk Coffee Creamer
When you stop to consider that more than 150 million Americans drink coffee every day. Looking into the figures a bit more closely, we find that 68% of those coffee drinkers add creamer to their coffee. So it stands to reason that a certain percentage of those daily drinkers can't consume dairy products for one reason or another.
Surely there are alternatives to traditional dairy-based creamers, right? Indeed there are, and that's precisely what we're sharing with you today. Here, you will learn how to make your own non-dairy coffee creamer with our Creamy Potato Milk Coffee Creamer recipe.
So if you can't have dairy for any reason, you will find this recipe to provide the solution you've been longing for. Best of all, it's incredibly easy to make Creamy Potato Milk Coffee Creamer and takes only a few minutes to whip up.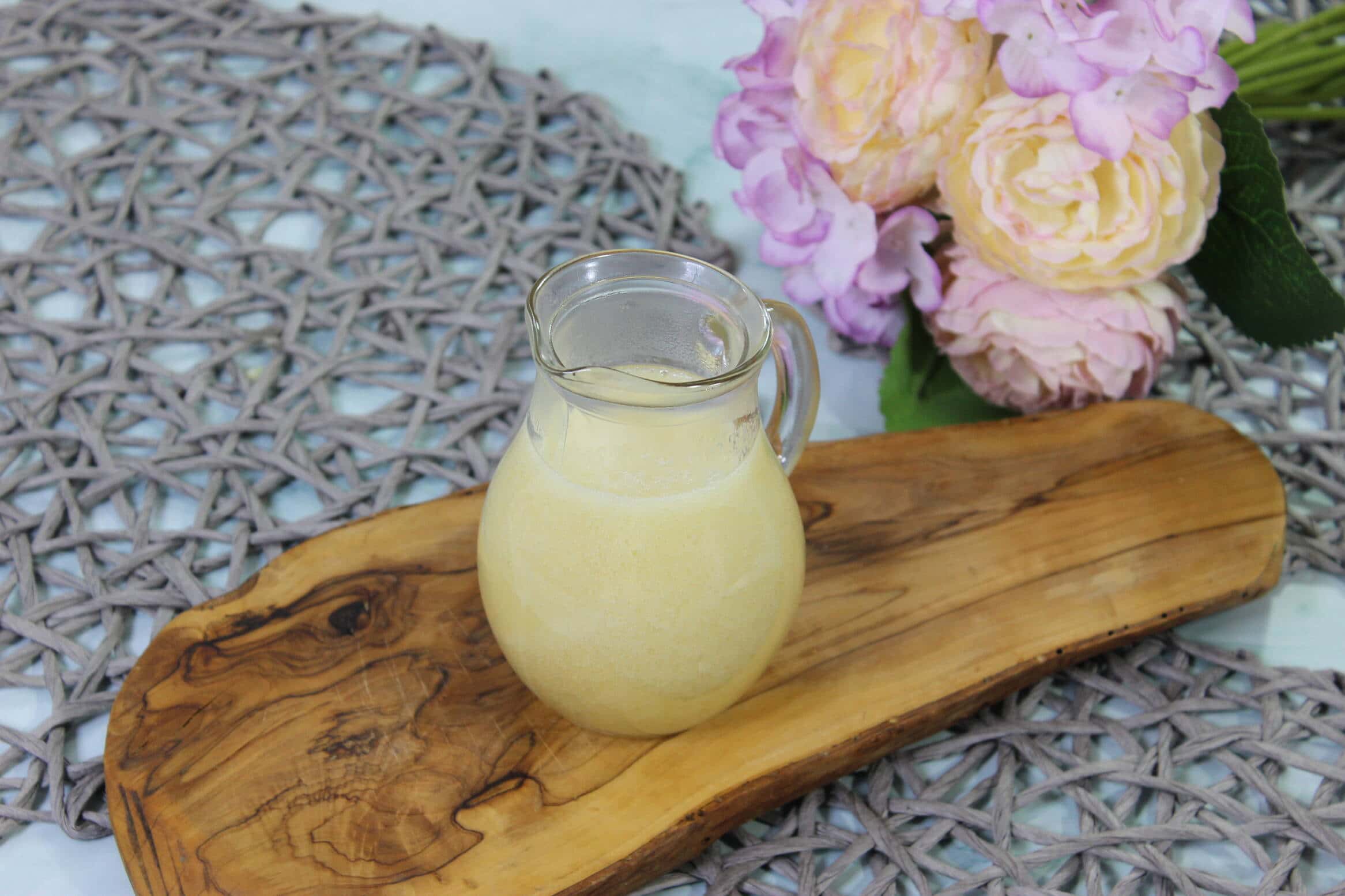 Ingredients
2

teaspoons

of vanilla extract

2

tablespoons

of vegan sugar

½

teaspoon

of tapioca starch

1

cup

of potato milk
Instructions
Before you get started, you must first make sure you're working with cold potato milk.

Measure out the appropriate amounts for each ingredient and add them to a sauce pan.

Make sure the starch is well-mixed into the potato milk before heating.

Once you have a smooth, consistent blend, place it over the burner and turn the heat to medium.

Start stirring and continue doing so until you reach a slow boil.

Allow the mixture to boil for a few seconds while continuing to stir.

Shut off the heat and let it cool slightly.

Chill in the refrigerator for up to 5 days.
Video
Notes
If you don't mind making the full fat version, you may add 1 tablespoon of refined coconut oil and ½ teaspoon of lecithin.
Instructions
Nutrition
Calories:
17
kcal
|
Carbohydrates:
3
g
|
Protein:
1
g
|
Fat:
1
g
|
Polyunsaturated Fat:
1
g
|
Monounsaturated Fat:
1
g
|
Sodium:
41
mg
|
Potassium:
1
mg
|
Fiber:
1
g
|
Sugar:
3
g
|
Calcium:
38
mg
|
Iron:
1
mg
Notes & Tips
As you saw in the instructions above, you must use cold potato milk for this recipe. If your potato milk isn't cold, you'll need to let it chill before using it to make the Creamy Potato Milk Coffee Creamer.
When storing in the fridge, be sure to place the Creamy Potato Milk Coffee Creamer in an airtight container. Also, you should pour the creamer into the airtight container while it is still warm. If you wait and let it cool to room temperature, an unappetizing layer of film will form on top.
If you decide to make the full fat version of Creamy Potato Milk Coffee Creamer, it's important that you make sure the lecithin and coconut oil are both mixed in really well. This will ensure that they are emulsified properly.
Substitutions
Don't have access to potato milk? You can use substitute with any plant-based milk if you just want to make a general vegan coffee creamer. Some popular alternatives include almond milk, cashew milk, coconut milk, and soy milk.
When it comes to adding the extract, you don't have to use vanilla, although we prefer it with this recipe. That said, you can use a variety of flavors to suit your tastes, such as almond extract, hazelnut extract, or any other flavor you like.
Conversely, you can even leave out the extract entirely if you prefer a plainer taste. The same goes for the vegan sugar, as well. You are welcome to substitute the sugar with maple syrup or agave nectar. And don't forget that potato milk offer a slightly sweet taste on its own (more on that below). Some people choose to omit sweeteners altogether, and that's certainly OK.
If you are going for the full fat version, you may also substitute the coconut oil with any other neutral-flavored oil. Some popular alternatives include organic vegetable oil, canola oil, sunflower oil, and light olive oil.
Common Questions
What is potato milk?
Potato milk serves as a substitute for dairy-based milk. Being a plant-based milk, potato milk is derived from cooked mashed potatoes and mixed using the cooking water. Additional ingredients are added to give potato milk its sweet taste.
What potatoes are used to make potato milk?
If you're making your own potato milk for the Creamy Potato Milk Coffee Creamer, you can use almost any kind of potato, including sweet potatoes. The only types that should be avoided are potatoes that are too waxy, such as baby potatoes, Red Bliss, and New Potatoes.

Another problem with these types is that their shape is too well maintained. The only exception is certain fingerling potatoes with red skin but low moisture content.

You are looking for starchy but nutritious things that can be cooked into a creamy texture. White potatoes are usually the easiest to locate. Plus, they have really good nutritional value, as do russets.
How long does Creamy Potato Milk Coffee Creamer last?
Because this recipe uses potato milk, the less contamination, the longer its shelf life will be. Also, it is expected that an average batch of carefully prepared, clean potato milk can be refrigerated for two to three days, just like cooked leftover potatoes.

But with Creamy Potato Milk Coffee Creamer and the cooking process, you can store this recipe for up to 5 days. Just remember to use an airtight container before placing it in the refrigerator.

It's also worth pointing out that that you can extend the shelf life of potato milk by adding ½ teaspoon of cream of tartar to the ingredients. In doing so, you should be able to get a couple of extra days in shelf life.
Sides and Pairings
Creamy Potato Milk Coffee Creamer goes well with, you guessed it, coffee. Enjoy your coffee with any variety of breakfast foods, including vegan waffles, Bulgarian Banitsa, or anything else that strikes your fancy.
Are you interested in learning about other delicious recipes? Then be sure to head on over to our extensive Recipes section. There, we've compiled a wide variety of recipes that are sure to spice up your diet.
---
Recent Recipes