Best Automatic Composters
Key Takeaways
Although the top contenders are closely matched, the Vitamix FoodCycler FC-50 takes the title of best automatic composter thanks to its balance of performance, ultra-quick processing, reasonable capacity, and sheer affordability. Although microbial enrichment is available as an optional extra for the soil augmentation compound produced, all owners will need to do is change the reasonably priced filters every few months. It's fast enough to run multiple cycles a day every week.
Our number two choice, the Lomi from Pela, is an outstanding option that certain users will prefer due to the microbe-rich composting provided. Finally, the Tero and Tero Plus are highly popular food recyclers that'll be of the most interest to those who are into tech and gadgets.
At the push of a button, electric automatic composters turn food scraps and organic waste into fertilizer within a matter of hours. As devices become increasingly efficient, enthusiasts are confident that we will soon reach a point where electric food recyclers are as common as dishwashers or microwaves. While this may be either closer than we think, a well way away or hopefulness, automatic composters are handy devices that can almost reduce organic waste completely in the right environment. Here is a complete overview of the very best automatic composters money can buy and their capabilities.
Top 3 Best Automatic Composters
Vitamix FoodCycler FC-50
Pela Lomi
Tero
Speed
2.11 Quarts In 5-8 Hours
3.17 Quart In 20 Hours
3-8 Hours
Efficiency
0.8 kWh Per Cycle
0.6-1 kWh Per Cycle
1 kWh Per Cycle
Fertilizer Type
Fine Soil-Like Nutrient-Rich Fertilizer Without Microbes
Fine Soil-Like Fertilizer With Microbial Cultures Similar To Regular Compost
Dry Fine Nutrient Rich Fertilizer Without Soil Probiotics/Microbial Activity
Running Cost
Zero Running Cost Except Electricity: Filters Optional (Prevents Odor) -Carbon Filter Replacement Every 3-4 Months @ +- $12.50 Each | Optional FoodCycler Foodilizer To Enrich Fertilizer Output @ +- $15 Each
Zero Running Cost Except Electricity: Filters Optional (Prevents Odor) -Carbon Filter Replacement & Single Bag LomiPods (Microorganisms) @ $39
Zero Running Cost Except Electricity:
Carbon Crystals Refillable Every 3-6 Months @ $75/4-Pack
Bioplastics & Paper
No
Yes
No
WiFi+Mobile App
No
Yes
Tero – NoTero Plus @ $595 – Yes
Warranty
3 Year
1 Year Or 3 Year With Subscription
1 Year
Factors To Consider
Features
Output
Cycle Time
Capacity
Size
Processing Time
Replaceable Filter/s
Clean-up
Affordability
Warranty
Features
Anyone shopping for a new automatic composter should consider just how much the unit in question reduces food waste by. Anything between 80% to 90% can be expected from today's leading technology. Smart sensors ensure properly composted material in most cases. Pay attention to the noise level of the machine, whether or not the fertilizer compound produced contains microbes, its ease of operation, and any additional capabilities like built-in self-cleaning or, as in the case of the Smart Cara, functionality as an air purifier.
Output
Automatic composters process organic waste into one of two different types of fertilizer. The fertilizer output of each composter will either be free from microbial activity due to having all organisms destroyed by high heat during the dehydrating/drying phase. Otherwise, the compost will be akin to traditional compost and contain healthy levels of living microorganisms. Fertilizer with microbes is always better than its counterpart.
Cycle Time
Electric composters are extremely efficient. Automatic composters process waste at up to twenty-five times the rate of regular composting. Expect a cycle time that ranges between three hours and a week at the most. The vast majority of food recyclers process a full receptacle of organic waste at anything between three hours and two days on average.
Capacity
Depending on how you cook and what you prepare most often, most entry-level to mid-range automatic composters are only large enough to store the food scraps for one or two cooking sessions. The capacity of electric organic waste composters ranges between two quarts and four gallons. Expect an average capacity of around 2 quarts. Lower capacity units typically process a full cycle within hours, while the bigger devices use a more conventional composting process aided by heat and motion and run for a period of days.
Size
Size largely determines placement. The bulkiness will tell you whether your new automatic composter is going under the counter, atop one, in a cupboard or recess, or perhaps even in another room such as the attic or garage. Those who decide to run their automatic composter without replacing the carbon filter to save cash had better store it out of direct sight and out of noseshot.
Replaceable Filter/s
Almost all food recycling devices lock in odors behind a carbon filter which will either be built into the lid or the locking mechanism of the appliance itself. Be sure to budget for the replacement filter or carbon crystals that will generally need replacing every four to six months, depending on the unit and how often you use the machine.
Clean-up
Some shoppers will be cleaning their composter after every use. Others will use it run after run consecutively and only clean up weekly. Depending on these preferences, clean-up difficulty may be a factor for you. Stay on the lookout for features like dishwasher-safe buckets and one-touch self-cleaning to make the job easier. We've classified clean-up according to manual or automatic mode and ranked it by 'Easy,' 'Moderate,' and 'Hard' difficulty.
Affordability
There are very few automatic composters in production. Drastically less than other common household appliances. Shoppers should expect to pay between $349 and $1700 for one of today's leading devices.
Warranty
Despite being high-end appliances, one seldom finds automatic composters with anything more than a one-year warranty. Only the Vitamix FoodCycler FC-50 and Pela's Lomi Kitchen Composter come with a three-year warranty, but Lomi owners have to opt into the paid, recurring membership subscription, or nothing more than a one-year warranty is granted.
6 Best Automatic Composters
Here are the six best automatic composters available to US shoppers online. Each offers reliable functionality and reputable after-sales support while processing organic waste into fertilizer far faster than any conventional compost heap.
| | | | |
| --- | --- | --- | --- |
| Features | Fast Composting, 90% Food Waste Volume Reduction, Industry-Leading Electric Composting Technology, Low Noise Level, Smart Temperature Sensor | Replaceable Filter/s | $24.99/2-Pack |
| Output | Dry Nutrient Rich Fertilizer Without Microbes | Cleanup | Manual, Moderate Difficulty – Dishwasher Safe Bucket |
| Cycle Time | 4-8 Hours | Affordability | Expensive |
| Capacity | 2.11 Quart/2 Liter | Warranty: | 3 Year |
| Size | 12.6 x 11 x 14.2 Inches | | |
The Vitamix FoodCycler FC-50 is a reasonably priced compact automatic composter for the small to medium-sized home that turns food scraps into fertilizer in no time. In just four to eight hours, any general food waste placed into the 2.1-quart (2L) waste bucket is odorlessly transformed into a nutrient-rich fertilizer mix that isn't technically compost in the conventional sense but is nonetheless added to garden or potting soil as a nutritious soil augmentation. The removable dishwasher safe bucket holds approximately two to three pounds of waste and locks in smells using a carbon filter fitted lid. The FoodCycler can be stored indoors wherever it's within reach of a plug. It's attractive enough to be a beautiful addition to almost any kitchen but small enough to be stored almost anywhere.
How The Vitamix FoodCycler Works
The FoodCycler works by dehydrating food waste and then grinding it down into a consistency suitable for use as fertilizer. A half-half mix of dry and wet ingredients results in the optimal texture and moisture without extra cycles being necessary. While all food waste can be processed, including meat & fish inclusive of bones, egg shells, fruit, vegetables, and coffee grounds, "live waste" such as meat, poultry and bones should rather be composted in a regular compost heap as the fertilizer solution produced isn't always dry enough for use without mold later forming. A couple of bones will be processed without problems but try to limit this kind of food waste to guarantee safe fertilizer.
FoodCycler Fertilizer & Vitamix Foodilizer
A key benefit of the FoodCycler system and fertilizer is that it is so low on odor that even when the filter runs out, you barely smell it as long as the automatic composter is packed away into a cupboard (while allowing for adequate ventilation) or out of clear sight. One should keep in mind that the high heat levels involved in processing waste into fertilizer results in a solution without any microbial properties, unlike regular compost. The fertilizer agent produced is suitable for adding to soil directly but not at its greatest efficacy until a water-based soil enrichment product called "Foodilizer" is purchased. Vitamix Foodilizer introduces soil probiotics to compensate for an initial lack of beneficial organisms, thus granting benefits like voluminous root mass formation, a general growth rate increase, and a slowed natural aging process.
Optional Foodilizer Plant Hormone Tablets
While not completely necessary, Vitamix FoodCycler Foodilizer tablets are sold in a two-pack at roughly $30, and each tab dissolves into 16 to 20 ounces of water. The Foodilizer solution is then sprayed on a mixture of one part FoodCycler fertilizer and eleven parts soil at one to four weeks before planting to enrich the soil significantly with microbial culture. A single basket of FoodCycler fertilizer compound takes five to ten squirts which means a 20-ounce bottle of Foodilizer water will typically last an entire season.
FoodCycler FC-50 – The Best Electric Food Recycler
With the Vitamix FoodCycler, there's no more having to brave the weather when recycling food scraps. About the only consideration for shoppers should be the energy draw of 0.8 kWh (kilowatt-hours) per cycle which is rather low. Finally, the cost of filter cartridges which require replacement every 500 hours (or three to four months), needs to be factored into your purchase as well. The unit couldn't be easier to operate – all you do is turn it on. Food waste volume is reduced by between 80 to 93%, which is fantastic when compared to units two to three times its cost. If you cook every night and use a lot of fresh produce, you'll be running around three cycles a week.
| | | | |
| --- | --- | --- | --- |
| Features | Fast Composting, 80% Food Waste Volume Reduction, Low Noise Level, Produces Fertilizer With Microbes | Replaceable Filter/s | $39 Or Recurring Subscription |
| Output | Discardable Dry Reduced Waste On Short Cycle | Nutrient Rich Dry Fertilizer On Long Cycle | Cleanup | Manual, Moderate Difficulty – Dishwasher Safe Bucket |
| Cycle Time | 3-20 Hours | Affordability | Expensive |
| Capacity | 3.17 Quart/3 Liter | Warranty | 1 Year | 3 Year With Lomi Membership |
| Size | 16 x 13 x 12 Inches | | |
The Lomi Countertop Composter by Pela doesn't handle a lot of food scraps, but it's lightning-quick and ultra-hygienic with a clean look that'll suit even the most modern kitchen. There are three composting modes to pick from and three progress lights, namely 'Drying,' 'Mixing,' and 'Cooling,' letting you know which stage of the composting is underway. It costs 0.6 to 1 kWh per cycle depending on how hard the unit has to work to grind the food input, which makes it a tad more energy efficient than the Vitamix, and it stores a quart more waste.
How The Pela Lomi Kitchen Composter Works
Kitchen scraps are placed into the Lomi bucket, which is sealed with a lid featuring two filters that need replacing every three to six months. Pela supplies 45 LomiPods with the unit that are added to the waste to deliver a blend of microorganisms to speed up composting, lower the odor and enrich the nutrient density of the soil output. Waste is dried, ground, and then cooled Eco-express composts in three to five hours and produces fine dirt that's meant to be discarded. Lomi-approved mode composts bioplastics and other compostable consumer goods in five to eight hours while also producing discardable dirt. Finally, Lomi Grow mode (the only mode eco-conscious users will likely utilize to prevent wastage) takes sixteen to twenty hours and produces nutrient-rich potting soil.
Lomi Kitchen Composter, A Firm Second
It's a little more expensive and takes a bit longer than the top placing automatic composter, but the Lomi from Pela is an incredible unit for anyone that doesn't mind a higher initial investment and a recurring repurchase of pods. LomiPods and two filters are sold together as a single refill package at $39.00. The pods are mandatory, which means that the running cost is anything between $78 to $156 per year to reduce your waste footprint by 80% at the least. The only real downside to deciding on a Lomi Kitchen Composter is that they're so popular that you'll often find them sold out.
| | | | |
| --- | --- | --- | --- |
| Features | Fast Composting, 95% Waste Volume Reduction, Smart Humidity Sensing, Heat Technology Suited To Meat, Monitoring & Control Via Mobile App | Replaceable Filter/s | No Replaceable Filter – Refillable Carbon Crystals @ $75/4-Pack |
| Output | Dry Nutrient Rich Fertilizer Without Microbes | Cleanup | Manual, Moderate Difficulty – Hand Cleaning |
| Cycle Time | 3-8 Hours | Affordability | Very Expensive |
| Capacity | 4.23 Quart/4 Liter | Warranty | 1 Year |
| Size | 15.8 x 8.5 x 11 Inches | | |
The Canadian-made Tero automatic composter reduces food waste by 95%. Available in red or black, it's a compact unit with a modern look that makes rich fertilizer without any odors. As far as we know, it is the only Wi-Fi-enabled automatic composter within reach to home users without breaking the bank. Looks can be deceiving. This seemingly tiny composter that'll fit neatly atop just about any counter actually handles a whopping 4.2 quarts of food scraps. A carbon filter built into the lid needs to be replaced every three to four months, depending on how often the Tero is used. Instead of replacing the whole filter, just the carbon crystals inside are changed, which are sold in a four-pack at $75.
Food scraps are dried, ground, and transformed into fertilizer in four to eight hours. The Tero automatically senses the duration based on the total moisture, and temperature-controlled airflow makes this an automatic composter that's designed to process meat safely. As a heat-treated fertilizer compound, Tero's output needs to be added to soil instead of being planted in directly. Out of all the units reviewed, Tero is easily the most efficient at less than 1.0 kWh per cycle. For $595 instead of $495 for the standard unit, you get a Tero Plus which connects to a mobile phone via Wi-Fi and facilitates remote control via the Tero mobile app. Full progress at info every stage of the progress is also supplied.
| | | | |
| --- | --- | --- | --- |
| Features | Fast Composting, 90% Waste Volume Reduction, Extended Life Filter, Multiple Color Schemes Available, One-Touch Self-Cleaning | Replaceable Filter/s | $50/2-Pack |
| Output | Mulch-Like Fertilizer Compound | Cleanup | Automatic, Easy – One Touch Self Cleaning |
| Cycle Time | 3-5 Hours | Affordability | Very Expensive |
| Capacity | 2.1 Quart/2 Liter | Warranty | 1 Year |
| Size | 10.24 x 18.11 x 14.17 Inches | | |
Available in white, gray, and light pink, the lightning-quick Smart Cara PCS-400 Indoor Kitchen Composter is an expensive but effective automatic composter that reduces food waste by up to 90% at 0.5 – 0.8 KWh per cycle. With zero noise and a 2.1-quart waste bucket, the Smart Cara also functions as an air purifier while it's plugged in and turned on. Like other electric food recyclers, the Smart Cara dries, grinds, and cools food scraps into a fine but mulch-like fertilizer compound. Those who prefer a coarser texture may even want to stop the processing early. Once you're done with a cycle, tip out the compost, add water and let the self-cleaning mode run. Filters last twice as long as those of competing products. It's easily the cleanest looking and most hygienic functioning composter around. Also, the most versatile but at over four times the price of a FoodCycler, this composter is likely only a must-have to the affluent.
| | | | |
| --- | --- | --- | --- |
| Features | Produces Compost With Microbes, Doesn't Rely On High Heat & Grinding For Composting, Extremely Energy Efficient, Made From Recycled & Recyclable Materials | Replaceable Filter/s | No Filter, Foam Cover |
| Output | Microbe-Rich Nutrient-Dense Compost | Cleanup | Manual, Hard – Hand-Cleaning | Requires Bags For Hygienic Dispensing |
| Cycle Time | 5-7 Days | Affordability | Expensive |
| Capacity | 4 Gallon/15 Liter | Warranty | 1 Year |
| Size | 20 x 12 x 20 Inch | | |
The beyondGREEN All-Electric Kitchen Waste Composter processes organic waste into microbe-rich compost. It needs to be filled with a mixture of food scraps, sawdust pellets, and bicarbonate of soda, and then it composts for up to a week. From this one, everything except a small layer of processed fertilizer is removed for soil augmentation. The rest stays as a starter for the composting. There's no built-in grinder, so larger scraps will need to be chopped up first. The entire electric composter is made from ARPRO, which is a recycled, energy-efficient substance. This gives the unit an eco-friendly look and helps quicken the composting process through natural heat. No filters, chemicals, or microbe solutions need to be replaced, but you'll have to rebalance the baking soda and sawdust with each load in order to keep the process odorless. Even then, many users report a slight smell. Most will want to hide this automatic composter under the counter or in a separate room far from the kitchen, but it's reliable and cheap to run nonetheless.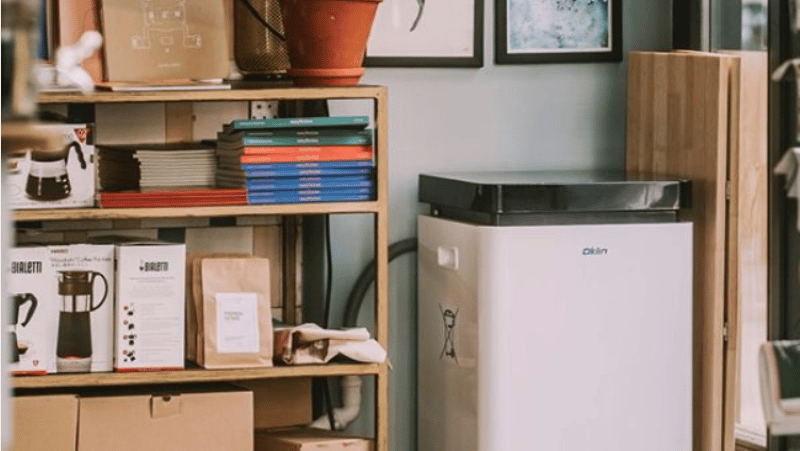 | | | | |
| --- | --- | --- | --- |
| Features | 80-90% Waste Volume Reduction, Extra-Large Capacity, Produces Fertilizer With Microbes, Whisper Quiet | Replaceable Filter/s | Integrated Filter |
| Output | Dry Nutrient Rich Fertilizer With Microbes | Cleanup | Manual, Moderate Difficulty – Hand Cleaning |
| Cycle Time | 24-Hours | Affordability | Very Expensive |
| Capacity | 3.825 Quart (8 Pounds)/3.62 Liters | Warranty | 1 Year |
| Size | 18 x 18 x 30 Inches | | |
Unlike the majority of automatic composters reviewed, the GG-02 Automated Composter does not rely on heat and grinding alone to deliver nutrient-rich compost. Instead, patented Acidulo microorganisms are added to food scraps within the odor-free barrel which then break down the waste over a period of 24 hours. This results in organic compost rich in microbial activity, unlike the microbe-free fertilizer from competing electric composters. It may cost around triple the cost of a FoodCycler FC-50 but the counter-high appliance processes a massive eight pounds of food scraps per day while reducing waste volume by 80% to 90%. It's almost a must for a busy kitchen owner whose heart is set on waste reduction, but the price puts it out of reach of most households.
Notable Mentions
UV Care has a division in the United States, but they do not keep the Smart Eco Bin as a part of their American catalog. Interested US shoppers will have to contact the company directly via email or social media channels to place an order, as the online form restricts online ordering to the Philippines. Customer support is, however, quick to respond and extremely attentive and confirms that ordering is possible. The only downside to purchasing from outside of the Philippines is that you'll typically have to fork out a considerable sum for shipping. With this in mind, here's a look at the best automatic composter for those in the Philippines and Southeast Asia, generally.
| | | | |
| --- | --- | --- | --- |
| Features | 90% Food Waste Volume Reduction, UV-C Sterilization Treatment, Best Suited Automatic Composter For Meat, Seafood, & Poultry, Smart Moisture/Humidity Sensor | Replaceable Filter/s | Activated Carbon Filter  – Approximately $26 |
| Output | Organic Soil Additive | Cleanup | Automatic, Easy – One-Touch Self Cleaning Mode |
| Cycle Time | 4-5 Hours | Affordability | Expensive |
| Capacity | 2.1 Quart/2 Liter | Warranty | 1 Year |
| Size | 11.35 x 12.13 x 14.94 Inch | | |
The Smart Eco Bin from UV Care direct from the Philippines is an impressive automatic composter. This large, high-tech-looking electric composter handles all the food scraps a Vitamix can accommodate. Through a four to five-hour cycle, the unit produces nutrient-rich fertilizer dirt granules that are added to garden or potting soil. Unlike similar composters, the Zero Waste device adds a UV treatment phase that destroys germs using ultraviolet light. Every stage of processing is clearly indicated on top of the machine. The drying, grinding, cooling and UV indicator illuminate, and the process can be paused and resumed. There's also a clean function for ensuring that the drum is sterile. Even the cost is reasonable when one considers the germicidal action of UV. It's a great buy with affordable upkeep.
Hot Upcoming Electric Composter Products To Watch
These automatic composters aren't for sale yet, but they're sure to kick up a storm in the industry once they land.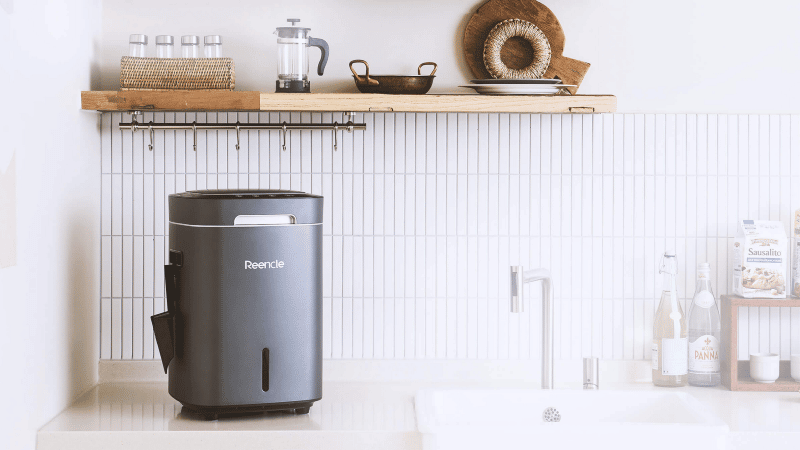 The Reencle Prime is available for pre-order through Indiegogo and produces nutrient-dense fertilizer with high microbial activity, perfect for planting. A patented ReencleMicrobe solution will have to be added to food scraps to prevent salt and acid from hindering the composting process – a recurring problem faced through the incorrect use of certain automatic composters. At 3.7 gallon capacity with ultra-quiet operation and a processing rate of 2 pounds of waste in 24 hours, there's every reason to pre-order this premier electric composter if you can afford it at the launch special of $459. After that, Reencle Prime goes up to $699.
When it launches, the German Kalea Automatic Kitchen Composter device will process organic waste into nutrient and microbe-rich compost within 48 hours. At full capacity, Kalea will compost 2.6 gallons of waste into 1.6 quarts of compost. The device, which is currently being crowdfunded, follows a similar three-step system to the Vitamix FoodCycler FC-50 but doesn't destroy the cultures that form while composting by putting the waste through too high heat at a rapid rate. Kalea will offer remote control and monitoring via a mobile app. The first devices are being rolled out for early supporters already, but public sales are set to open soon.
Frequently Asked Questions
What Are Automatic Composters?
Automatic composters, also known as electric composters or food recyclers, are devices that rapidly compost food within a period of hours to days by controlling the heat and humidity within a sealed, carbon-filtered composting container. Depending on the electric composter and the method it employs, the output will either be a fertilizer absent of microorganisms, a soil augmentation compound free from live cultures but supported with an additional optional product instilling beneficial bacteria, or a conventional compost teeming with beneficial microbial life.
How Does An Automatic Composter Work?
Organic waste is placed into a sealed container protected by a carbon filtration system. Once switched on, each unit heats the vesicle containing the food scraps and/or other organic waste, which hastens the natural organic process while drying the waste at the same time. Once a certain level of moisture and consequent dryness is reached, the dried, composted food scraps are ground to an appropriate texture to add to soil to supply nutrition and, often, healthy microbial activity. Finally, the fertilizer output is cooled before it's ready for use.
How Long Does An Electric Composter Take?
The duration that an automatic composter takes depends on the method that it uses to facilitate rapid composting. All-electric composters take between three hours at a minimum and five days at a maximum to compost organic waste. However, the majority of compact food recyclers typically process a single cycle in under twelve hours.
What Are The Advantages Of Automatic Composters?
Using an automatic composter comes with several advantages:
Eliminates Food Waste Without Growing Dump Sites
Preventing Rotting In Landfills Reduces Greenhouse Gasses
Waste Volume Reduction Of 80% To 90%
Waste Footprint Reduction Of Up To 100%
Easier Clean-up & Fewer Chores
Pest-Drawing, Odor-Producing Compost Site Unnecessary
Constant Source Of Healthy Soil Nutrition
To give you a better idea of what to expect, fertilizing with coffee grounds alone grants a host of benefits to the soil and plants, including but not limited to attracting earthworms and fighting blight and disease while maximizing the plant's growth and yield. At 4-1-1 for FoodCycler fertilizer and similar values for all units reviewed, the output of each automatic composter is a soil augmentation or fertilizer compound that holds roughly three times the NPK of coffee grounds. That's roughly equivalent to any commercial lawn care fertilizer, and unmistakably accessible nutrition for plants.
---
Recent Recipes