Serbian moussaka (also called musaka or mussaka) is a regional variant of a popular dish common throughout Egypt, the Balkans, and the Middle East. This version calls for a comforting, milk-based sauce that is thickened with egg to create a savory custard. Let's dive right into the recipe.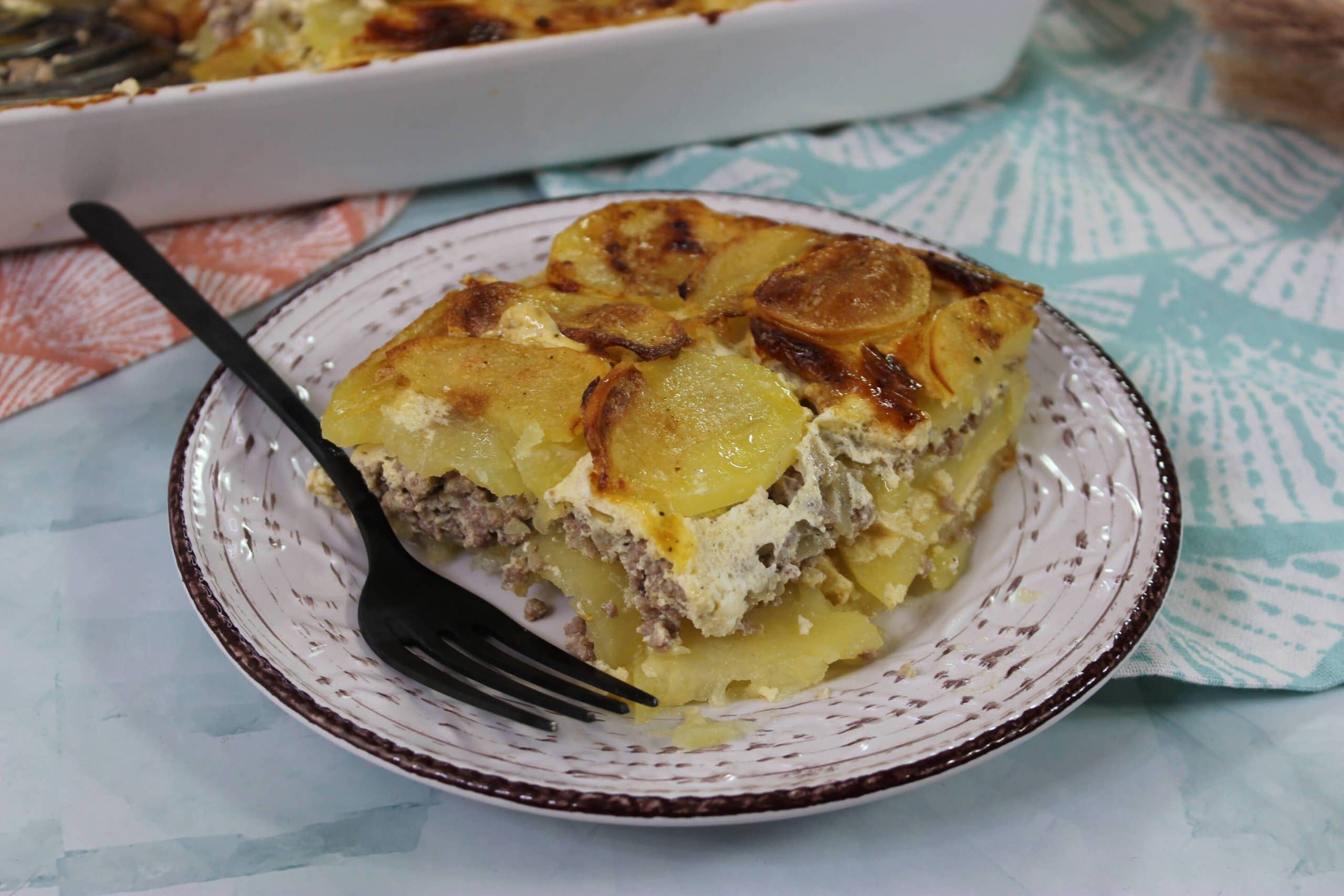 Ingredients
For the base:
2

tablespoons

olive oil

plus more for greasing the pan

1

medium onion

chopped

1

pound

ground beef

Salt and black pepper

to taste

3

pounds

russet potatoes
For the topping:
4

large eggs

1

cup

yogurt or sour cream

or a vegan dairy-free alternative

1 1/2

cups

milk

regular or non-dairy

1

teaspoon

salt

1/2

teaspoon

black pepper

1

pinch

parsley for garnish

optional
Instructions
Assembling the moussaka:
Preheat the oven to 400° Fahrenheit (200° Celsius).

Grease a 9×13 inch baking dish with olive oil: pour some in the middle of the dish and tilt the dish from side to side to ensure the olive oil spreads evenly across.

Drizzle 2 tablespoons of olive oil in a large pan. Put the pan on the stove and heat it over medium heat.

Add the onions and cook, stirring frequently, until the onions are lightly browned and sizzling.

Add the ground beef, breaking it into even pieces with a spoon or spatula. Season the meat with salt and pepper and cook until browned. Remove from the heat, drain, and set aside.

Peel the potatoes and cut them into ¼ inch thick slices.

Spread two layers of potatoes across the bottom of the baking dish and season with salt and pepper.

Cover the potatoes with the cooked ground beef, spreading with a spoon to create an even layer. Season again with salt and pepper.

Top with the remaining two layers of potatoes.

Set aside the prepared moussaka while making the topping.
Assembling the topping and baking the moussaka:
Whisk together the eggs, yogurt or sour cream, milk, salt, and pepper in a medium bowl until fully incorporated.

Pour the prepared sauce over the baking dish with the layered potatoes and ground beef.

Bake the moussaka until the potatoes are tender and just golden brown on the top, about 45 minutes-1 hour.

Let the moussaka settle for 10-20 minutes before serving.
Video
Nutrition
Calories:
430
kcal
|
Carbohydrates:
35
g
|
Protein:
18
g
|
Fat:
24
g
|
Saturated Fat:
10
g
|
Polyunsaturated Fat:
1
g
|
Monounsaturated Fat:
10
g
|
Trans Fat:
1
g
|
Cholesterol:
142
mg
|
Sodium:
412
mg
|
Potassium:
1016
mg
|
Fiber:
2
g
|
Sugar:
5
g
|
Vitamin A:
375
IU
|
Vitamin C:
11
mg
|
Calcium:
132
mg
|
Iron:
3
mg
Notes & Tips
Lightly cover the baking dish with foil halfway through baking if you find that the potatoes are starting to brown too much before they are fully cooked through.
You may need to use an additional pound of potatoes if your baking dish is larger to make sure you get even layers.
You can use a Mandoline slicer if you have one to cut the potato pieces more evenly.
To drain the meat, prepare a sieve with 2-3 layers of paper towels and place in a bowl lined with aluminum foil. The meat will keep cooking a little while it drains, so before you drain it, turn the heat off when the meat becomes just tender and fully browned (no pink parts) but not tough.
Common Questions
Can I use a different type of meat? What about using a vegan meat alternative?
While this recipe calls for ground beef, you can use your favorite ground meat or whatever you happen to have on hand. You can also use a vegan meat alternative instead if you prefer.
Can I assemble this ahead of time?
Yes, you can assemble it up to one day ahead of when you plan to bake it. Pour the sauce on before you put it in the oven. It may separate if you put the sauce on earlier.
Can I reduce the amount of milk in this recipe?
Yes, you can adjust the amount of milk – either adding more or using less – depending on how thick you want the topping to be.
Optional sides or compliments
Crusty bread (regular or gluten free), toasted
Cooked vegetables: zucchini, broccoli, or beans
Simple salad: onions, tomatoes, cucumbers, and bell peppers, topped with olive oil and salt and pepper
Roasted garlic and lemon soup
Fruit juice (Serbia is a big producer of fruit juice and mineral water)
What does Serbian potato moussaka taste like?
Serbian potato moussaka tastes like pure comfort food: potatoes, ground meat, and a creamy egg sauce.
Storage
It is easy to store and reheat the moussaka. Refrigerate the moussaka within two hours of cooking to preserve freshness. Store in an airtight (preferably glass) container. The moussaka will last for 3 to 5 days in the fridge.
You can also freeze the moussaka to extend its shelf life. Freeze within two hours of cooking to preserve freshness. Store in an airtight container or heavy-duty freezer bag on the top or middle shelf of the freezer away from the back to reduce the risk of freezer burn. The moussaka will last for up to three months in the freezer when stored properly. Thaw in the fridge for a day or two before you plan to reheat it.
Reheating in the oven is recommended to achieve the best results. Preheat the oven to 350° Fahrenheit (176° Celsius). Cover the moussaka with foil and bake for 15-20 minutes or until heated through and just crispy. Reheating the moussaka in the microwave is not recommended because it might get mushy.
History
Serbian cuisine is heavily influenced by when the region was under Ottoman rule from the 14th to the 19th centuries. This dish especially is Turkish in origin. Other impacts on Serbian cuisine include Greek and Mediterranean influences. Food preparation is an essential part of Serbian family life, and bread, potatoes, and other starches are regular components of many meals like this one.
---
Recent Recipes