Easy Persian Cucumber Soup
If you like tzatziki, you're going to love this soup. Persian cucumber soup has a lot of the same flavor as tzatziki but in sippable form.
This soup will have a strong garlic and lemon flavor, mellowed out by fresh, cool cucumbers. Creamy, tangy kefir is going to be the base that ties it all together.
Besides being refreshing and delicious, this soup has a lot of other positive qualities. Cucumbers alone have incredible health benefits. Cucumbers are fat-free and great sources of potassium and magnesium. Plus, this recipe is rather simple and has several other beneficial ingredients.
Traditionally, the soup has dried rose petals as one of the ingredients. Have you ever tried dried rose petals before? You'll be surprised at their slight berry taste that really brings the soup to a different level.
The recipe is vegetarian and has the option to be made dairy-free. It's great for a light lunch or you can serve it alongside other recipes like a salad or stuffed zucchini to make a complete meal.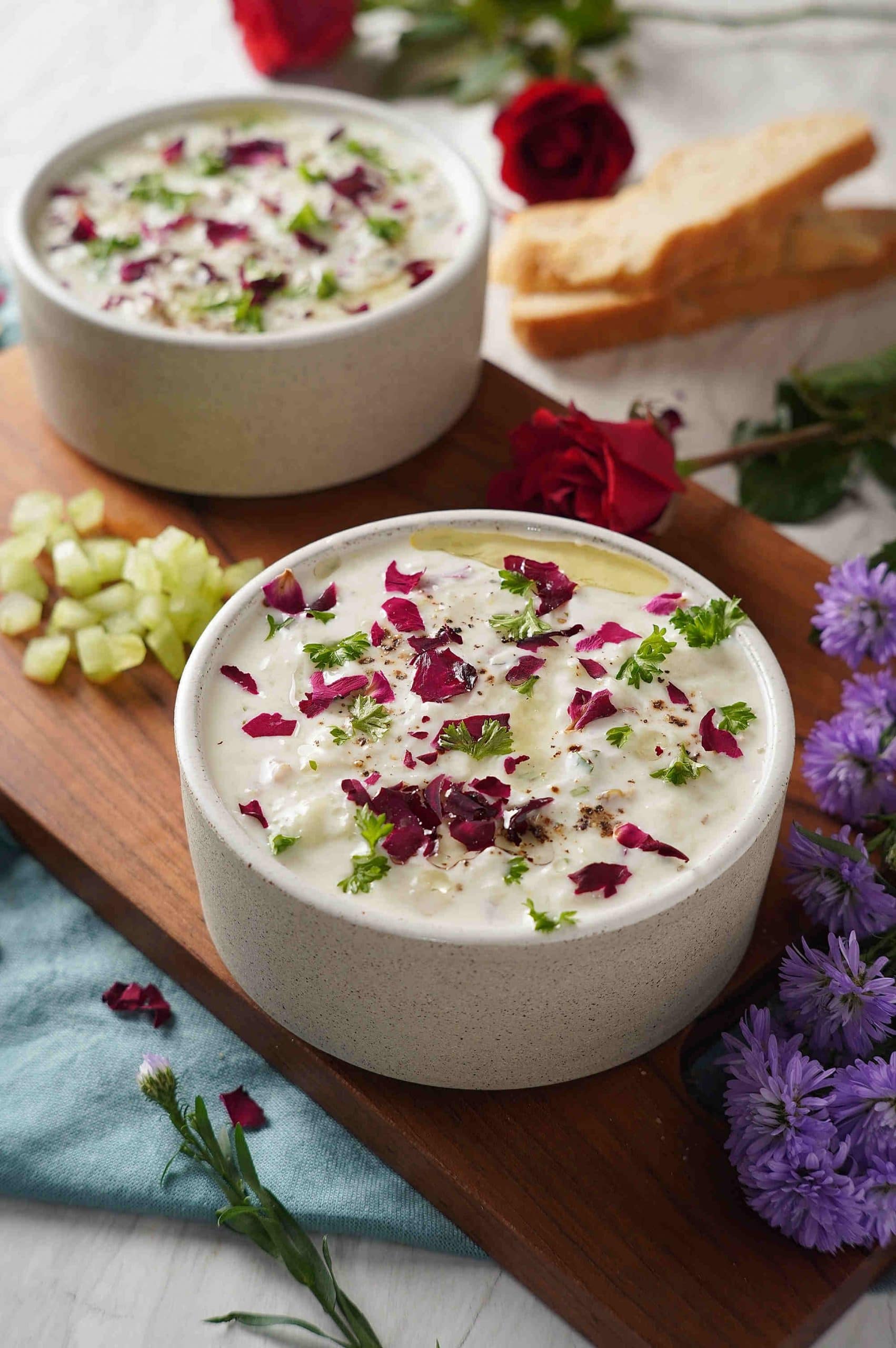 Ingredients
3-4

Persian cucumbers or 2 English cucumbers

3

cups

plain kefir

1

lemon

juiced, and zested

2-3

cloves

fresh garlic

minced

½

cup

golden raisins

½

cup

toasted walnuts

chopped fine

¼

cup

fresh dill

chopped fine

¼

cup

fresh mint

chopped fine

3

tablespoons

rose petals

1

teaspoon

sea salt

Olive oil and black pepper

for garnish
Instructions
Do you have all your ingredients ready? Great! Let's begin.

Peel the cucumbers and grate them with a cheese grater. Alternatively, you can finely chop it with a knife. You need about 2 cups of chopped-up cucumbers.

In a large bowl, combine the cucumber, kefir, lemon juice, lemon zest, garlic, golden raisins, walnuts, dill, mint, and two tablespoons of rose petals.

Stir everything together and cover the bowl with plastic wrap.

Refrigerate the soup for at least two hours.

Stir everything together before serving. Add ice-cold water, if needed, to reach desired consistency.

Serve the soup cold and garnish each bowl with a drizzle of olive oil, fresh ground black pepper, and a sprinkle of rose petals.
Video
Nutrition
Calories:
310
kcal
|
Carbohydrates:
37
g
|
Protein:
11
g
|
Fat:
16
g
|
Saturated Fat:
5
g
|
Polyunsaturated Fat:
7
g
|
Monounsaturated Fat:
1
g
|
Cholesterol:
23
mg
|
Sodium:
685
mg
|
Potassium:
612
mg
|
Fiber:
4
g
|
Sugar:
25
g
|
Vitamin A:
960
IU
|
Vitamin C:
25
mg
|
Calcium:
308
mg
|
Iron:
2
mg
Notes & Tips
If you don't have yogurt kefir, you can use 2 cups plain Greek yogurt mixed with 1 ¼ cup ice water.
You don't have to use just mint and dill for the herbs. You can use other fresh herbs like chives and parsley, too. You just want to aim to have about ½ cup for the entire recipe.
Other nuts would work well in this recipe, too. Some other nuts to try could be pine nuts, pecans, or pistachios.
You can add spices like sumac or cumin to add flavor to the soup.
Feel free to puree the soup if you like a smoother consistency. On the other hand, you can chop the cucumbers into larger pieces if you want the soup to be chunkier.
If you puree the soup, you can add greens to up the health benefits. While pureeing, add in fresh spinach or arugula to boost the soup's nutrition and create a beautiful green color.
What Is A Persian Cucumber?
Persian cucumbers are essentially smaller versions of the more popular English cucumber. They usually only grow to be about 5-6 inches.
They have thin skin, like the English cucumbers, which makes them easy to peel and digest.
Persian cucumbers tend to be a little bit sweeter and flavorful than English cucumbers, though.
Regardless, they can always be substituted for one another. Just keep in mind that a Persian cucumber is about half the amount of an English cucumber.
Can You Make Cucumber Soup Without Dairy?
You can make cucumber soup without dairy. There are a few ways that you can do this.
First, you can use full-fat coconut milk instead of kefir. This will change the flavor a bit, but if you don't mind the flavor of coconut milk, it will work just fine.
The next option would be to use avocado to make the soup creamy. You can puree the soup with avocado to replace the creaminess that the kefir brings. Simply add water to help thin out the soup so that it's the right consistency.
The best dairy-free option is a combination of both avocado and coconut milk. You get the added health benefits from the avocado and flavor isn't compromised by using coconut milk instead of water.
Can You Freeze Cucumber Soup?
Generally, I would not suggest freezing cucumber soup. Cucumbers tend to get mushy and distasteful when they are frozen. Additionally, freezing the kefir may cause it to break and will run the risk of losing its creamy texture.
Instead of freezing cucumber soup, there are some other ways that you can use leftovers.
The soup will stay fresh for 2-3 days in the refrigerator. So, you can easily enjoy leftovers for lunch or dinner. Water may separate and pool to the top or sides of the container. If this happens, just whisk everything back together to regain the creamy consistency.
You could also make the soup into a delicious dip. You can do this by adding plain Greek yogurt to thicken it up. If you'd like to add more flavor, add more fresh herbs, salt, and pepper.
Additionally, thickening the soup would make a great spread for sandwiches or crackers. To get a much thicker consistency, add in room temperature plain cream cheese.
Where To Buy Dried Rose Petals
Dried rose petals are one of the more unique ingredients in this recipe. You can find them in specialty grocery stores or buy them online.
They aren't an essential ingredient for this recipe, but they do bring a very interesting flavor to the soup. Dried rose petals will add a bit of sweetness to the soup. Some say they taste like berries or tart apples.
---
Recent Recipes