Best Nitro Cold Brew Coffee Maker
The coffee world changes constantly, with new innovations being introduced all the time. For example, the creation of the nitro cold brew coffee took the world by storm and has become incredibly popular in recent years. This unique blend can be somewhat expensive when purchased from coffee shops, which may put some people off from trying them out for themselves.
Thankfully, many high-quality at-home nitro cold brew coffee machines are available for relatively reasonable prices that shouldn't break the bank. In this article, we discuss the nature of nitro cold brew coffee, give you an idea of what to look for in one of these machines, and highlight several of the best on the market today. In this way, you should feel comfortable making a purchase.
What is a Nitro Cold Brew Coffee?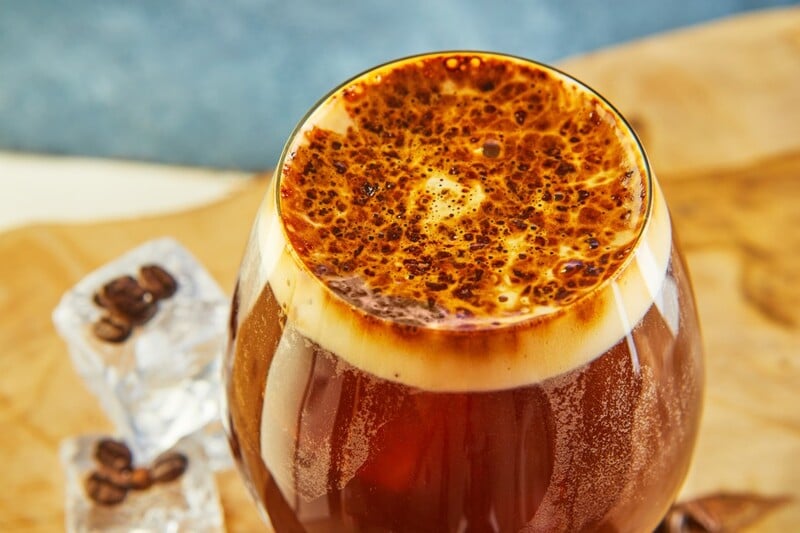 Nitro cold brew coffee is a nitrogen-infused drink that produces a fizzy and creamy texture that has a similar texture to a rich, dark beer like Guinness but without the alcohol content or taste. A cold brew tends to be smoother and less acidic than iced coffee and produces a higher caffeine content in most cases. Typically a brewer requires a small keg and an infuser that brews adds nitrogen bubbles to the coffee.
As the coffee brews, you should see it start to froth and become fairly creamy. The overall experience should take no more than several minutes and create a very ric0h and sweet flavor. Most people find the overall taste feels as if you've add a little sugar and cream already: it won't have the same overwhelming sweetness, of course, but much of the bite of black coffee is reduced to make it more palpable.
Why Nitro Cold Brew is Different Than Soda
Nitro cold brew coffee operates on principle similar to soda creation. When making soda, carbon dioxide bubbles are injected directly into the soda mixture to produce the trademark fizzy texture of a soda. Carbonization uses fairly large carbon dioxide bubbles, which is why soda has that snap to it. However, nitrogenization uses much smaller bubbles than used for carbonization.
As a result, the drink doesn't contain the same kind of texture or punch to it. Instead, the nitrogen bubble add a little natural sweetness and produce a creamy and smooth texture. You're likely to see a light-colored head (creama) at the top that is also not quite like a soda head. Instead, it is more like a beer head, though again, the taste should be completely different than a soda or beer.
Why Drink Nitro Cold Brew Coffee?
Nitro cold brew coffee is a good option for those people who don't like black coffee but who also want to avoid sugar or creamer. Beyond that, the nitrogen bubbles add no extra calories to your drink, in spite of making it slightly sweeter and more enjoyable. As a result, it is a great idea for people who want to lose weight or cut back on their sugar or creamer intake.
Furthermore, if you're on a keto, paleo, or diabetes-control diet, nitro cold brew may help. It is compatible with these diets, as it has no excessive sugar or cream, that could otherwise affect your diet plan. Even better, nitro cold brew's lower acidity makes it more easier for people with acid reflux disease or other similar stomach and digestive problems.
How Much More Caffeine is In Nitro Cold Brew Coffee?
A nitro cold brew coffee will have more caffeine content than a traditionally brewed coffee and is often one of the heavier caffeinated drinks on a menu. For example, a 12-ounce glass should have around 215 milligrams of caffeine, while a 16 ounce is likely to have up to 280 milligrams of caffeine.
By comparison, a 12-ounce cup of traditional coffee should have about 155 milligrams, while a 16-ounce glass has around 205 milligrams. By comparison, a 20-ounce cup will have about 310 milligrams of caffeine, while a 30-ounce cup will have 360 milligrams. Typically, nitro cold brew only goes up to 16 ounces because the nitrogen bubbles don't remain stable in higher cups.
Note: This caffeine content information comes from official Starbucks nutrient details and may vary depending on your coffee brand and your nitro cold brew coffee maker. We are not affiliated with nor endorse Starbucks products in any way.
What to Look For in a Nitro Cold Brew Coffee Maker
When buying a nitro cold brew coffee maker, you must examine a few different elements to ensure that you get the machine that makes the most sense for your needs. We broke down the traits we examined when rating these machines to give you a better understanding of how we made our picks. In this way, it should be fairly simple for you to identify which of these coffee makers feels suitable for you.
Just as importantly, if none of these items seem suited to your taste and needs, you can use this information to find one that does. Typically, it should be fairly simple for you to figure out these traits simply by reading the product description or the box when shopping in person. If uncertain, the manufacturer's website should contain details that help with your purchasing decision.
Overall Machine Size
A nitro cold brew coffee machine may be quite large in overall size, depending on its overall construction and design. Understand that you may have to place your keg in the fridge for at least an hour after brewing is done, so make sure you have enough room inside for one.
Thankfully, most should be no larger than two feet or so, with many being more compact overall. Just as importantly, you need to make sure your brewer is compact enough to fit somewhere in your kitchen while brewing, such as on a counter or elsewhere, to ensure it doesn't get in your way.
Overall Capacity
A typical nitro cold brew coffee maker produces a variety of different coffee volume, depending on the model and its overall size. For example, it's not uncommon to find a keg that holds as much as 128 ounces when properly used. Larger sizes may be a good option if you're a nitro cold brew fan.
That's because it can take up between one to 12 hours for a single batch to properly fill. As a result, you don't want to sit around and wait for hours to get your next cup of nitro brew cold coffee. Thankfully, most brewers come with a keg that can hold your coffee for days without losing its nitrogen infusion.
Types of Nitrogen Used
The nitrogen used in your cold brew coffee can vary depending on the machine. Most use N2 (nitrogen chargers) to produce the overall effect. However, some cheaper or lower-quality models may use nitrous oxide (N2O) to produce a nitro cold brew coffee that isn't quite as good as N2.
Make sure to read the product description and the rest of the information on the box to ensure you get a model that uses N2 chargers. While you can still produce nitro cold brew coffee with N20 cartridges, the overall effect isn't as appealing and may end up disappointing you.
Construction & Durability
Nitro cold brew coffee makers may utilize a broad range of different materials in their construction. The types used will vary depending on the quality of the machine. Try to find brew canisters that use stainless steel, as it is the most durable and corrosion-resistant option on the market.
However, you may also find options that use silicone and plastic for some parts. This usage is acceptable if the canister itself is not made of these materials. Try to make sure that all plastic or silicone is BPA-free by checking the labeling: if it is not, you shouldn't buy the coffee maker.
Other Potential Uses
What is cool about a nitro cold brew coffee maker is that you may often use them for other types of similar drinks. For example, some may be useful when dispensing craft beers or may help aerate wine before serving. You can even make sparkling water by putting in Co2 chargers.
Before assuming this is the case, though, make sure you read your product's description. Some may allow for this type of diverse uses: others may not. Note: some of the items on this list will be used for multiple purposes or may be tweaked beer machines that could be used to produce nitro cold brew coffee.
The Top 11 Best Nitro Cold Brew Coffee Makers
In the following list, we'll break down the top 11 nitro cold brew coffee makers, including their features, their pros, and their cons. Most of these machines should have few, if any, serious negatives that hold them back from a purchase. However, it is important to read through this list fully and to note that the numbers don't indicate a specific rank: we'll let you know who may appreciate each machine in our reviews.
We'll also include a link to Amazon where you can review of purchase these products, if you're interested. Disclaimer: we are not affiliated with any of the companies that manufactured these products. We only chose coffee makers that we truly believed were worth your time and money. Without further delay, let's dive into these reviews to see what you can expect.
NitroPress makes pretty amazing, high-quality products and this option is probably the best cold brew coffee maker we could find. It includes a high-pressure nitro nozzle and a smooth, counter-friendly design that makes it easy to integrate into a variety of different kitchens and homes.
Using N2 cartridges to produce coffee (and Co2 for carbonated drinks), this machine is diverse and capable of many uses. It's stainless steel design is very strong and durable and, while pricey, it is a great one-stop nitro cold brew coffee maker. If you have the money for it, this option is your best choice.
Pros
It can infuse multiple flavor types, if desired
The design is specific to coffee making
It is compatible with pure N2 cartridges
Cons
The price may be a bit high
This nitro cold brew coffee maker is modeled after stout beer systems and includes a special blend that helps to produce a very rich and flavorful drink. The stainless steel 64-ounce keg hooks easily to the dispensing tools, providing a steady flow of nitrogen during the brewing process.
The simple tower and faucet combo produces a strong and capable brewing and dispensing system that should require minimal upkeep or maintenance.
Pros
The product is American-made, with strong parts and materials
It is designed specifically for nitro cold brew coffee
It includes various items, like cleaning brushes and plastic hoses
Cons
You may not find it useful for other types of brewing
NutriChief makes pretty high-quality products, as two of their machines make the top three on our list. This machine includes a slightly different design that differentiates it from our top pick. It's a little bit larger and looks more like a beer dispenser and will fit well into many home bars.
What we find particularly impressive is its broad range of pressure options, including a 75 PSI relieving valve. We strongly suggest this option if you have a professional-level home bar that you want to improve by integrating a high-quality nitro cold brew coffee maker.
Pros
The professional-level design is very appealing
The keg holds a large amount of coffee
We found the resulting coffee was of a very high-quality
Cons
The overall size may make it hard to fit in smaller kitchens
GrowlerWerks produces machines similar in overall quality to NutriChief, which is why they're so high on our list. This unique uKeg design allows you to produce high-quality nitro cold brew coffee at home for a much lower price than you'd pay for a cup of nitro brew at a coffee shop.
Like many of the best products on this list, this machine uses high-quality stainless steel with a double-walled design. That kind of protection creates a high-quality of coffee. We also love the simple faucet, and think this option works well as an all-around model for the average buyer.
Pros
The unique double-filtration system minimizes clogs
The All-in-One system creates cold brew and infuses nitrogen at the same time
The double-wall design keeps brew cold for a long time
Cons
You don't get N2 chargers with your purchase
If you like nitro cold brew, this option is a pretty strong choice. It comes with a pressure relief valve that minimizes the potential of unit damage. It also includes a bacteria-free environment improved by the vacuum-sealed and insulated design. With this structure, it retains a long and high-quality feel.
The detachable overall design is another nice touch and is something that we think sets this model apart from others. We think that this design choice makes it the best portable nitro cold brew coffee machine on the market. You can take it anywhere you want and get a great experience with it.
Pros
The portable design works well for on-the-go people
The overall structure is very fine-tuned
It should fit easily into most home kitchens
Cons
The overall size may disappoint some people
This portable cold brew coffee maker is great not only for coffee but for tea and other carbonated beverages. You can quickly create drinks with this unique product, as it is compatible with N20 and N2 cartridges, though you should use N2 if you want the highest-quality option available.
Even better, you can easily create cocktails, mocktails, and even tweak up wines and liquors with this machine. As a result, we think it's a great party choice, as it will provide you with the chance to bring great drinks everywhere you go with little difficulty or trouble.
Pros
Your drink quality will be very high
The use of food-grade silicone minimizes errors
An incredibly fast serving speed
Cons
The price is quite steep for some users
Here's a simple cold brew machine that includes a unique Cycle Flow brewing tech that will produce a coffee as quickly as five minutes. The design minimizes sediment in the drink, as well, providing you with a stronger and more high-quality drink without grounds or other issues getting in the way.
We also love the self-cleaning function that helps to remove dirt and debris from the system and provide a quick and hygienic brewing option. Utilize the compact design to store your brew for up to 10 days. We think this option is best for those who want a simple and cost-efficient machine.
Pros
The compact design is easy to store
A quick brewing speeds improves your waiting time
The price is right
Cons
The coffee isn't quite as good as higher-value models
Do you want a simple-to-use and efficient model for your cold brew coffee? This option is easy to sanitize, includes a smooth draft pour, and includes multiple sizes. The overall design is very streamlined and efficient, as well, with minimal operational complications.
As a result, we think this is a good low-cost option that will appeal to people who support United States products. The support team of this company was particularly strong, and they're good at handling a surprising array of different concerns to ensure that you are ultimately satisfied.
Pros
High-quality customer support
Diverse range of cartridge support
A very quick cleaning time
Cons
The brew isn't quite as good as other options
This 64-ounce keg is, technically, a pressurized home beer dispenser system with a detachable faucet. However, you can add nitrogen canisters instead of carbon to produce high-quality coffee instead. Its double-walled design uses 304 stainless steel to keep your beverage cool for several hours.
It also includes an updated regular and a detachable design that lets you easily store this keg for later use. We strongly suggest this option for people who also want to produce high-quality beer or who plan on using their cold brew coffee for days after brewing by storing in a fridge.
Pros
It may be used for many different purposes
The keg can help up to 128 ounces
The included regulator includes for more accurate pressure
Cons
The design works better for beer than coffee
Here's another GrowlerWrks unit that you can tweak for coffee use. Swap out the carbon canisters to instill nitrogen into your coffee and keep it fresh and drinkable for many days and even weeks. The double-wall stainless steel design will keep the drink cold and minimize any risk of freshness lost.
What we particularly like about this model is its three-position dispenser tap. This means you can pour coffee in a variety of different cups and positions. We consider this option the best choice for those who like to host large parties, as it can provide your guests with plenty of drink options.
Pros
The simple design is very portable and easy to use
Its diverse range of uses make it a great multi-use machine
The price is often quite reasonable
Cons
It requires adjustment to use for coffee
What we love about this product is its incredible storage time. It can keep your coffee vacuum-pressured and fresh for up to three months. It includes a 128-ounce capacity and an aluminum regulator with a brass tap, which makes it perfect for those storing long-term beverages.
Like a few other options on this list, this keg is designed more for beer than coffee but is easy to convert into a coffee machine. Simply add nitrogen (N2) cartridges to the machine, making sure they are technically compatible (it takes 16g cartridges) in its overall design).
Pros
Includes a universal threaded design for easier use
It includes adjustable regulator for a variety of pressure needs
The strong stainless steel should last a long time
Cons
It may be trickier to use for coffee needs
Addressing Nitro Cold Brew Bitterness
People trying nitro cold brew coffee from their new brewers may be surprised at the bitterness of this brew. While it does have a nice, frothy, and sweet taste, there's also a slight increase in underlying bitterness. This concern is something that may affect your appreciation of this brew, though there are ways that you can get around this concern or minimize its impact on your overall brewing.
First, you can buy higher-quality coffee grounds that minimize the potential bitterness. Inexpensive and low-quality coffee is simply going to produce bitter drink. Spend a little time researching the best options for your needs. Most coffee manufacturers should give you an idea of how bitter their beans will brew, which should make it easier to get the best experience possible for your needs.
Next, you need to make sure that you brew at the proper grounds and water ratio. Typically, you want to add no more than one-half to three-quarters of an ounce of coffee grounds for every ounce of water that you add to your machine. This ratio is crucial because it helps to minimize the bitterness you might experience and gives you a better overall taste when using a nitro cold brew coffee machine.
Then, you need to make sure that you get the best type of filter paper for your needs. Typically, you want paper with a Chemex design, as these help with coarse and fine grounds. They also help to minimize the risk of serious bitterness. Try out a few different types and brands to get an idea of which is right for you, as you might notice that some filters tend to produce a more bitter kick.
Don't forget that you may have to adjust your brewing time, as well, to get minimal bitterness. Typically, you'll have to brew at least 12-24 hours, and the longer you brew, the bitterer your coffee may end up. Adjust your brewing time appropriately or consider a fast-brew option. Though it might not have the same frothiness as a longer brew, it will lack that bitter flavor and texture.
Other factors to consider include water temperature (the colder the water, the more bitter the taste) and the brewing temperature (warmer temperatures produce less bitter coffee). It is usually best to find a unit that has adaptable options for these factors, to help cut down on the bitterness. Thankfully, those who love nitro cold brew coffee will probably end up loving their drink, no matter what.
FAQs
How long should your coffee last?
Most nitrogen cold brews should last a surprisingly long time when properly chilled. Some may find it lasts for months, while others find it lasts for a few weeks. You should be good not refrigerating your coffee (in the keg) for at least two weeks, though the drink will last longer in the fridge. Use the taste-test to decide if it's good: take one sip and throw out if it tastes flat or spoiled.
What brewing length is best?
Typically, brewing time is best at, minimally, 12 hours. At this point, your coffee should have a fairly sweet taste. If you brew longer, such as 24 to 48 hours, the taste will be more potent and bitter. The caffeine content may be higher, though, and the froth will be incredible. As a result, it is usually best to go by your preference here, though most people shoot for at least 16-18 hours for a good middleground.
Is refrigeration necessary?
You don't need to refrigerate your cold brew coffee, as the nitrogen stabilizes the drink and helps to minimize issues. You should keep your brew out of direct sunlight and minimize how long you keep your keg open, as this may end up impacting the overall quality of your brew. Limit yourself to two weeks of non-refrigeration and then put it in the fridge to avoid any complications.
Should I pay more or less for my machine?
Paying more for your coffee machine doesn't guarantee a higher quality. However, it may give you access to more unique features and minimize your risk of complications. It is best to review the different options on the list, including which are the most highly rated. In this way, you can more easily identify the best choice and minimize the risk of paying too much for your brewer.
Do beer-frothing machines work as well as nitro coffee machines?
While we listed some beer-style machines on our list, you'll notice that they're farther down than the nitro coffee brewers. That's because, while they do work just fine in general, they typically don't have the specialization necessary to produce the highest-quality of coffee. If you already own one and know how to swap out nitrogen canisters, they can serve as a good "last-ditch" way of creating great coffee.
Final Thoughts
As you can see, there are many different nitro cold brew coffee machines from which you can pick. These are just 11 of the best options, and you may find many more that suit your needs. We think you can't go wrong with NutriChef, though you may find other brands serve you better. If you're not certain, ask your local nitro cold brew coffee shop which options they prefer to learn more.
---
Recent Recipes