Homemade Ginger Ale Mocktail
I remember my mother giving me ginger ale when I had a stomach ache or a sore throat and it always seemed to soothe whatever ailed me. Whether it really did is unclear. I was just happy to have sweet ginger-flavored soda.
Originally, ginger ale really was more like an ale than soda. It was a fermented beverage flavored with real fresh ginger. It was considered more of a tonic than a carbonated beverage. Today's ginger ale is a carbonated drink that is flavored with ginger. It is not fermented and is often used as a mixer for cocktails with spirits.
Ginger ale is not to be confused with ginger beer, which is amber in color and is sold either as a soda or an actual beer that does contain some alcohol.
Ginger ale can also be used as a main ingredient in a mocktail recipe that is absent of alcohol. The ginger flavor is pretty unique and a great addition to many drinks. I am particularly fond of the combined spiciness and earthiness of ginger, probably because my Mom cooked and baked with it when I was very young. We ate and drank plenty of foods infused with ginger growing up. I still use it and add it to my homemade bone broth.
If you ever went to junior or senior prom, you might remember a punch bowl filled with a ginger ale and fruit juice concoction. I can't say these beverages lasted well into the night. Once the ice melted, the punch was a watery and flat mess. But, it doesn't have to be that way when you make a ginger ale mocktail. The trick is to add the ginger ale just before serving your drinks so it stays fizzy and vibrant.
My favorite ginger ale mocktail is a version of a mimosa. Fresh orange juice and sparkling ginger ale is served in champagne flutes or martini glasses. We skip the champagne or prosecco and use super fresh and cold ginger ale to "spike" the juice. This is a simple and perfect beverage to serve with brunch or to ease an actual hangover without the buzz. I like garnishing my mock mimosas with fresh raspberries for a little color and a burst of fresh fruit.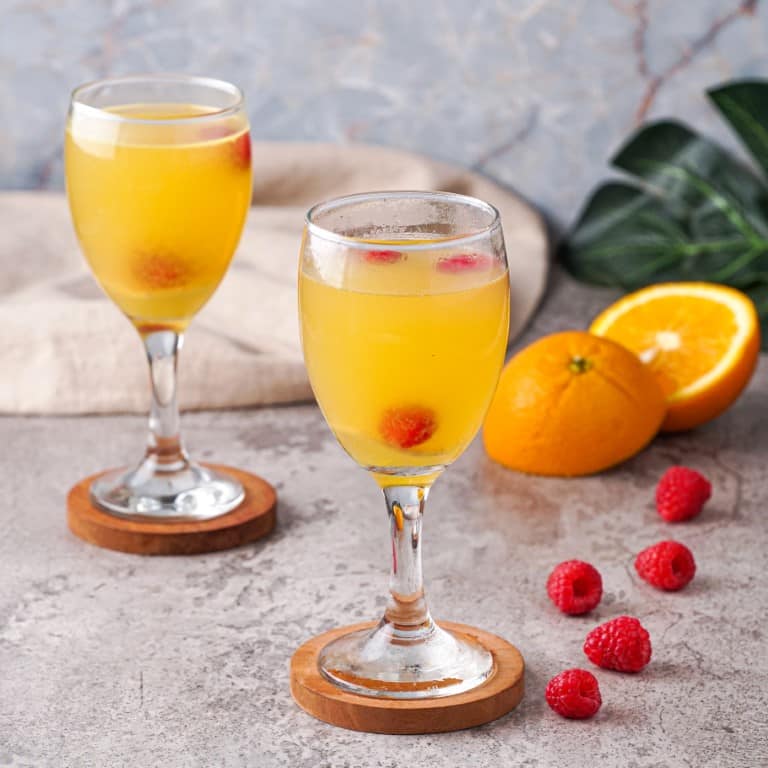 Ingredients
2

cups

freshly squeezed juice from navel oranges

2

cups

chilled ginger ale

4

thin slices of fresh ginger

peels cut off

12

fresh raspberries
Instructions
All ingredients ready? Let's begin!

Juice enough oranges to produce 2 cups of fresh juice.

Fill 4 champagne flutes or martini glasses halfway with freshly squeezed orange juice. You can strain the juice to remove the pulp and any seeds.

Top the glasses with cold ginger ale. Add a slice of ginger to each glass. Stir gently to combine.

Add 3 fresh raspberries to each glass and serve right away while sparkling.
Nutrition
Calories:
40
kcal
|
Carbohydrates:
10
g
|
Protein:
1
g
|
Fat:
0.1
g
|
Saturated Fat:
0.01
g
|
Polyunsaturated Fat:
0.03
g
|
Monounsaturated Fat:
0.03
g
|
Sodium:
1
mg
|
Potassium:
137
mg
|
Fiber:
2
g
|
Sugar:
7
g
|
Vitamin A:
204
IU
|
Vitamin C:
49
mg
|
Calcium:
35
mg
|
Iron:
0.1
mg
Notes & Tips
I have a trick for making deliciously cold ginger mocktails. I like to fill an ice cube tray with ginger ale and freeze the soda. I add a cube to the orange juice to make sure the freshly squeezed juice gets just cold enough. As the cubes melt, they offer a soft, slushy consistency that enhances the drink.
You can juice the oranges ahead of time and strain the juice into a pitcher. Then, refrigerate until ready to use. It is best to use fresh juice as soon as possible.
I love the fresh ginger in this mocktail, but some may not. Be sure to ask your guests if adding fresh ginger is okay.
Substitutions & Shortcuts
Orange Juice: The best juice oranges are navel or Valencia in my opinion. Both are almost always available in most markets. Blood oranges are a delicious and colorful alternative. I also like making this mocktail with tangerine juice. If time is of the essence, use the freshest bottled and refrigerated orange juice you can find.
Ginger Ale: Ginger ale can be a little sweet for some tastebuds. If you don't want the drink to be overly sweet, use lime-flavored seltzer. You can also try an effervescent ginger kombucha. If you really want this mocktail to mimic a cocktail, there are non-alcoholic sparkling wines and ciders available that are great in mimosas.
Fresh Ginger: I might be in the minority when it comes to fresh ginger. It imparts a lot of flavor into this ginger-based drink. However, it can be too spicy for some, especially if they decide to bite into it. You can omit the ginger or add a small pinch of ground ginger to the juice.
Raspberries: Fresh raspberries offer color and a little refreshing texture and sourness to the mocktail. I love it, but some people don't love the little seeds in raspberries. I would suggest not using frozen berries because they turn to mush as soon as they thaw out – not a fun texture. You can substitute fresh strawberries or pomegranate seeds for a colorful and tasty garnish.
Brunch Pairing Suggestions
Are you planning an alcohol-free brunch? I do that on Sunday mornings after a weekend of houseguests. I don't want to serve them alcohol before they have to hit the road or grab a train back home. Here are some great recipes that you can serve with your mocktails for brunch. Just add a big bowl of diced fresh fruit to round out the meal.
---
Recent Recipes