Easy Crispy Venezuelan Plantain Sandwich (Patacon Maracucho)
In times of more open and welcoming borders, I had the privilege of spending time with family friends in the city of Caracas and in some of the coastal towns that were dense with hillside jungles and undeveloped beaches in Venezuela. I do believe it rained every afternoon. I also remember that there weren't any glass windows or screens to protect us from the monkeys and lizards that hopped inside the kitchen while we were preparing dinner. But mostly, I remember the fabulous meals we made and shared.
Every morning we made arepas stuffed with cheese and butter and a platter of fresh green figs. Lunch was often a sandwich made with crusty bread, cured meats, and fresh vegetables. Sometimes the "bread" was made with fried plantains (platanos), a Venezuelan staple. Dinner was a group effort and included roasted meats, tons of fresh vegetables, rice or fried plantains, and wine. Meals were a time to gather and share our plans, experiences, and comradery.
Arepas will have to be another post. Let's concentrate on the iconic patacon Maracucho sandwich that was our lunch. This Venezuelan treat from the city of Maracaibo is layers of meat, vegetables, and savory fruits sandwiched between fried, flattened, and refried plantains. I am not sure who came up with this but it is kind of genius, especially if you are avoiding gluten.
To be clear, patacon Maracucho is not a dainty affair. In fact, here in the states, this is often a Latin food truck item that is popular among those who have been out dancing on a Friday night and want a hearty snack that is wrapped in parchment paper and foil so the sauce doesn't drip on your nice shoes.
As mentioned, the plantains are fried twice, just as you would tostones. The filling can be complex with a variety of meats or simple with cheese. One thing for sure is that you will get veggies and fruits, such as lettuce, tomatoes, avocados, and cilantro.
Crispy plantains will not absorb the juices of the sandwich filling as bread would. That is why this is a casual dining experience with plenty of napkins. We enjoyed these at the beach with fresh coconut water after riding the waves. We jumped back into the sea to wash off any drippings.
Make this sandwich when you aren't trying to impress anyone with an elegant meal but do want something extremely tasty.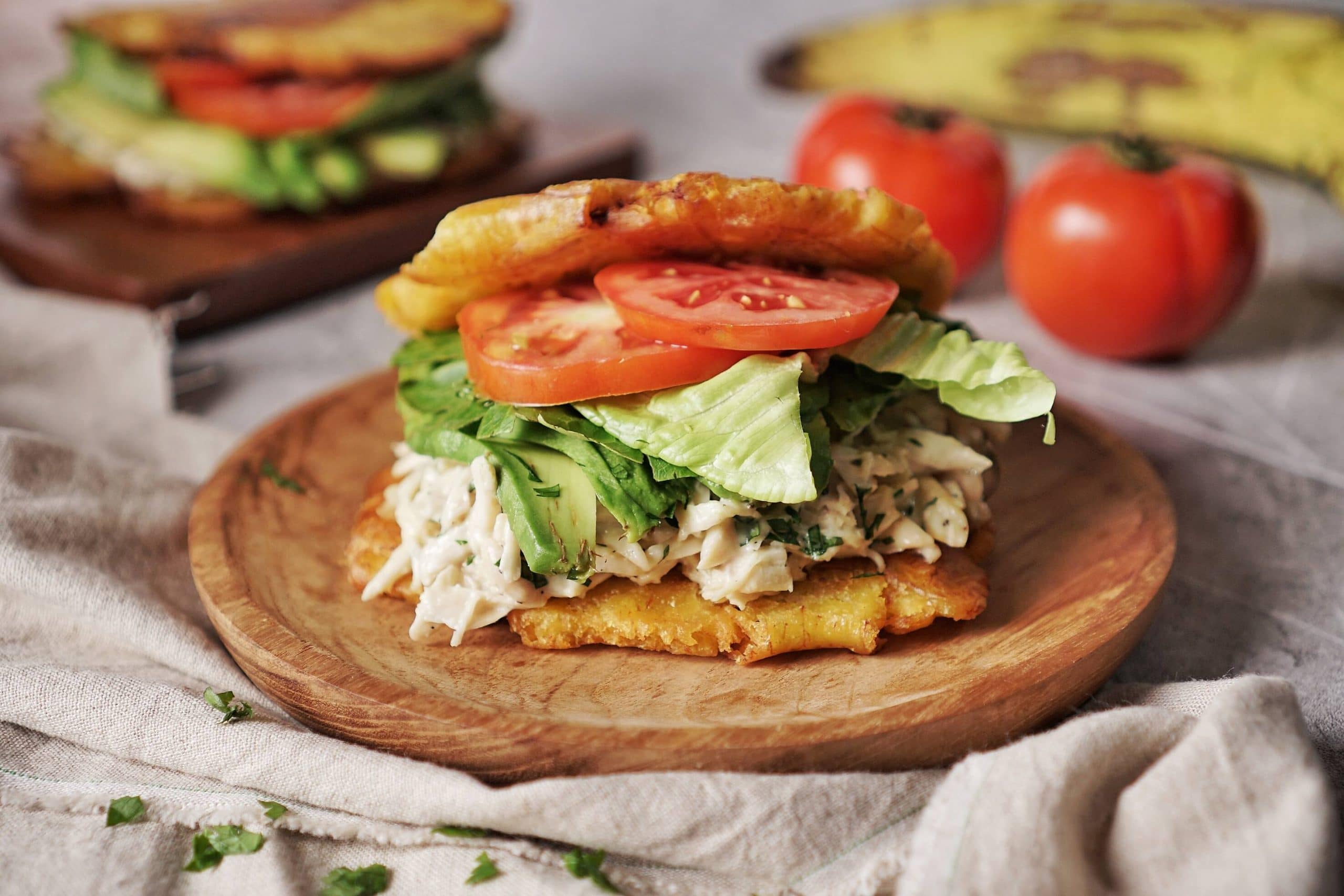 Ingredients
2

green

unripe plantains, peeled and halved crosswise

1/2

cup

neutral oil

grapeseed, avocado, canola

2

cups

shredded roast chicken

1/2

cup

mayonnaise

4

stalks of fresh cilantro

roughly chopped

1/4

tsp

sea salt

1/4

tsp

freshly ground black pepper

1

avocado

pitted, peeled, and sliced

4

leaves

green-leaf or romaine lettuce

4

slices

ripe tomato
Instructions
Cut the top and bottom ends off of the plantains. Make 3 slits in the skin of the plantains lengthwise. Remove the peels and cut them in half crosswise. Here is a short video that shows how to peel a green plantain.

In a large heavy-bottomed skillet over medium-high heat, warm the oil. Add the plantain halves and fry until lightly browned, approximately 2 to 3 minutes per side. Remove to paper towels to drain.

Using a heavy skillet or a flat-bottomed plate, flatten each plantain into a 1/4-inch thick round disk, or as close to round as you can get. You can do this between sheets of plastic if you want to be extra neat.

One at a time, return each plantain disk to the oil and fry until golden brown and crisp, approximately 2 to 3 minutes per side. Remove the cooked plantains to paper towels to drain.

In a mixing bowl, combine the shredded chicken, mayonnaise, cilantro, salt, and pepper. Toss until the chicken is coated.

Assemble the sandwiches by taking 2 plantain "buns" and spreading half the chicken salad on each. Top with avocado, lettuce, and tomato. Add the other plantains buns to the sandwich and enjoy with plenty of napkins.
Video
Nutrition
Calories:
748
kcal
|
Carbohydrates:
34
g
|
Protein:
13
g
|
Fat:
64
g
|
Saturated Fat:
10
g
|
Polyunsaturated Fat:
19
g
|
Monounsaturated Fat:
32
g
|
Trans Fat:
1
g
|
Cholesterol:
54
mg
|
Sodium:
372
mg
|
Potassium:
878
mg
|
Fiber:
6
g
|
Sugar:
15
g
|
Vitamin A:
1444
IU
|
Vitamin C:
26
mg
|
Calcium:
21
mg
|
Iron:
1
mg
Notes & Tips
The first step to making this awesome sandwich is to pick the right plantains. You want green-skinned, unripe ones. Don't try this with ripened yellow-skinned, ripe plantains. Ripe plantains are sweet and quite soft when fried. They are absolutely delicious, just not for this recipe.
Using a neutral-flavored oil with a high smoke point, such as grapeseed, avocado, or canola is key to not overpowering the flavor of the plantains. The heat is also important. The oil should be at about 350°F to achieve the right texture. You can test the oil before frying the plantains by dropping a small slice of plantain into the oil. It should shimmer around the plantain during each fry.
Substitutions & Shortcuts
Personalize your sandwich filling. Braised or roasted meats and fish are popular ingredients in Venezuelan sandwiches. Another popular filling is tuna salad. You could make this dish more like a Cuban sandwich with ham, cheese, pork, and pickles. Or, make a BLT piled high with bacon, lettuce, and tomato. For breakfast, try a fried egg with a melted cheese slice on a bed of baby arugula. You get the idea.
If you don't want to roast a chicken to make sandwiches, you can easily pick up a rotisserie chicken from your local market. Rotisserie chicken is one of my favorite convenience foods, especially when needing something last minute for weekend guests.
---
Recent Recipes