Easy Haitian Egg-Free Kremas (Cremasse)
Many countries around the world celebrate the holidays with milky beverages enhanced with alcohol.
Haitian Kremas, also spelled Cremas or Cremasse, is Haiti's signature festive cocktail. This version is made without eggs, so it will appeal to the vegans in your life.
Let's dive right in.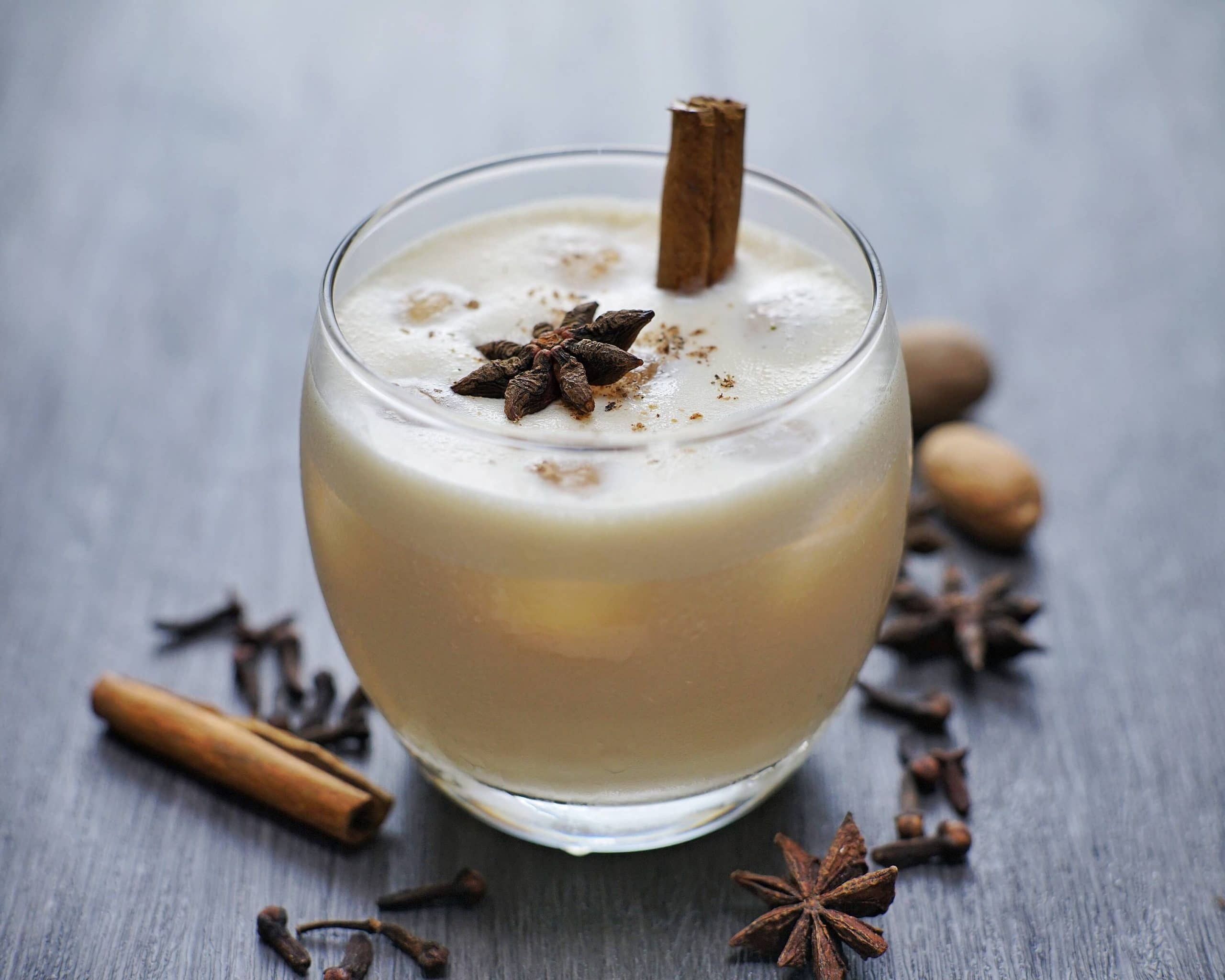 Ingredients
1 12

ounce

can evaporated milk

use coconut milk to keep this vegan

2

star anise

1

cinnamon stick

3

cloves

1 14

ounce

can sweetened condensed milk

use sweetened condensed coconut milk to keep this vegan

1 15

ounce

can cream of coconut

1

teaspoon

vanilla extract

optional

1

teaspoon

almond extract

optional

Zest of 1 lime

1

tablespoon

lime juice

1

cup

Barbancourt rum

Pinch

freshly grated nutmeg

for garnish
Instructions
Make sure you have everything together.

Combine the evaporated milk (or coconut milk) with the star anise, cloves, and cinnamon.

Heat the milk until small bubbles begin to appear around the edges. Do not boil.

Turn off the heat and allow the spiced milk to settle in the fridge for at least one hour.

Strain the milk over the blender and discard the spices.

Combine the spiced milk with condensed milk, cream of coconut, almond extract, lime zest, lime juice, and vanilla extract in a blender. Blend until just mixed.

Add the rum and blend until just mixed.

Transfer to a bottle and chill for at least four hours or overnight.

Before serving, shake the bottle well and pour over ice. Garnish with the freshly grated nutmeg.
Video
Nutrition
Calories:
388
kcal
|
Carbohydrates:
47
g
|
Protein:
3
g
|
Fat:
16
g
|
Saturated Fat:
13
g
|
Polyunsaturated Fat:
1
g
|
Monounsaturated Fat:
1
g
|
Cholesterol:
12
mg
|
Sodium:
68
mg
|
Potassium:
206
mg
|
Fiber:
1
g
|
Sugar:
45
g
|
Vitamin A:
97
IU
|
Vitamin C:
2
mg
|
Calcium:
111
mg
|
Iron:
1
mg
Notes & Tips
You can let the spiced milk settle in the fridge for just an hour, but you also have the option to leave the evaporated milk and spices in the refrigerator overnight after simmering. This allows the spices to infuse and creates a more flavorful kremas when you prepare it with the other ingredients later.
If you are prepping it overnight, you do not have to also add vanilla and almond extract. The kremas will be plenty flavorful without them.
Use the lowest possible setting on your blender when combining the ingredients. This prevents overmixing and preserves each individual flavor.
Choosing the right glass for serving alcoholic beverages matters for enhancing the taste. A small, round glass, like a scotch glass, is typically used for serving kremas because it is so rich.
Common Questions
What type of rum should I use?
Using authentic Haitian rum cinches the recipe and also honors the culinary history of the island. Just about every island in the Caribbean produces rum, but the beverage of choice for this recipe will be Haitian Rhum Barbancourt.
Can I omit the alcohol?
Yes, you can omit it completely. This will make the kremas taste more like a traditional eggnog instead. Or you can use plain sugar cane juice since rum itself is distilled from sugarcane.
What can I use instead of cream of coconut if I can't find it at my store?
Cream of coconut is similar to coconut milk but contains less water. It has more of a syrup-like consistency. If you are unable to locate cream of coconut, you can simply mix coconut milk with a little water to dilute it.
What is star anise?
Star anise is a spice used in Haitian cooking both in sweet and savory dishes. It gets its name from the star shape of the pod, which typically has eight points and a pea-sized seed in each one.

Star anise has a strong, sweet, and spicy flavor.

You can find ground star anise in the spice aisle or the international aisle of your local grocery store. Whole star anise tends to be more difficult to find, but you can usually locate it in an Asian or Indian grocery store.
Optional sides or compliments
You can choose to serve Haitian cremas with sweet or savory sides. Below are a few ideas to get you started.
Sweet pastries
Chocolate cake
Pain Mais (Haitian cornbread, made with banana and coconut)
Djon Djon (Haitian black rice, made with mushrooms and shrimp)
What does Haitian Kremas taste like?
Haitian kremas is deliciously creamy, spicy, and spiked with rum to give it a little kick.
Storage
Unopened homemade kremas will last for about two years in your pantry. Once it has been opened, it will last for about 6-9 months.
You can refrigerate the kremas to extend its shelf life, but this will create lumps in the beverage. To limit lumps from forming, always return the kremas to the fridge immediately after pouring.
History
Haitian kremas is traditionally served between Christmas and the early new year. This is when Ancestors Day and Haitian Independence Day are both celebrated, so it is a very festive season overall.
Different versions of kremas abound throughout Haiti. Northern Haitians typically do not include coconut. Southern Haitians tend to use a lot of coconut in many recipes, including kremas. Those regional differences have begun blurring in recent decades with more communication between towns, fostering culinary exchange.
Rhum Barbencourt, which is recommended for this recipe, has been continuously produced in Haiti for over 150 years and double-distilled. It has a soft smell of caramelized brown sugar with notes of citrus and spice. It is made directly from sugarcane, not molasses.
---
Recent Recipes