Best Rimmed Baking Sheets
Every kitchen has a few baking sheets called into service for anything from holiday cookies to roasted veggies and from sheet-pan mid-week meals to grilled cheese. Finding the perfect baking sheet can be tricky because these trays can warp, burn, scratch, and are a nightmare to clean. What makes a good baking sheet? And what are the best baking sheets out there?
The Nordic Ware Natural Aluminum Baker's Half Sheet is the best rimmed baking sheet. What makes this baking sheet great is the combination of the material used (aluminum is the best heat conductor), the convenient half-sheet size for domestic ovens, its dependable performance, and its sturdiness.
Find the best rimmed baking sheet out there is no easy task — but there are some helpful criteria to follow: what is the ideal material for wear and tear, are the sheets sturdy yet light enough to handle, do they perform well at all temperatures, are they easy to clean, and also affordable?
The Best Rimmed Baking Sheets
The five best rimmed baking sheets out there at the moment are:
| | | | | |
| --- | --- | --- | --- | --- |
| | Size | Material | Affordability | Easy to clean |
| Nordic Ware | Half-sheet (18 x 13″) 0.9″ deep | Aluminum | Under $20 | Uncoated |
| Willliams Sonoma | Half-sheet (18 x 13")1″ deep | Aluminized steel | Under $30 | Patented Goldtouch non-stick coating |
| Winco | Half-sheet (18 x 13")1″ deep | Aluminum | Under $15 | Uncoated |
| Great Jones Holy Sheet | Half-sheet (18.5 x 13.5")2" deep | Aluminized steel | Under $50 | Ceramic non-stick coating |
| Chicago Metallic | Half-sheet (16.75 x 12.5")1" deep | Aluminized steel | Under $20 | Uncoated |
What Makes A Baking Sheet The Best?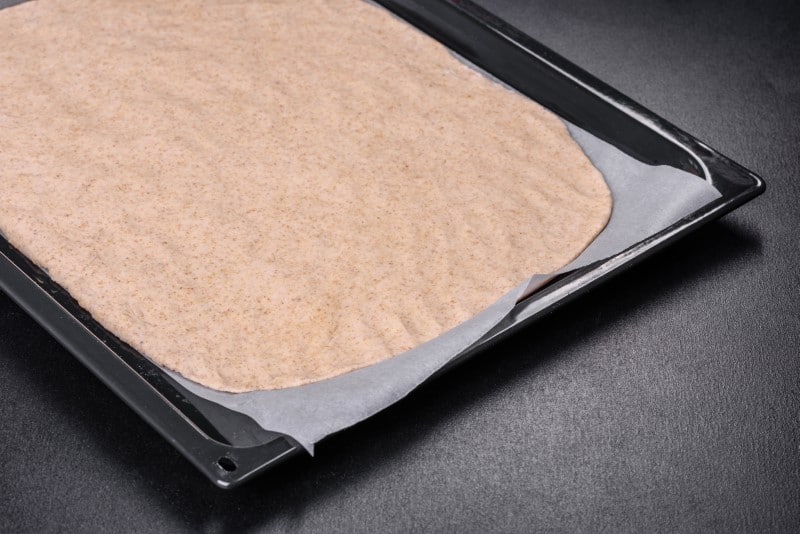 The criteria for an excellent baking sheet are vast — we require baking sheets to be all-purpose, multi-tasking workhorses that can crisp bacon and bake slab cake without warping, spilling, or burning.
Let's look at what makes a baking sheet the best.
Should A Baking Sheet Be Rimmed Or Unrimmed?
The first criterion is whether a baking sheet is rimmed or unrimmed. This distinction is important because of how you'll use your baking sheet.
Rimmed baking sheets are superior in that they have rolled edges, which reduce the chances of warping under high temperatures and avoid spillage, drippage, rising dough, and sliding cookies.
There's nothing wrong with an unrimmed or flat baking sheet – but be aware that these are perfect for churning out batches of holiday cookies rather than whipping up a focaccia or roast carrots. Genuine cookie sheets have tapered edges to allow for air circulation in the oven and for the cookies to slide off onto a cooling rack.
What Is The Best Size For A Baking Sheet?
The best size for a baking sheet for a domestic oven, rather than a commercial range like a baker would have, is the standard half-sheet, 18 x 13 inches.
This size is big enough to bake a good quantity of cookies or veg for a family but still small enough to fit into a standard oven.
Most recipes assume you are using a half-sheet size pan.
What Is The Ideal Material For Baking Sheets?
Hands-down, aluminum is the best material for baking sheets because it conducts heat well, heating up and cooling down quickly. In other words, your food starts cooking as soon as it goes into the hot oven and stops once the baking sheet is removed. Quick cooling is also an advantage if you're baking multiple batches and need to reuse the same pan — carryover heat leads to flat, crisp cookies, not the fat, chewy ones you love.
Aluminum also performs well at high temperatures and won't warp, so it is highly efficient and is inexpensive.
Aluminized steel comes in second in terms of materials. Steel insulated with aluminum has the advantages of aluminum but can be prone to uneven heat distribution, which leads to an uneven bake. These baking sheets are also heavier, which makes them slightly unwieldy.
The biggest challenge with aluminum and aluminized steel is that the light color of the metal easily stains and discolors and shows up scratches. You also can't cook acidic food on aluminum (avoid tomatoes and vinegar), as the aluminum will pit and corrode.
However, baking parchment or a silicone baking mat avoids staining and means easier clean-up.
Ceramic-coated aluminized steel is an alternative that gives you the best of both worlds — it's light enough to be a great heat conductor, but the coating prevents sticking and discoloring.
Stainless steel baking sheets are heavier and more durable. These sheets are more likely to be treated with a non-stick coating, as they are notoriously difficult to clean. Stainless steel retains heat for longer than aluminum, so take care when removing these from the oven.
Should You Use Non-stick Or Regular Baking Sheets?
The great debate over non-stick or regular coatings for baking sheets rages on.
Fans of non-stick pans are often cookie bakers who enjoy the ease with which their snickerdoodles slide off. Non-stick pans are also generally easier to clean.
Unfortunately, the easy slide is tempered with the dark coating color, which absorbs and radiates heat, and the challenge of cookies that end up somewhat flatter and browner than intended.
However, if you tend to roast chicken or blitz veggies at a high temperature, non-stick pans don't perform well. Some non-stick pans aren't for use at high temperatures at all, so you can't use them for broiling or grilling — avoid them if you want to zap that Chicken Parmesan.
Another challenge with non-stick coatings is maintenance. Be very careful when washing your sheets with non-abrasive sponges and gentle soap and not to scratch the non-stick layer with a spatula, spoon, or knife when removing your baking goods. Otherwise, the coating can sometimes erode and render the pan useless.
On the other hand, uncoated baking sheets can be a nightmare to clean. Scraping off those sticky brown bits of fish or pie crust isn't an easy task, especially as they usually require handwashing. All too often, your sheets end up with stains and scratches and start looking the worse for wear.
What Is The Best Gauge For A Baking Sheet?
You may not think of "gauge" as a measure for judging a baking sheet — what it means is how thick or hefty a baking sheet is. Gauge is influential because a sturdy pan handles better, while a too-solid pan can be heavy on the hands. Pans that are too thin will warp under high temperatures, conduct heat unevenly, and result in burnt, unevenly cooked, or misshapen baked goods.
The lower the gauge, the thicker or heavier the pan: a 10-gauge pan is sturdier than a 19-gauge sheet. You'll want a sheet somewhere between the two, but what's important is how it feels in your hands.
The Five Best Rimmed Baking Sheets
There are endless rimmed baking sheets on the market, ranging from $5 bargain buys to $200 carbon steel beauties. These baking sheets shone out above the rest using the criteria discussed above.
The Nordic Ware Aluminum Half Sheet is a leader in rimmed baking sheets in terms of performance, quality, and affordability.
This uncoated, high-quality aluminum sheet has a gauge of 18, making it pleasingly solid. With its reinforced, encapsulated, galvanized steel rim, the baking sheet doesn't warp even when exposed to high temperatures — such as grilling Brussels sprouts at 450⁰F.
Being aluminum, the baking sheet conducts heat efficiently, warming up quickly, cooking evenly, and cooling equally fast. The test-baked focaccia rose as desired, with no unwanted lumps and bumps, while the bases of the pizza and cookies were uniformly but not over-browned.
Despite having no non-stick coating, the sheet was surprisingly non-stick and perfect for a standard silicon sheet.
Another great feature of this baking sheet is that it is easy to clean, with no special coatings that need pampering. It can handle scratches and scrapes, suggesting it's in for the long haul. However, it won't remain pristine, and mine looked used even after the first outing.
Its standard half-sheet size means its stacks and stores practically.
Finally, this baking sheet isn't overpriced — you can get one for under $30 — so you can happily invest in a couple. And it comes with a lifetime warranty.
For fans of the heavy-duty, non-stick baking sheet, the Williams Sonoma Goldtouch Pro Non-stick Corrugated Half-sheet is a winner.
Made from aluminized steel and treated with the patented Goldtouch non-stick technology, this half-sheet is both a sturdy workhorse — it's relatively weighty — and elegant enough to serve from at the table.
Although aluminized steel is sometimes criticized for uneven heat distribution, this pan produced evenly browned cookies, performed well at the highest temperatures, and cooled down remarkably well. The textured base is partly responsible for improved air circulation.
However, if you're used to baking on aluminum pans, you will have to readjust your timings as the aluminized steel does make for a slower bake. This feature is a positive for slow bakes, like meringues.
The Goldtouch coating with its diamond texture is ceramic-based, which gives it a beautiful gold tint and a non-stick effect, which means cookies slide off. The pan's covering can withstand dishwasher and kitchen wear and tear without losing its good looks. The coating also makes it surprisingly easy to clean, although you need to avoid abrasive cleaning products and wash it by hand if there are any sticky bits.
Cost-wise, you're in the same ballpark as the Nordic Ware sheet — and this is much prettier if that counts.
If cost is your primary motivator in choosing your sheet pan, you can't go wrong with Winco's uncoated aluminum sheet pans, the most reliable and affordable pan you can find.
Coming in around $10, these sheet pans bake and roast evenly time after time, outperforming a lot of more expensive baking sheets. These aluminum sheets are available from restaurant supply stores and aimed at vigorous, daily use.
They're not non-stick, so do use parchment or silicone mats. However, Winco pans won't warp, rust, or scratch with wire in their rims. They keep their shape, making them tidy and stackable.
They can stand up to hearty washing by hand or dishwasher — which, incidentally, they do need, being non-stick. Over time, the sheets become discolored and look unappealing, but this doesn't affect their functionality.
The Great Jones baking sheet had to make this list with its tongue-in-cheek name and jewel colors (raspberry-colored pan, anyone?).
Superficial criteria aside, it's worth taking a look at this slightly pricer baking sheet if you're interested in an oven-to-table Instagram-worthy tray that is also wholly non-stick and an efficient heat conductor.
The easy clean-up gives the pan a place on the list of best baking sheets alone. No scrubbing is needed, even for roast vegetables or chicken, so you don't need the dishwasher, and the pan remains pristine and beautiful.
It also bakes evenly, being a sturdy, ceramic-coated pan, which means you can even use it for pizza. It's also flat enough for delicate bakes and won't warp.
One challenge is that the pans are darker-colored, so they bake more quickly. Be prepared to adjust your recipes and check for burning if you're using a new pan.
If you're a serious baker who needs heavy-duty pans for daily use, then look no further than Chicago Metallic's commercial baking sheets.
Made of aluminized steel, these baking sheets are touted as lightweight but are heavier than your standard aluminum sheets, with a professional-level 18 gauge. They're also a bit smaller than the usual half-sheet, only 16.75 x 12.5 inches.
These pans are warp-resistant with a wire rim and uncoated, so there's no finicky finish, and these trays handle just about whatever you throw at (or on) them.
They perform well at all temperatures, producing evenly baked and browned cookies and pizza. Their light color avoids over-browning.
In terms of cleaning, you can throw these in the dishwasher, but handwashing and using silicone mats will extend the life of the baking sheets.
These baking sheets are happily affordable and long-lasting but do also come with a limited lifetime warranty.
So, What Are The The Best Rimmed Baking Sheets?
Choosing the best baking sheet for your purposes means deciding what material you would like, how large a sheet you need, how much you want to pay, and how easy it needs to be to clean. There is a baking sheet for every possibility, whatever your budget and priorities.
---
Recent Recipes