Maltese bragioli is also called beef olives because the finished structure is supposed to resemble an olive. If I'm completely honest with you, I don't see it. They look more like Greek dolmas to me. Malta is relatively close to Greece, though it is closer to Italy. Malta is an island in the Mediterranean Sea that is just below the lowest point of Italy.
Despite looking visually complex, maltese bragioli is actually quite simple to make. It requires very little experience or skill, which is great because it is such a unique, fancy looking dish. All you really need to do is chop a few things, pound the meat, and roll it up. After that it's a quick braise and then cooking over low heat for an hour and a half. Because of the cook time, make sure you start earlier in the day.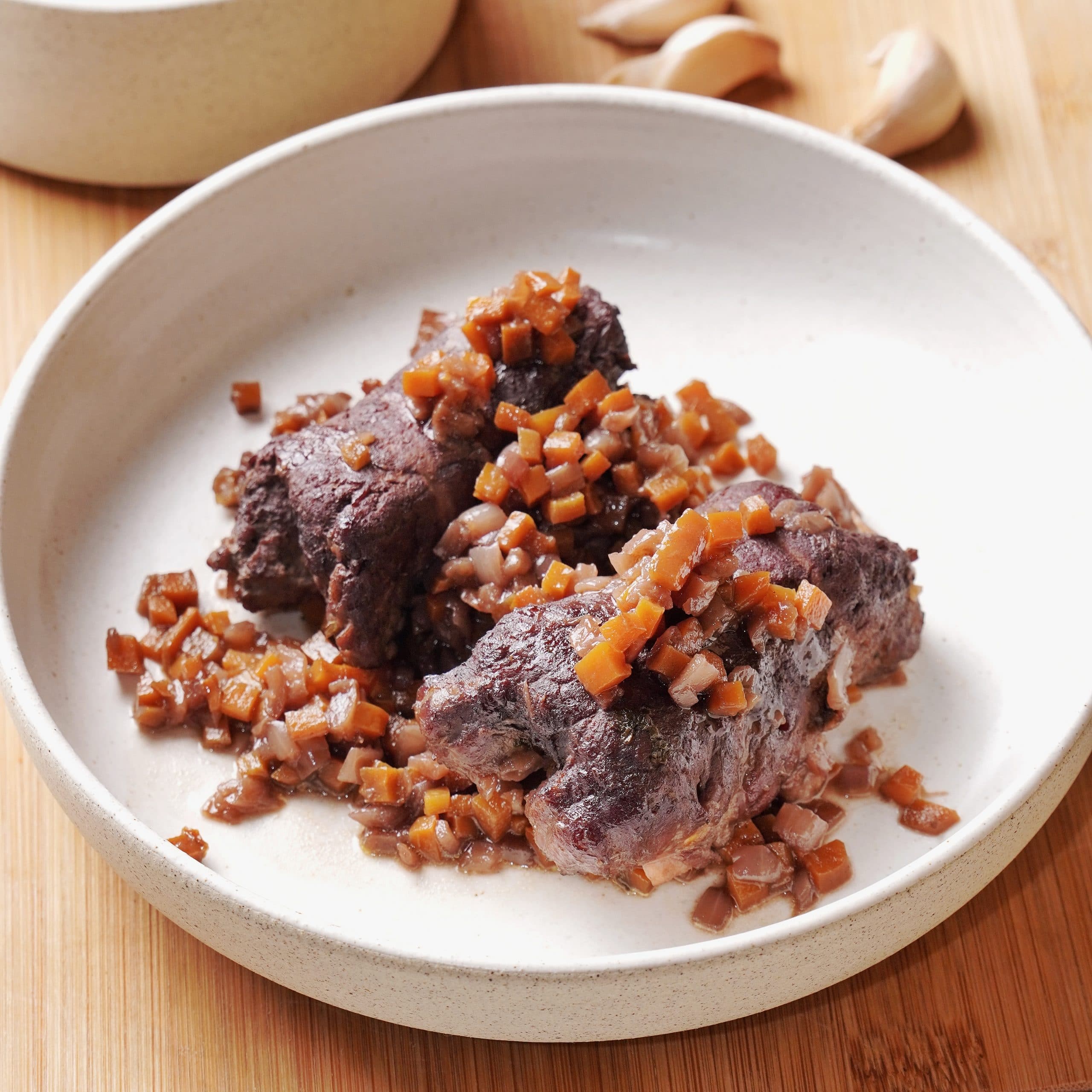 Ingredients
1

lb.

top sirloin

1

onion

1

carrot

3

slices

stale bread

2

hard-boiled eggs

4

slices

bacon

1

bunch parsley

Salt

Ground black pepper

1

tbsp

olive oil

3

garlic cloves

2

bay leaves

1

cup

red wine for braising
Instructions
All ingredients ready? Let's begin!

Lay the meat on a clean surface and pound it thoroughly with a meat mallet or a rolling pin. Pound all areas of the meat until it flattens into an evenly thin slab.

Slice the meat into long strips about two inches wide.

Put the stale bread in a food processor or heavy-duty blender and pulse until the bread has fallen into fine crumbs. If you do not have a food processor, use your hands to crumble the bread.

Peel the onion and finely chop. Chop the carrot. Set aside.

Add the bread crumbs to a medium mixing bowl.

Chop the bacon into small chunks and add to the mixing bowl.

Roughly chop the parsley and add to the bowl.

Finely dice or mince the garlic and add to the bowl.

Cut the hard-boiled eggs into thin slices.

Sprinkle a pinch of salt and pepper into the bowl then mix together.

Spoon some of the bread crumb mixture onto each piece of meat. Spread it across the meat and make sure you have a decently thick layer (you may need to spoon in more).

Place slices of egg down the meat on top of the stuffing.

Roll up the meat length-wise (like a hotdog). Safely secure it with some cooking twine so it does not unravel. Toothpicks work here too.

Heat the oil in a large skillet over medium heat until hot.

Place each meat roll in the skillet and cook until the meat is brown all over. This should take about 5-10 minutes.

Remove the meat rolls from the skillet and place in a deep pot.

Place the bay leaves in the pot as well.

In the previously used skillet, toss the onion and carrot. Cook over medium heat for 4 minutes or until the onions become translucent.

Add the wine to the skillet and cook until it begins to bubble.

Pour the contents of the skillet into the pot and put the pot over medium-low heat or whatever brings the liquid to a simmer.

Leave to simmer for roughly 1 ½ hours. If the bottom of the pot ever begins to appear, add more wine or water, but avoid adding so much it drowns the beef olives.

The beef olives will be done when the meat is soft and very tender.

Before serving, remove the twine or toothpicks. Pour a little bit of the remaining sauce over each meat olive and enjoy!
Video
Nutrition
Calories:
352
kcal
|
Carbohydrates:
17
g
|
Protein:
31
g
|
Fat:
12
g
|
Saturated Fat:
3
g
|
Polyunsaturated Fat:
1
g
|
Monounsaturated Fat:
6
g
|
Trans Fat:
1
g
|
Cholesterol:
161
mg
|
Sodium:
210
mg
|
Potassium:
642
mg
|
Fiber:
2
g
|
Sugar:
4
g
|
Vitamin A:
2704
IU
|
Vitamin C:
4
mg
|
Calcium:
85
mg
|
Iron:
3
mg
Notes & Tips
If you have leftovers, store the beef olives and sauce in a container with a lid. Keep for up to a week and reheat in a microwave.
If you do not have stale bread, you can achieve the same result by toasting bread before crumbling it.
The cut of beef doesn't have to be particularly high quality because it gets beaten and braised, which helps tenderize even the toughest of meats.
Substitutions
If you do not have bread for any reason, you can use panko. Panko is, essentially, bread crumbs anyway. I find that panko is a bit crunchier than normal bread crumbs, but it is not an ingredient I keep on hand all the time.
Olive oil can be replaced by another oil such as vegetable or grapeseed oil. Olive oil has a stronger taste that I like, but feel free to use an alternative if you do not like olive oil.
Serving Suggestions
Because Maltese bragioli is quite heavy, I like to serve it alongside some healthy greens. It helps balance out the nutrition and really brightens up the plate. Asparagus is an excellent side dish and if you use this easy asparagus recipe, it's quick and simple.
Another good serving idea is a simple salad. It adds color and crunch to the rich flavor of the Maltese bragioli. You can even use some of the beef olive sauce as dressing.
What Wine to Use?
Any red wine will do. Because it soaks into the beef and simmers for over an hour, I usually use a cheaper wine, so I'm not wasting money on something I don't get to fully enjoy. While it is best to use cooking-quality red wine, you definitely do not want to use red wine vinegar. That is totally different, but it is an easier mistake to make than you might think.
When it comes down to the wire, you might think that the white wine you have in the back of the fridge will work in a pinch, but it won't. Red wine brings out flavors in meat in the way white wine does not.
If you're able to go out of your way for a specific wine, the most recommended wines for beef are cabernet sauvignon and pinot noir. Honestly though, I use merlot a lot and things are always delicious! If you want to kill two birds with one stone, get a wine you'll enjoy drinking alongside your delicious Maltese bragioli.
---
Recent Recipes