Easy GAPS-Friendly Chicken Liver Pate
If you are familiar with the GAPS dietary program, you likely know that organ meats are considered nutrient-dense foods to be included in the diet. Organ meats are a good source of vitamin A, vitamin B-12, folate, and choline. Chicken livers are especially rich in the minerals calcium, copper, iron, magnesium, and zinc.
I rarely find organ meats in my local market anymore, but Whole Foods often has organic free-range chicken livers. The local butcher shop uses organ meats to make their pet food, so I have to call ahead to ask them to put some hearts or livers aside for me.
I do admit that it took some time for me to warm up to the taste of liver. My mother cooked liver for my father only once a year. She didn't like how it smelled. But, she did like liverwurst and liver pate that she bought in little tubs to serve with crackers as an appetizer. I actually found liver pate to be delicious, not so much just plain sautéed liver.
This chicken liver pate recipe is fairly easy to prepare. However, it is often recommended that you first freeze the livers for at least a week to neutralize any organisms, such as bacteria. I rinse my livers, drain them, trim them, and seal them in freezer baggies in smaller portions. Before cooking the livers, I soak them in runny yogurt or GAPS-approved kefir for about 4 to 8 hours. This further removes any remaining impurities and blood. You don't have to do this, but when I think about the fact that the liver is the filter of an animal's gastrointestinal tract, I like to clean it up a little. The soaking also tenderizes the meat.
For GAPS-friendly pate, you will need chicken livers, kefir, ghee, shallots, celery, garlic, and fresh herbs. The veggies add texture, fiber, and more nutrition. The fresh herbs increase the flavor profile. For serving, you can have celery sticks or seed crackers.
Notes & Tips
As mentioned in my introduction to the recipe, it is recommended that you rinse the livers under cold water to remove excess blood, then clean them up by trimming the connective tissue. Place them in a freezer baggie and freeze them for a week or two to discourage any bacterial growth.
When you are ready to make your pate, defrost them in the refrigerator overnight. Place them in a bowl with kefir. The kefir tenderizes the livers and helps to remove excess blood and impurities.
Do make sure the livers are fully cooked but not hard and dry. They should be opaque, browned, and slightly pink on the interior, but not bloody or rare.
Substitutions
Chicken Livers: This pate can be made with duck livers, preferably organic and free-range.
Kefir: If you are following a strict GAPS diet, you may want to use homemade kefir or homemade yogurt. Otherwise, the livers can be soaked very briefly in raw apple cider vinegar or lemon juice – around 20 to 30 minutes. Remember to rinse them well.
Shallots: One medium white or yellow onion is a fine substitute for shallots.
Celery Rib: I like the neutral flavor of celery in pate. If you want a little more of a vegetable taste, you can use chopped fennel, carrots, or even shitake mushrooms.
Ghee: Ghee is butter that has had the milk solids or sugars (lactose) removed. It may be labeled as clarified butter. It has a nice buttery flavor. If you are completely avoiding dairy, you can use a very good extra virgin olive oil or extra virgin coconut oil. If not avoiding dairy, use cultured butter.
Rosemary and Thyme: I think fresh herbs add something nice to the pate. You can omit them or use other herbs that you like better, such as sage, tarragon, or parsley.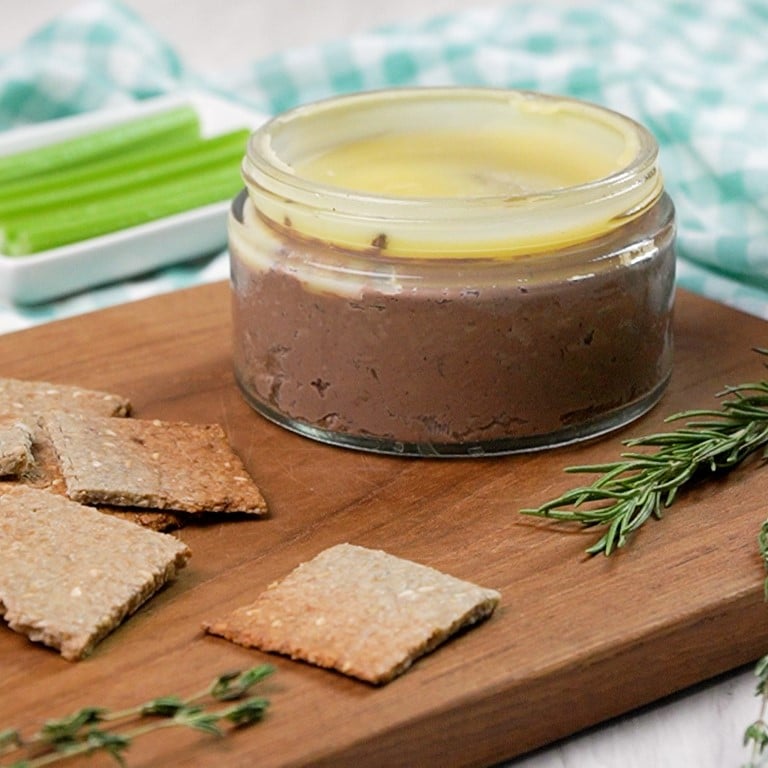 Ingredients
16

ounces

chicken livers

preferably organic and free-range, trimmed

1 ¾

cups

plain kefir

5

Tbsp

ghee

clarified butter, divided

2

medium shallots

peeled and diced

1

celery rib

diced

2

cloves

garlic

peeled and chopped

2

tsp

fresh rosemary leaves

2

tsp

fresh thyme leaves

1/2

tsp

sea salt

1/2

tsp

freshly ground black pepper

3

Tbsp

ghee

melted
Instructions
All ingredients ready? Let's begin!

If you can plan ahead, rinse the chicken livers under cold water.

Drain them, trim the sinew and connective tissue off and separate the lobes.

Place the livers in a plaster freezer bag, seal and freeze them for one or two weeks. Defrost them in the refrigerator overnight.

If you don't freeze the livers, simply clean and trim them and place them into a bowl. Pour the kefir over the livers, cover them, and place them in the refrigerator for 4 hours or overnight.

Rinse the kefir off of the livers and drain them in a colander.

Heat 2 tablespoons of the ghee in a skillet over medium heat. Add the shallots, celery, and garlic. Sautee until the onions have wilted, approximately 2 minutes.

Add the livers to the pan and cook until opaque, stirring often. This should take about 5 minutes.

Add the remaining 3 tablespoons of ghee, rosemary, thyme, salt, and pepper to the livers. Continue to cook until the herbs are aromatic and the ghee has melted, about 1 minute. Turn off the heat and allow the livers to cool for a few minutes.

Transfer the livers, shallots, herbs, and all the fat in the pan to a food processor or blender.

Process or blend until smooth and creamy. Spoon the mixture into a small glass container or ceramic ramekins and smooth the top with a spatula. Place them into the refrigerator to chill.

Melt 3 tablespoons of ghee. Spoon the melted ghee over the surface of the pate to form a thin protective layer of fat to keep it from discoloring.

Cover and store in the refrigerator until ready to serve with celery sticks or seed crackers.
Nutrition
Calories:
314
kcal
|
Carbohydrates:
5
g
|
Protein:
15
g
|
Fat:
26
g
|
Saturated Fat:
15
g
|
Polyunsaturated Fat:
2
g
|
Monounsaturated Fat:
7
g
|
Trans Fat:
0.05
g
|
Cholesterol:
321
mg
|
Sodium:
285
mg
|
Potassium:
197
mg
|
Fiber:
0.3
g
|
Sugar:
4
g
|
Vitamin A:
8555
IU
|
Vitamin C:
15
mg
|
Calcium:
101
mg
|
Iron:
7
mg
---
Recent Recipes