Creamy Potato Milk Vanilla Ice Cream
As the adage goes, "We all scream for ice cream." But what if you can't have dairy or eat animal-based products? Such is the life of a vegan. Fortunately, there is always an alternative to traditional foods and recipes, and ice cream is no different.
If you've been visiting Cook Gem for any length of time, you know that we love sharing substitutes and alternatives to popular foods. A quick look through our Food Substitutes section tells you all you need to know about the possibilities of finding viable replacements for various foods and meals.
So today, we wanted to share with you a Creamy Potato Milk Vanilla Ice Cream recipe that you're sure to love. Please note that the main list of ingredients includes some animal-based products, but we'll show you how to substitute those later in the article if you prefer to do so.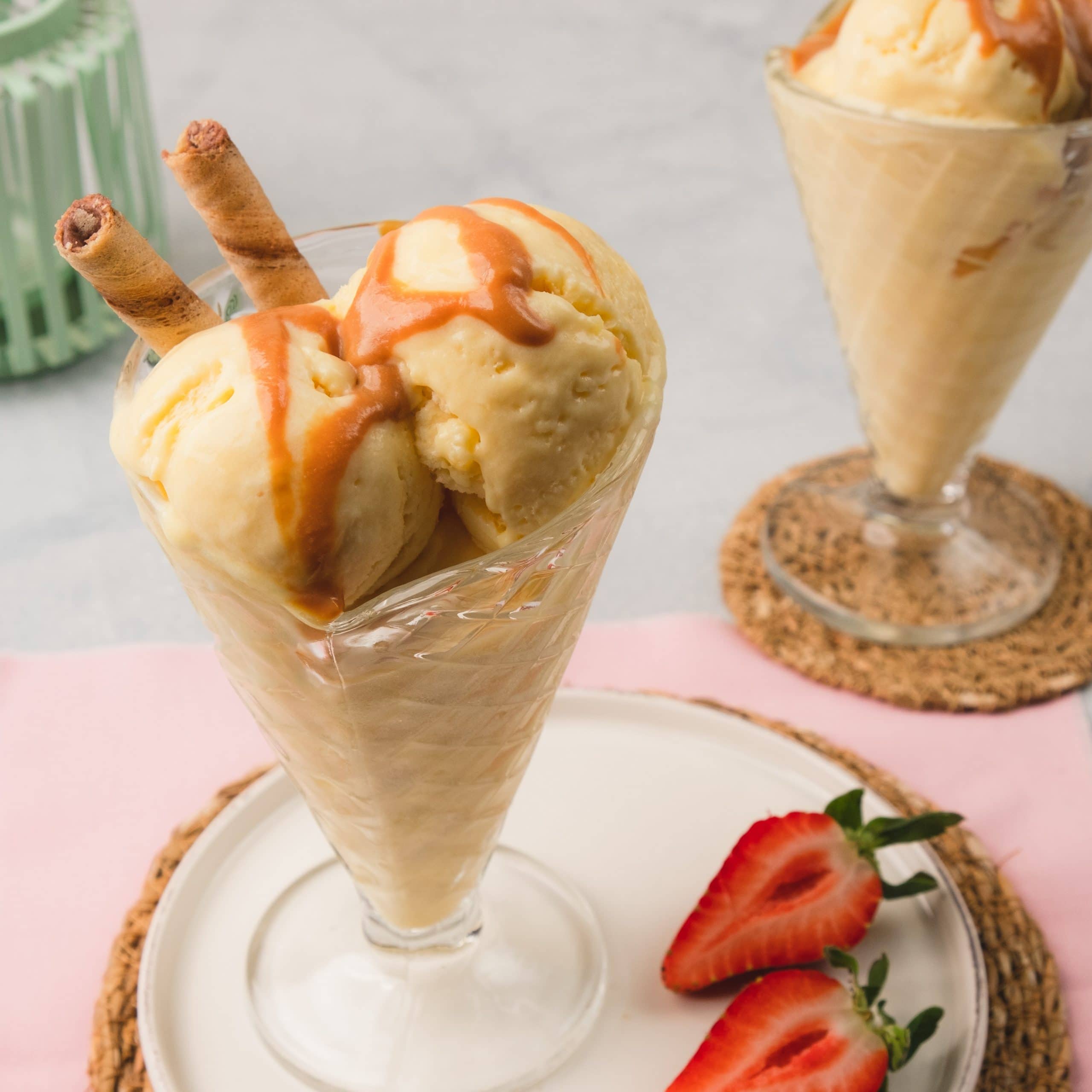 Ingredients
1

cup

of sweetened condensed milk

½

teaspoon

of vanilla extract

2

cups

of mashed potatoes

⅓

cup

of granulated sugar

1

cup

of heavy cream

1

cup

of potato milk

9

egg yolks
Instructions
In a small bowl, stir the sugar and egg yolks until you get a frothy mixture, then set it aside.

In a saucepan, heat the condensed milk, heavy cream, and potato milk to 200°F and keep it there for 15 minutes.

Slowly add half of the hot potato milk mixture to the sugar and egg yolk mixture. Be sure to whisk constantly as you combine these ingredients.

With these ingredients now combined, pour them back into the saucepan holding the other half of the potato milk mixture.

Take the saucepan off of the burner.

Add in the vanilla extract and mashed potatoes, making sure to stir constantly.

Put the finished mixture in an ice cream maker.

Be sure to freeze the mixture as per the manufacturer's directions.

Enjoy your Creamy Potato Milk Vanilla Ice Cream!
Video
Nutrition
Calories:
152
kcal
|
Carbohydrates:
17
g
|
Protein:
3
g
|
Fat:
8
g
|
Saturated Fat:
4
g
|
Polyunsaturated Fat:
1
g
|
Monounsaturated Fat:
2
g
|
Cholesterol:
106
mg
|
Sodium:
49
mg
|
Potassium:
143
mg
|
Fiber:
1
g
|
Sugar:
12
g
|
Vitamin A:
333
IU
|
Vitamin C:
5
mg
|
Calcium:
78
mg
|
Iron:
1
mg
Notes & Tips
Creamy Potato Milk Ice Cream takes some time to make, as it needs to sit in the freezer for 24 hours before serving. Thankfully, the prep time is minimal and shouldn't take you more than 20 to 25 minutes to prepare for the freezer.
Substitutions
Can't get potato milk? If you just want to make a regular vegan ice cream, you can use any plant milk instead. Some popular alternatives include almond milk, oat milk, coconut milk, and soy milk. You don't have to use vanilla when adding extracts, either, although we prefer using vanilla when making vanilla ice cream.
But if you absolutely don't want vanilla for any reason, you can use a variety of flavors to satisfy your taste buds, such as almond extract, hazelnut extract, or any other flavor you like. Conversely, if you prefer a simpler taste that makes the potato milk flavor stand out more, you can omit an extract entirely.
Just be aware that your ice cream will taste a bit bland if you decide to go this route. You can make up for this by substituting the potato milk for something like almond milk. Doing so will provide a bit more flavor that may better complement the ice cream.
If you don't have potato milk, we recommend whipping up your own. See below to find out how to make potato milk.
Don't care for condensed milk? No problem. Cream of coconut is a wonderful substitute to use in its place.
And if you can't eat eggs, check out our Vegan Egg Brands for alternatives. And last but not least, what if you need to substitute heavy cream?
For that, try combining ⅔ cup of soy milk and ⅓ cup of olive oil. This will give you both the taste and thickness of heavy cream to use in the Creamy Potato Milk Ice Cream recipe.
Common Questions
What is potato milk?
Potato milk serves as a substitute for dairy-based milk. Being a plant-based milk, potato milk is derived from cooked mashed potatoes and mixed using the cooking water. Additional ingredients are added to give potato milk its sweet taste.
How do I make my own potato milk?
We previously shared a delicious Creamy Potato Milk recipe that covered all the necessary steps to make potato milk. Check out the link to see how easy it is to create your own. In total, it only takes about 40 minutes.
What potatoes are used to make potato milk?
If you're making your own potato milk to use in Creamy Vanilla Potato Milk Ice Cream, you can use almost any kind of potato, including sweet potatoes. The only types that should be avoided are potatoes that are too waxy, such as baby potatoes, Red Bliss, and New Potatoes. 

Another problem with these types is that their shape is too well maintained. The only exception is certain fingerling potatoes with red skin but low moisture content.

You are looking for starchy but nutritious things that can be cooked into a creamy texture. White potatoes are usually the easiest to locate. Plus, they have really good nutritional value, as do russets.
Sides & Pairings
It's ice cream; it's perfect by itself! Don't be afraid to top it with your favorite toppings. If you're not on a strict diet, you can add chocolate chips. If you're on a low FODMAP diet, swap out the regular chocolate chips with dark chocolate chips.
If you want to get a nice protein boost, sprinkle some chopped or crushed nuts on your ice cream. You might also want to try various chopped fruits. If you need some more recipe ideas for additional snacks or main courses, be sure to head on over to our Recipes section and explore the many unique meals and treats that we've compiled for your consideration. If you're strictly looking for vegan recipes, you can find a whole assortment of them at this link. Happy cooking!
---
Recent Recipes