Easy Firecracker Chicken Wings
You don't need a deep fryer or an entire bottle of vegetable oil to make the perfect sticky, sweet, and spicy chicken wings. You can make great wings right in your oven or air fryer that are crispy and saucy. These firecracker wings will rival any you can get at your local sports bar. And, these are much healthier for you.
Firecracker wings are typically drumettes and wingettes that are seasoned well with dry spices and then cooked until crispy. After the wing portions are cooked and the skin has some crunch, they are coated with a sauce that is sweetened with honey or sugar and spiced with something hot like sriracha, cayenne pepper, or your favorite bottled hot sauce blend. I will give you some options after the recipe instructions and the tips.
As with most of my wing recipes, I use baking powder as the key element to ensure crispy skin. And, I bake at two different temperatures. I start the wings in a 250°F oven for 30 minutes and then finish them at 425°F for an additional 45 minutes. This method seems to work every time for me. I then coat the wings in a warm sauce and serve them right away.
Be forewarned that firecracker wings are sticky in a really good way. Propper dining etiquette does not belong at the table here. You will be licking your fingers. In fact, you will probably be eating the wings standing around the kitchen island the second they are coated with sauce. Just be sure to have a pile of paper napkins, a roll of paper towels, or some wet wipes on hand. I actually serve every meal with cloth napkins because I grew up that way with a mom who preferred cloth to paper. I make an exception for these wings because firecracker sauce is colorful, messy, and delicious.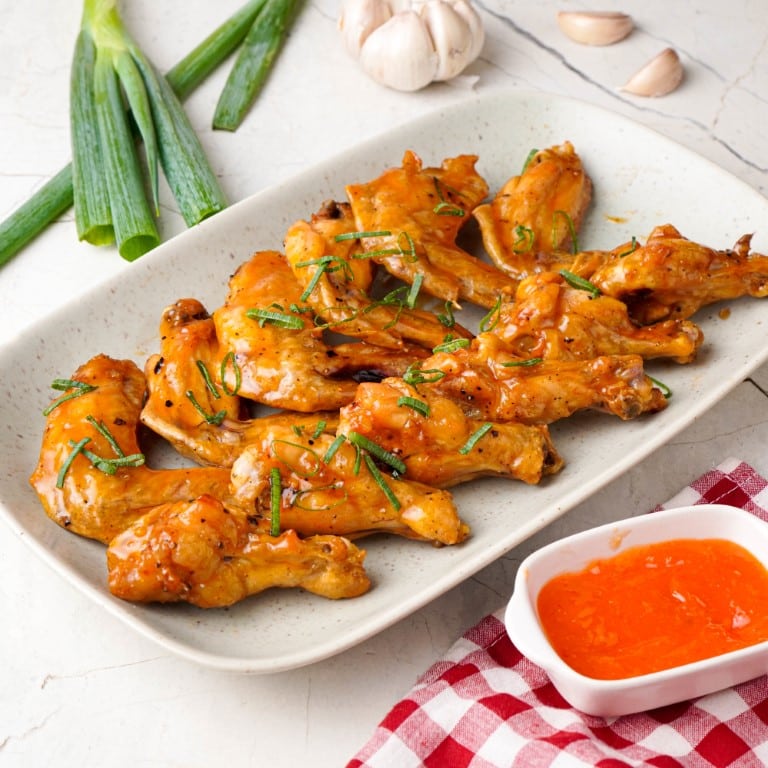 Ingredients
Wings
2

pounds

chicken wings

tips removed and cut into wingettes and drumettes

1

Tbsp

aluminum-free baking powder

½

tsp

garlic powder

½

tsp

coarse sea salt or kosher salt

¼

tsp

smoked paprika

¼

tsp

freshly ground black pepper

Non-stick cooking oil spray
Sauce (double for extra saucy)
1

Tbsp

butter

¼

cup

sriracha or hot sauce

½

cup

honey

1

Tbsp

unfiltered apple cider vinegar

⅛

tsp

cayenne pepper flakes

Salt and pepper to taste

2

Thinly sliced scallions for garnish
Instructions
All ingredients ready? Let's begin!
Wings
Place one oven rack in the lower center slot and another in the slot above that one. Preheat the oven to 250°F. Line a rimmed baking sheet with aluminum foil. Place a wire rack insert inside the pan. Lightly coat the rack with cooking oil spray.

Pat the chicken wingette and drumette portions dry with paper towels. In a large mixing bowl, whisk together the baking powder, garlic powder, salt, paprika, and pepper. Add the wings into the bowl and toss to coat completely in the dry mixture.

Place the wing portions on the oiled rack inside the foil-lined pan, leaving a little space between each. Put the pan in the oven on the lower center rack and bake for 30 minutes.

Move the sheet pan to the upper rack and turn the oven temperature up to 425°F. Bake the wings for 20 minutes. Flip them over and continue to bake until they are golden, crispy, and have reached an internal temperature of 165°F, approximately 25 minutes longer.

Make the sauce during the last 5 minutes of the wings baking.
Sauce
In a small saucepot, melt the butter.

Whisk in the sriracha, then the honey and vinegar. Season with the cayenne flakes, salt, and pepper.

Remove the wings from the oven and brush them with the sauce.

Transfer the wings to a serving platter or a parchment-lined basket. Top with the sliced scallions and serve while warm and crunchy with extra hot sauce on the side.
Nutrition
Calories:
412
kcal
|
Carbohydrates:
37
g
|
Protein:
23
g
|
Fat:
20
g
|
Saturated Fat:
6
g
|
Polyunsaturated Fat:
4
g
|
Monounsaturated Fat:
8
g
|
Trans Fat:
0.2
g
|
Cholesterol:
95
mg
|
Sodium:
1021
mg
|
Potassium:
274
mg
|
Fiber:
0.5
g
|
Sugar:
35
g
|
Vitamin A:
374
IU
|
Vitamin C:
14
mg
|
Calcium:
251
mg
|
Iron:
2
mg
Notes & Tips
If you purchased whole chicken wings, remove the tips and save those for making broth. You can freeze them in a sealable plastic baggie. Slice the remaining wing portions at the joint into drumettes and wingettes.
Depending on the plumpness of the wings, they will cook differently, so keep an eye on them so they don't overcook. Use an instant-read thermometer to check for an internal temperature of 165°F.
I recommend aluminum-free baking powder. It is the better option.
If you really want saucy wings, double the sauce portion of the recipe. Place the cooked wings in a bowl, pour the sauce over them, and toss to coat well.
Substitutions
Sriracha: There are several brands of sriracha to choose from. We have done a comparison of the top 10 sriracha brands. You can also make your own using our fermented sriracha sauce recipe. There are also several hot pepper sauce brands available to choose from, like Frank's RedHot. Some firecracker wing recipes call for using chili garlic sauce as the heat component. This ingredient adds a little extra spice and flavor. You can find this next to the sriracha or in the Asian food section of your market.
Honey: If you don't have honey or just want something different, you can swap this out for pure maple syrup, agave nectar, or even just brown sugar.
Apple Cider Vinegar: What I love about raw, unfiltered apple cider vinegar is the probiotic quality it has. I also do enjoy the taste of it. For a little more sweetness, try balsamic vinegar. Rice wine vinegar is another good selection. In a pinch, lemon juice will work fine for the acid component.
Scallions: I like the brightness and freshness that scallion slices add to this recipe. If you simply want color, use minced flat-leaf parsley instead. If you are looking for more heat, add thinly sliced or minced jalapeño peppers.
---
Recent Recipes