Fans of hot sauce usually list sriracha as one of their favorite condiments. This spicy, garlicky sauce is a pantry staple for anyone who loves cooking Thai and Vietnamese food and is widely available in most supermarkets. Which of the many hot sauces available is the best sriracha sauce?
The best sriracha sauce balances heat (chili), sweetness (sugar), and sourness (garlic, salt, and vinegar) and has a smooth texture. The top 10 sriracha sauces are Huy Fong, Siraja Panich, Kikkoman, Polar, Lee Kum Kee, Shark, Fix, Healthy Boy, Bushwick Kitchen, and Organicville Sky Valley.
Delicious as a dipping sauce for dumplings, a coating for noodles, or a zesty addition to anything from scrambled eggs to seafood, sriracha sauce is a popular condiment worldwide. Read on to find out which of the many brands tops the rest.
What Is The Best Sriracha Sauce?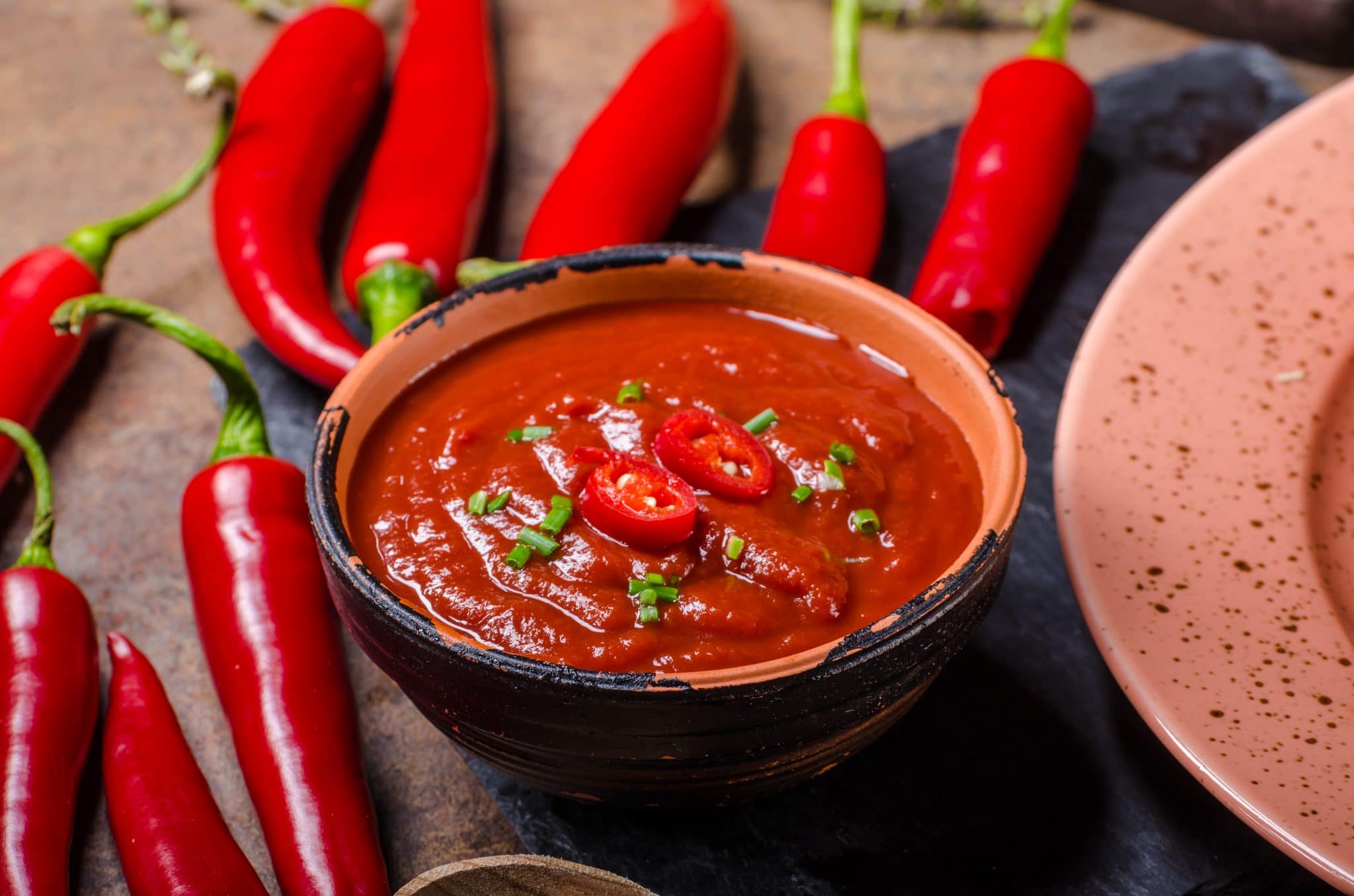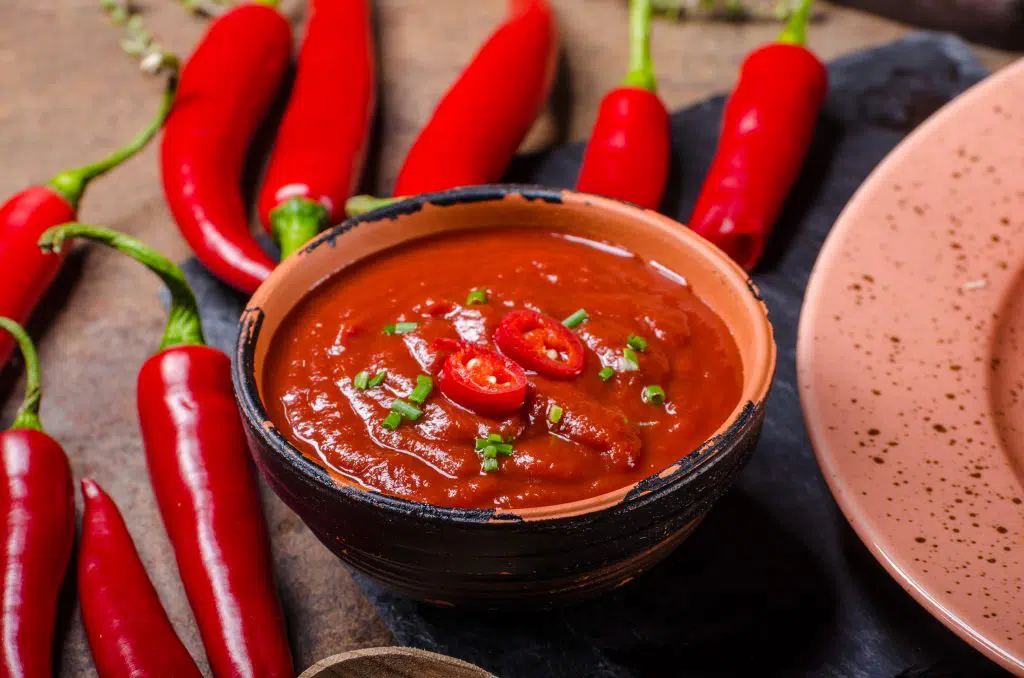 Most Americans are familiar with the iconic Huy Fong sriracha sauce, branded with a rooster. Although this is a venerable condiment, first made in 1980 by the 68-year-old Vietnamese immigrant David Tran, there are other brands of the sauce available, some with even older histories and alternative ingredients.
Before we investigate the best-tasting sriracha sauce out there, let's look at what sriracha sauce is and what makes it unique.
What Is Sriracha Sauce?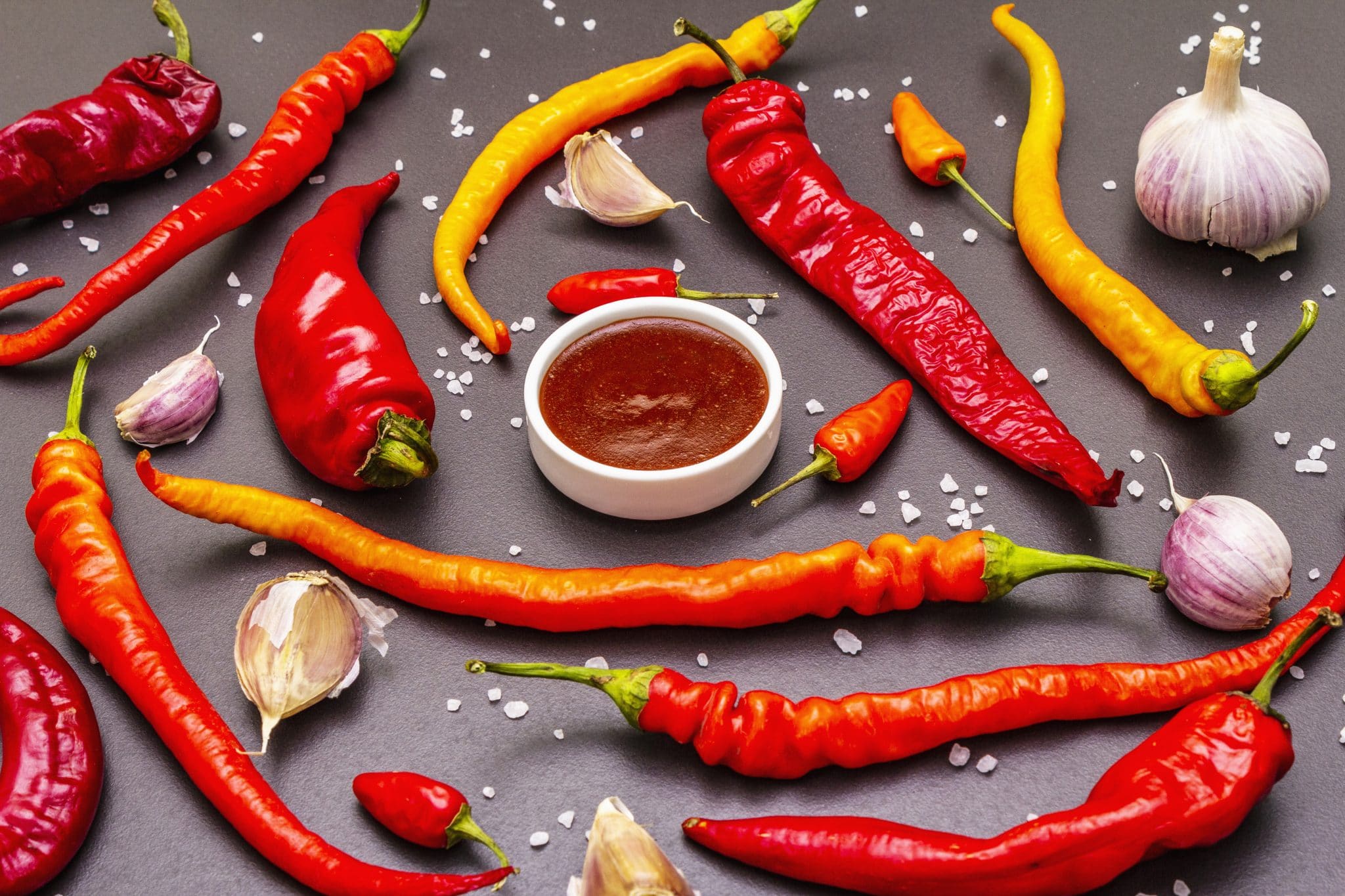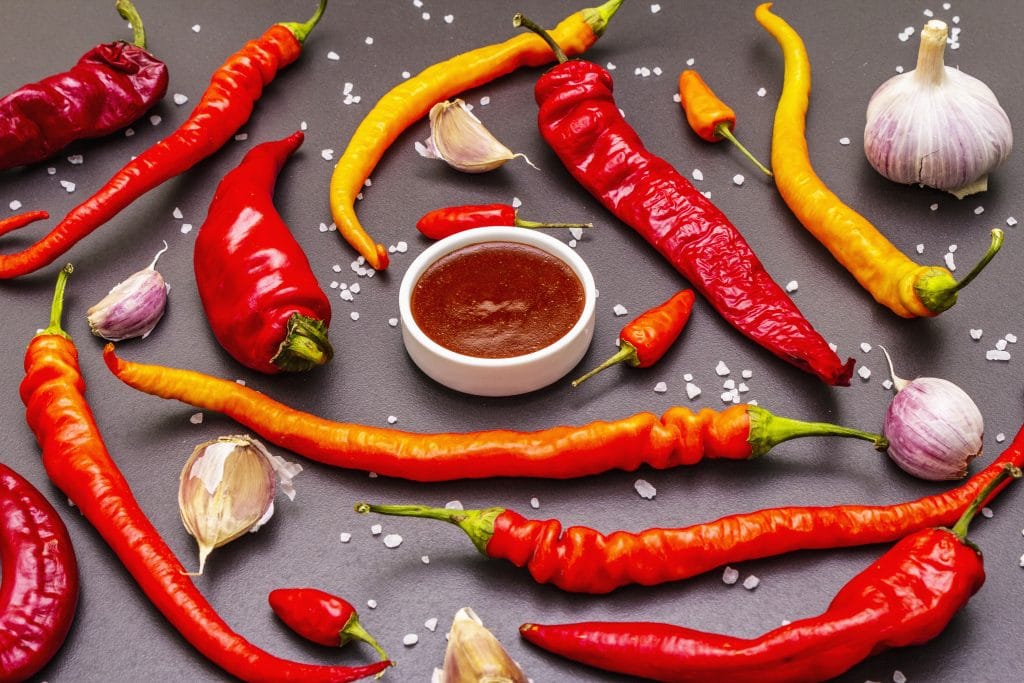 Sriracha sauce is a hot chili pepper sauce with five essential ingredients (chili peppers, garlic, sugar, vinegar, and salt). Variations in these ingredients — and the addition of thickeners (usually xantham gum or tapioca starch), preservatives, flavoring agents, MSG, and other spices — distinguish the numerous sauce brands.
To make authentic sriracha, hot red peppers are fermented — the type of pepper and the period of aging will influence the flavor of the sriracha, making it sweet and mellow, or hot and fiery.
Despite gaining fame in the US via the Vietnamese innovator of Huy Fong, sriracha sauce is a Thai invention originating on Thailand's East coast. It is named for the city of Sri Racha (Sriraja in Thai), which lies an hour or so south of Bangkok.
This simple sauce was first produced commercially in the 1930s by Thanom Chakkapak. Initially making it only for family and friends, Chakkapak built a company around the sauce she named for her hometown. In the 1980s, Chakkapak sold her sauce company to Thai Therapos, a massive food production company, which called the sauce Sriraja Panich. This brand is still made according to her original recipe and remains the most popular sriracha sauce in Thailand.
In 1980, David Tran created a version of sriracha for the Vietnamese food he was preparing in southern California — the famous Huy Fong sriracha.
What Makes Sriracha Sauce Good?
What are the criteria for judging the best sriracha sauce? There are several elements that you look for in an excellent hot sauce:
Heat: Sriracha is a chili sauce, so you want some fire. However, the burn mustn't be overwhelming.
Sweetness: The sweet-sour-hot balance needs to be there.
Sourness: The garlic must be evident but not overpowering. Many versions of the sauce also contain vinegar for astringency.
Consistency: Essentially a drizzling sauce rather than a paste, sriracha should be on the thinner rather than on the chunkier side, and silky rather than grainy.
The Top 10 Sriracha Sauces
Narrowing down the variety of brands to the top 10 sauces is difficult, but these are the ultimate sauces if you love sriracha.
Huy Fong
Ingredients: Jalapeno chili peppers, sugar, salt, garlic, distilled vinegar, preservatives (potassium sorbate, sodium bisulfite), thickener (xanthan gum)
Almost synonymous with sriracha sauce in the US, Huy Fong remains a favorite. Perhaps because it's familiar, probably because it's comforting – either way, this sauce is still one of the best.
Huy Fong is a hot sauce, make no mistake, with an initial sweetness on the tongue building to a fiery conclusion. There is a robust garlicky flavor, making the sharp boldness of the sauce the number-one choice for those who prefer bite over sweetness.
However, the tanginess isn't overwhelmed by either chili or garlic, allowing for a complex mix of tastes, ranging from citrus to pepper.
Made from jalapeno peppers rather than milder Thai peppers, Huy Fong also includes thickeners that make the sauce smooth and pourable, as well as preservatives.
Siraja Panich
Ingredients: Spur chili, sugar, acidifier, garlic, water, salt
The original sriracha sauce and still the most popular brand in Thailand, Siraja Panich is surprisingly mild and salty if you're used to the boldness of Huy Fong.
Registering low on the heat scale, the sauce has an initial sweetness and then a powerful garlic flavor — brace yourself — rather than chili.
The relative mildness can be explained by the use of spur chili, a much gentler pepper than the traditional Thai chili. The peppers also undergo a long fermentation process, accounting for the mellow sweetness and complex flavors.
The sauce's texture is thick and silky, ideal for serving with Thai omelets and seafood, where you don't want your hot sauce to be the only thing you taste.
Sriraja Panich contains no additives, preservatives, or thickeners.
Kikkoman
Ingredients: Chili peppers, vinegar, garlic, sugar, salt, water, natural flavor, preservatives (potassium sorbate, sodium bisulfite – less than 1%), thickener (xanthan gum)
Kikkoman, famous for soy sauce, produces a sriracha sauce that burns and will please fans of a robust hot sauce. The fire starts immediately, building and lingering as you eat.
With the same salty quality as their soy sauce and an intriguing dark color, Kikkoman sriracha sauce has a sweet undertone and a pleasant garlicky flavor. It also has an unusual smokiness that distinguishes it from other sriracha sauces.
The smooth consistency is thick enough to use as a dipping sauce but remains sufficiently thin for drizzling.
Polar
Ingredients: Water, red chili, sugar, garlic, salt, stabilizer (xanthan gum), thickener (modified corn starch), acidity regulator (acetic acid), preservative (sodium benzoate), color (paprika oleoresin)
Tobasco sauce is what comes to mind when you taste Polar's sriracha sauce – this is a tongue-tingling, palate-searing, throat-catching condiment.
The sauce is bright and fresh with a vinegar-forward flavor, a feisty chili burn, and a lingering aftertaste.
The consistency is a little thin, but then you won't need much of this sauce for effect.
Lee Kum Kee
Ingredients: Red chili, sugar, salt, garlic, fish extract (anchovy), acetic acid (vinegar), ascorbic acid
Lee Kum Kee's intensely candy-like flavor is a winner for hot sauce enthusiasts who like some sweetness with their fire. Tempered by a kick of chili and the unusual addition of fish extract — which you sense rather than taste — this sriracha sauce is different from anything else you've tasted.
Texture-wise, Lee Kum Kee's offering is also attractive, with a gritty, almost chunky consistency that makes it suitable for dipping and cooking. Those who prefer a silkier texture may be put off.
Shark
Ingredients: Chili, water, sugar, garlic, salt, vinegar
Shark, another authentic Thai sriracha sauce, has been popularised by Pok Pok's Andy Ricker, James Beard Award-winning chef.
Shark is ideal for any Asian noodle dish that needs a hit of heat, as its consistency is very different from all the other sauces out there — it is very runny, almost watery, which makes it unappealing for dipping or drizzling.
However, the flavor is superb, with the brightness of fresh chili and a bold vinegary tang tempered by a distinct sweetness. Hotter than Sriraja Panich, this Thai sauce's aroma is delicious and peppery, while the initial zest leaves a lingering bite.
Fix
Ingredients: Organic red chili, garlic, sea salt, cane sugar, rice vinegar
Although initially a Thai sauce, sriracha sauces from Vietnam are also hitting the shelves. This sauce by Fix is proudly organic and includes no preservatives or additives.
The flavor of Fix's sauce is smoky, burny, and hearty, while the texture leans towards the thin. The combination of smoky heat and runny consistency makes the sauce a good fit for meaty noodle dishes, grills, and marinades.
Fix also makes a lemongrass-inspired green sriracha if you prefer a more Thai rather than Vietnamese flavor profile.
Healthy Boy
Ingredients: Water, sugar, chili, vinegar, garlic, thickeners (tapioca starch, xantham gum), salt, MSG, paprika, citric acid, preservatives (sodium benzoate)
Created as a competitor for Huy Fong, this Thai brand resembles the classic American brand in both flavor and appearance.
What distinguishes Healthy Boy's version is an added sweetness to go with the vibrant kick of chili and a really gorgeous heat that lingers a while. However, the flavors are balanced, with the sweet-sour-hot combination coming through perfectly.
The texture of this sriracha sauce is also thicker than usual, making it a delicious vehicle for dipping dumplings, chicken wings, or even French fries.
Organicville Sky Valley
Ingredients: Cayenne pepper puree (cayenne peppers, salt, distilled vinegar), water, sugar, jalapeno peppers (red jalapeno peppers, salt, citric acid), dried garlic, distilled vinegar, spice, thickener (xanthan gum), citric acid
Perhaps because it combines chili peppers, Sky Valley is a delightfully balanced sriracha sauce, with a happy medium between sweet and hot. This sauce also has a lovely fruity smokiness and spiciness, reminiscent of grilled peppers.
The flavor of this sauce is also appealing, with a slight graininess. The deep red color looks fantastic, so it is excellent for food presentation.
Bushwick Kitchen Weak Knees
Ingredients: Gochujang paste (tapioca syrup, water, brown rice, red pepper powder, salt, alcohol, soybean, garlic, onion), water, sugar, garlic, vinegar, olive oil, spices, oleoresin habanero, oleoresin capsaicin, oleoresin paprika
Combining the traditional chili-garlic of Thai sriracha with Korean fermented chili paste, this sauce by Bushwick Kitchen is not true sriracha but a magnificent fusion between two classic chili condiments.
Mild rather than furnace-like, this sauce has rich and complex flavors, with a slight sweetness. Less obviously garlicky than most sriracha, Bushwick Kitchen's sauce is reminiscent of sriracha but less tangy.
The sauce's texture is thicker and grainier than other sriracha because it is based on Gochujang paste, so it's better spread or dolloped than drizzled.
Use this tasty sauce in any Asian dish, or try it on sandwiches for added zest.
The Runners-Up: Sriracha Sauces Worth Trying
There are many great sriracha sauces out there, many deserving of praise and worth trying if you're a hot sauce fan. These are the runners-up, requiring an honorable mention in the sriracha stakes.
Koh Loy/Aahaarn
Relatively unknown outside of Thailand, this sriracha sauce is still made in Sriraja under the brand name Koh Loy. More recently, the same sauce has been produced in Australia under the new brand name.
Sweeter and thicker than most sriracha sauces, this traditionally made sauce is less aggressive on the tongue and more suited for dipping. It matches well with seafood.
KimKim
Made by a Korean-born American, KimKim is not strictly speaking a sriracha sauce, but a variation of ssamjang, the Korean dipping sauce.
The main ingredient is fermented red pepper paste, but this sauce also contains soy paste, vinegar, sugar, and sesame seeds, which gives the condiment a slightly different flavor profile.
Not as sweet or sour as sriracha, KimKim has rather a spicy umami taste that makes it a glorious pairing with all Asian dishes.
Crying Tiger
Crying Tiger is not for everyone with its vibrant, almost artificial color and fierce flavor.
This sriracha sauce offers a slow burn, which builds up and lingers. The flavor is bright and vibrant, with an appealing tang, but it is a little salty.
So, What Is The Best Sriracha Sauce?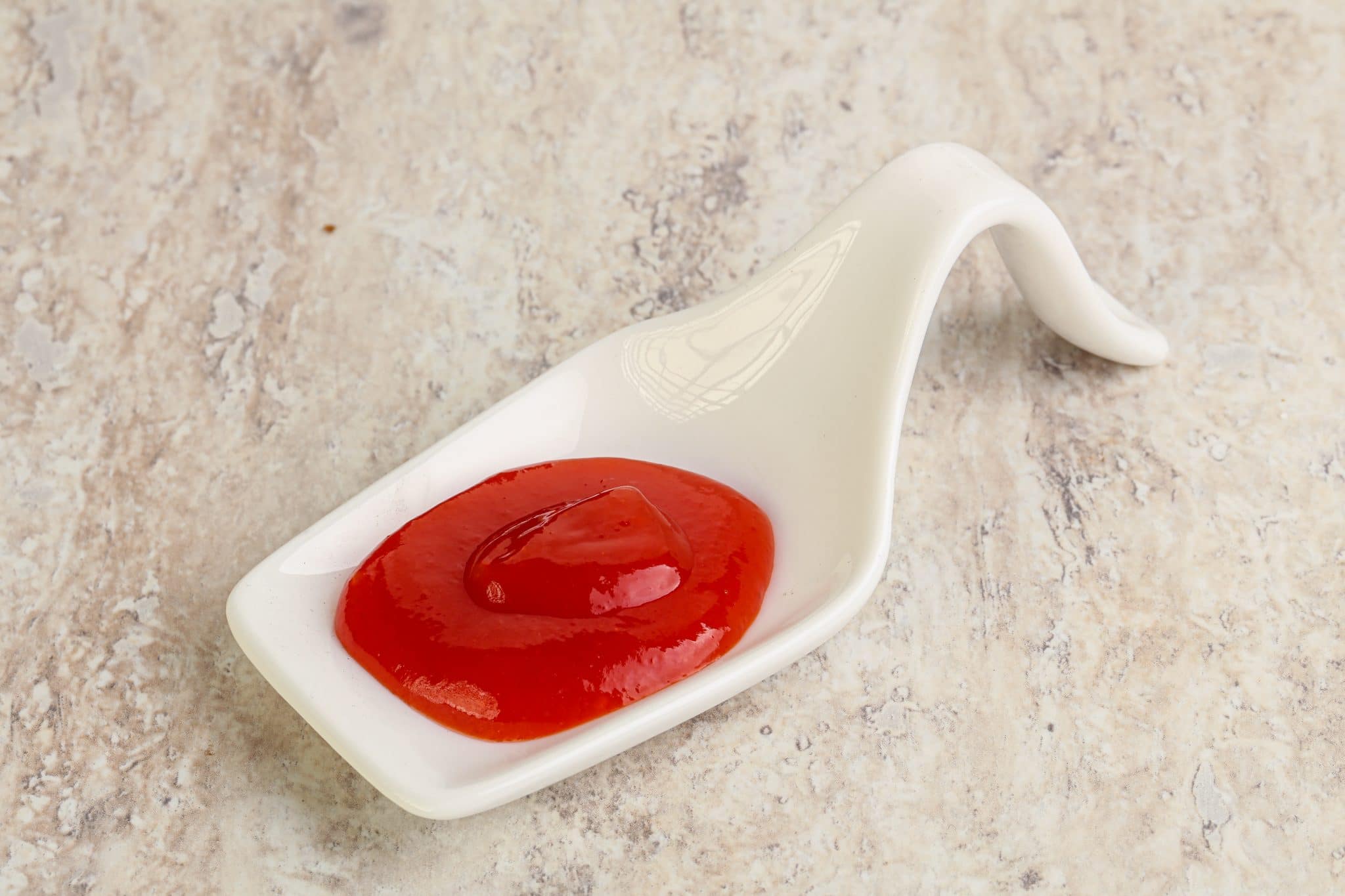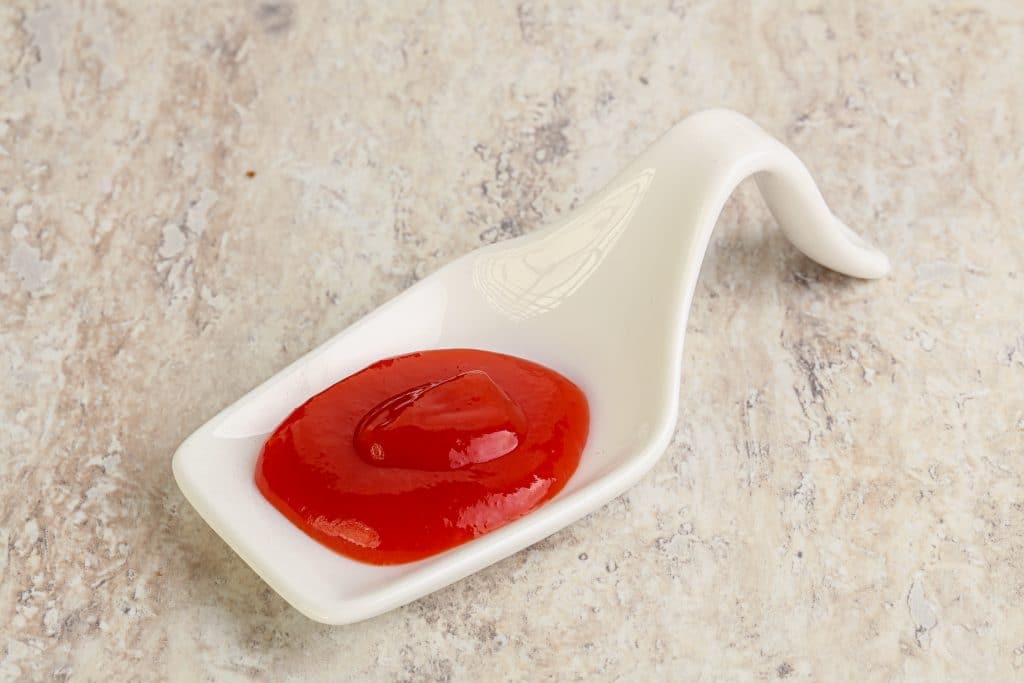 The best sriracha sauces balance heat, sweetness, and sourness with their robust flavors of chili, garlic, and vinegar. The American classic Huy Fong remains one of the best sriracha sauces around, while the authentic Sriraja Panich is an excellent choice for those who prefer a milder sauce.
---
Recent Recipes