Morocco is a country that sits directly on both the Atlantic Ocean and the Mediterranean Sea in the northwestern corner of Africa. It is a stone's throw from the tip of Spain in Europe. While a predominantly Islamic country, Morocco's culture is greatly influenced by its close proximity to Europe with its Christian and Jewish communities. As you might imagine, the cuisine of Morocco is quite diverse.
Beef, lamb, and poultry are common proteins in the Moroccan diet. Pork is forbidden, due to religious doctrine. Because this is a coastal country, seafood has become an increasingly popular protein. The variety of available seafood is endless. You will find a plentiful supply of salmon, tuna, swordfish, hake, branzino, sardines, and whiting at local fish markets.
I was very curious to find out how seafood is prepared in Morocco, being that many of the dishes are prepared in specialized cooking vessels that allow the cook to make an entire meal in one pot. Couscous is prepared in a sort of double boiler known as a couscousiere where the pasta is steamed in an upper pot and the accompaniments may be cooked in the lower chamber. A tagine is an earthenware or clay bowl with a cone-shaped lid that encourages moisture to return to the bottom so that a dish of vegetables, legumes, and proteins can remain moist while slow cooking. Grilling over coals is also a common method of cooking.
In my research, I discovered that seafood is often traditionally simmered with vegetables, fruits, and spices. It is then served with a grain, couscous (pasta), or bread, and maybe a fresh salad of cucumbers, tomatoes, and olives. I also found recipes for Moroccan fish fillets that are heavily seasoned with local herbs and spices and cooked on a grill. I have to say that most of the grilled recipes I found were not really authentically Moroccan and more of a European or Americanized dish that is comprised of fish fillets or skewered fish cubes that are seasoned heavily and grilled. I kept going back to the recipes that had fish simmering in a sauce of fresh moist fruits and vegetables.
For this Moroccan-style salmon recipe, I am going old school with fillets that are gently simmered with tomatoes, bell peppers, aromatics, potatoes, spices, herbs, and lemon. This is very typical of how dishes are prepared in Northern Africa – low and slow cooking where the flavors infuse every part of the dish. I love this method of cooking, especially when summer starts to turn to fall in the northeast. To me, this is comfort food. Summer veggies are peaking, fish is still fresh, and I have grown a little weary of firing up the grill by the end of August.
One of the favorite toppings for fish in the region is chermoula. Chermoula is basically a pesto of fresh herbs, garlic, and spices. It is fantastic on grilled or simmered fish and just as good on grains and vegetables. My recipe for Moroccan Salmon includes instructions for chermoula, which you can skip or make well ahead of time.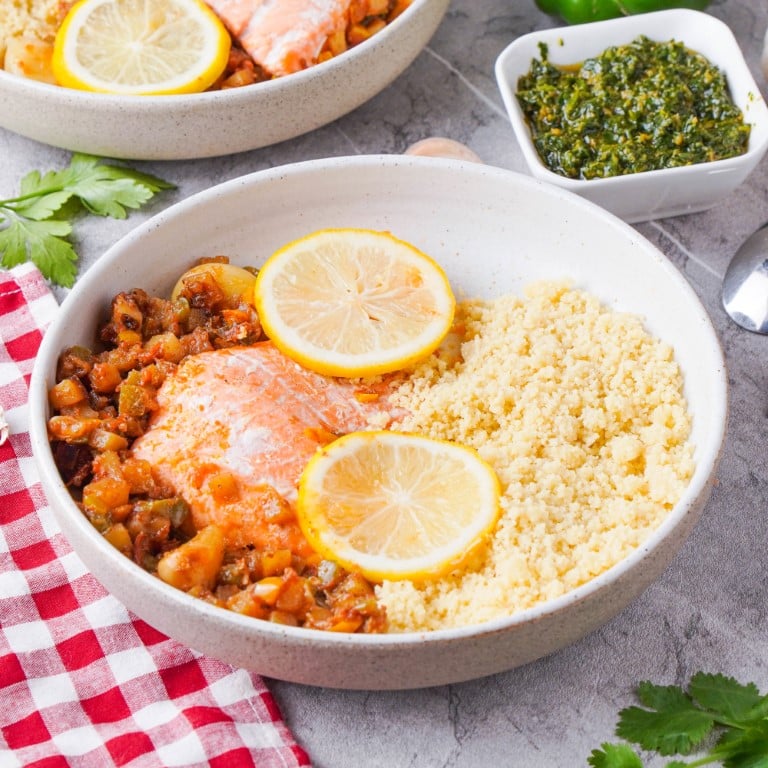 Ingredients
Chermoula
2

Bunches of fresh cilantro

1

bunch flat-leaf parsley

stems sliced off

3

garlic cloves

peeled

¾

tsp

sea salt

1

tsp

ground cumin

1

tsp

paprika

¼

tsp

ground coriander

⅛

tsp

cayenne pepper

⅓ to ½

cup

extra virgin olive oil

¼

cup

freshly squeezed lemon juice
Salmon
½

cup

extra virgin olive oil

divided

20

whole garlic cloves

peeled

5

medium ripe tomatoes

cored and diced

2

medium white potatoes

washed and diced

2

green bell peppers

seeded and diced

2

yellow or orange bell peppers

seeded and diced

2

jalapeño peppers

sliced into thin rings

2

tsp

ground cumin

2

tsp

paprika

1

tsp

sea salt

1

tsp

freshly ground pepper

¼

tsp

cayenne pepper flakes

more or less as desired

4

6-ounce portions of skinless salmon, preferably king or coho

1

small lemon

sliced thinly

Couscous or cauliflower rice for serving

Chermoula for serving
Instructions
All ingredients ready? Let's begin!
Chermoula
Coarsely chop the cilantro and parsley and place the herbs in the bowl of a food processor. Pulse until finely chopped.

In a mortar and pestle, mash together the garlic and salt to form a paste. Add the garlic paste to the food processor, along with the cumin, paprika, coriander, and pepper. Pulse just to combine.

Place the top on the processor. With it running, slowly pour in the olive oil and then the lemon juice. Process until just combined and still a little chunky.

Place in a jar with a lid and refrigerate until ready to serve.
Salmon
In a large heavy-bottomed skillet or sauté pan with a lid over medium-high heat, warm 2 tablespoons of the olive oil. Add the garlic and cook until fragrant and just starting to brown, approximately 3 minutes.

Add the tomatoes to the pan and lower the heat to medium-low. Sauté for 3 minutes until the tomatoes release their juices and start to soften.

Add the potatoes to the tomatoes and layer the bell peppers and jalapeños on top of the potatoes. Add the remaining olive on top of the peppers. Cook until everything begins to soften, approximately 4 minutes.

Stir in the cumin, paprika, salt, pepper, and cayenne. Turn the heat down to a very low simmer.

Cover the pan and cook for approximately 1 hour, stirring a couple of times.

Nestle the salmon portions, flat side down, into the sauce, cover the pan, and continue to cook for 10 minutes.

Layer the lemon slices on top of the salmon, cover, and cook for an additional 5 minutes or until the salmon is just opaque.

Serve the salmon with couscous or cauliflower rice. Spoon some sauce with potatoes around the salmon and serve chermoula on the side.
Nutrition
Calories:
813
kcal
|
Carbohydrates:
39
g
|
Protein:
40
g
|
Fat:
57
g
|
Saturated Fat:
8
g
|
Polyunsaturated Fat:
9
g
|
Monounsaturated Fat:
37
g
|
Cholesterol:
94
mg
|
Sodium:
1129
mg
|
Potassium:
2085
mg
|
Fiber:
7
g
|
Sugar:
8
g
|
Vitamin A:
2275
IU
|
Vitamin C:
243
mg
|
Calcium:
122
mg
|
Iron:
5
mg
Notes & Tips
If you decide not to make chermoula, you will do well to add fresh cilantro leaves to the salmon when you serve it for that herbal freshness and a bit of vibrant color that the chermoula provides.
The sauté pan you use needs to have sides tall enough to hold all of the sauce and the fish fillets.
Whole garlic cloves are preferable in this dish because many Mediterranean cooks actually like to remove the garlic before serving. If you really want a lot of garlic flavor, slice the cloves very thinly so they melt into the sauce. I don't mind soft whole garlic cloves in this dish.
Keep an eye on the salmon so it doesn't overcook. You want it to be just opaque and still a little pink in the center when you pull it off the heat.
Substitutions
Fish: Salmon is rich in flavor and omega-3 fatty acids that make this dish both delicious, unctuous, and heart healthy. Swordfish would be an excellent alternative. It is another fish with a ton of flavor and fattiness. If you would prefer to go a little lighter and flakier, cod loin would be a good choice. Just cook the cod for a few minutes less. If you want to make a vegan version of this recipe, I would replace the salmon with thick diced butternut squash (cooked with the potatoes) or thick "steaks" of zucchini or aubergine (eggplant).
Potatoes: I think the best potatoes for this recipe are waxy ones, such as red bliss because they have less starch and won't fall apart during the long cooking time. They will add just enough starch to help thicken the sauce. You could also use about 6 baby or new potatoes. Japanese white sweet potatoes would also work. If you want to stay paleo or keto, add eggplant or cauliflower to the dish and skip the potatoes. I have seen a similar recipe that calls for a can of chickpeas instead of potatoes. That is pretty native to the region.
Cooking Methods
You could make the sauce without adding the salmon. Then, season the salmon well with a paste of extra virgin olive oil, cumin, paprika, salt, pepper, and cayenne. Once seasoned, prepare your grill and oil the grates well. Grill the salmon a few minutes per side and serve it over the sauce as a base.
Another way to cook the salmon is to very lightly coat it with flour and spices and then bake it on an oiled sheet pan in a 400°F oven until a little crispy and golden brown. Again, serve over the sauce.
---
Recent Recipes