Simple Greek Hortopita (Greens & Cornmeal Crust Pie)
This recipe may seem odd at first because hortopita is classically made with sheets of phyllo dough for a light, flaky crust and topping. I first made a cornmeal-crusted pie from a recipe that originated in Italy. It was more of a pizza than a pie. Upon further research, I discovered that some Greek hortopita recipes actually call for cornmeal, similar to the Italian version. This is fairly common in the northern areas of Greece. I decided to try this version of a greens pie because I wanted my crust to be gluten-free. Phyllo is made from wheat flour, so that wasn't an option.
Hortopita is a beautiful vegetarian dish that is filled with lots of fresh leafy greens and herbs. I also add some cheese to make it a bit creamy and more substantial.
What I really like about the cornmeal crust version is that it is crunchy and offers a good amount of corn flavor to the pie. The crust is a simple batter of coarse cornmeal, water, and olive oil. The filling is any fresh greens and herbs I have on hand. When I first made this recipe, I had just been to the farmer's market and beets were in season. I bought the beets because the green tops were so bright and fresh. I also picked up some watercress, parsley, and basil. There are many greens and herbs you can use, which I will discuss in the substitutions section.
I make this pie in a standard glass pie plate. It slices up nicely into wedges that can be eaten by hand with napkins just as you would a pizza slice. The pie is very rustic in appearance, which is exactly what you want. In Greece and Italy, it is often cooked in a cast-iron skillet over a coal fire with a top placed over the pan. For this version, we'll bake it in an oven.
I think hortopita is a one-dish meal in itself. If I am making this for family or guests, I will accompany it with a tomato, cucumber, and kalamata olive salad lightly dressed with oil and lemon juice. I serve it with a bold and dry white wine or a sparkling dry white or rosé.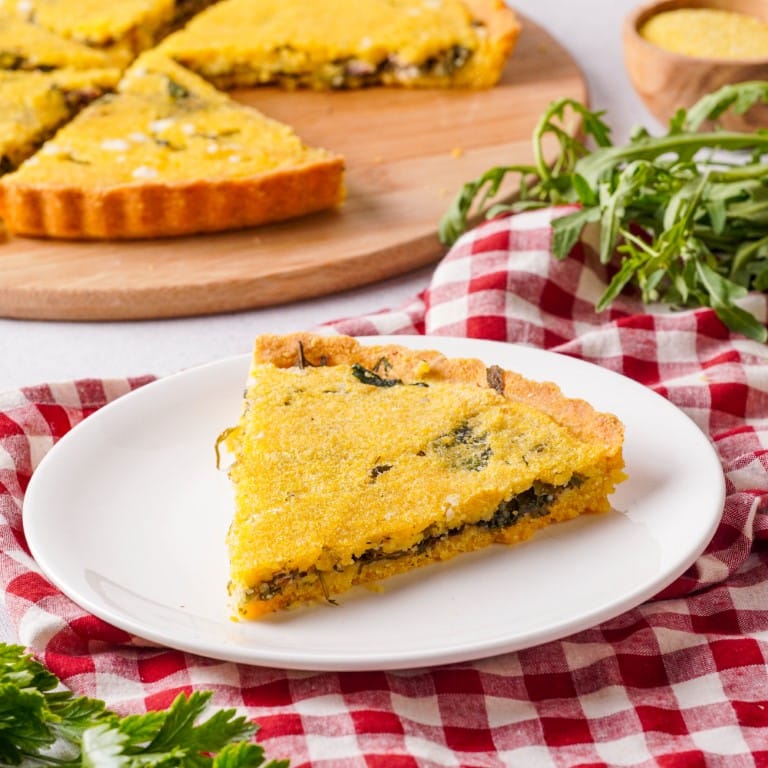 Ingredients
Crust
1 ½

cups

coarse yellow cornmeal

1

cup

water + more for the top crust

if needed

¼

cup

of good quality extra virgin olive oil

½

tsp

coarse salt

½

tsp

freshly ground pepper
Filling
5

cups

fresh leafy greens

beet greens, spinach, arugula, chard e.g., roughly chopped

¼

cup

chopped flat-leaf parsley leaves

¼

cup

chopped fresh dill leaves

1

large spring onion

preferably red or 4 scallions, sliced thinly

4

ounces

feta cheese

crumbled

2

Tbsp

good extra virgin olive oil

1

tsp

fresh lemon zest

½

tsp

coarse sea salt

¼

tsp

freshly ground pepper

Pinch

of cayenne pepper

optional

Extra virgin olive oil and coarse salt for topping the pie
Instructions
All ingredients ready? Let's begin!

Preheat your oven to 350°F. Lightly grease a pie plate with olive oil.

In a large mixing bowl, combine the cornmeal, water, olive oil, salt, and pepper. You can use clean hands to mix everything together. Adjust the mixture with either more cornmeal or water to make sure it holds together like a pie crust that can be firmly pressed into the pie plate. Take 1/2 of the cornmeal mixture and pat it into the bottom and sides of the pie plate. Reserve the remaining crust mixture.

In another large bowl, combine the greens, herbs, and onions, tossing with your hands. Mix in the cheese, olive oil, lemon zest, salt, pepper, and cayenne (if using).

Place the greens mixture evenly over the pie crust, pressing down lightly to flatten it.

Take the remaining cornmeal mixture and thin it with a little water so that it is spreadable with a silicon spatula or the back of a large spoon over the greens.

Spoon this over the greens as evenly as possible to form a top crust that seals the pie. Keep in mind that this is rustic, so imperfections and some greens showing through are ok.

Drizzle a little olive oil over the top of the pie. Sprinkle some coarse salt over the olive oil. Place the pie in the preheated oven and bake for 50 to 60 minutes until the top of the pie is golden and crunchy.

Remove the pie from the oven and allow it to rest for about 5 minutes before slicing it. Slice into wedges and enjoy.
Nutrition
Calories:
333
kcal
|
Carbohydrates:
31
g
|
Protein:
8
g
|
Fat:
20
g
|
Saturated Fat:
5
g
|
Polyunsaturated Fat:
3
g
|
Monounsaturated Fat:
12
g
|
Cholesterol:
17
mg
|
Sodium:
630
mg
|
Potassium:
323
mg
|
Fiber:
5
g
|
Sugar:
1
g
|
Vitamin A:
2829
IU
|
Vitamin C:
13
mg
|
Calcium:
134
mg
|
Iron:
2
mg
Notes & Tips
Fresh greens are best in this recipe. Just be sure to wash them and dry them very well. Wet greens will make the crust soggy.
I highly recommend using a good quality extra virgin olive oil for the best flavor. Good olive oil should taste smooth and a little fruity, not bitter.
When preparing the cornmeal crust, you may need to adjust the amount of cornmeal or water. The bottom layer should be relatively firm like a traditional pie crust. The top layer needs to be thinner so that you can spread it evenly over the greens.
You can bake this pie in a cast-iron skillet for a crunchier bottom crust.
Substitutions & Shortcuts
Coarse Cornmeal: A coarse meal is what gives this pie the crunchy rustic quality. However, you can use fine cornmeal if you want a less crunchy crust. For a different variety of greens pie, you can use layers of phyllo sheets brushed with olive oil. For a shortcut, use a cornbread mix and follow the directions on the package. This will be a softer pie but still delicious.
Greens: I make my greens pie with whatever are the freshest greens I can find. I love this with beet greens and watercress in the fall. Other greens to include are green chard, spinach, dandelion greens, arugula, and sorrel. To make life easier, pick up a couple of bags of triple-washed mixed greens.
Herbs: Many Greek recipes call for mint and oregano as the main herbs. I personally like the combination of parsley and dill. You can also add fresh basil leaves. I don't recommend using dried herbs.
Onions: Spring onions and scallions are mild in flavor. For a more pronounced onion flavor, use a small red onion and maybe add a minced clove of garlic.
Cheese: One time I was making this recipe and realized I didn't have feta cheese. I did have chevre so I used that and the pie filling was super creamy and delicious. In a pinch, you can substitute with cream cheese.
---
Recent Recipes