It can be challenging to make popular yummy dishes when you are looking to make them gluten-free. As lasagna is a family favorite, finding a simple, delicious, and satisfying recipe that can be customized to your tastes and needs is a must. This is a yummy gluten-free lasagna, so you can still indulge in classic comfort food even when you have gluten allergies.
Checking the labels of every ingredient in the dish to ensure that it is gluten-free can be time-consuming and irritating. If you are looking for a healthy take, adding different kinds of vegetables and using zucchini or eggplant as noodles is an excellent way to do it. All in all, this is the perfect, cheesy weeknight meal for you and your loved ones.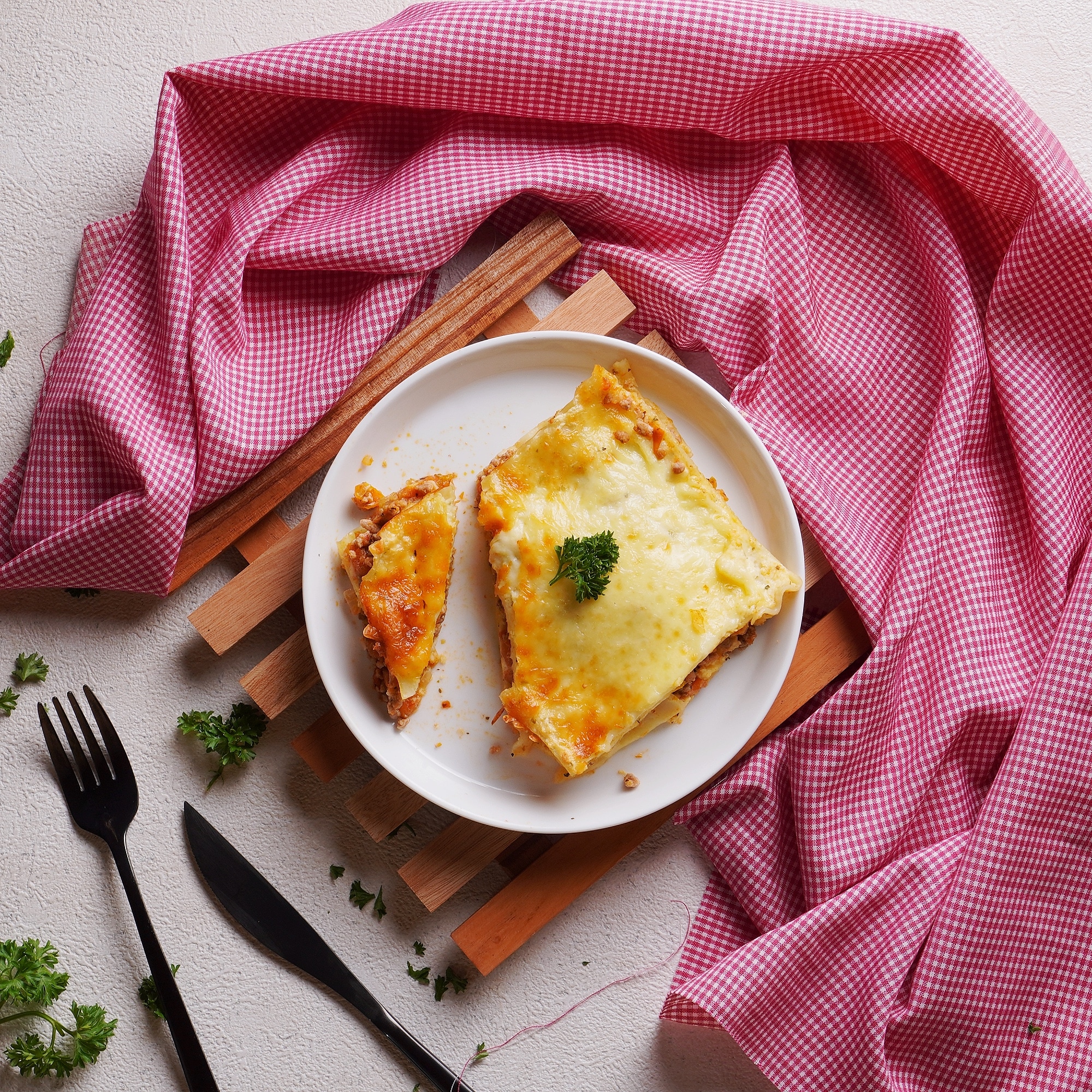 Ingredients
1

lb.

ground beef

1

cup

chopped onion

2

cloves

garlic

minced

1

can crushed tomatoes

8

oz.

tomato sauce

1

tsp

dried basil

1

tsp

dried oregano

1

Tbsp

dried parsley

Salt and pepper to taste

1

egg

whisked

2

cups

ricotta cheese

½

cup

grated parmesan

8

oz

shredded mozzarella
Instructions
All ingredients ready? Let's begin!

Before you start, ensure that you preheat the oven to 350°F degrees. Spray a baking dish of 9 x 13 inches with an oil of your choice.

Follow packet noodle instructions if they are not oven-ready noodles.

In a saucepan, heat oil over high heat. Add beef and cook the beef until it is brown, making sure to break the meat apart as it cooks.

Remove the ground-cooked beef and place it in a bowl.

Add oil into the same saucepan and sauté onions and garlic. Stir until onions are translucent.

Add the cooked beef back into the pot and add the un-drained can of tomatoes, tomato sauce, tomato paste, basil, oregano, salt, and pepper, and stir all the ingredients until they have combined.

Wait for the sauce to boil, then reduce to a low heat and cook for 5 minutes. Stir once in a while.

To make the ricotta filling, fold together the ricotta, whisked egg, dried parsley, and parmesan cheese.

Evenly spread some sauce around the bottom of the baking dish.

Cover the sauce with a layer of gluten-free lasagna sheets.

On the lasagna sheets, spread half of the ricotta mixture.

Spread half of the remaining ricotta spread sauce on top.

Top with a second layer of gluten-free lasagna noodles, the remaining ricotta mixture, and the remaining sauce.

Top the stacked dish with a generous amount of shredded mozzarella cheese.

Place the dish in the oven and bake the dish at 350°F for 30 to 35 minutes.

Remove the baked lasagna from the oven and let it rest for 10 minutes before serving.

Enjoy your Easy Gluten Free Lasagna!
Video
Nutrition
Calories:
388
kcal
|
Carbohydrates:
7
g
|
Protein:
26
g
|
Fat:
28
g
|
Saturated Fat:
14
g
|
Polyunsaturated Fat:
1
g
|
Monounsaturated Fat:
10
g
|
Trans Fat:
1
g
|
Cholesterol:
120
mg
|
Sodium:
521
mg
|
Potassium:
388
mg
|
Fiber:
1
g
|
Sugar:
2
g
|
Vitamin A:
683
IU
|
Vitamin C:
4
mg
|
Calcium:
359
mg
|
Iron:
2
mg
Notes & Tips For A Successful Dish
Cover the top of the lasagna with foil and bake for 40 to 45 minutes if you are using oven-ready noodles. Take the foil off and bake the dish for an additional 10 minutes to finish off and brown the cheese on top.
If you find that the oven-ready noodles come out crunchier than you would like, you can place them in boiling water for a few minutes. Cooking the noodles all the way through is not a must because they will finish cooking in the oven.
If you prefer to use store-bought sauce, always check that it is gluten-free as most store-bought sauces contain gluten.
If you plan on cooking for a large group of people or would just like to make more to freeze for later, feel free to double the proportions of the ingredients.
What To Do When You Can't Find Gluten-Free Lasagna Sheets?
Many different kinds of lasagna noodles are gluten-free, and most of them you don't even have to boil beforehand. However, sometimes you want to make your flour and noodles so you know exactly what is going into the food that you will be eating.
Here's a challenging and yet fun way to make your own gluten-free lasagna sheets. You will need 25 oz. buckwheat and 1.7 cups water. You will first have to pour the buckwheat into a food processor and blitz the bits into buckwheat flour.
Once the buckwheat has been finely blitzed, sieve the flour to ensure that no big granules make it through. Pour out the flour onto a clean surface and add 90% of the water. Use a fork to whisk and mix the flour and water to ensure that the flour gets hydrated.
Add the rest of the water and continue fixing it with flour. Knead the dough by hand once it has been thoroughly mixed. Add flour when needed if the dough is still sticky. Because buckwheat does not have gluten, it will be challenging to roll and work with but once done; you will be able to cut out beautiful-looking gluten-free lasagna sheets.
What Can I Substitute The Noodles With To Make It Low Carb?
If you find that you'd like to turn this into a vegan dish or make it even healthier, then you can substitute the lasagna noodles with eggplant, butternut, zucchini. Each of these vegetables can easily replace lasagna noodles. When preparing them, you need only a mandolin or a vegetable peeler to get the thin slices to use as layers.
Worried about your lasagna being too watery because of the vegetables? Fear not, one trick to use is to place the slices of either zucchini or eggplant on a clean rack with a tray underneath, sprinkle some salt on them, and leave them for a couple of minutes.
You'll notice a lot of water on the tray underneath. This is because the salt helped draw out all the water from the zucchini and the eggplant, meaning that your lasagna will not be watery but will instead have that excellent texture of traditional lasagna. The water on the tray can be thrown out or used as preferred. For more tasty recipes check out All About Lasagna.
---
Recent Recipes