Simple Rice Flour Gluten-Free Pizza
It's pleasantly surprising to see the effort that pizza restaurants are putting in to satisfy those that are eating gluten-free. A high number of pizza menus I've seen lately proudly highlight the fact that they have a gluten-free crust option.
There is one set back though, the gluten-free pizza is usually more expensive than the standard option. It makes sense, as gluten-free items need different and more expensive ingredients. But, what if you could find a great gluten-free crust recipe to make at home?
Here is an easy recipe to try that uses rice flour. You'll find the crust texture of gluten-free pizza may not be the same, but this crust is flavorful, crunchy, and with the right toppings, makes a perfect pizza pie!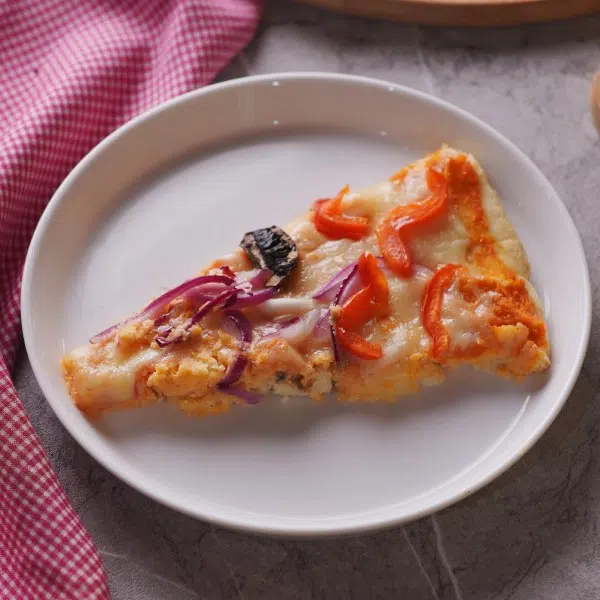 Ingredients
For the pizza dough
2

cups

rice flour

½

cup

warm water

2

teaspoons

active dry yeast

1

tablespoon

sugar

½

cup

warm water

¼

cup

extra virgin olive oil

1

teaspoon

sea salt

1

egg

whisked
For the pizza toppings
¾

cup

tomato sauce

1

cup

mozzarella cheese

½

cup

sliced mushrooms

¼

cup

sliced red onions

½

cup

sliced bell peppers

1

tablespoon

garlic oil

for drizzle
Instructions
All ingredients ready? Let's begin!

In a small bowl, pour the warm water, yeast, and sugar and whisk together. Allow the yeast to "bloom" and let it sit for 5-10 minutes or until it's frothy.

Add the rice flour to a large bowl. Pour in the water, egg, and olive oil.

Using a fork, gently bring all the ingredients together until dough forms. You may need to add more water or flour to get the right consistency. (Alternatively, you could use a dough hook on an electric mixer for this step. Once the dough is formed, let the machine run for 2-3 minutes to knead the dough.)

Once the dough has formed, knead it with your hands on a floured surface. Dampen a kitchen towel with warm water and cover the dough.

Let the dough rise for about one hour.

Preheat the oven (ideally with a pizza stone inside) to 425F.

When you're ready to make the pizza, flour your rolling surface again and roll the dough out until it's about 12" diameter.

Place the dough on the pizza stone and par-bake for about 8 minutes.

Pull out the pizza stone and build the pizza by placing the sauce, cheese, and then the vegetables on top. It's sometimes best to do this right on the rack of the stove and work quickly so that you don't lose too much heat from the oven. Alternatively, you can use a pizza peel to remove and replace the pizza dough from the oven.

Bake the pizza for another 5-10 minutes or until the cheese melts and the crust browns.

Remove the pizza from the oven and drizzle with the garlic oil before slicing and serving.

Enjoy your Simple Rice Flour Gluten-Free Pizza!
Video
Nutrition
Calories:
596
kcal
|
Carbohydrates:
75
g
|
Protein:
16
g
|
Fat:
26
g
|
Saturated Fat:
7
g
|
Polyunsaturated Fat:
3
g
|
Monounsaturated Fat:
15
g
|
Trans Fat:
0.01
g
|
Cholesterol:
63
mg
|
Sodium:
998
mg
|
Potassium:
383
mg
|
Fiber:
5
g
|
Sugar:
6
g
|
Vitamin A:
1031
IU
|
Vitamin C:
28
mg
|
Calcium:
170
mg
|
Iron:
1
mg
Notes & Tips
Par-baking the dough isn't necessary, but I find it helps the dough create a sturdy base for the toppings. There is less of a chance of the sauce or toppings softening the crust and creating a large hole while cooking.
If you want to make the dough ahead of time, there are a few options. You can wrap and refrigerate the dough for up to 24 hours after it's been mixed and before it rises. Remove the dough from the refrigerator and then continue with the rest of the steps, beginning with rising. You can also freeze the pizza dough after it's been par-baked.
Experiment with other toppings. You could also substitute the garlic oil for balsamic glaze for a bit of sweetness. Also, check out some of our other recipes for topping inspiration (like this spinach and feta pizza pie).
What Is The Best Way To Freeze Gluten-Free Pizza?
As mentioned before, you can freeze the pizza dough and use it another time. The best way to do this is to proceed with all the steps and then stop once you've par-baked the crust.
This also makes it pretty quick and simple when you're ready to assemble the pizza. Once the pizza crust is par-baked, you must let it cool completely before you freeze it. You can then wrap it in plastic wrap once it's cooled.
Always remember to label and date the pizza dough. You can keep it in the freezer for up to one month.
Here's another tip – you can pre-portion out the pizza sauce, toppings, and even cheese so that you're already a few steps ahead when you are ready to bake the pizza. Using deli cups is a great way to portion out the ingredients and freeze them separately until you need them.
Will Eating Gluten-Free Pizza Make You Healthier?
It's great that there are so many gluten-free options out there in doughs, breads, and other baked goods. It's ideal for those who are following a gluten-free diet because it's a vital step for them to stay healthy.
But what about those of us who do not have gluten sensitivities or have Celiac disease? Ultimately, unless you have a professional diagnosis or are experiencing several symptoms tied with gluten sensitivity, you can enjoy both a gluten-filled and gluten-free diet without all the hard rules. There is a great article from Harvard that explains just that. The evolved gluten-free diet is wonderful for those who need it, but not necessarily a step you need to take to maintain general health and wellness.
Eating gluten-free won't make you healthier unless you take some other things into consideration, too. If you want a gluten-free cupcake, it's still a cupcake. Making smaller, healthier choices like fewer cupcakes and more healthy ingredients is going to keep you healthy.
That doesn't mean you shouldn't experiment with gluten-free foods. I love trying gluten-free recipes and learning more about unique ingredients. It's a great way to become a better, and more versatile, cook.
---
Recent Recipes