Panko & Herb Crusted Beef Tenderloin
Beef tenderloin is by far the most elegant cut of beef on the animal. The meat is lean, tender, and very flavorful. This is the portion where the filet mignon is cut from.
Tenderloin is not a cut that you want to overcook. It is best served medium-rare or medium rather than well-done.
You really don't have to add much to beef tenderloin to make it taste better. The meat shines all by itself with just a bit of salt and pepper. The recipe here is quite nice in that it adds a thin layer or crust with herbs and panko breadcrumbs for some texture and a nice flavor profile to complement the beef.
If you are a fan of beef, you really want to try your hand at roasting a whole beef tenderloin. Not only is it delicious, but it is also impressive when it comes to the table.
I like to serve beef tenderloin with roasted and slightly smashed new potatoes that are dressed in a little butter, coarse sea salt, and fresh parsley leaves. I also make sure I have some green vegetables on the side. My favorites for this meal are roasted asparagus and air-fried Brussels sprouts.
I have included a super easy red wine reduction sauce recipe too. This is completely optional.
What Makes This Recipe Interesting?
What I enjoy about this recipe is the use of fresh herbs in the crust. You can't really do it justice by using dried herbs.
Panko bread crumbs have a lot of surface area that the herbs can cling to. They are light and airy and will stay crispy for a little bit of crunch.
Dijon mustard is the perfect medium for the crumb mixture to adhere to. It is also a distinctive layer of mild spice.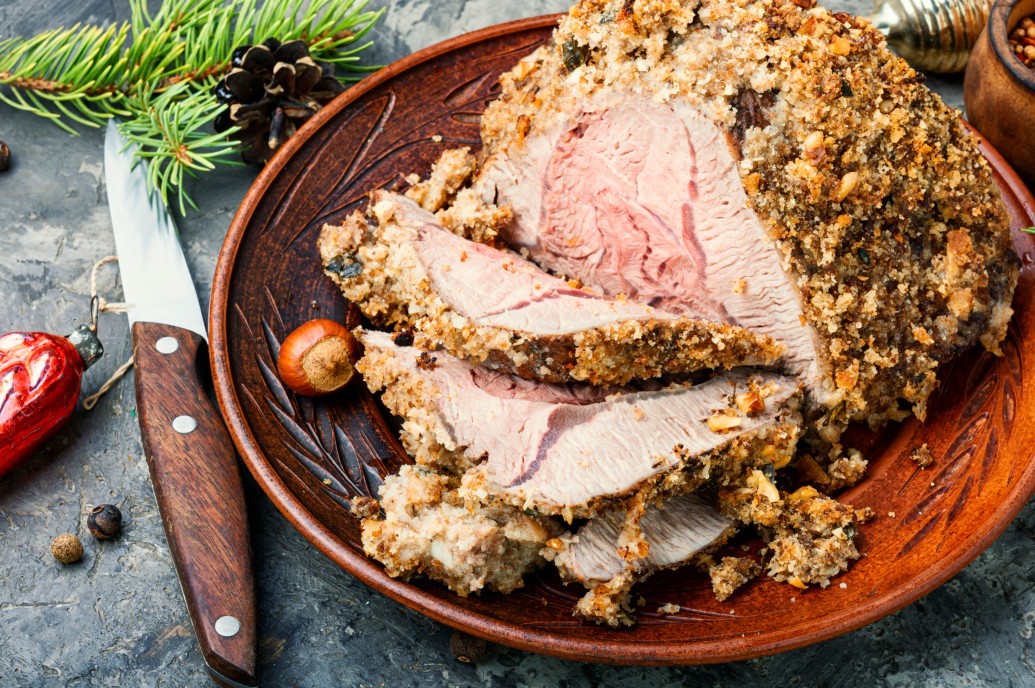 Ingredients
1

beef tenderloin

2-1/2 lbs., trimmed of fat

5

tsps

Dijon mustard

1/2

cup

panko bread crumbs

2

tsps

extra virgin olive oil

6

cloves

garlic

minced

1/4

cup

chopped fresh parsley leaves

2

TBS

chopped fresh rosemary leaves

2

TBS

chopped fresh thyme leaves

1

TBS

coarse salt

1

TBS

freshly ground black pepper

Fresh rosemary sprigs for garnish
Instructions
Fold the smaller tail end of the tenderloin under about 6 inches. Tie this portion of the beef with kitchen twine at 1-1/2 inch intervals. Place the beef on rack placed inside a rimmed baking sheet. Set aside to come to room temperature for approximately 40 minutes.

Preheat your oven to 500°F.

In a small bowl, mix together the bread crumbs, oil, garlic, parsley, rosemary, thyme, salt, and pepper. Pat the tenderloin dry with paper towels. Brush the top and partial sides with the mustard. Pat the bread crumb mixture onto mustard-coated beef, pressing gently.

Place the beef in the oven and roast for 10 minutes. Reduce the temperature to 350°F and continue to roast for an additional 30 minutes or until the internal temperature is at 130°F when checked with a digital meat thermometer in the thickest end.

Carefully remove the beef to a clean cutting board. Tent very loosely with aluminum foil and allow to rest for at least 15 minutes.

Remove the string from the tail end, being careful not to disturb the panko crust. Using a sharp serrated carving knife, slice the beef into 3/4 inch thick portions. Place on a serving platter and garnish with a few sprigs of rosemary.
Nutrition
Calories:
340
kcal
|
Carbohydrates:
4
g
|
Protein:
21
g
|
Fat:
26
g
|
Saturated Fat:
10
g
|
Polyunsaturated Fat:
1
g
|
Monounsaturated Fat:
11
g
|
Cholesterol:
79
mg
|
Sodium:
991
mg
|
Potassium:
366
mg
|
Fiber:
1
g
|
Sugar:
1
g
|
Vitamin A:
2
IU
|
Vitamin C:
1
mg
|
Calcium:
21
mg
|
Iron:
3
mg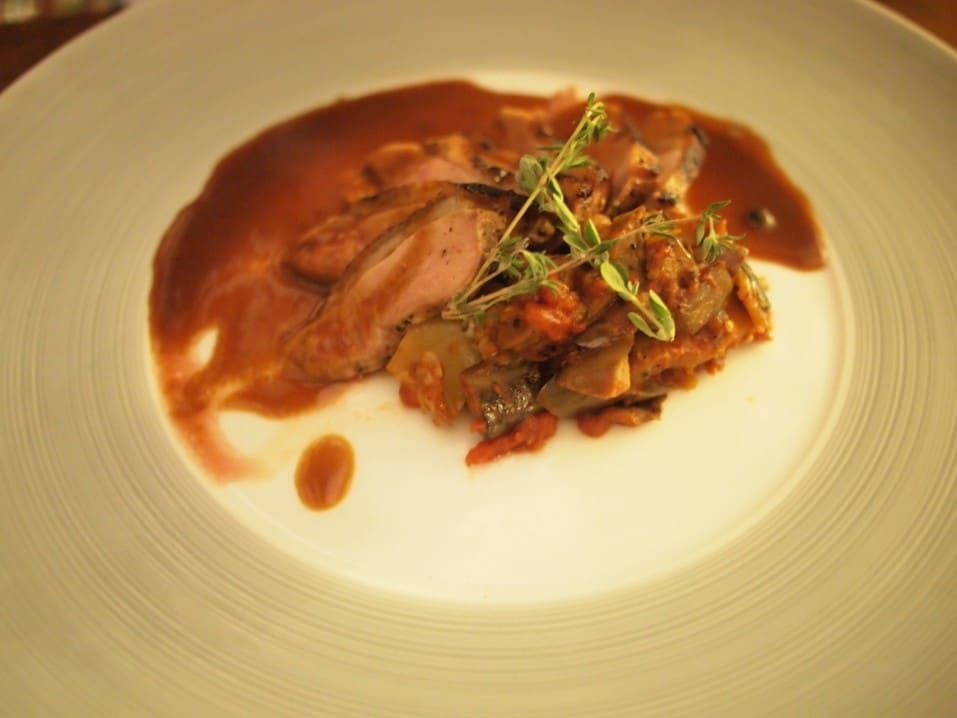 Ingredients
Extra virgin olive oil

for coating the pan

1/4

cup

minced shallots

1/2

cup

good red wine

Cabernet or Merlot

1/2

cup

beef stock

2

TBS

butter
Instructions
In a sauté pan, over medium-high heat, add enough olive oil to coat the pan. Add the shallots and cook until translucent.

Add the wine and stock and cook until reduced by half.

Whisk in the butter until it melts. Serve while warm with the beef. You can strain the sauce if you don't want bits of shallot.
Nutrition
Calories:
22
kcal
|
Carbohydrates:
2
g
|
Protein:
1
g
|
Fat:
1
g
|
Saturated Fat:
1
g
|
Polyunsaturated Fat:
1
g
|
Monounsaturated Fat:
1
g
|
Cholesterol:
1
mg
|
Sodium:
35
mg
|
Potassium:
77
mg
|
Fiber:
1
g
|
Sugar:
1
g
|
Vitamin A:
7
IU
|
Vitamin C:
1
mg
|
Calcium:
9
mg
|
Iron:
1
mg
Shortcuts and Substitutions
This recipe has all the shortcuts that similar recipes don't incorporate. You will find recipes for crusted beef tenderloin that call for salting the beef and placing it in the refrigerator for up to 24 hours. I find this draws too much moisture out. Other recipes call for searing the beef on the stovetop before roasting it. That's too many steps and cleanup for me.
You can use different fresh herbs. While I really like the combination in this recipe, you could use basil or sage in place of the thyme or rosemary. Or, add some fresh chives to the mix.
Panko breadcrumbs work best for the crust. If you don't have any, go ahead and use whatever crumbs you have on hand. You could also crush potato chips for an interesting topping. By the way, there are gluten-free panko breadcrumbs available and they are quite good.
For more flavor, add some grated parmesan cheese to the breadcrumb mixture.
Success Tips
You do want to trim the beef of any silver skin and excess fat. These are chewy. I suggest that you ask your market's butcher to do this for you.
Allow the tenderloin to sit out for 40 minutes before roasting so that it is at room temperature. This will ensure that it cooks evenly.
Pat the beef dry with paper towels to remove any excess moisture prior to brushing on the mustard.
After the beef has finished roasting, you do need to rest it for at least 15 minutes before slicing it. The beef will continue to cook while it is resting and the juices will be reabsorbed into the meat. Just place the roast on a clean cutting board and cover it very loosely with a tent of aluminum foil.
---
Recent Recipes