I will say right off the bat that I don't find the name of this super delicious and healthy appetizer/party dish to be flattering or even appealing. Maybe that is because I grew up in the north and redneck might be a southern term that I am not accustomed to using. I have also seen this recipe referred to as Poor Man's Caviar, Southern Caviar Dip, Carolina Caviar, and Cowboy Caviar. But let's go with it Redneck Caviar since this recipe definitely has its origins in the southern United States where redneck is more common terminology.
As I said, this is a really good and nutritious dish, despite all the names that might imply otherwise. To be clear, there aren't any fancy and expensive fish eggs or roe in the dish. Redneck caviar is a combination of beans, peas, vegetables, savory fruits, herbs, and a light vinaigrette.
While there are plenty of fresh vegetables and fruits in this caviar, it is entirely possible to make a version of this dip with mostly canned and bottled ingredients that are extremely affordable. If that is what you have on hand, I say go for it because it will still be good and offer heaping amounts of protein and fiber on a budget.
You can dip into redneck caviar with tortilla or rice chips. Or, you can top your tacos, salads, and casseroles with spoonsful of it. This dish can also be served as a side salad. It is fresh, colorful, crisp, tangy, and addictive.
Redneck caviar should keep for a couple of days if stored in an air-tight container in your refrigerator.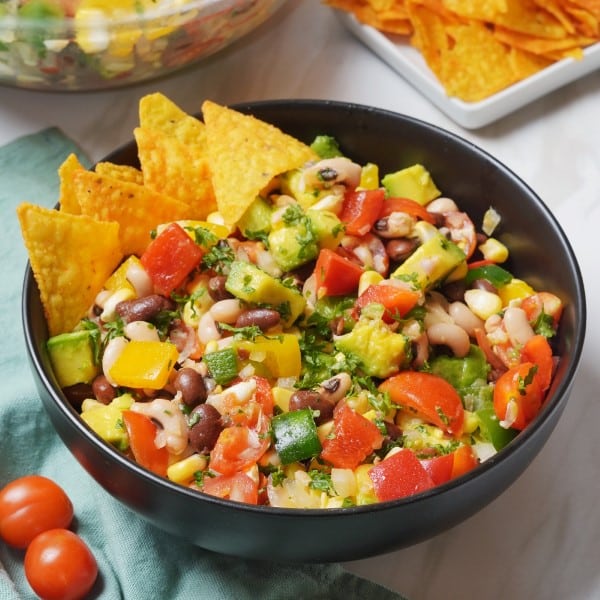 Ingredients
¼

cup

fresh lime juice

not bottled

¼

cup

extra virgin olive oil

2

cloves

garlic

pressed

½

tsp

sea salt

¼

tsp

freshly ground black pepper

1

15 ounces can of black eyed peas, drained and rinsed

1

15 ounces can black beans, drained and rinsed

1 ½

cups

fresh sweet corn kernels

1 ½

cups

quartered cherry tomatoes

½

cup

Vidalia or sweet onion

minced

1

medium green bell pepper

seeded and finely diced

1

medium red bell pepper

seeded and finely diced

1

medium orange bell pepper

seeded and finely diced

2

small jalapeno peppers

seeded and finely diced

Flesh of 1 avocado

diced

½

cup

fresh chopped flat-leaf parsley leaves
Instructions
All ingredients ready? Let's begin!

In a large serving bowl, whisk together the lemon juice, olive oil, garlic, salt, and pepper until well combined.

Add the beans, corn, tomatoes, onions, and peppers to the dressing in the bowl. Toss well so the dressing coats everything evenly.

Just prior to serving, add the avocado and parsley to the bowl. Gently fold them into the caviar. Add additional salt and pepper, if desired.

Serve with scoopable tortilla chips or as a side dish with barbecue or tacos.
Nutrition
Calories:
172
kcal
|
Carbohydrates:
22
g
|
Protein:
6
g
|
Fat:
8
g
|
Saturated Fat:
1
g
|
Polyunsaturated Fat:
1
g
|
Monounsaturated Fat:
5
g
|
Trans Fat:
0.002
g
|
Sodium:
244
mg
|
Potassium:
474
mg
|
Fiber:
7
g
|
Sugar:
4
g
|
Vitamin A:
1052
IU
|
Vitamin C:
50
mg
|
Calcium:
35
mg
|
Iron:
2
mg
Notes & Tips
It is best to chop the parsley and dice the avocado just before serving. Both can oxidize and discolor if left to sit out for too long. Be gentle when you mix in the avocado so that it doesn't get smashed.
If you want more developed flavors, prepare steps 1, 2, and 3 a day ahead and store well covered in the fridge until ready to add the parsley and avocado. Here is a short video that shows how to peel, pit, and dice an avocado safely.
Substitutions & Shortcuts
I mentioned previously that you can make redneck caviar with mostly pantry items if on a budget. You do this by substituting fresh tomatoes for canned, diced tomatoes and canned or frozen corn for fresh corn. Just make sure to drain the tomatoes and corn of their can juices.
If you don't have fresh limes, try red wine vinegar or even bottled lime juice. I would simply reduce the amount of vinegar or lime juice by a tablespoon. You can adjust the acid to your liking after tasting the dressing.
I love the sweet flavor the Vidalia onion adds to this dish. You could use a red onion or scallions if that is what is available. I also love the colors that red, orange, and green peppers add to the recipe. Use whatever colored peppers you can find or have on hand.
While the parsley adds color and freshness, it doesn't really add a whole lot of flavor. For more flavor, try fresh cilantro or basil leaves. Be mindful that basil discolors when it is bruised while slicing. Definitely add sliced basil right before serving or tear the leaves.
For heat, add a pinch or two of cayenne pepper flakes if you can't find fresh jalapeno peppers. Canned jalapeno peppers can be a little mushy.
This might sound unusual, but I have added a little runny honey to bean salads and dips for a tiny bit of sweetness. I find that addition entices kids to eat this nutritious dish.
Don't be shy about making your own version of redneck caviar based on what is in your pantry and fridge or what is available at the market or farm stand. Any canned beans and peas will do. Also, you can add other things like olives, diced celery, blanched and diced green beans, or shredded carrots. There are no hard and fast rules. I have seen many versions of this recipe.
---
Recent Recipes