Simple Harissa Mayonaisse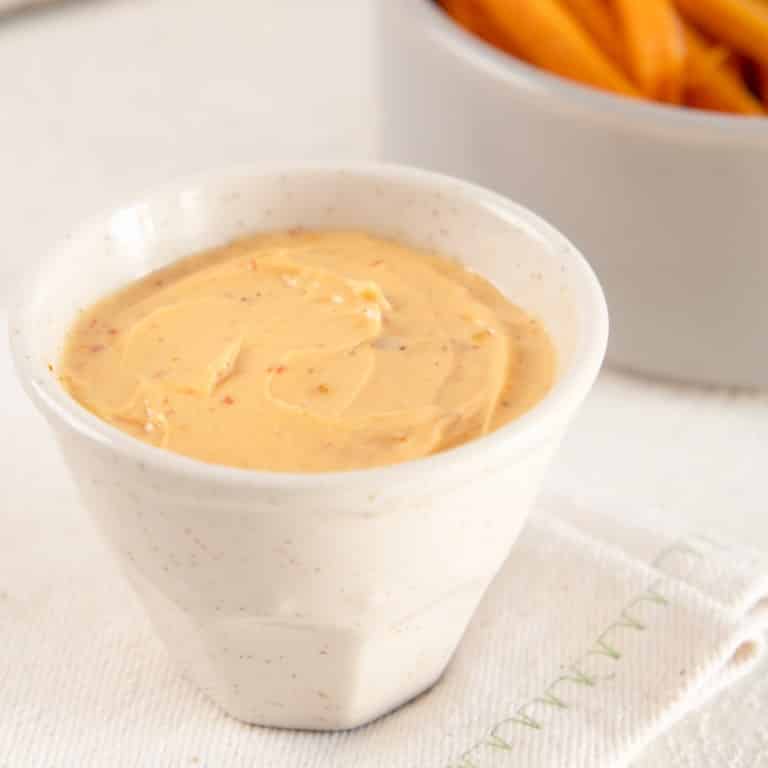 Ingredients
2

medium egg yolk

½

tsp

mustard

1

tsp

lemon juice

½

tsp

vinegar

Salt

1

tbsp

harissa

1

cup

vegetable oil
Instructions
All ingredients ready? Let's begin!

Put the egg yolk, mustard, lemon juice, vinegar, salt, and harissa into the mixing cup.

Pour the vegetable oil into the mixing cup.

Pulse the mixture using a hand blender until they become sticky paste consistency.

If you don't have a hand blender, whisk all the ingredients before pouring the vegetable oil. Continue to whisk while adding the vegetable oil slowly.

When you get the mayonnaise consistency, transfer it to the jar. You can store your harissa mayonnaise for a week.
Notes
Nutrition
Calories:
42
kcal
|
Carbohydrates:
2
g
|
Protein:
2
g
|
Fat:
3
g
|
Saturated Fat:
1
g
|
Polyunsaturated Fat:
0.5
g
|
Monounsaturated Fat:
1
g
|
Cholesterol:
122
mg
|
Sodium:
82
mg
|
Potassium:
34
mg
|
Fiber:
0.2
g
|
Sugar:
1
g
|
Vitamin A:
198
IU
|
Vitamin C:
1
mg
|
Calcium:
16
mg
|
Iron:
0.4
mg
Tips, Notes, and Substitutes:
Harissa mayonnaise is a flavorful, spicy condiment perfect for livening up sandwiches and wraps.
Harissa mayonnaise can be used as a vegetable dip or a base for salad dressings.
When making harissa mayonnaise, it is essential to use fresh, high-quality ingredients.
The eggs should be at room temperature, and the oil should be a neutral oil such as canola or vegetable oil. But if you want to use a healthier oil, you can use olive oil, too.
The vinegar can be either white vinegar or apple cider vinegar.
It is best to use homemade harissa, whose bitterness you have determined while making it yourself. You can also use store-bought harissa.
You can increase or decrease the amount of harissa yourself according to your spiciness threshold.
Make sure the eggs are adequately separated. There should be no egg white in the mayonnaise.
---
Recent Recipes