Simple Creamy Potato Mousseline
Potatoes are a tried and true ingredient. They go in and out of healthy menus and diet plans. Some people swear by them and some people swear off them. But I am forever a pro-potato person.
They are simple, versatile, and cheap. There are a number of ways that you can prepare potatoes. The best part is that, for most recipes, you only need a few other ingredients to make a perfectly delicious potato dish.
Potato mousseline (a.k.a. Pommes mousseline) is one of those classic, simple dishes that will wow your house guests. The recipe pairs well with so many different recipes.
Mousseline translates to "mousse". That creamy, silk texture is created by boiling potatoes and then mixing them with a fair amount of butter and whipped heavy cream. It's important not to skip out on that, despite it being slightly unhealthy. It's incredible how much flavor can come from just a few ingredients.
You should stick to the classic recipe the first few times you make this recipe. Indulging every now and then is good for the soul. Eventually, once you become familiar with the technique, feel free to experiment with other potatoes, fats, or creams.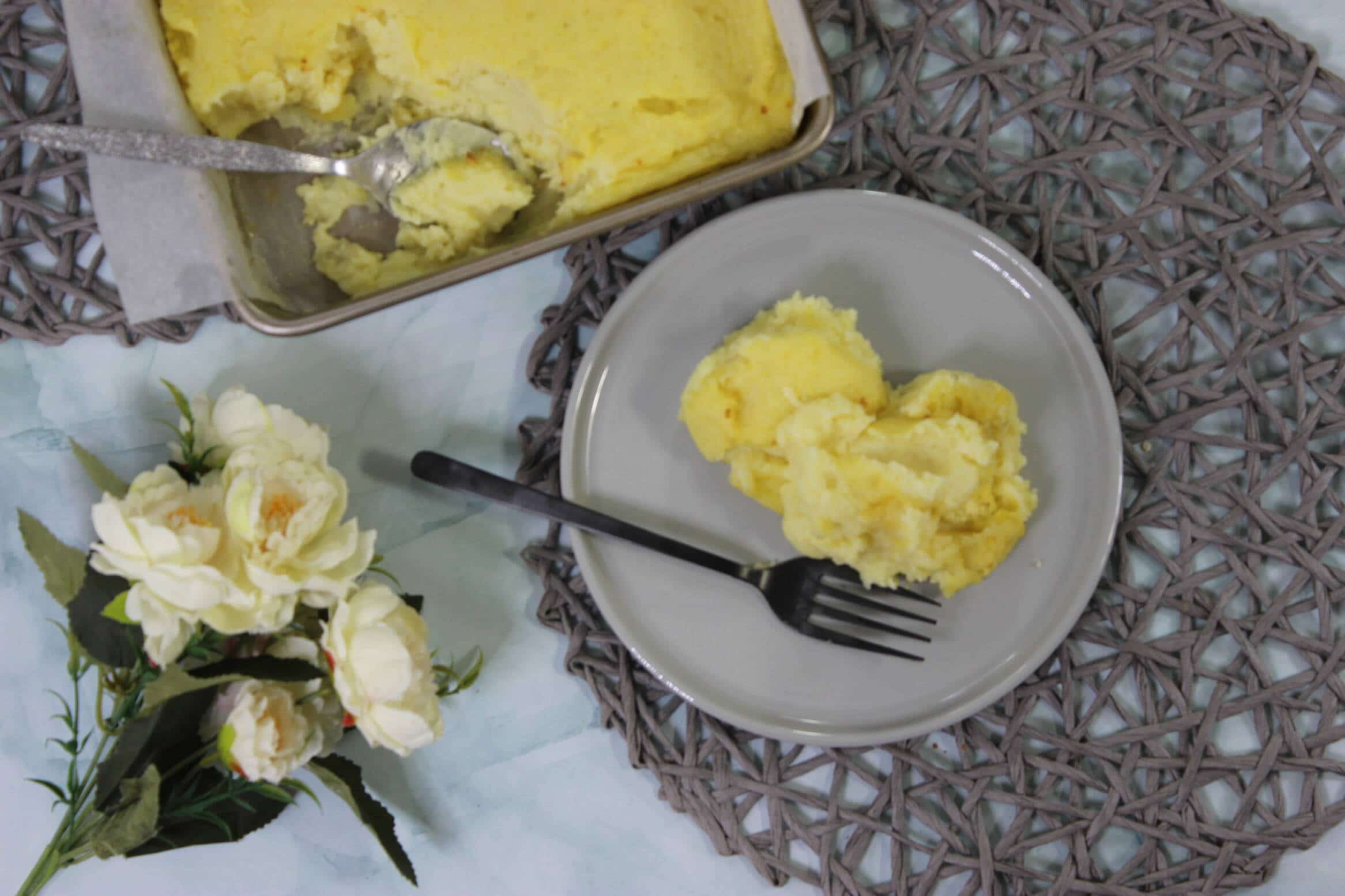 Ingredients
3

pounds

yellow potatoes

1

tablespoon

kosher salt

1

stick

½ cup unsalted butter

¾

cup

whole milk

1

cup

heavy whipping cream

Salt and white pepper
Instructions
Preheat the oven to 275F. Prep a 9×13" glass pan by spraying with non-stick cooking spray or rubbing butter along the edges and bottom.

Peel the potatoes and cut into evenly sized pieces. Place them in a large pot.

Fill the pot with cold water so that the potatoes are covered by one inch. Add one tablespoon of salt.

Place the pot on a stove top and bring to a boil on high heat. Cook the potatoes for about 15 minutes at a slow, steady boil. The potatoes should be very soft.

Drain the potatoes over the sink and return them to the pot.

Now, you need to dry out the potatoes a bit. Do this by keeping the pot on low heat and gently stir them so the steam slowly stops releasing. Remove from the heat.

Rice the potatoes into a large bowl. If you do not have a potato ricer, you can use a splatter screen or a fine mesh strainer to rice the potatoes.

Quickly wipe down the pot and add the milk and butter. Melt the butter into the milk, taking care not to scald the milk.

Slowly pour the milk and butter mixture into the rice potatoes. Stir gently with a rubber spatula or wooden spoon.

In a separate bowl, whisk the whipping cream until soft peaks form.

Scoop half of the whipped cream into the potatoes. Gently fold to incorporate the cream into the potatoes without mixing too hard.

Add the remaining whipped cream, salt, and white pepper. Repeat folding in all of the ingredients.

Taste the potatoes to check seasoning.

Pour the potatoes into the baking pan and gently smooth over with the rubber spatula so that the top is flat.

Bake at the low temperature (250F) for 25-30 minutes or until the potatoes are cooked through.

Scoop out the potatoes and serve immediately. Enjoy this decadent side dish.
Video
Nutrition
Calories:
331
kcal
|
Carbohydrates:
42
g
|
Protein:
6
g
|
Fat:
16
g
|
Saturated Fat:
10
g
|
Polyunsaturated Fat:
1
g
|
Monounsaturated Fat:
5
g
|
Trans Fat:
1
g
|
Cholesterol:
57
mg
|
Sodium:
1206
mg
|
Potassium:
1025
mg
|
Fiber:
5
g
|
Sugar:
3
g
|
Vitamin A:
637
IU
|
Vitamin C:
45
mg
|
Calcium:
88
mg
|
Iron:
2
mg
Notes and Tips
White pepper works really well with potato mousseline, but you could also use standard cracked black pepper. White pepper is often used to maintain the clean, white look of the potatoes.
Yes, peeling the potatoes is necessary for potato mousseline. It's another step that adds to the complexity of the recipe but is crucial for smooth, light, and fluffy potatoes.
You can substitute white potatoes for yellow potatoes.
Always cook with unsalted butter. This way you can control the salt level of the dish.
Why do you need to bake potato mousseline?
Some mashed or pureed potatoes are ready to serve right after you rice and mix them together. This particular recipe has you bake the potatoes as an extra step.

It is necessary to bake the potatoes to get the light and fluffy texture. Reheating the potatoes will heat up the whipped cream without losing the air that you just whipped into them. The low heat from the oven also dries up any extra moisture that would weigh the potatoes down.
Is potato mousseline healthy?
This particular recipe contains a fair amount of butter, milk, and cream. So, it's not exactly low in fat.
There are a few options if you are trying to maintain a low fat diet and you still want to make this recipe. Keep in mind, when you replace the full fat ingredients with healthier ingredients, it will compromise the taste.
You can use non-dairy butter or milk. Some options include low fat coconut milk, oat milk, or almond milk. You could also swap out whole milk with low fat milk.
For the whipping cream, you could use full fat coconut milk instead.
Additionally, you could use sweet potatoes instead of yellow potatoes for better nutritional value.
What is the difference between mashed potatoes and potato mousseline?
Mashed potatoes are just that – mashed. It just doesn't sound as graceful, does it? With some mashed potatoes you can go ahead and leave the skins on, boil, drain, and then use a potato masher right in the pan.
Sure, you could easily make mashed potatoes and call it a day. But you'll lack the decadence and texture that you will get from pommes mousseline.
Potato mousseline requires a bit more technique that results in more than just the fancy name.
Other potato recipes
Do you need some recipe inspiration to use up the rest of your uncooked potatoes? Here are some other great recipes to try:
---
Recent Recipes