Simple Guac & Cheese English Muffin Sandwich
Looking for a simple, creative and delicious twist to your regular sandwich? Look no further! This guac and cheese sandwich, pan-fried with an English muffin, is a scrumptious combination of creamy avocado and ooey gooey melted cheese. Using cream cheese or butter as a fat source to brown each side, the sandwich comes together quickly and easily. The warm, toasty English muffin pairs perfectly with the rich flavors of guacamole and cheese. Ideal for a quick lunch or a tasty snack, this sandwich is a surefire hit with friends and family alike. So, let's get started on this culinary adventure!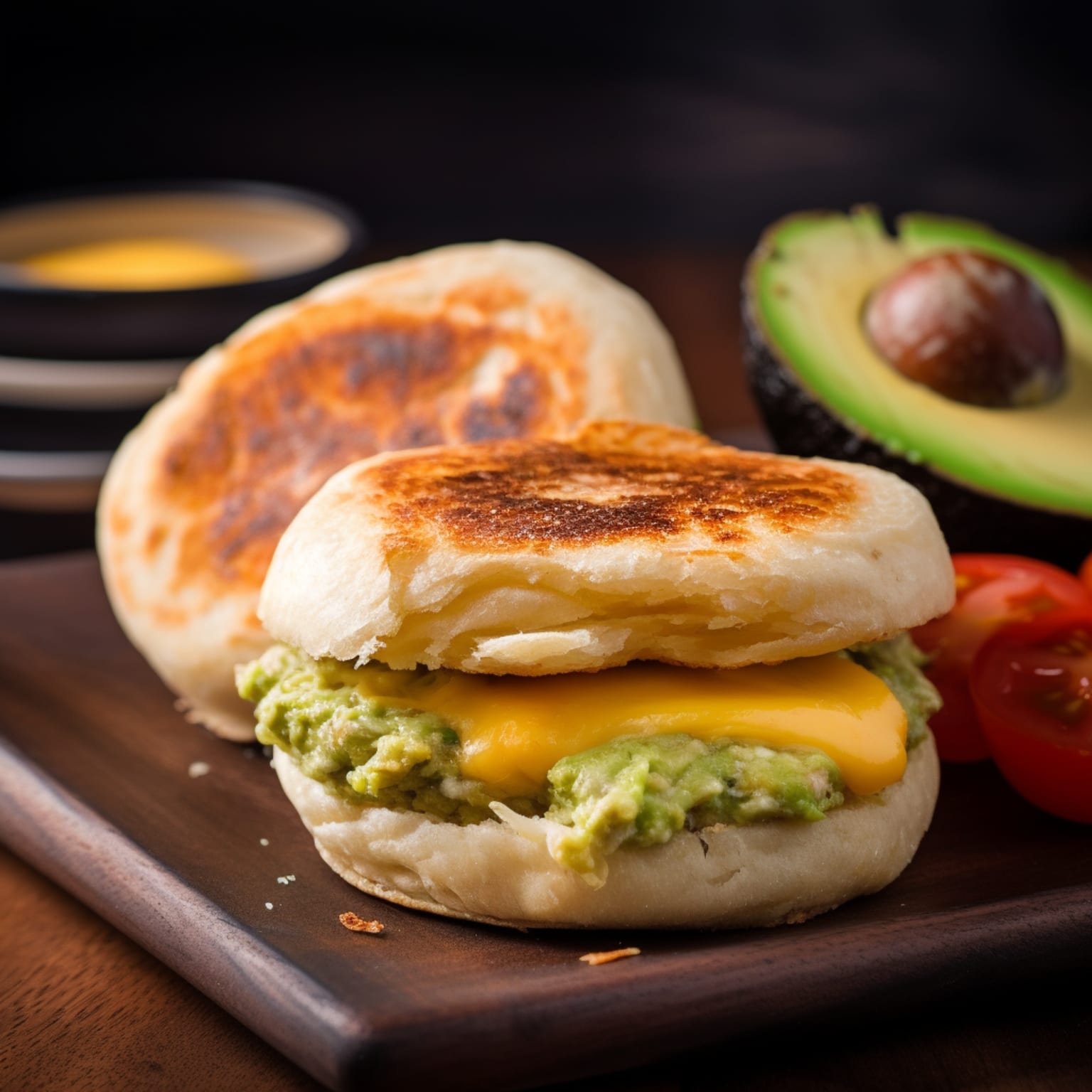 Ingredients
1

English muffin

or any bread of your choice

2

tablespoons

cream cheese or butter

2

slices

of your favorite cheese

e.g., cheddar, Swiss, mozzarella

1

tablespoon

guacamole

store-bought or homemade
Instructions
Preheat a non-stick pan over high heat.

Slice the English muffin in half.

Spread cream cheese or butter on the inside of each half of the English muffin.

Place the English muffin halves, cream cheese or butter side down, on the hot pan.

Cook for 3 minutes or until the inside is browned and cream/butter is fried into the muffin.

Place the rest of the butter/cream cheese on the English muffin, then flip the English muffin halves (butter/cream now on the heat source)

Place a slice of cheese on each half. Cook for another 1-2 minutes or until the cheese starts to melt slightly.

Spoon guacamole on one of the halves, then place the other half on top, making a full sandwich.

Press the sandwich together gently, then flip and cook for a few more seconds or until it's browned to your preference.

Remove from the pan and let rest for at least 1 minute before slicing and serving. Enjoy this pan fried goodness.
Nutrition
Calories:
489
kcal
|
Carbohydrates:
31
g
|
Protein:
20
g
|
Fat:
32
g
|
Saturated Fat:
17
g
|
Polyunsaturated Fat:
2
g
|
Monounsaturated Fat:
8
g
|
Cholesterol:
85
mg
|
Sodium:
723
mg
|
Potassium:
231
mg
|
Fiber:
3
g
|
Sugar:
1
g
|
Vitamin A:
973
IU
|
Vitamin C:
2
mg
|
Calcium:
456
mg
|
Iron:
1
mg
Notes and Tips
To make the most out of this delicious pan-fried guac and cheese sandwich, consider the following tips and notes to ensure your sandwich-making experience is enjoyable and stress-free:
Guacamole Tips:
If using store-bought guacamole, choose a high-quality brand with fresh ingredients for the best taste. Wholly Guacamole with tomatillo and Yucatan are my favorite brands.
For an extra boost of flavor, consider making your own guacamole instead of using store-bought. Simply mash ripe avocados with a fork and mix in lime juice, minced garlic, diced onions, tomatoes, cilantro, and a pinch of salt.
Cheese Selection:
When selecting cheese for your sandwich, consider using cheeses that melt well, such as cheddar, Swiss, or mozzarella. You can also mix and match cheeses for a unique flavor combination.
Pan-Frying Tips:
Use a non-stick pan to ensure the sandwich doesn't stick during the cooking process.
Keep an eye on the heat and adjust as needed. High heat is great for browning, but be careful not to burn the English muffin.
Press the sandwich gently while cooking to help the ingredients meld together, but don't press too hard, as this can cause the guacamole to squeeze out.
Ingredient Variations:
Feel free to add extra ingredients to customize your sandwich, such as sliced veggies, cooked meats, or different spreads.
Dump the English muffin and go with any bread of your choice. Delicious carbs aren't picky!
For a spicier kick, add a few drops of hot sauce or some sliced jalapeños to the guacamole.
Presentation:
Before serving, let the sandwich rest for a minute to allow the flavors to meld together and prevent the guacamole from oozing out when you slice it.
Cut the sandwich diagonally to create a visually appealing presentation, and serve on a plate alongside your favorite side dishes.
With these tips and notes in mind, you're well on your way to creating the perfect guac and cheese pan-fried English muffin sandwich. Enjoy the process and savor the delicious results!
Storage & Reheating
To store any leftover sandwich, wrap it tightly in aluminum foil or plastic wrap and place it in the refrigerator. The sandwich will last for up to 1 day. To reheat, place the sandwich in a preheated pan over medium heat, cooking for 2-3 minutes on each side or until warmed through and cheese is melted. Or just toss it into an airtight container and microwave it.
Serving Suggestions
This guac and cheese sandwich can be enjoyed on its own or paired with your favorite side dishes. Here are some suggestions to complement the rich flavors of the sandwich:
A simple green salad with a tangy vinaigrette
A cup of warm tomato soup
A handful of crunchy tortilla chips
Fresh fruit or a fruit salad
Variations Common Dietary Restrictions & Diets
This recipe can easily be adapted to accommodate various dietary preferences and restrictions. Here are some ideas for customization:
Gluten-Free: Use a gluten-free English muffin or bread.
Vegan: Substitute dairy-free cheese and use vegan butter or avocado oil for browning. Using plant-based cream cheese is fantastic instead of butter as well.
Low-Carb: Replace the English muffin with a low-carb alternative or use lettuce wraps.
Common Mistakes
Overcooking the sandwich: Be careful not to overcook the sandwich, as it can result in a dry and tough texture. Keep an eye on it and adjust the heat as needed.
Not allowing the sandwich to rest: Letting the sandwich rest for a minute before slicing helps the flavors meld together and prevents the guacamole and cheese from oozing out.
Burning it: Just be careful, cooking on high heat can burn quickly. Use fans while cooking.
Common Questions
Can I use a different type of bread?
Absolutely! Feel free to experiment with different bread types, such as sourdough, whole wheat, or ciabatta. Just be mindful of adjusting the cooking time and heat as needed, depending on the thickness and texture of the bread.
Can I add other ingredients to the sandwich?
Of course! This recipe is very versatile, and you can add a variety of ingredients to suit your taste. Some popular additions include sliced tomatoes, cooked bacon, grilled chicken, or sautéed onions.
Can I make this sandwich in a panini press or sandwich maker?
Yes, you can use a panini press or sandwich maker to prepare this guac and cheese sandwich. Follow the manufacturer's instructions for your specific appliance, and adjust the cooking time as needed to achieve the desired level of browning and melting. Our favorite is a cast iron sandwich press with a pan to save time and on clean up.
---
Recent Recipes