Homemade Hoisin Meatballs
I am fairly certain every cuisine has some form of meatball in its collection of recipes. Meatballs are so varied in ingredients and flavors. Italian meatballs are often made with a combination of ground veal, pork, and beef. They will often be served with a rich tomato sauce. Swedish meatballs sometimes have very interesting spices, such as nutmeg and allspice. They are served simmering in a creamy gravy. Greek meatballs might be made with ground lamb and stuffed with fresh herbs and feta cheese.
Some of my favorite meatballs are those that are coated in a sweet and sticky hoisin glaze. I don't know if these actually originated in Asia or in our Chinese-American communities, but they are definitely Asian inspired with the addition of ground ginger and a soy/hoisin sauce. They are generally small and served on forked toothpicks as an appetizer with cocktails.
I often see this popular recipe made with ground pork. I am not certain that 100% pork is the best way to make these, and I will tell you why. I prefer free-range and organic pork. The problem with this is that pastured pork is very muscular and the meat can sometimes be a little tough and even chewy, depending on the breed of hog. For me, it is hit or miss when buying ground pork from my butcher. If you buy ground pork that is commercially raised, it is sometimes extremely fatty. So, I use a blend of pork and lean ground beef. This way, I get that tasty pork goodness with the softer texture of the beef.
This hoisin meatball recipe is so delicious and really easy to make. The ground meat is seasoned with sesame oil, ginger, and garlic. Eggs and breadcrumbs are incorporated as binders. The base of the glaze is hoisin sauce that can be found in almost any grocery store or at an Asian market. Hoisin is a thick sauce that is made from fermented soybean paste. The hoisin sauce in this recipe is thinned with rice vinegar, soy sauce, and toasted sesame oil to make the glaze. Hoisin meatballs can be accompanied by kimchi buns and grilled vegetable skewers for some great party snacks.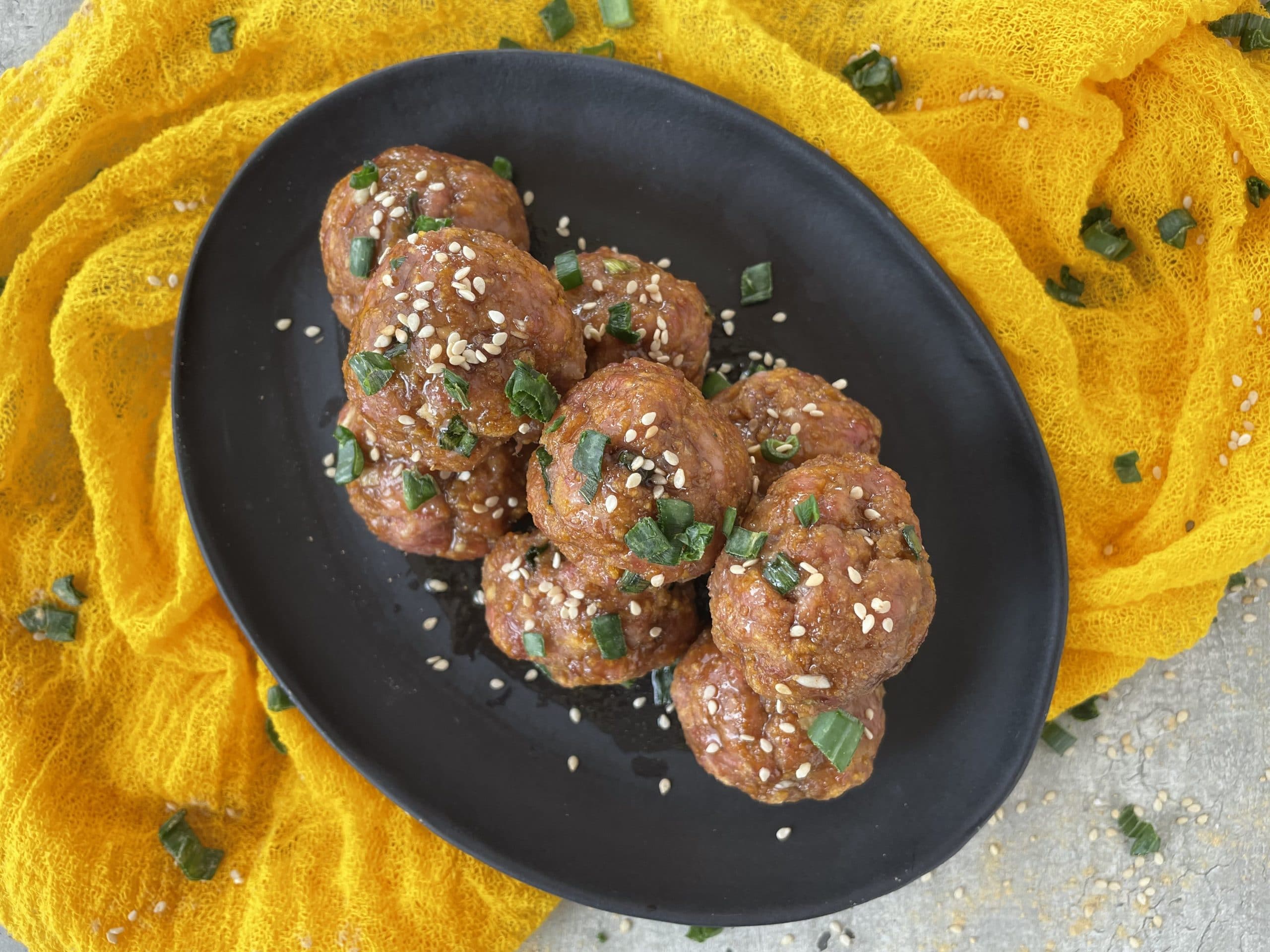 Ingredients
Meatballs
1/2

pound

lean ground beef

1/2

pound

ground pork

1

large whole egg

2

whole scallions

sliced thinly

1

tsp

toasted sesame oil

2

cloves

garlic

minced

1/2

cup

panko breadcrumbs

1/4

tsp

ground ginger

1/4

tsp

sea salt
Hoisin Glaze
1/4

cup

your favorite hoisin sauce

2

TBS

rice vinegar

1

TBS

soy sauce or tamari

1/2

tsp

toasted sesame oil

1/2

tsp

garlic powder

1/2

tsp

ground ginger
Garnish
1

whole scallion

sliced thinly

2

tsps

toasted sesame seeds
Instructions
Assemble your ingredients.

Preheat your oven to 400°F. Line a baking sheet with parchment paper or aluminum foil.

In a large mixing bowl, combine the ground beef, ground pork, egg, scallions, sesame oil, garlic, breadcrumbs, ginger, and salt using clean hands.

Roll the meat mixture into 1-1/2-inch meatballs, approximately 18. Place them on the lined sheet pan.

Place the pan in the oven and bake 12 to 15 minutes until the meatballs are browned and the internal temperature reads 165°F when checked with a digital meat thermometer. Prepare the hoisin glaze while the meatballs are cooking.

In a small mixing bowl, whisk together the hoisin sauce, vinegar, soy sauce, sesame oil, garlic, and ginger until well combined. Set aside for the flavors to marry.

As soon as the meatballs come out of the oven, transfer them to a serving platter and coat them with the hoisin glaze while still warm. Sprinkle the scallions and sesame seeds over the top of the glazed meatballs. Serve with forked toothpicks or small forks and plenty of napkins.
Video
Nutrition
Calories:
221
kcal
|
Carbohydrates:
10
g
|
Protein:
17
g
|
Fat:
12
g
|
Saturated Fat:
4
g
|
Polyunsaturated Fat:
2
g
|
Monounsaturated Fat:
5
g
|
Trans Fat:
1
g
|
Cholesterol:
78
mg
|
Sodium:
543
mg
|
Potassium:
290
mg
|
Fiber:
1
g
|
Sugar:
4
g
|
Vitamin A:
43
IU
|
Vitamin C:
1
mg
|
Calcium:
29
mg
|
Iron:
2
mg
Notes & Tips
Baking the meatballs is the best method for cooking them. Lining the sheet pan assures easy cleanup. In the oven, the meatballs will cook evenly. You could pan fry them in a little oil. Just be sure to keep an eye on them and rotate so they cook through completely. Alternatively, cook these in an air fryer.
Substitutions and Shortcuts
While I like the combination of beef and pork for these meatballs, you could use all pork, all beef, or a blend of other ground meats. I recently made these with beef and turkey. The turkey was dark meat which helped to keep the meatballs moist.
To make a gluten-free version of this recipe, substitute almond meal or GF breadcrumbs for the panko. Be sure to use wheat-free tamari or coconut aminos in place of the soy sauce. And, check the label of the hoisin to make sure it is wheat-free. Otherwise, you can make your own hoisin from scratch with these ingredients:
4 large dried Medjool dates, mashed
1/4 cup sunflower seed butter or tahini
1/4 cup coconut aminos
1/4 cup water
2 TBS rice wine vinegar
1 TBS balsamic vinegar
1/2 tsp Chinese five spice powder
1/2 tsp toasted sesame oil
1/4 tsp sea salt
There is a shortcut for this recipe that I happened upon when comparing recipes. I actually saw a recipe that called for frozen meatballs that were heated up in an air fryer. If short on time, go for the frozen meatballs. Try to find ones that aren't full of Italian seasonings. Of course, you could make a big batch of homemade meatballs and freeze them for a quick appetizer.
---
Recent Recipes