Homemade Greek Dolmathakia
Dolmathakia also referred to as dolmades or dolma, are delicious little packets of grape leaves filled with a mixture of rice and herbs. They are elegantly rolled and then simmered in a lemony water or broth bath until cooked through and extremely tender. These are often served as a cold or room temperature appetizer in Greek restaurants and at home gatherings.
I used to live 2 doors away from a neighborhood deli that a Greek family-owned. There was a refrigerated salad case with small bins of mostly vegetables for the cooks to customize your plate with lettuce and 5 toppings. When I walked in, they always knew what I wanted and would get to work. I enjoyed a bowl with romaine lettuce topped with grilled chicken seasoned with oregano, beets, chickpeas, cucumbers, and stuffed grape leaves. It was simply dressed with Greek olive oil and red wine vinegar. The stuffed grape leaves were basic with just rice and herbs. I was a little addicted to them.
The outer wrappings of dolmathakia are young grapevine leaves that are packaged in a brining liquid. These can be found in glass jars in either the international aisle or near the pickled condiments in most markets. The best rice for this recipe is short-grain white rice because it is starchy and holds together when you bite into the rolls. The herbs vary by region. My favorites are parsley, mint, and dill that are common in much of the Greek islands.
This Greek dolmathakia recipe is vegan and is pretty easy to make with simple plant-based ingredients. The only potentially difficult part is filling and rolling the leaves. It takes a little time and some patience. The trick is not to overstuff the leaves or roll them too tightly so they don't burst open while cooking. Because this step takes a bit of time, it can be fun to set up a kitchen island with all the ingredients and invite family and friends to help. You can knock this out quickly and enjoy a glass of Greek wine or ouzo while the dolmades are cooking.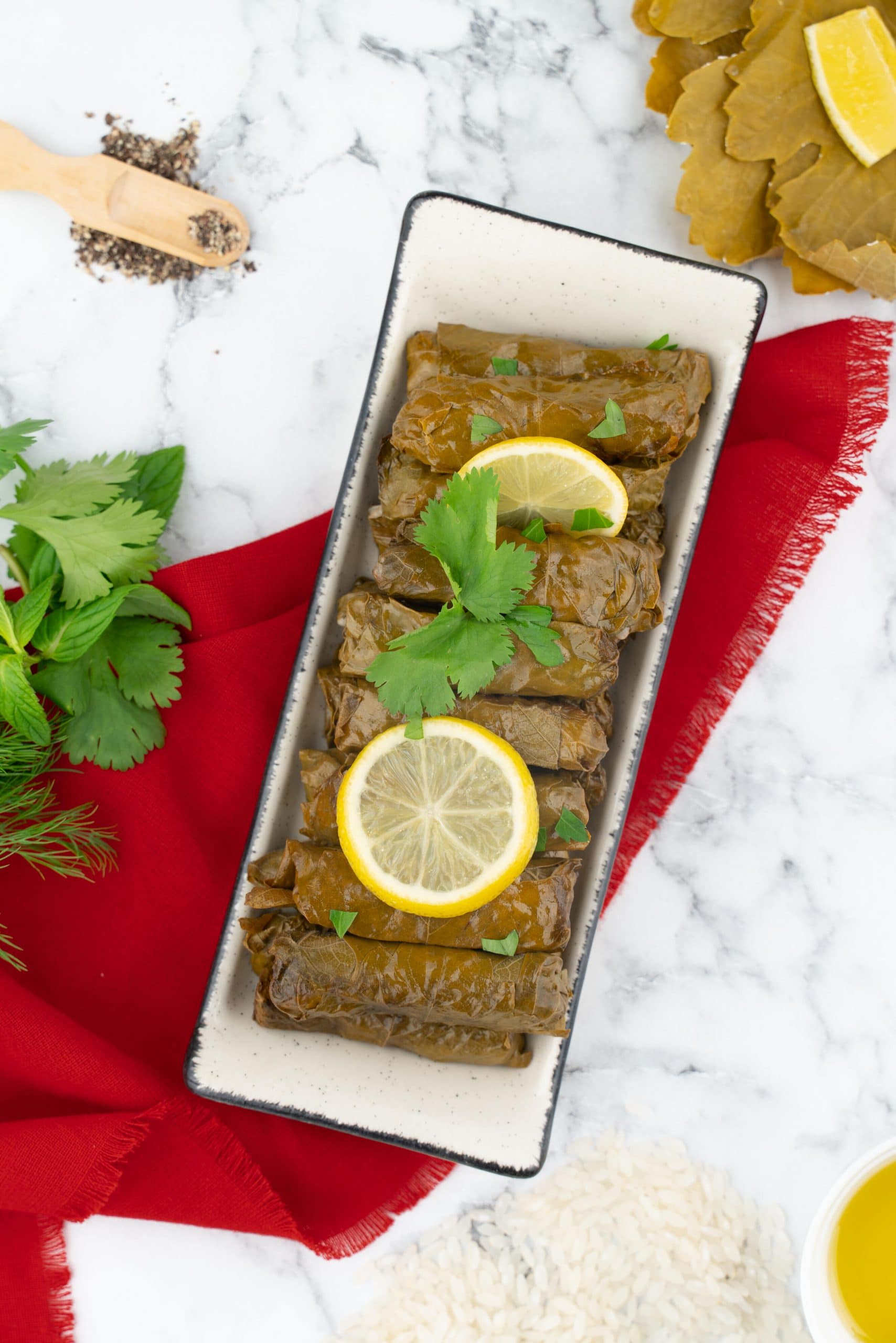 Ingredients
1/2

cup

extra virgin olive oil

divided

1

medium onion

minced

3

cloves

of garlic

minced

1-1/4

cups

short-grain white rice

rinsed very well

2-1/4

cups

vegetable broth

divided

3

Tbsp

fresh minced parsley leaves

3

Tbsp

fresh minced mint leaves

3

Tbsp

fresh minced dill leaves

6

Tbsp

freshly squeezed lemon juice

1

Tbsp

lemon zest

1

tsp

sea salt

1

tsp

freshly ground pepper

1

16 ounces jar of grape leaves

Lemon slices for serving
Instructions
In a deep pot over medium heat, add 1/4 cup of the olive oil. Once it is shimmering, add the onion and garlic and sauté until translucent and soft, approximately 5 minutes. Add the rice to the pot and stir to combine well and coat the rice with the oil. Sauté for 1 minute.

Increase the heat to high and add 1-1/4 cups of broth. Bring this to a boil and immediately reduce the heat to low. Cover the pot and cook the rice until it is just al dente (not completely cooked), approximately 7 to10 minutes. Remove the pot from the heat to cool.

If there is excess broth that hasn't been absorbed, drain it out of the rice. Add the parsley, mint, dill, 2 tablespoons of the lemon juice, lemon zest, salt, and pepper to the rice. Stir well to combine. Set the rice filling aside.

Drain the grape leaves in a colander and trim off any woody stems. Over high heat, bring a large heavy-bottomed pot or Dutch oven of water to a boil. Place the leaves in the boiling water. Remove the pot from the heat and allow the leaves to soften for approximately 3 minutes. Drain and rinse the leaves under cold water to stop any further cooking.

Place a grape leaf on a clean flat work surface with the shiny side down and the visible vein side up. Place 1 to 1-1/2 tablespoons of rice filling at the stem end of the leaf. Fold the stem end up over the filling. Fold the edges of the leaf inward. Roll the leaf until it forms a cylindrical package. (The rice will expand, so don't roll too tightly). Repeat the process with the remaining leaves until all the filling is gone.

Rinse out your pot. Layer the bottom of the pot with some extra or torn grape leaves. Place the stuffed leaves in the bottom of the pot, seam side down in a tight single layer. Depending on the size of the pot, you may end up with 2 layers. Pour 1 cup of broth, 1/4 cup of olive oil, and 4 tablespoons of fresh lemon juice over the stuffed grape leaves. Place a heatproof plate, top face down, over the dolmathakia.

Heat the pan on medium until the broth begins to simmer. Cover the pot and turn the heat down to low. Cook for approximately 35 minutes until the stuffed leaves are fork-tender.

Serve warm or at room temperature with fresh lemon slices. Or, refrigerate and serve cold later or the next day.
Video
Nutrition
Calories:
123
kcal
|
Carbohydrates:
6
g
|
Protein:
1
g
|
Fat:
11
g
|
Saturated Fat:
2
g
|
Polyunsaturated Fat:
1
g
|
Monounsaturated Fat:
8
g
|
Sodium:
282
mg
|
Potassium:
52
mg
|
Fiber:
1
g
|
Sugar:
1
g
|
Vitamin A:
283
IU
|
Vitamin C:
8
mg
|
Calcium:
14
mg
|
Iron:
1
mg
Notes & Tips
These treats are meant to be eaten with your fingers, so make them small enough to eat in a couple of bites.
The ingredients should be of the best quality for these to come out perfectly. The rice shouldn't be too old or stale. The herbs need to be green, fresh, and preferably organic. The olive oil should be extra virgin with nice floral notes and not overly spicy. Greek olive oil would be ideal. The lemon juice can't be the concentrated stuff from a bottle or a plastic squeeze lemon. It makes a huge difference if it is freshly squeezed.
Substitutions
There are a few variations of this appetizer. Some recipes call for protein, such as ground lamb or beef. Others call for chopped tomatoes or tomato sauce. I have had grape leaves stuffed with rice, raisins, and pine nuts. The herbs and spices can also differ by region. Parsley and mint seem to be common herbs, and cumin or cinnamon are often added to the mix. When it comes to the starch, you can definitely swap out the white rice for short-grain brown rice, bulgur, or barley. Brown rice will take longer to pre-cook.
While young leaves from grapevines are the preferred leaf to use for making dolmathakia, I have used collard greens or Swiss chard when I can't find grape leaves. You will have to blanch the raw leaves for a couple of minutes to soften them.
Making a Meze Platter
Meze is the Greek word for taste or snack. It is similar to Spanish Tapas. Basically, meze items are starters or party foods that can be eaten in a couple of bites and often with your hands. A meze platter is filled with finger foods that everyone can share.
This is perfect for a gathering of friends and family before sitting down to a meal. Although, I have actually served this as a meal. I have a large cutting board and a 16-inch diameter platter that is glazed stoneware. Both work for assembling a colorful meze with lots of tasty bites.
The perfect items to include on your meze board or platter, in addition to your home-made dolmathakia, are:
Grilled octopus bites
Kalamata olives
Grilled sausages
Broad bean or fava bean hummus with crispy pita bread wedges
Lamb meatballs
Crispy fried chickpeas
Grilled halloumi cheese
Cucumber wedges
Cherry tomatoes
Small spanakopita triangles (spinach and phyllo hand pies)
Fried smelts or sardines
---
Recent Recipes