Why is this recipe interesting?
It's summertime at last, the weather for some tasty,  flavorsome fruits like Gooseberry. It's also time to make the most of your summer with a delicious gooseberry jam. Making homemade gooseberry jam is just as healthy as it is delicious. You can also add ingredients to your preference to make it more enjoyable for you.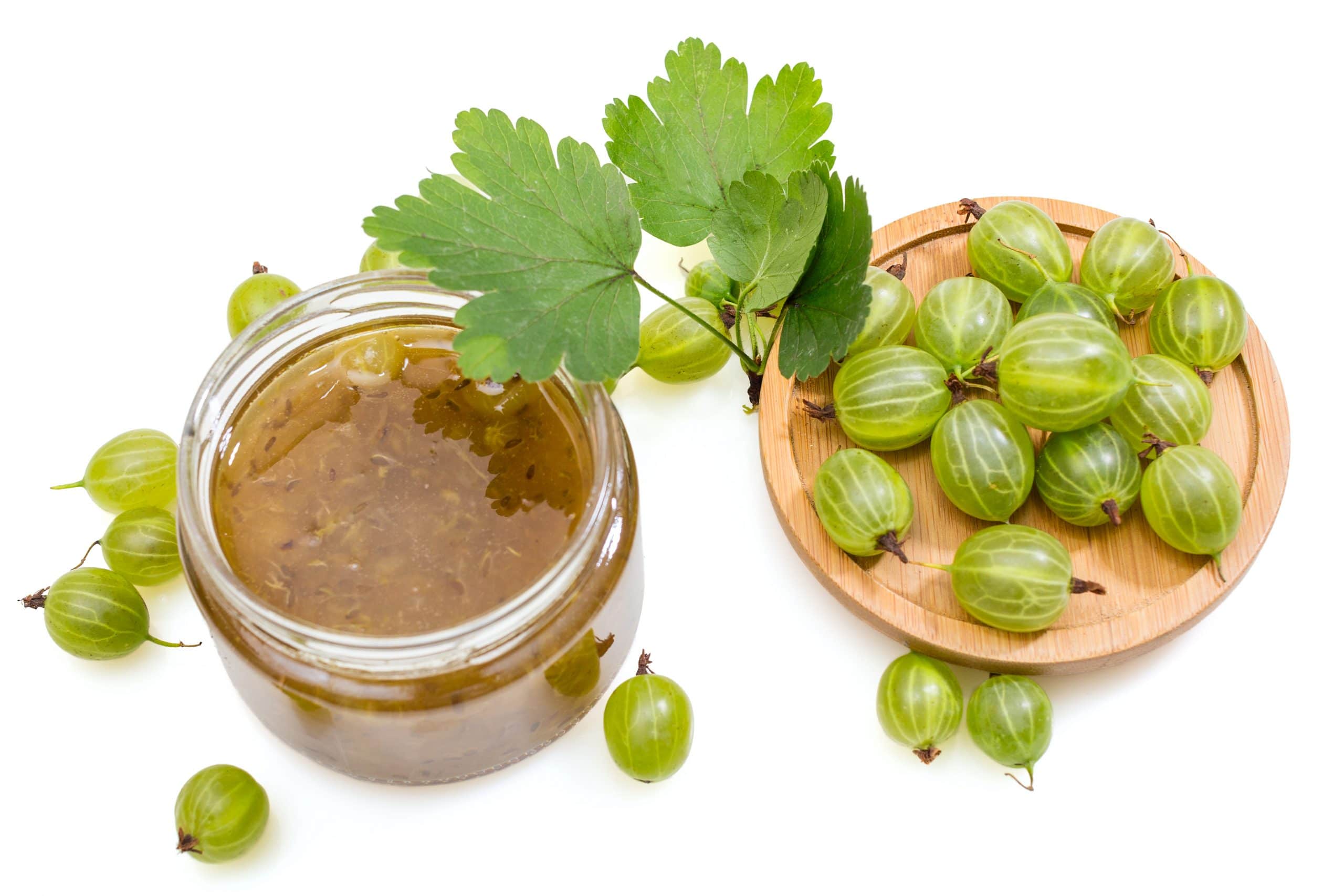 Ingredients
4

cups

of fresh ripe gooseberries

2

cups

raw sugar

1

cup

of water

4 ½

pint

jars for canning
Instructions
Boil jars in a canning pot to sterilize. Place 2 to 3 plates in the freezer to check on later.

Pour 1 cup water and the clean gooseberries in a saucepan. Boil the berries for about 10 minutes or more until they soften. Allow to simmer on a medium flame. Keep in mind this is a critical stage during the process so don't overboil. You will want to ensure the berries remain whole during the process.

Add 2 cups of sugar. Ensure the sugar completely dissolves prior to increasing the flame to high for boiling. Allow sugar and berry mixture to boil until jam sets. You should permit this to boil for 5 to 7 minutes.

Place a teaspoon of jam on one of the frozen plates to check if it is ready. If it wrinkles on your finger it is ready. Since there is no pectin added it will not be thick but will be in gel form.

To complete the canning process, fill the cans with the gelled berries. Then return them to the canning pot for another 5 minutes.

Refrigerate enjoy your gooseberry jam with toast and coffee on a lazy summertime morning.
Nutrition
Calories:
1860
kcal
|
Carbohydrates:
460
g
|
Protein:
5
g
|
Fat:
3
g
|
Saturated Fat:
1
g
|
Polyunsaturated Fat:
2
g
|
Monounsaturated Fat:
1
g
|
Sodium:
30
mg
|
Potassium:
1304
mg
|
Fiber:
26
g
|
Sugar:
397
g
|
Vitamin A:
1740
IU
|
Vitamin C:
166
mg
|
Calcium:
205
mg
|
Iron:
3
mg
Substitutions & Shortcuts
If you don't have any gooseberries or cape gooseberries, you can use tomatillos. The only drawback to using tomatillos is it won't have the subtle fragrance of gooseberries.
Gooseberry jam is delicious but it takes a lot of time and effort to prepare. Following the taxing effort of picking berries, you must do the tailing and topping, which is tedious. Therefore, before tailing and topping the berries put them on a tray for about 2 hours after picking.
Freezing will save about  20 minutes per jar. Making it easier to remove the bits and ends. Also, once they are frozen you won't need to use as much sugar. This is because when the gooseberries freeze, their natural sugar concentrates. However, don't refreeze use right after topping and tailing.
For best results, store gooseberries overnight at room temperature before refrigerating. In addition,  adding a few tablespoons of elderflower cordial will make your jam more pleasing and tasty.
Lessons learned while making this dish
Always pick fresh gooseberries to make this jam. Although, you may prick your hands with thorns when picking gooseberries for the jam. It is even delicious simply eaten out of the jar.
Always use fruits that are ripe and free of any bruises or mold. Also, only the freshest ripe gooseberries should be used in order for the sugar to dissolve easily. Do not soak them. This significantly reduces the number of nutrients. Don't use less sugar, if they are still frozen you should add sugar accordingly.
---
Recent Recipes