Pesto is something that's always good to have on hand. There are so many uses for a great pesto. Petso is a great sauce, spread, and topping for many food items.
It's easy to find at the store, but homemade pesto is hard to top. One of the reasons pesto isn't made a lot at home is because some of the ingredients are hard to find and/or expensive. One of those ingredients is the pine nuts.
So, instead of using pine nuts, why not use another nut? Cashews are a great option for pesto. Cashews are full of flavor and have the perfect texture to create a smooth, creamy pesto. They are also really easy to find and affordable.
Adding more nuts to your diet comes with great health benefits. Nuts have high levels of vegetable protein, healthy fats, and fiber. Incorporating them into tasty recipes, like this cashew pesto, is a great way to increase your nut consumption.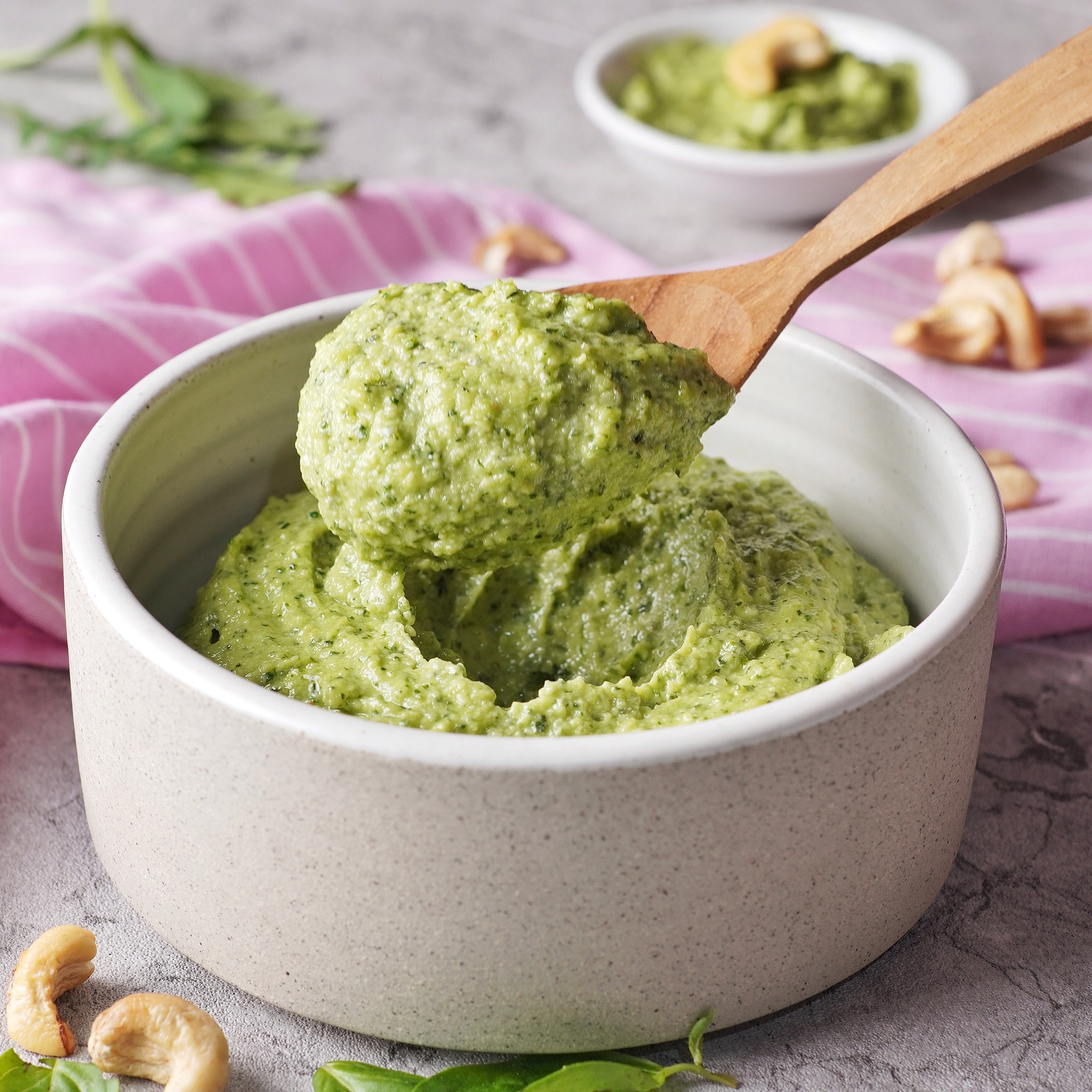 Ingredients
½

cup

raw cashews

2

fresh garlic cloves

½

cup

parmesan cheese

fresh grated

1

cup

loosely packed basil

1

cup

loosely packed arugula

1

lemon

juiced

¼

teaspoon

kosher salt

½

cup

extra virgin olive oil
Instructions
All ingredients ready? Let's begin!

First, you're going to want to toast the cashews. You can do this by heating a dry cast iron skillet or non-stick skillet on medium-high heat on the stovetop. Add the cashews and gently toss them around until they start to develop a light brown color and have a toasted smell.

Set the cashews aside and let them cool for just a few minutes before proceeding with the recipe.

In a food processor, combine the cashews, garlic, and cheese.

Pulse until the mixture is fine crumbs.

Now add the basil and arugula. Pulse until the mixture is smooth.

Pour in the lemon juice and salt.

Then gradually add the olive oil, continuing to mix the mixture until it turns into a smooth pesto.

Use the pesto immediately or you can store it in a jar in the refrigerator.
Video
Nutrition
Calories:
314
kcal
|
Carbohydrates:
7
g
|
Protein:
5
g
|
Fat:
30
g
|
Saturated Fat:
6
g
|
Polyunsaturated Fat:
2
g
|
Monounsaturated Fat:
12
g
|
Cholesterol:
7
mg
|
Sodium:
465
mg
|
Potassium:
90
mg
|
Fiber:
1
g
|
Sugar:
2
g
|
Vitamin A:
736
IU
|
Vitamin C:
8
mg
|
Calcium:
136
mg
|
Iron:
1
mg
Notes & Tips
Traditionally, pesto is made with only basil. So, if you can't find arugula, you can use all basil for this recipe. You could also use fresh spinach. Here are some other great arugula substitutions.
To keep the pesto fresh, pour a thin layer of olive oil over the top of the pesto in the jar. This will prevent the greens from turning brown. You could also use a small piece of plastic wrap gently pressed down to cover the top of the pesto.
You can make this with a mortar and pestle, too. This method is very rustic and fun. It breaks down the greens and garlic a bit more naturally and the flavor really pops.
Is Cashew Pesto Vegan?
Pesto is not usually considered vegan because it has parmesan cheese in it. So how do you make cashew pesto vegan?
You can substitute equal amounts nutritional yeast for the parmesan cheese. Nutritional yeast is a great vegan cheese substitute. With the robust flavors from the garlic, basil, arugula, and cashews, you'll barely be able to notice. You may even prefer the nutritional yeast flavor. It adds more of a nutty, earthy flavor.
Can You Freeze Pesto?
This recipe makes a rather small batch that you should be able to use up quickly. But, if you have a lot of fresh basil and arugula to go through, you can easily double or triple the recipe to preserve your fresh greens for another time.
Simply make the recipe per the instructions. It's best to use an ice cube tray when storing pesto in the freezer. This allows you to store smaller amounts so you can use it as you need it.
Pour the pesto into the ice cube tray and place it in the freezer. Once the pesto is frozen, remove the cubes from the tray and place in a freezer bag or air-tight container.
To use the pesto, you just take out the amount of cubes you need and let them sit at room temperature until they start to soften. Then, you can use them as you please!
The pesto will stay fresh in the freezer for about three months. Make sure that you label and date them so it's easier to keep track of them.
For more tips on storing pesto, click here.
What Kind of Nuts Can You Use for Pesto?
Pine nuts are usually the nuts that are used in pesto. And now we know that you can use cashews, too. But what other kinds of nuts can you use to make pesto?
You can use walnuts, almonds, pecans, pistachios, or even peanuts in pesto recipes. It's best to toast the nuts first to get the best flavor.
You can also use seeds in pesto, too. Sesame seeds, pumpkin seeds, and sunflower seeds are good options.
The best thing about pesto is that there are no hard rules. Feel free to mix and match based on your taste preference and what you have in the pantry.
What Recipes Can I Use Cashew Pesto For?
You can substitute cashew pesto into any recipe that calls for regular pesto. Some favorites include tossing the pesto in fresh pasta or gnocchi. Pesto also makes a great topping for acorn squash and sweet potatoes. You can also use it on chicken and steak.
Other options include mixing pesto into butter and using this "pesto butter" as a spread for rolls and toast. If you fold pesto into plain greek yogurt it becomes a tasty vegetable dip.
Here are some other recipes that you can try with cashew pesto:
---
Recent Recipes