Lovely Lemon Asparagus Couscous Salad
For a quick weekday lunch or a lingering, delicious, filling side for a meal, this Loaded Lemon Asparagus Couscous Salad with Tomatoes has it all. Even if you are not a "salad person", I can guarantee you, you'll lick your plate clean after this and ask for seconds. This salad has fresh, tangy tomatoes, earthy, roasted asparagus, salty feta, flavorsome couscous and a burst of lemony goodness. And the dressing is rich yet simple with a hint of sweetness and together it packs a punch. It is a wholesome meal that can be quickly whipped up.
And the Loaded Lemon Asparagus Couscous Salad with Tomatoes lends itself to so many alternatives, you can use rice, pasta or quinoa, you can replace honey with maple syrup, you can add meat, protein and vegetables of your choice. The loaded salad can transform itself to whatever you need it to be. A light, spring, salad; a hearty feast or a simple family meal. It is easy, family-friendly and allergy-friendly. You can add nuts, dried fruits or spice and give it little tweaks to adjust your mood. It is a bowl of goodness that tastes like sunshine and summer. So here is the Loaded Lemon Asparagus Couscous Salad with Tomatoes.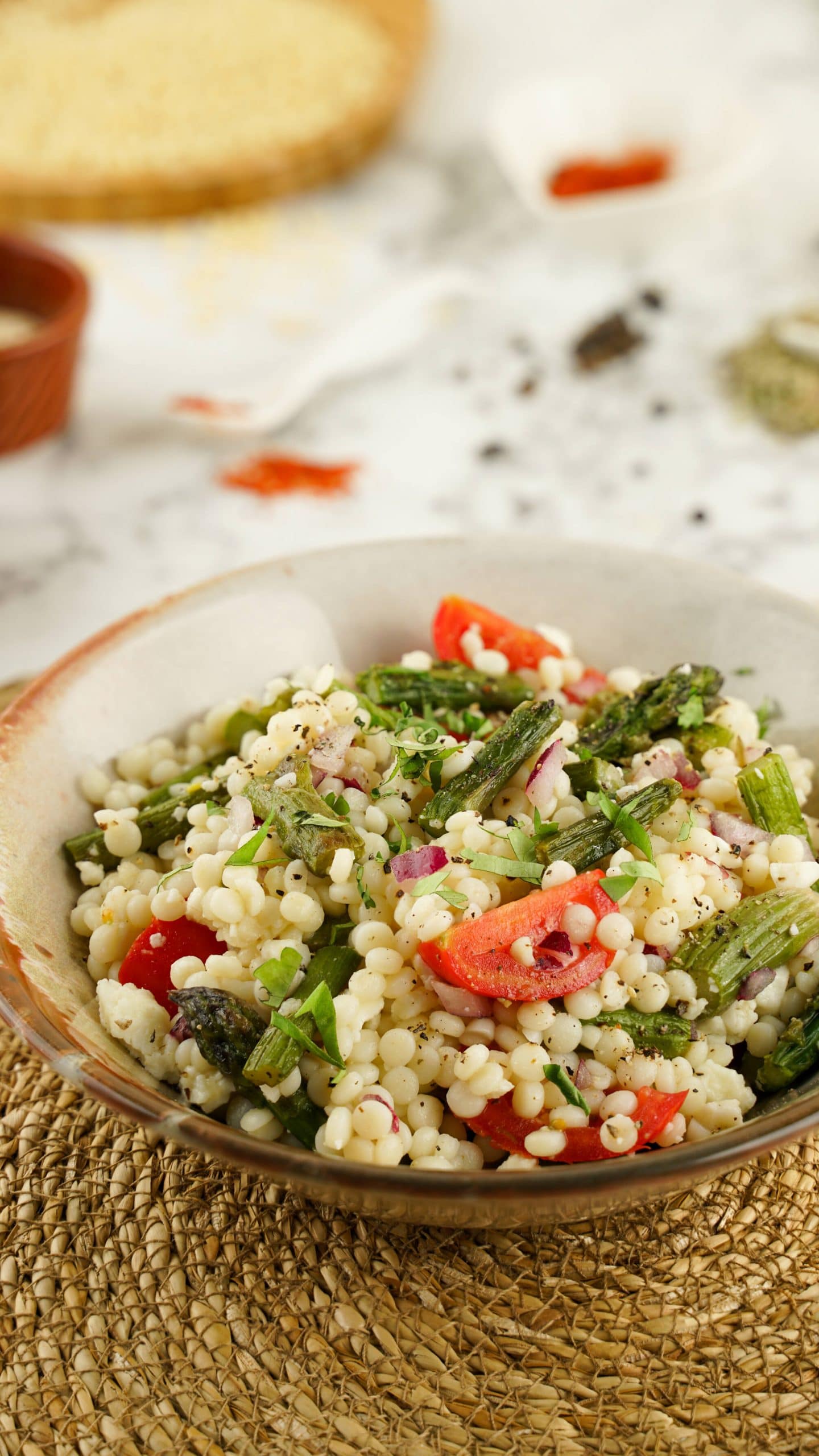 Ingredients
10

oz

of couscous

1

pound

asparagus

trimmed

1

cup

grape tomatoes

halved

½

cup

red onions

finely chopped

1/3

cup

feta

Parsley for garnish

Olive oil

Salt and pepper
Dressing:
2

tablespoons

of lemon juice

2

tablespoons

of olive oil

1

tablespoon

honey

1

clove

garlic

minced

Black ground pepper

Salt
Instructions
Preheat the oven to 400 degrees

Season the washed and trimmed asparagus with olive oil, salt and pepper and place on a large baking pan

Bake till tender and slightly browned- about 10-15 minutes

Remove it from the oven and once cooled, cut into small 2-inch pieces

Cook the couscous according to package instructions and set aside

Place the couscous in a bowl and add the roasted asparagus, grape tomatoes and onions. Mix well.

Mix all the dressing ingredients together and pour over the couscous salad.

Now add the crumbled feta and mix gently.

Garnish with freshly ground pepper, a squeeze of lemon juice and parsley.
Video
Nutrition
Calories:
449
kcal
|
Carbohydrates:
68
g
|
Protein:
14
g
|
Fat:
14
g
|
Saturated Fat:
3
g
|
Polyunsaturated Fat:
1
g
|
Monounsaturated Fat:
8
g
|
Cholesterol:
11
mg
|
Sodium:
152
mg
|
Potassium:
488
mg
|
Fiber:
7
g
|
Sugar:
9
g
|
Vitamin A:
1222
IU
|
Vitamin C:
17
mg
|
Calcium:
118
mg
|
Iron:
4
mg
Tips and Tricks
Ensure the asparagus is not too thick, it takes longer to cook
Space the asparagus well in the baking pan
Alternatively, the asparagus can also be boiled in water, about 10 minutes.
You can use regular couscous or Israeli couscous
You can also cook the couscous in chicken or vegetable stock for some added flavor
Storage
The Loaded Lemon Asparagus Couscous Salad with Tomatoes can be stored in the fridge for 2-3 days. Avoid adding the dressing if you are planning on refrigerating. Add the dressing only to what you are eating, keep the rest aside. You can make fresh dressing if you want or make a big batch of dressing and store and use as and when you need it.
You can also make this salad ahead of time. Cut and store the ingredients separately, as well as the dressing and store in the fridge. Combine together when serving. Shake the refrigerated dressing before use.
Questions
How long does couscous take to cook? Is it like pasta?
Israeli couscous is a lot like pasta but made from roasted durum, semolina or whole wheat flour. The best thing about couscous is that it cooks fast, about 10 minutes or so, especially if you are using boxed couscous like I did. Couscous has a chewy, nutty flavor. It is often interchangeable in recipes with quinoa or brown rice.
What is the best way to cook asparagus and how do I know when it's done?
First, ensure you are buying fresh asparagus stalks. Asparagus shouldn't be soggy or misshapen. When asparagus is cooked it is tender but still has a bit of a bite to it. If it is hard and chewy it is undercooked, if it is mushy it is overcooked.

Asparagus can be boiled in water or roasted in a pan or in the oven. Trim the thick woody part of the asparagus, the rest can be eaten.
Is couscous healthier than rice?
Couscous is very similar to rice in its calorific value and glycemic index. It has marginally more proteins and vitamins. While it is not significantly healthier than rice, it has a small advantage over rice.
Substitutions
Couscous: You can use pearl or Israeli couscous, Moroccan couscous, regular couscous. You can also use boxed couscous, which comes with additional flavoring. Besides the numerous couscous options, the Loaded Lemon Asparagus Couscous Salad with Tomatoes can also be made with quinoa or brown rice. For an even more loaded up variation, use a small pasta instead.
Tomatoes: fresh, ripe grape tomatoes give the salad an amazing flavor, but you can also go with Roma tomatoes as well as sun-dried tomatoes. You can also replace the tomatoes with red peppers.
Asparagus: The asparagus gives this salad that extra crunch and flavor and it is not a taste easily replicated, but you can use cucumber instead. It gives the salad an extra lightness and crunch. You can also use zucchini in a pinch.
Cheese: I think the saltiness of feta makes it the perfect cheese for salads. Parmesan or any goat cheese will also work.
Lemon: Use fresh lemons for the garnish, it is full of zest and bright flavors and works well with the asparagus and the feta. Every spoonful is bursting with flavor.
Extras: Chickpeas are a good addition to the Loaded Lemon Asparagus Couscous Salad with Tomatoes. You can use canned chickpeas, just drain and rinse. Chicken also works well in this salad. And I sometimes like to add raisins or craisins to it. If I am looking for more crunchy greens, lettuce or arugula complement this salad.
Garnish: Parsley, pepper and lemon are all the garnish you need. You can use cilantro instead of parsley. You can add chili flakes if you want a bit of heat.
Dressing: You can replace the honey with maple syrup and can use powdered garlic instead of minced.
Accompaniments
The Loaded Lemon Asparagus Couscous Salad with Tomatoes can be the main course or a side. If it is a side, serve with some spicy chicken or herbed salmon. Otherwise, the salad pairs well with Roasted Brussel Sprouts and glazed carrots. It can also be served with pita bread, hummus and kebabs or falafels.
These Greek Chicken Wings also make a great side for the salad as do these Moroccan Fried Chicken.
---
Recent Recipes