Simple Gramigna Pasta with Sausage
There is an upscale market in my town that offers a lot of imported goods. While it is a little pricy, I occasionally like to see what cool stuff they have that I am unfamiliar with. The pasta aisle is especially fun with all the imports from Italy. There are pasta shapes I have never seen or heard of before from different regions of the country.
Gramigna is pasta that is popular in the Emilia-Romagna area. It does have eggs in the dough and is best made fresh. Even so, you can find dried and packaged gramigna in specialty stores or online. Here is a shop that has it in-stock at the time of writing but it can be hard to find online and is usually out of stock on Amazon.
The best way to describe this pasta is to liken it to longer elbow macaroni that is a bit curled or squiggly. Sauce, meat, herbs, and cheese cling to it pretty well. I love pasta that encourages other ingredients to hang on to it.
In Emilia-Romagna, there is a dish called Gramigna con Salsiccia. Salsiccia is sausage, specifically pork sausage in this case. There are a few different versions of the recipe and I think they all have culinary merit. One version is a light cream sauce with sausage. Another is a tomato-based ragu with sausage. But my favorite is a recipe that combines both the tomatoes and the cream with the sausage.
Emilia-Romagna is toward the northeest of Italy in a semi-mountainous region with lowlands and a bit of coastline along the Adriatic Sea. Agriculture is diverse with livestock, fields of grain, fruits and vegetables, fresh seafood, dairy, and hearty wine. The region is well-known for its biodynamic and organic farming practices. The city of Bologna is in the region and is famous for its tomato-based Bolognese sauce with ground meat finished with local Parmigiano-Reggiano cheese.
This recipe for Gramigna con Salsiccia includes much of what Emilia-Romagna has to offer, and yet it is very simple in ingredients and preparation. You can make your own gramigna with semolina flour and eggs. In order to get the curly shape, you may need a pasta machine with the proper extruding disc. We are using dried pasta in this recipe.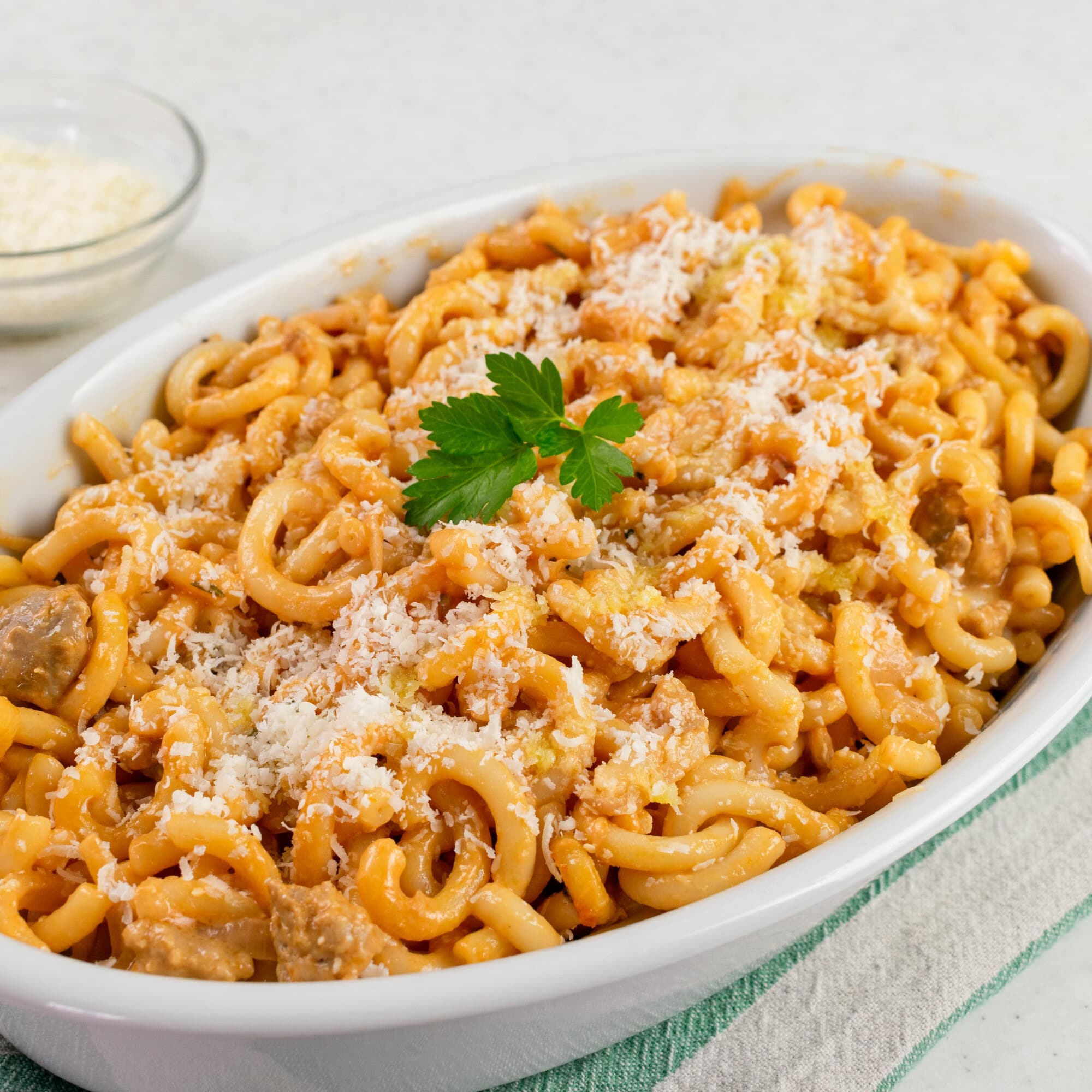 Ingredients
2

Tbsp

extra virgin olive oil

1

medium white onion

finely diced

1

lb

mild Italian sausage

also known as sweet sausage

1/2

tsp

sea salt

1/2

tsp

freshly ground black pepper

1/4

tsp

dried sage

1/4

tsp

dried rosemary

2-1/2

Tbsp

dry white wine

2-1/2

cups

chicken stock

1

cup

tomato puree

1/4

cup

heavy cream

1

lb

dried gramigna pasta

Parmigiano-Reggiano for serving

Extra virgin olive oil for serving
Instructions
In a large skillet over medium-high heat, add the olive oil and onions. Cook the onions until they are translucent, approximately 5 minutes. While the onions are cooking, remove the sausage from its casing.

Add the sausage to the skillet by breaking it into small, bite-size pieces. Stir to combine. Cook the sausage, stirring occasionally for about 5 minutes.

Add the wine and cook for an additional 5 minutes until the wine is absorbed by the sausage and onions.

Whisk in the stock, salt, pepper, sage, and rosemary and continue to cook until the stock begins to reduce, approximately 10 minutes.

While the stock is reducing, bring a large pot of generously salted water to a boil. Add the pasta to the boiling water and allow it to cook for 7 to 8 minutes until just al-dente.

While the pasta is cooking, add the tomato puree to the sausage and stock. Bring this back up to a boil. Reduce the heat to medium-low and whisk in the cream. Allow the sauce to simmer for 3 to 4 minutes.

Using a spider or pasta scoop, place the pasta in the pan of sauce. It is okay for some of the starchy pasta water to make its way into the sauce to help thicken it. Allow this to warm through until the pasta is tender.

Remove the gramigna and sauce to a large serving bowl and generously top with the Parmigiano-Reggiano and a good drizzle of extra virgin olive oil. Serve with extra cheese on the side.
Video
Nutrition
Calories:
940
kcal
|
Carbohydrates:
96
g
|
Protein:
35
g
|
Fat:
45
g
|
Saturated Fat:
15
g
|
Polyunsaturated Fat:
6
g
|
Monounsaturated Fat:
21
g
|
Trans Fat:
1
g
|
Cholesterol:
104
mg
|
Sodium:
1130
mg
|
Potassium:
942
mg
|
Fiber:
5
g
|
Sugar:
8
g
|
Vitamin A:
642
IU
|
Vitamin C:
10
mg
|
Calcium:
65
mg
|
Iron:
4
mg
Notes & Tips
Whenever you cook pasta, be sure to season the cooking water generously with sea salt to flavor the pasta. Also, reserve a little bit of the cooking water, about 1/4 cup. The starch that is released from the pasta into the water will slightly thicken the sauce and make it silky to help it to cling to the pasta.
Parmigiano-Reggiano cheese is really the best for finishing this particular pasta dish. It has a unique earthy and fresh flavor that does not compare to any other grated Italian cheeses. It is best to grate your own, as the pre-grated cheese does lose a little flavor and moisture while in its packaging. But don't worry if you can only find the grated cheese.
Substitutions & Options
If you can't find gramigna pasta, I would recommend using elbow macaroni. You might even be able to get away with ziti because it is short and has a hollow center to catch the sauce. If you may also want to try a new pasta entirely, I would try Vesuvio or Busiate which both have some similar traits to gramigna and would go well with this recipe to catch the sauce and cheese.
You can definitely leave the cream out of this recipe. Alternatively, you can leave the pureed tomatoes out. To make this very clean and simple, eliminate both the tomatoes and cream and just serve the sausage and broth with the pasta.
I think the pork sausage is really nice in this recipe. If you are vegetarian and want to leave out the meat, you could add some meaty mushrooms like cremini or some small broccoli florets. You could also use a meat alternative made from mushrooms. If you don't eat pork but do eat some meat, go ahead and use an Italian-style chicken or turkey sausage.
---
Recent Recipes