It is Dry January and many of us are not imbibing in alcoholic beverages. That doesn't mean we can't enjoy an elegant cocktail, or more correctly a mocktail. In fact, there is a trend in Japan right now that has taken the bar scene by storm. Younger patrons are asking for alcohol-free cocktails for both health and financial reasons. But these 20-somethings want great mocktails and want to socialize with them without the buzz and the next day's headache.
This alcohol-free movement has challenged mixologists to come up with some fabulous drink creations. The best part about this is that many of the ingredients are super fresh and colorful. These include fresh fruits and vegetables from around the world, herbs and spices, aromatics, pickled goods, unique waters and sodas, essential oils, and a variety of sweeteners. You get the idea.
I have prepared a few different non-alcoholic cocktails that adults enjoy and many kids get into as well as an alternative to a Shirly Temple. Some of my most successful drinks include a Homemade Mojito Mocktail, a Pina Colada Mocktail, and a Refreshing Watermelon Mocktail These are all perfect on a warm summer evening. Because they don't have alcohol, they are also great for a picnic lunch. If we are heading to the beach, I will make a pitcher of mocktails to place in the cooler.
For this mocktail, we are using mango fruit as the main ingredient. Mango is a large stone fruit native to the tropics and parts of India. It is sweet and creamy with a floral fragrance. I don't know many people who don't enjoy this exotic fruit. They are readily available in North American supermarkets as imported produce.
When choosing fresh mangos, look for fruits with colorful skin that is mostly orange and red instead of green. The flesh beneath the skin should give a little when gently pressed with your thumb, similar to a ripe avocado. If a dent remains, the fruit is overly ripe.
The bright orange flesh of mangos is rich in beta-carotene, dietary fiber, vitamins, and minerals. Beta-carotene is a powerful antioxidant that can help protect us from damaging free radicals. Vitamins A and C are prominent in mangos. Mango is also a rich source of potassium. Even though this fruit is healthy, it is also extremely tasty.
This mocktail recipe is a twist on a Moscow Mule. A traditional mule has vodka, lime juice, and ginger beer. It is served in a chilled copper mug. I am swapping out the vodka for mango puree. It changes the texture of the drink but makes it that much more interesting in my opinion. To be honest, I only own one copper mug and it tastes a little metallic to me, so I serve this drink in stemless wine glasses. Old-fashioned glasses work just as well.
To make a mango mule mocktail, you will need fresh mango, limes, honey, non-alcoholic ginger beer, a sugar and spice blend for the glass rims, and ice. Ginger beer is a fermented and sweetened ginger beverage. You can find it in many supermarkets and spirits shops. It is generally found with the mixers, such as tonic and club soda. You also will need a blender to make this mocktail.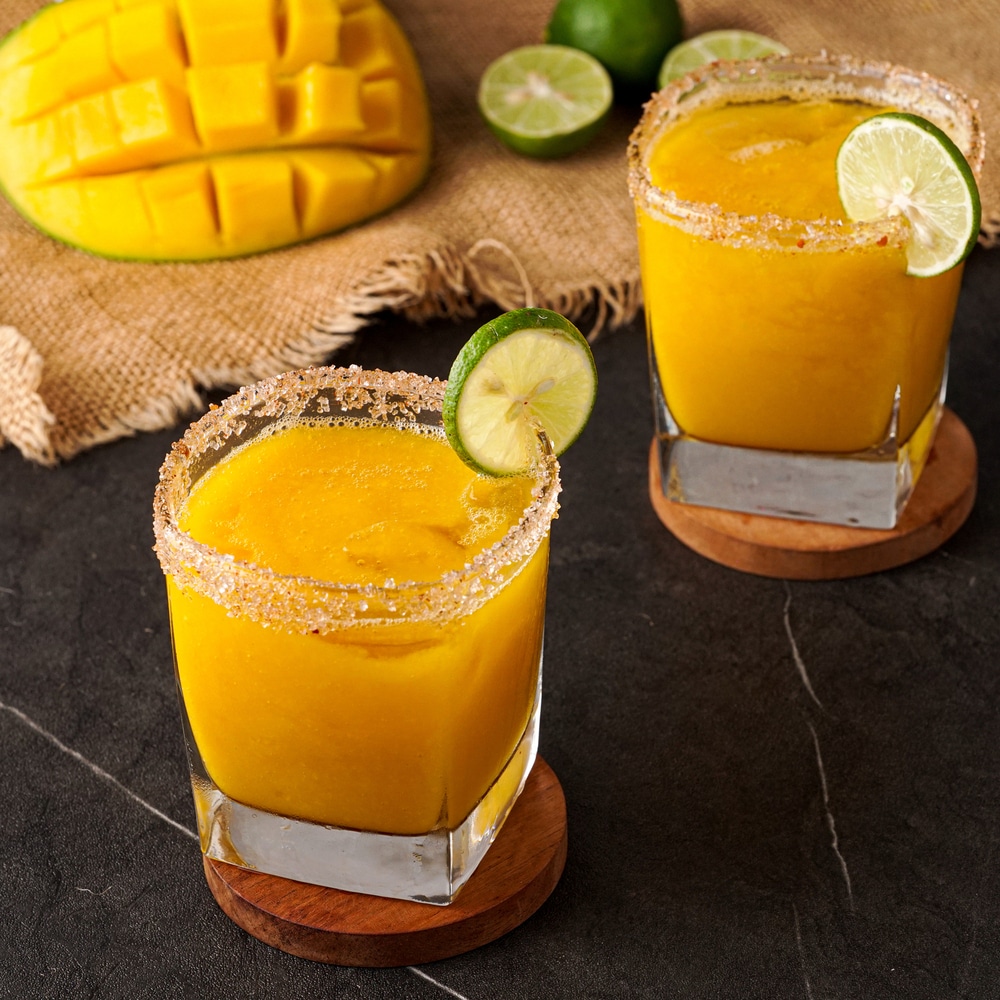 Ingredients
2

Tbsp

granulated sugar

¼

tsp

sea salt

⅛

tsp

cayenne pepper

1

lime wedge

2

cups

fresh diced mango

2

ounces

of freshly squeezed lime juice

1

ounce

of honey

Ice cubes

2

jiggers of ginger beer +/-

2

Lime slices for garnish
Instructions
All ingredients ready? Let's begin!

Combine the sugar, salt, and cayenne pepper on a saucer or in a shallow bowl. Run the lime wedge around the rims of 2 old-fashioned glasses.

Dip the rims of the glasses into the spice mixture.

In the jar of a blender, process the mango chunks, lime juice, and honey into a smooth purée.

Fill the glasses with ice. Pour the pureed mango over the ice, leaving a little room for ginger beer.

Top off the purée with ginger beer and give the drink a gentle stir to combine.

Garnish the glasses with lime slices and serve right away.
Nutrition
Calories:
281
kcal
|
Carbohydrates:
73
g
|
Protein:
2
g
|
Fat:
1
g
|
Saturated Fat:
0.2
g
|
Polyunsaturated Fat:
0.1
g
|
Monounsaturated Fat:
0.2
g
|
Sodium:
312
mg
|
Potassium:
339
mg
|
Fiber:
3
g
|
Sugar:
68
g
|
Vitamin A:
1859
IU
|
Vitamin C:
73
mg
|
Calcium:
37
mg
|
Iron:
1
mg
Notes & Tips
If you don't have a blender, you can make the mango purée in a food processor or a smoothie blender.
You can make the base of the drink ahead of time and keep it in a container in the fridge. Add the ginger beer just before serving.
Substitutions & Shortcuts
Cayenne Pepper: If you don't care for the heat of cayenne pepper, either leave it out of the rim mixture or substitute it with mild chili powder.
Lime: Lemon is fine if you don't have a lime. Or, you could use the juice of an orange for a less acidic taste.
Mango: Fresh mango is seasonal so if it isn't available, you can use frozen mango. This will save a step. You can also make this mocktail with other stone fruit, such as peaches or nectarines.
Honey: You can definitely make this mocktail with sugar. One of my favorite substitutions for honey is agave nectar. You could also try brown rice syrup.
Ginger Beer: Ginger beer isn't always available. If that is the case, you can substitute lemon-lime soda and maybe add a couple of dashes of Angostura bitters to the drink. Two other substitutions are kombucha and non-alcoholic beer.
---
Recent Recipes