Have you been looking for a new cookie recipe to try? It's easy to resort to a classic chocolate chip cookie when you get the itch to bake. But have you ever tried pine nut cookies?
Pine nut cookies are an Italian delicacy that are often referred to as "Italian Pignoli". They are a very common item found in Italian bakeries.
The golden-brown cookies are crispy on the outside and slightly chewy on the inside. The cookies are rolled in sweet pine nuts that create a beautiful look and texture.
Cooking with almond flour and almond paste will also make these cookies gluten-free. I love the light texture of almond flour when baking and it has incredible flavor.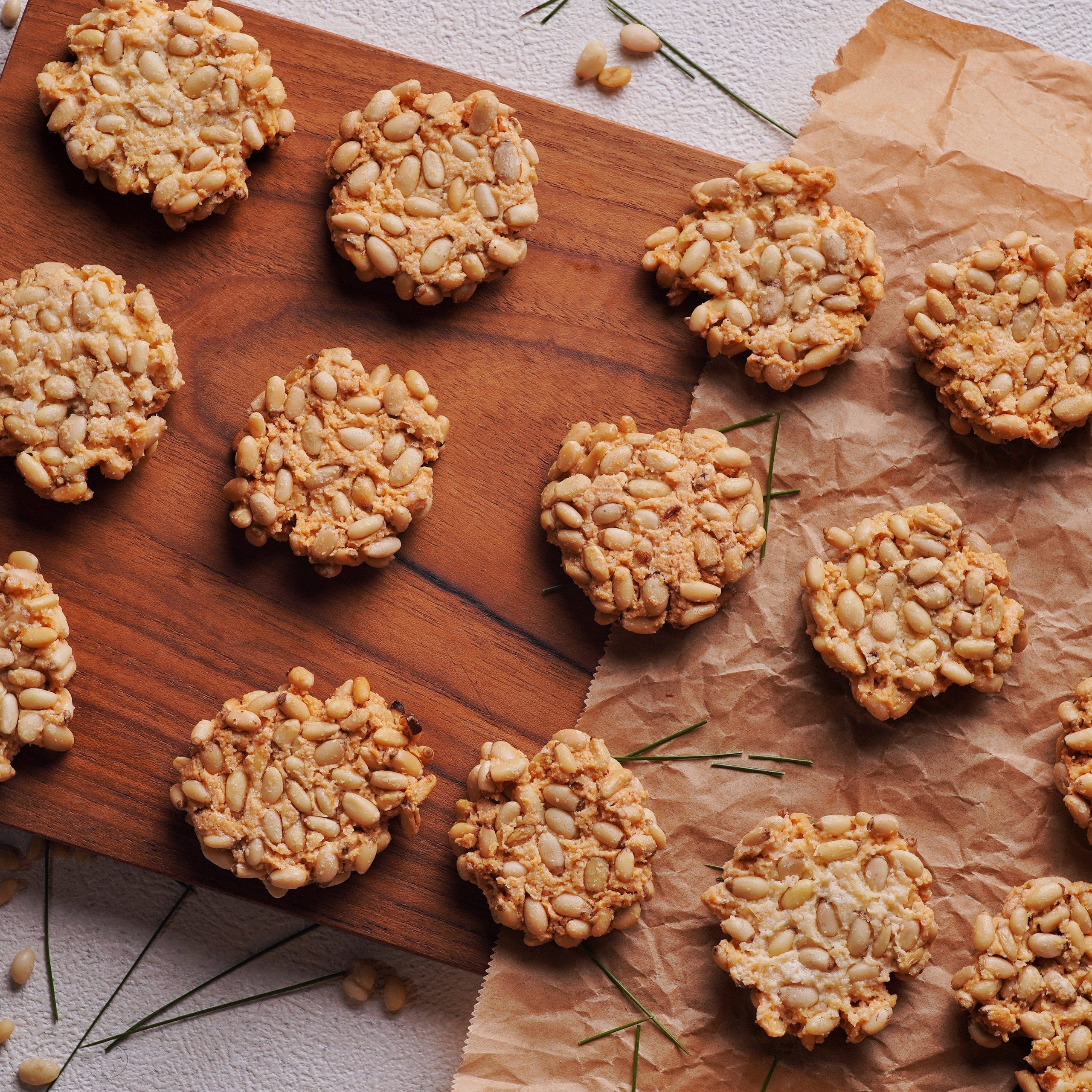 Ingredients
1

cup

almond paste

¼

cup

granulated sugar

⅛

teaspoon

kosher salt

1

teaspoon

almond extract

1

teaspoon

fresh lemon zest

½

cup

almond flour

1

egg white or 2 tablespoons liquid egg white

1 ½

cup

pine nuts
Instructions
All ingredients ready? Let's begin!

Preheat the oven to 325F. Line a sheet tray with parchment paper or a silicone mat.

Crumble the almond paste into a mixing bowl.

Add the sugar and salt and mix.

Add the almond extract, lemon zest, almond flour, and egg white. Beat everything together until smooth.

Pour the pine nuts into a shallow bowl.

Using a small cookie scoop, scoop out the cookies and gently roll.

Press the pine nuts into the cookie.

Place the cookies about 2 inches apart on the sheet tray.

Bake for 20-25 minutes or until they are golden brown.

Make sure that you let them cool on the pan before removing them or they might crumble. After about 5 minutes, you can transfer them to a cooling rack.
Video
Nutrition
Calories:
367
kcal
|
Carbohydrates:
25
g
|
Protein:
8
g
|
Fat:
29
g
|
Saturated Fat:
2
g
|
Polyunsaturated Fat:
10
g
|
Monounsaturated Fat:
10
g
|
Sodium:
46
mg
|
Potassium:
248
mg
|
Fiber:
3
g
|
Sugar:
18
g
|
Vitamin A:
7
IU
|
Vitamin C:
1
mg
|
Calcium:
68
mg
|
Iron:
2
mg
Notes & Tips
These cookies are best enjoyed when they cool completely. You'll get the crispy sweet shell and chewy inside once they are at room temperature. Some may suggest that they taste better after the second day.
You can store the cookies at room temperature for up to 5 days.
It's not recommended to use marzipan instead of almond paste.
It's also not recommended to use all-purpose flour instead of almond flour. The cookies will be much more dense if you use all-purpose flour.
Can You Freeze Pignoli?
Pine nut cookies, a.k.a. Pignoli, can be frozen after you bake them. If you'd like to freeze the pine nut cookies, just follow a few simple steps.
First, you'll want to make sure that the cookies are completely cool. You can then transfer them to an air-tight container or freezer-friendly store bag. Make sure that you label and date the cookies. You can freeze them for up to six months.
More About Pine Nuts
Are Pignoli Nuts The Same As Pine Nuts?
Yes, pignoli nuts are the same as pine nuts. A pine nut is the edible seed of a pine tree. There is a hard casing around the pine nut that is not edible. You must remove the shell before eating the pine nuts.
Why Are Pine Nuts So Expensive? 
Pine nuts are one of the most expensive nuts. But why do they cost so much? Pine nuts are native to the Middle east and Mediterranean region. They are almost all harvested from wild areas. 

Harvesting pine nuts is much more complicated than other nuts like walnuts and pecans. Pine nut trees can take up to ten years before growers can harvest the seeds. Additionally, it's very labor intensive to harvest the pine nuts.
The pickers must climb to the top of the tree and perform some rather crazy acrobatics to hang from the branches and allow the nuts to fall to the ground. 
Best Substitutes for Pine Nuts
It's not recommended to substitute pine nuts for this recipe. After all, it's called a pine nut cookie! But, that doesn't mean you can't experiment with the recipe with other nuts to achieve a similar flavor but with a different nut.
There are a few different nuts that you can use instead of pine nuts. I would recommend trying pistachios or hazelnuts if you're looking to replicate the flavor and texture of this cookie.
More About Almond Paste
Is Almond Paste The Same As Marzipan? 
As mentioned before, you don't want to try to substitute marzipan for almond paste with this recipe. Though some may say they are interchangeable, that is not the case. There are a few distinct differences that make almond paste better for this baking application.

Marzipan is made with sugar, honey, and almond meal. It's incredibly sweet. Marzipan does not hold up very well in baking. It's usually used "as-is" as a filling or for dipping. 

Almond paste has a higher amount of almonds than sugar compared to marzipan. It is more coarse than marzipan and holds up much better while baking. 
Should You Buy or Make Your Own Almond Paste?
It's rather simple to make your own almond paste using blanched almonds, powdered sugar, and egg whites. You just need those three ingredients and a good food processor.

But, there are plenty of other options if you do not want to make your own almond paste. It's recommended to use a more stiff almond paste than one that comes from a tube for this recipe. Solo Pure Almond Paste is a good option. 
Other Sweet Treats
Do you have a sweet tooth? Here are some of our other favorite dessert and cookie recipes for you to try.
Cardamom cookies and Wyoming Cowboy cookies are two very different but equally tasty cookie recipes.
Looking for cake recipes? Don't forget to try this Vietnamese Honeycomb cake or a simple, but sweet, Tres Leches cake.
---
Recent Recipes