Homemade Vietnamese Pizza
I make pizza from scratch a few times a month. My main reason for doing that is because it is just really good. But I also do this because I love experimenting with different crusts. I can make a standard wheat dough that is yeast-risen. But I also like to make gluten-free pizzas.
I have experimented with many ingredients for making gluten-free pizza dough. These include garbanzo bean flour, cassava flour, sprouted buckwheat flour, almond meal, cauliflower, and even spaghetti squash. Some have been more successful than others.
I recently discovered Vietnamese pizza that uses rice paper sheets for the crust. That is kind of ingenious and ridiculously easy for making a gluten-free pizza. This is a common street vendor food that is known as banh trang nuong. What I know of this snack is that it originated in Southern Vietnam, namely the city Da Lat. If you walk the streets of Vietnam, you will see the rice paper being grilled over a coal fire. It is then topped with items of your choosing. These toppings include items like eggs, cooked ground meat, green onions, chili sauce, and a popular Asian mayonnaise known as Kewpie.
My grill is not really set up to accept thin rice paper rounds. The grates are a little too far apart. Plus, I don't often feel like firing up my grill to make pizza, unless it is for a crowd and the dough is sturdy. For this recipe, I use my cast-iron grill pan or skillet set over my kitchen range.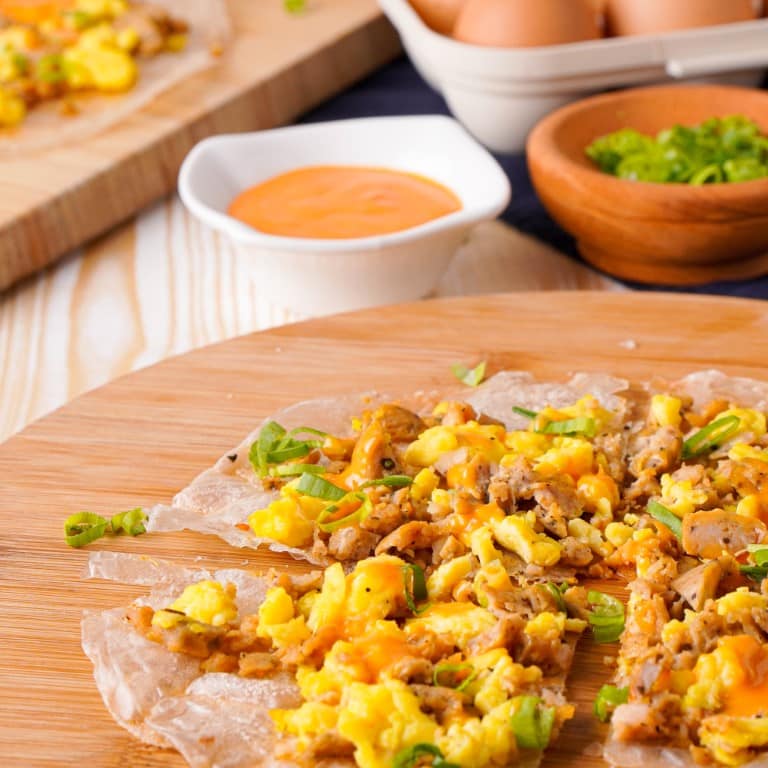 Ingredients
¼

cup

Kewpie mayonnaise

¼

cup

sriracha

½

tsp

granulated sugar or maple syrup

3

Tbsp

sunflower oil

divided (more if needed)

1

tsp

sesame oil

2

pork or chicken sausages

casings removed

1

tsp

fish sauce

3

large whole eggs

beaten

8

round rice paper sheets

3

scallions

sliced very thinly
Instructions
All ingredients ready? Let's begin!

In a small mixing bowl, whisk together the mayonnaise, sriracha, and sugar. Set this aside while you prepare the pizzas.

Heat a flat-top grill pan or a large cast-iron skillet over medium-high heat. Add 1 tablespoon of sunflower oil and 1 teaspoon of sesame oil to the pan. As soon as it is hot, add the sausage.

Break it up with a spoon. Top the sausage with the fish sauce. Cook, stirring often until completely browned and no longer pink, approximately 7 minutes. Drain on paper towels and set aside.

Add 1 tablespoon of sunflower oil to the pan. Once hot, add the beaten eggs and cook as you would scrambled eggs, for approximately 2 to 3 minutes. Transfer the eggs to a bowl and set aside. Wipe the pan clean.

Add the remaining sunflower oil to the pan. Take one sheet of rice paper and lightly wet the top with water. Press a second sheet on top of the first.

Place the rice paper on the grill or in the pan and press down. Cook until it starts to turn opaque. Flip over and add 1/4 of the eggs, then 1/4 of the sausage, and warm through. The rice paper should be a little crisp and golden brown on the bottom.

Remove the pizza to a cutting board and repeat until all 4 pizzas are made.

Sprinkle the pizzas with scallion slices and top with dollops of the spicy mayo. Slice into wedges and serve right away.
Nutrition
Calories:
443
kcal
|
Carbohydrates:
2
g
|
Protein:
17
g
|
Fat:
41
g
|
Saturated Fat:
9
g
|
Polyunsaturated Fat:
10
g
|
Monounsaturated Fat:
20
g
|
Trans Fat:
0.2
g
|
Cholesterol:
186
mg
|
Sodium:
1025
mg
|
Potassium:
246
mg
|
Fiber:
0.3
g
|
Sugar:
1
g
|
Vitamin A:
368
IU
|
Vitamin C:
13
mg
|
Calcium:
38
mg
|
Iron:
2
mg
Notes & Tips
These pizzas are pretty easy to pull together. Yet, you do have to stay near the stove or grill while you make everything. Eggs cook quickly, as do the rice paper sheets.
When you wet the rice paper, it may curl a bit. Place the second sheet on top quickly and press down with a spatula when you put the paper on the hot pan.
Substitutions & Variations
Kewpie Mayonnaise: Kewpie is a unique mayonnaise with umami essence. This is because it has msg added to it. It is also made with egg yolks instead of whole eggs. I don't usually eat msg because it gives me a slight headache, despite the great flavor it adds to foods. Regular mayonnaise is fine for this recipe. I like to combine sriracha with mayonnaise for a single sauce.
Sunflower Oil: Sunflower oil is really mild in flavor and has a high smoke point for cooking. Feel free to use canola, safflower, or avocado oil. The sesame oil adds another dimension to the dish.
Sausage: I use a mildly seasoned pork or chicken sausage. You could use ground pork, ground chicken, or ground beef and season it yourself.
Fish Sauce: Fish sauce is a salty condiment made mainly of salted and fermented anchovies. Like kewpie mayonnaise, It is rich in umami flavor. My favorite brand is Red Boat because it has the least ingredients and is gluten-free. If you don't have fish sauce, you can skip it or use a few dashes of tamari or Worcestershire sauce. 
Eggs: You will find recipes that call for just breaking a quail egg on top of the warm pizza. I do like that idea, but they aren't the easiest to come by. Chicken or duck eggs are fine. You can also use liquid plant-based eggs if you have a chicken egg allergy.
Scallions: Chives work well as a scallion substitute. I also like the idea of crispy leeks or shallots for more complexity and a bit of crunch. If you want some extra heat, top the pizzas with thin slices of red or green chili peppers.
More Fun Pizza Recipes
If you enjoyed this interesting take on pizza, you might also find some of our other pizza recipes fun to try.
---
Recent Recipes