Best GAPS-Friendly Seed Crackers
On the Gut and Psychology Syndrome (GAPS) diet, processed foods and grains are not recommended, especially foods that contain gluten, such as wheat and barley. Gluten can contribute to inflammation. Yikes – no bread or pasta? Well, not exactly. There are many alternatives to grain-based baked goods and pasta.
If this is the pickle you find yourself in, I think a good place to start is by introducing a recipe for grain-free crackers that are easy to make and are a great accompaniment to dips, certain cheeses, egg salad, and tuna fish. These crackers have only 6 ingredients, so you really can't mess up. The base of the crackers is seeds. I use organic raw sunflower and sesame seeds to make flour. Other than that, salt, rosemary, garlic powder, and water are added to the seed flour.
You are going to need a food processor to grind the seeds into flour and to mix in the seasonings and water. You will roll the dough out between 2 sheets of parchment paper with a rolling pin. Then, cut the dough into rectangles, placed it on a sheet pan, and baked in a preheated oven for about 10 minutes. 
After the crackers have cooled, they are crisp and you can break them into small shapes along the score lines. The crackers will keep for a few days in a sealed container or baggie. Though, you might be tempted to eat a lot of them as soon as they have cooled.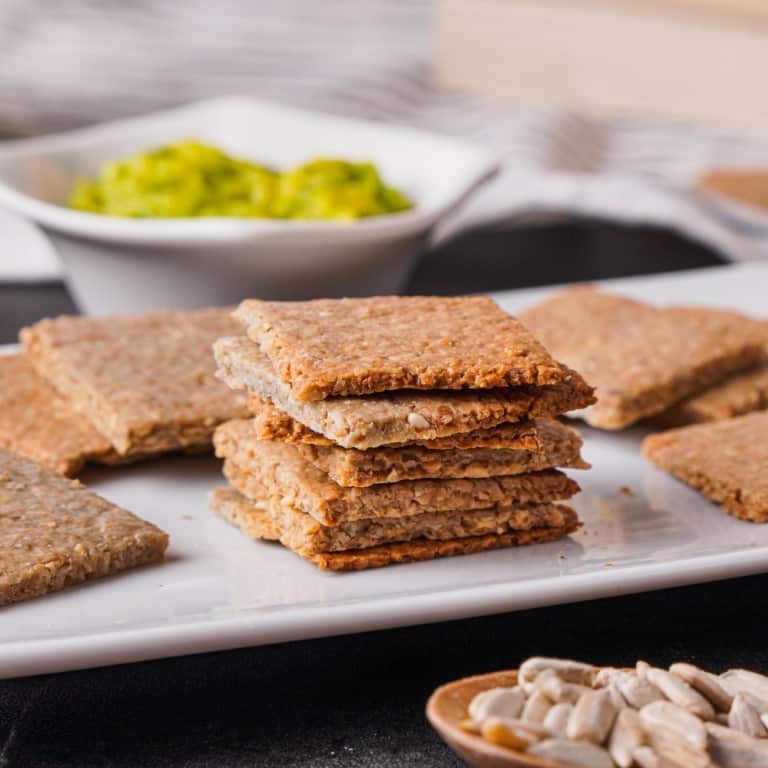 Ingredients
1 ½

cups

raw sunflower seeds

1

tsp

sea salt

1

tsp

dried rosemary leaves

1

tsp

garlic powder

½

tsp

white sesame seeds

¼

cup

filtered water

more or less
Instructions
All ingredients ready? Let's begin!

Preheat your oven to 375°F.

Place the standard blade inside a food processor. Add the sunflower seeds, salt, rosemary, and garlic powder to the bowl of the processor. Turn it on and allow it to process the seeds into a dense flour, approximately 2-1/2 minutes.

Add the sesame seeds to the processor and pulse until just combined. The sesame seeds can remain somewhat whole.

Turn on the food processor. Through the hole in the lid, slowly add the water while the processor is running just until the seed mixture starts to pull away from the sides of the bowl and forms a ball.

Place 2 sheets of parchment paper the size of your sheet pan on a flat work surface. Divide the seed dough into 2 portions and place them on the 2 sheets of parchment paper. Place 2 more sheets of parchment paper over the portions of dough. Using a rolling pin, roll the dough out into a flat thin rectangle, or as close as you can come to a rectangle. The dough should be between 1/8 and 1/4-inch thick.

Remove the top sheets of parchment paper and discard them. Using a pizza cutter or a sharp knife, cut the dough into rectangles that are approximately 1-1/2 x 1-1/2 inches.

Transfer one of the bottom sheets of parchment with the cracker dough on top to a sheet pan. Place this in the oven and bake for approximately 10 minutes until golden brown and crisp.

Remove the pan from the oven and transfer the parchment paper with the cooked crackers to your counter. Cook the second batch.

Break the cooked dough into crackers along the cut lines. The perimeter edges will be rustic, but that is okay. Enjoy with GAPS-friendly guacamole, almond butter, or an approved cheese.
Nutrition
Calories:
99
kcal
|
Carbohydrates:
4
g
|
Protein:
4
g
|
Fat:
9
g
|
Saturated Fat:
1
g
|
Polyunsaturated Fat:
4
g
|
Monounsaturated Fat:
3
g
|
Sodium:
196
mg
|
Potassium:
112
mg
|
Fiber:
1
g
|
Sugar:
0.4
g
|
Vitamin A:
9
IU
|
Vitamin C:
0.2
mg
|
Calcium:
14
mg
|
Iron:
1
mg
Notes & Tips
Make sure the sunflower seeds are hulled, raw, and unsalted. If desired, you can sprout the seeds to make them a little more digestible. You do this by soaking them in water overnight, then draining them and allowing them to sit in a bowl for a day. Repeat the soaking and resting until the seeds start to germinate or grow little tails. This generally takes about 2 to 3 days.
Add the water to the seed flour a tablespoon at a time until a dough starts to form. You might not need all of the water.
For the crackers to cook all the way through and be chewable, it is best if the dough is rolled out to between 1/8 and 1/4-inch. Any thicker and the crackers may be too hard to bite into.
Keep an eye on the crackers while they are baking. Not all ovens are calibrated equally. They could bake in as little as 8 minutes and up to 12 minutes.
Substitutions & Variations
Sunflower Seeds: I keep a big bag of raw pumpkin seeds (pepitas) in my freezer to snack on. These would make a great substitution for sunflower seeds. The crackers will be a little more green than golden brown, but that's okay.
Rosemary: You can use any dried herb you prefer, such as thyme or chives. Or, leave the herbs out if you want a less savory cracker.
Garlic Powder: This is another optional item. You could use onion powder or make a pepper cracker with freshly cracked black pepper.
What to Serve with Seed Crackers
On the GAPS diet, avocados are considered a healthy fat source and rich in omega-3 fatty acids. You can simply mash a ripe avocado with some lime juice or make guacamole to dip the crackers into.
Nut and seed butters are excellent on crackers. My personal favorites are almond butter and sunflower seed butter. You could also try cashew butter, coconut butter, or cultured dairy butter.
There are some cheeses that are GAPS-compliant that go nicely with crackers. These include brie, cheddar, gouda, Monterey jack, and Swiss.
---
Recent Recipes