Best Homemade Cardamom Spice Cookies
These cookies are a twist on cinnamon spice cookies or snickerdoodles. I like to think of these cookies as slightly more elevated than regular cinnamon cookies. As an added bonus, sometimes you can con children into disliking the cookies so you can have more for yourself. Or, that's what I hoped, but unfortunately, I have still had to share.
The cardamom in these cookies gives them a warm feeling, even after they've cooled from the oven. Because of that, they are wonderful to have during the colder months. They are a good addition to any Autumn holiday festivities, especially Thanksgiving and Christmas. Cookies are the perfect solution to holiday desserts during the weeks surrounding the big day because they add to the festive spirit but are simple to make and store. Below the recipe I have included some serving suggestions to glam up and compliment these cardamom cookies.
The ingredients for this recipe are not super unusual, but it is important to make sure you get ground cardamom. I simply put "cardamom" on my grocery list and my partner came back with cardamom pods, so now I have to figure out what to do with those. Best to just stick to ground cardamom for your baking and be more specific when you send someone else to get your groceries.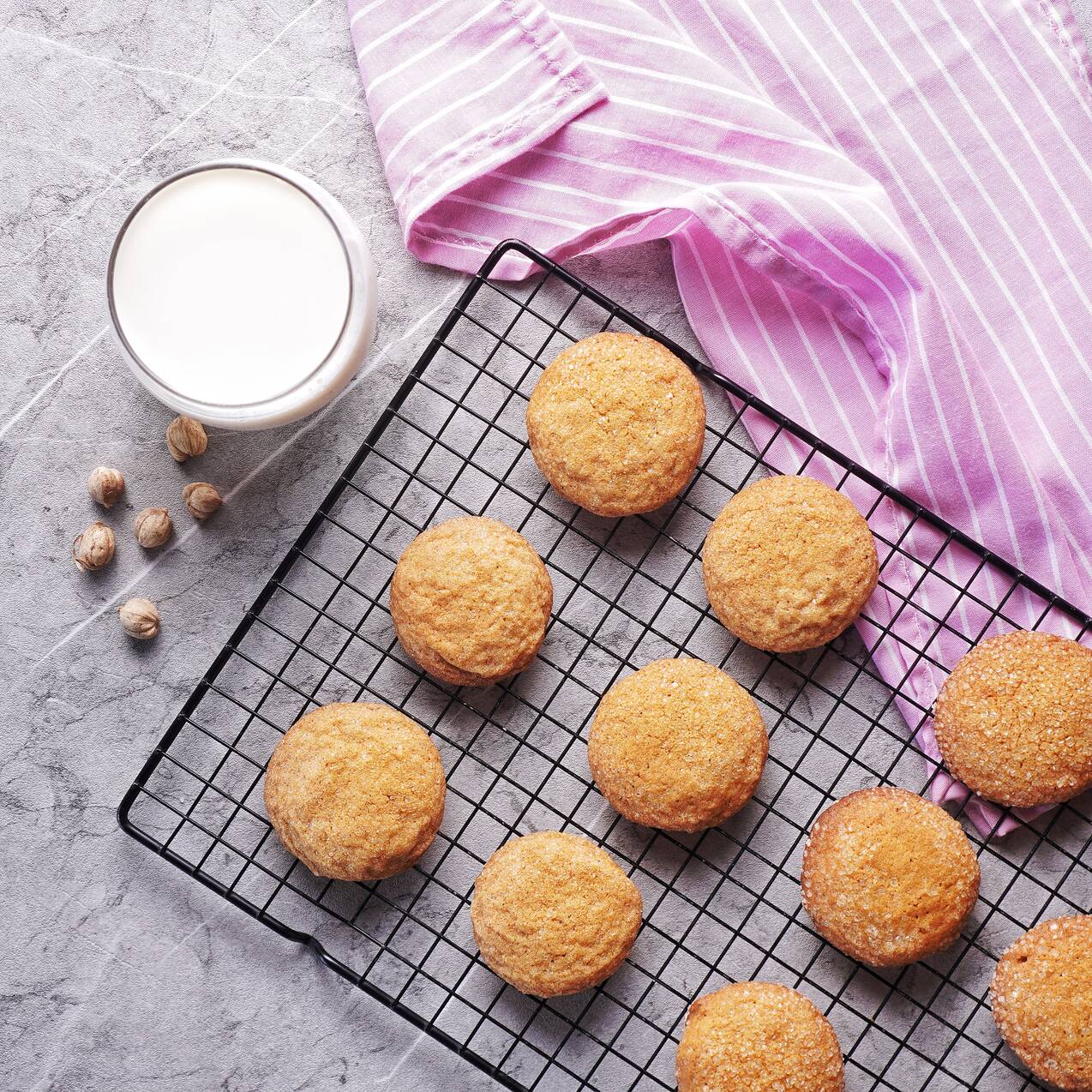 Ingredients
1 ¼

cup

all-purpose flour

1 ½

tsp

cornstarch

1

tsp

baking soda

¼

tsp

salt

½

tsp

ground cardamom

½

cup

granulated sugar

¼

cup

brown sugar

½

cup

softened butter

1

large egg

1

tsp

vanilla extract
For the topping:
¼

cup

granulated sugar

Ground cardamom
Instructions
Get all your ingredients together and double check you have it all.

In a clean mixing bowl add the flour, cornstarch, baking soda, salt, and cardamom. Whisk together until combined.

In another bowl or the bowl of a stand mixer, add both sugars, butter, egg, and vanilla. Whisk or beat until incorporated and slightly fluffy.

Add the dry ingredients to the wet ones and continue whisking or beating until incorporated.

Cover the dough with plastic wrap and put in the fridge for at least an hour.

When you are ready to bake, preheat the oven to 350F. Prep a baking sheet by lining it with parchment paper.

Use a small bowl to mix together the topping ingredients: ¼ cup of sugar and a generous pinch of cardamom.

Use a cookie scooper or large spoon to scoop the dough into balls (you can also use your hands if you don't have a cookie scooper). Dunk the dough balls in the topping mix, coating the surface, then place them on the baking sheet, leaving space between each cookie.

Bake for about 10 minutes, or until they only slightly darken in color. Try not to overbake these, as they are best soft.

When done, remove from the oven and allow to cool on the baking tray for a few minutes before transferring to a wire rack. Allow to cool completely before storing or enjoy warm with a glass of milk.
Video
Nutrition
Calories:
142
kcal
|
Carbohydrates:
20
g
|
Protein:
1
g
|
Fat:
6
g
|
Saturated Fat:
4
g
|
Polyunsaturated Fat:
1
g
|
Monounsaturated Fat:
2
g
|
Trans Fat:
1
g
|
Cholesterol:
27
mg
|
Sodium:
161
mg
|
Potassium:
22
mg
|
Fiber:
1
g
|
Sugar:
13
g
|
Vitamin A:
194
IU
|
Vitamin C:
1
mg
|
Calcium:
8
mg
|
Iron:
1
mg
Notes & Tips
These cookies can be stored in an air tight container at room temperature for a week. You can also freeze the cookies for several months, just let them dethaw at room temperature when you want them again.
When you put the cookie dough in the fridge to harden, you can leave it there for hours or overnight if you want to prepare them one day and have them fresh and warm the next.
You can adjust the amount of cardamom and vanilla according to your tastes. I usually add at least half a teaspoon more of vanilla than I should. I also like to really taste the cardamom, so sometimes I add a few pinches more.
If you'd rather have cinnamon cookies or snickerdoodles, I recommend adding some cardamom to them anyway. It rounds out the cinnamon and adds an extra dimension.
Serving Suggestions
For an extra fancy dessert using these cookies, use them warm from the oven (or pop them in the microwave for 15-30 seconds) and serve them in a bowl with vanilla ice cream on top. Because the cookies are so soft, they're almost like a cake with ice cream. It's a good way to make a robust dessert without having to give people more than one cookie. Of course, if you'd rather just have cake, you can always make a Halloween bundt cake.
These cookies are sure to be a hit at any small gathering. They are super cute for tea parties or afternoon coffee catch-ups. If you don't like tea or coffee, cold milk goes with the cardamom just as well. An extra special beverage that pairs beautifully with cardamom cookies is Haitian Kremas. It's a boozy, sweet milk drink full of spices that really compliment cardamom.
What is Cardamom?
Cardamom is native to India and Asia. It is reportedly one of the oldest spices, used in Ancient Egypt for a myriad of purposes from cooking to medicine. It is popularly used in Middle Eastern cuisine.
Cardamom grows from the ground in stalks and grouped in clusters. The spice comes from the pods, wherein lie the seeds that can be ground into the powder used for this recipe. There is a variety of cardamom types, commonly categorized into two groups: black or green. Both kinds (but usually green) can be used in both sweet and savory dishes.
What Does Cardamom Taste Like?
If you are unfamiliar with cardamom, you probably won't want to make anything with it without a bit of research. Cardamom tastes like a peppery cinnamon. It is often used alongside cinnamon, allspice, and nutmeg. Black cardamom is smokier and slightly more like menthol. Green cardamom is the one that used more often for baking. I use it combined with cinnamon and nutmeg for toast, oatmeal, banana bread, and more. It can also add some yumminess to lattes. There are a lot of Indian and Asian recipes that use cardamom extensively, if you want to research more ways to use it.
---
Recent Recipes