Easy Puliyogare Tamarind Rice
Most of us know puliyogare as tamarind rice – an irresistible infusion of subdued spicy flavors that linger behind a forerunning savory sourness. It's tangy and filling enough to be enjoyed by itself or with just about any curry you prefer. Let's take a look at how to make puliyogare covering everything from the masala, which you can make and store, to all the alternatives possible just in case you can't find some of the traditional Indian ingredients.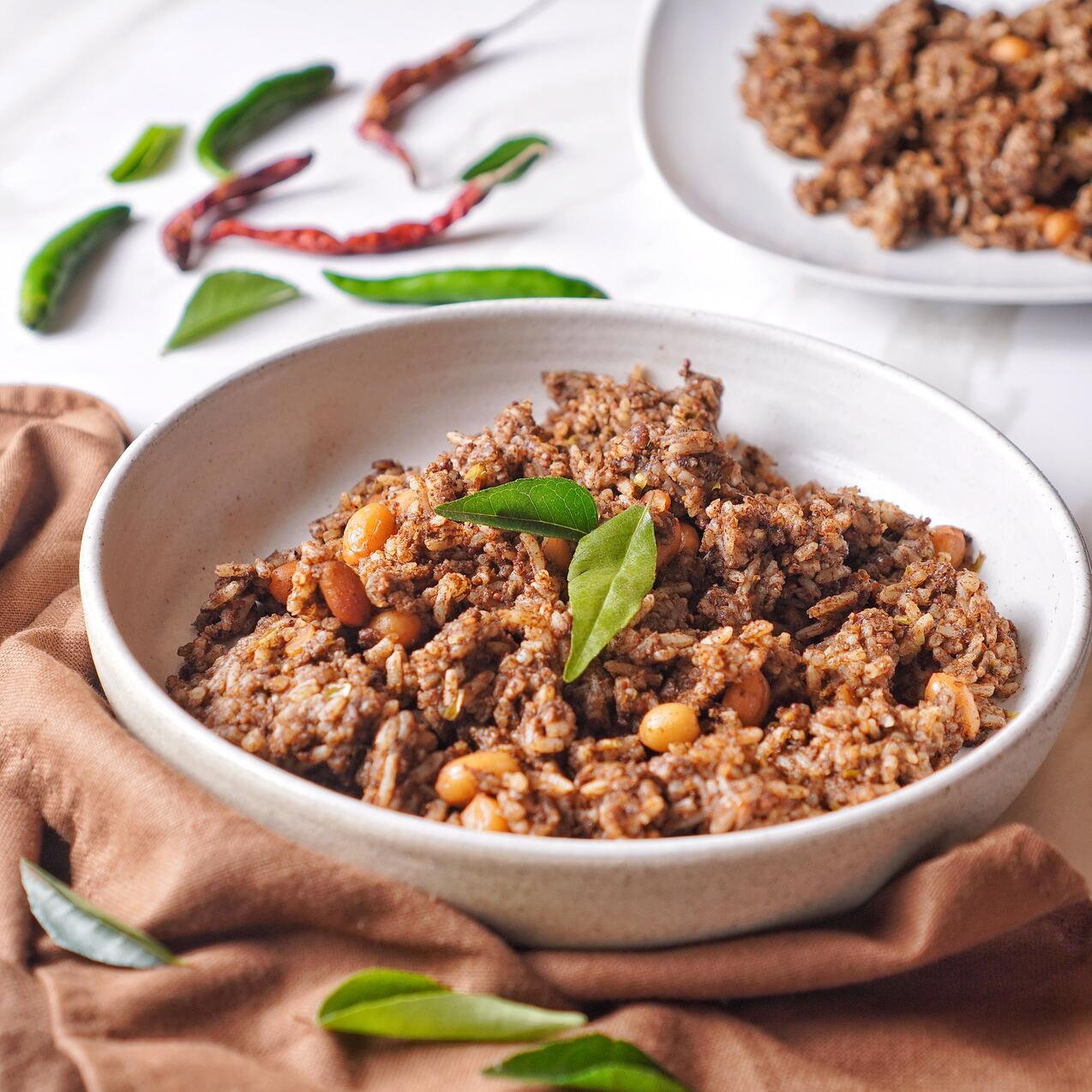 Ingredients
1

Cup

Medium-Grain Rice

2

Tablespoons

Jaggery

1

Tablespoon

Split Black Lentils

1

Tablespoon

Split Chickpea Lentils

3-4

Dried Red Chilis

Halved

1/2

Teaspoon

Mustard Seeds

1

Tablespoon

Coriander Seeds

1

Tablespoon

Fenugreek Seeds

2

Tablespoons

Black Sesame Seeds

1

Tablespoon

Cumin Powder

1/2

Teaspoon

Chili Powder

1

Teaspoon

Ground Black Pepper

3

Tablespoons

Dried Coconut

1

Pinch

Asafoetida

3

Tablespoons

Refined Sesame Oil

1

Teaspoon

Split Black Lentils

1

Teaspoon

Split Chickpea Lentils

3

Tablespoons

Peanuts

3

Green Chilis

Stemmed & Slit

3-4

Curry Leaves

3

Tablespoons

Tamarind Paste

2

Tablespoons

Lemon Juice

2

Teaspoons

Salt

1

Pinch

Asafoetida
Instructions
Assemble your ingredients!

Wash the rice until the water runs clear, then cook until just done. Drain in a colander and set aside, allowing the rice to drip-dry until it's later needed.

Soak the jaggery in one cup of water and set it aside.

Heat a large saucepan over medium heat.

Add the split chickpea lentils and split black lentils and dry roast until lightly toasted.

Add the dried red chilis and a tablespoon of mustard seeds, coriander seeds, fenugreek seeds, and black sesame seeds. Fry until the seeds begin to crackle and pop.

Add the cumin powder, chili powder, ground black pepper, and dried coconut. Fry while constantly stirring until it begins to emit a robust toasted aroma.

Mix in a pinch of asafoetida and remove the pan from the stove.

Let the unprocessed masala cool down completely in the pan it was cooked in, and then transfer the mixture to a blender, grinder, or mortar.

Grind until the raw ingredients become a fine powder with flour-like consistency.

Use either a new pan or the same large saucepan as before and heat three tablespoons of sesame oil over medium heat.

Add the peanuts, a teaspoon of mustard seeds, and a teaspoon of both split black lentils and split chickpea lentils.

As soon as the lentils begin toasting, add the curry leaves and three finely chopped green chilis.

Filter the jaggery water through a strainer and add to your pan along with the tamarind paste, lemon juice, and two teaspoons of salt as soon as the curry leaves start curling.

Reduce the heat to low and cook the mixture while constantly stirring until the oil separates from the paste.

Stir in a pinch of asafoetida

Remove from the heat and mix in the cooled, cooked rice.

Once thoroughly and evenly mixed, cover the pan immediately with a lid allowing it to steam from the residual heat, and infuse flavor for 15 to 20 minutes before serving.
Video
Nutrition
Calories:
413
kcal
|
Carbohydrates:
74
g
|
Protein:
10
g
|
Fat:
10
g
|
Saturated Fat:
3
g
|
Polyunsaturated Fat:
2
g
|
Monounsaturated Fat:
3
g
|
Sodium:
1293
mg
|
Potassium:
315
mg
|
Fiber:
8
g
|
Sugar:
15
g
|
Vitamin A:
133
IU
|
Vitamin C:
23
mg
|
Calcium:
105
mg
|
Iron:
7
mg
What Is Puliyogare?
Puliyogare is a South Indian rice dish that infuses tangy, spicy flavor without making the rice sticky. Also known as tamarind rice, puliyogare is typically enjoyed during Hindu religious festivals and occasionally as a breakfast dish.
Puliyogare goes by many names across the South Indian states where it originates. Most often, puliyogare is simply called tamarind rice. However, the festival favorite is also known as pulihora, puliyodarai, kannada, and pulinchoru, depending on the locality where it's being enjoyed.
What Does Puliyogare Mean?
In South Indian languages like Telugu, the word 'puli' translates to tangy or sour referencing the flavor infusion that either tamarind, kokum, or one of the other sourish ingredients bring. The word 'ogara' translates to rice which gives puliyogare the basic meaning 'sour or tangy tasting rice.'
When Is Puliyogare Prepared?
Puliyogare is one of the easier devotional dishes to make. Prasādam dishes like Puliyogare are typically vegetarian meals prepared as offerings to the gods in Hinduism and Sikhism throughout various religious holidays that occur throughout each year.
Puliyogare Tips
Medium-grain rice is recommended, but puliyogare comes out great with short-grain rice as well. Washing the rice thoroughly beforehand ensures that it doesn't become sticky. It's best to cook your rice until just before tender and cooked all the way through as it will continue cooking residually as it slowly cools down in the colander. It continues to cook even more ever-so-slightly once the puliyogare wet masala has been mixed in as well. Tamarind rice, or puliyogare, and other seasoned, "sticky" rice can't be overcooked, or the mixture will come out mushy and unappetizing.
Puliyogare Substitutions
Jaggery is the quintessential sweetener for all Indian food. If you can't get your hands on any and are looking for a substitute, shop for Panela instead. This Latin American sugarcane derivative is essentially the same product as jaggery. Soak and include as directed in the recipe. Piloncillo, another central American sweetening agent, works just as well but is much harder and requires longer soaking. For those who don't feel like hunting down specialty ingredients, opt for dark brown sugar or simply brown sugar instead. Use half a cup of sugar to a cup of water in place of the jaggery.
Ghee is a worthy alternative if refined sesame oil or sesame oil isn't available. Toasted sesame oil has too strong of a taste. However, groundnut oil is even better than ghee because it's more neutral in flavor but also harder to find. Butter is the next best alternative to ghee, but you'll need to add a tablespoon or two more. Feel free to substitute canola or sunflower oil in the place of ghee if it's not available and you don't have any butter. Other vegetable oils are also suitable but avoid anything with a distinct flavor like avocado oil.
Puliyogare Masala Uses
If you are fond of puliyogare and can see yourself cooking up more than one batch in the next month or two, we suggest doubling or tripling the ingredients and preparing the powder in bulk. Puliyogare masala stores well in an airtight container and can be used as a seasoning in a range of different curries, not only this tasty tamarind rice.
Puliyogare Variations
There are many regional varieties of puliyogare. One of the most popular versions uses the dried tropical fruit kokum to replace the tamarind. However, kokum, scientifically termed Garcinia indica, a member of the mangosteen family, grows natively in the Western Ghats mountain range on the western peninsula of India and is extremely hard to find in the United States. Puliyogare made with citron is another popular option that's just difficult to source.
Mango is a tasty alternative that is easy to find and include in the basic puliyogare recipe. There are two ways to integrate mango. Either add a cup of raw grated mango as an additional ingredient or double up and add two cups or more to replace the tamarind completely. Mix the mango into the puliyogare after the curry leaves have toasted. Saute until soft and proceed with the rest of the steps.
What To Serve Puliyogare With?
Puliyogare is a meal that's packed with so much intense flavor that it's usually served alone. Rice is filling especially when prepared like this. If you do decide to serve puliyogare with anything, keep in mind its bold flavor. Naan bread, chapati, and crispy noodle-like vadams made from rice flour and tapioca are all excellent accompaniments. Chutney goes well with the meal. Give our smoky eggplant chutney called vankaya pachadi a try.
---
Recent Recipes