Once I mastered baking a mini cake and a brownie in my easy bake oven that was heated by a light bulb, I was allowed to start making recipes in a real oven. There was a metal step stool in our family kitchen that was the perfect height for an 8-year-old to reach the stove and the wall oven door.
My mother bought me a cookbook that was specifically for children. I think I read every recipe before I decided what to make. Well, Mom vetoed what I had picked out and decided we would start with pizza and lemonade. I was terrified because I loved the pizza from our local delivery place and wasn't even sure I could lift the giant pan.
I was spared the terror by Mom's recipe for English muffin pizzas that we could make in the toaster oven. It was absolutely brilliant and something I impressed my friends with during after-school play dates. English muffins topped with tomato sauce and cheese were a hit. I eventually refined my technique to include French bread pizzas.
So, what about pizza bagels? It makes perfect sense. Bagels are sturdy and chewy and can be toasted to give the outer surface a little crunch like a good pizza crust with a crispy edge. Because bagels are naturally dense, the sauce and cheese won't saturate the bagel and make it soggy. It seems a bagel is a perfect vehicle for pizza toppings. And, this recipe can't be easier.
For my pizza bagels, I like to lightly toast the bagels before I top them and bake them to melt the cheese. I just love that crunch. I lightly coat the sliced bagel faces with extra virgin olive oil and either toast them in the oven or in my toaster oven. I then spoon tomato sauce over the bagels, top that with cheese, and bake them in a hot oven until the cheese melts and browns very slightly. There are many topping options. This recipe is fairly basic and you can customize it with your own favorite toppings.
Topping Options
The variety of toppings is pretty endless for pizza bagels. The key to topping a pizza bagel is to make sure everything is small or cut into small pieces so the bagels are easy to eat. You can't fold these like you can a normal pizza slice to keep the toppings in place. Some of the toppings I like to add before placing the bagels in the oven include:
Mini pepperoni rounds
Sautéed or canned, drained button mushroom slices
Anchovy fillets
Diced roasted red bell peppers
Sliced oil-cured black olives
Chopped marinated artichoke hearts
Cooked Italian sausage
Diced pineapple and ham
Chopped spinach (placed under the cheese)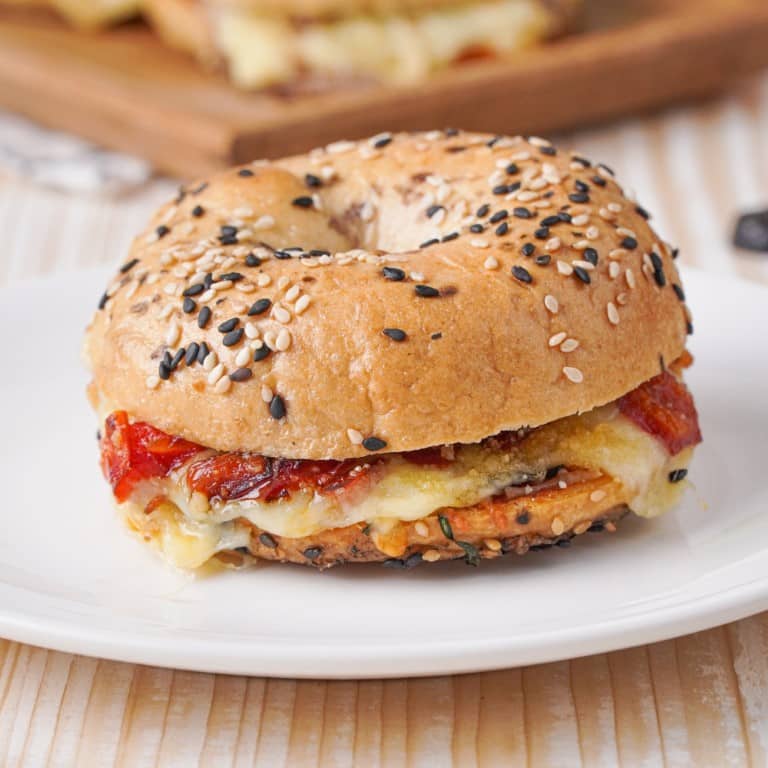 Ingredients
4

plain bagels sliced in half

1

Tbsp

extra virgin olive oil

1

tsp

kosher or coarse sea salt

½

cup

marinara or pizza sauce

more if desired

16

fresh basil leaves

chiffonade (rolled and sliced thinly)

1

cup

shredded mozzarella cheese

½

cup

grated parmesan cheese

Extra virgin olive oil for drizzling
Instructions
All ingredients ready? Let's begin!

Preheat your oven to 425°F.

Lightly brush the cut faces of the bagels with olive oil. Sprinkle a little salt on top of each. Place the bagels in a toaster oven and toast very lightly. Alternatively, toast the bagels in your preheated oven.

Place the bagel halves on a parchment or foil-lined sheet pan. Spoon the sauce equally over each of the bagel halves. Place some basil leaf slices on each. Top the bagels with mozzarella and parmesan. Drizzle a small amount of olive oil over the cheese.

Place the sheet pan in the preheated oven and bake for 5 to 10 minutes until the cheese is bubbling and just starts to brown.

Serve immediately while hot.
Nutrition
Calories:
488
kcal
|
Carbohydrates:
58
g
|
Protein:
21
g
|
Fat:
18
g
|
Saturated Fat:
7
g
|
Polyunsaturated Fat:
2
g
|
Monounsaturated Fat:
8
g
|
Cholesterol:
33
mg
|
Sodium:
1537
mg
|
Potassium:
156
mg
|
Fiber:
2
g
|
Sugar:
0.3
g
|
Vitamin A:
403
IU
|
Vitamin C:
0.4
mg
|
Calcium:
275
mg
|
Iron:
2
mg
Notes & Tips
Certain toppings, like herbs and leafy greens are better placed beneath the cheese layer so they don't dry out and char in the oven before the cheese melts. I actually prefer to place all of my toppings beneath the cheese layer even though it isn't as eye-popping in appearance. Be sure all the toppings are either cured or pre-cooked.
The cook time varies for these bagels, so be sure to keep an eye on them.
Pizza bagels are excellent right out of the oven while the bagels are crisp and the cheese is gooey. Leftovers can be stored in the fridge and then reheated in a 350°F oven. I don't recommend reheating pizza bagels in the microwave because it alters the texture.
Substitutions
Bagels: You can make these pizzas with gluten-free bagels. You can also make this recipe with crusty or ciabatta rolls sliced in half. And of course, English muffin halves work really well for these mini pizzas.
Sauce: There is no reason this can't be a white pie without tomato sauce. I like a white pie that has steamed broccoli florets or sauteed spinach with garlic and crumbled bacon with cheese on top. I also think pesto is perfect for topping bagel pizzas.
Cheese: I have used shredded cheese blends that might be in my fridge on pizza for convenience. I am okay with pizza bagels that have cheddar, Monterey jack, or feta cheese instead of mozzarella and parmesan. I often make gluten-free pizza with vegan cheese for those with dietary restrictions. There are some great plant-based mozzarella shreds and nutritional yeast is a good substitute for parmesan.
---
Recent Recipes