Homemade Kansas City Dirt Cake
Kansas City Dirt Cake goes by a few different names. It is sometimes referred to as Kansas Dirt Cake, Oreo Dirt Cake, Dirt Pudding, and Dirt and Worms. Sounds delicious, right? Actually, despite the unappetizing names, Kansas city dirt cake is delicious.
To be clear, there isn't any cake batter in the recipe. This is a dessert made with layers of Oreo cookie crumbs, white chocolate pudding, cream cheese, butter, and whipped cream.
I can't tell you the origins of this cake because there is no recorded history of who came up with the recipe and from where it hails. All I can assume is that someone in Kansas created the recipe and decided the crushed Oreos resembled the regional soil or dirt. And indeed, the cookie crumbs do look like rich soil that you might find in a field on a farm.
The best part of Kansas city dirt cake is that there is no baking involved. The ingredients are layered inside a baking dish or individual pudding cups and allowed to set up in the refrigerator. It is easy to make and assemble and can be done well ahead of time. This is something that the kids can help make.
When chilled and ready, you get to eat this dessert with a spoon. It is refreshing on a warm summer day. Yet, I also really like this with a steaming cup of coffee or hot chocolate.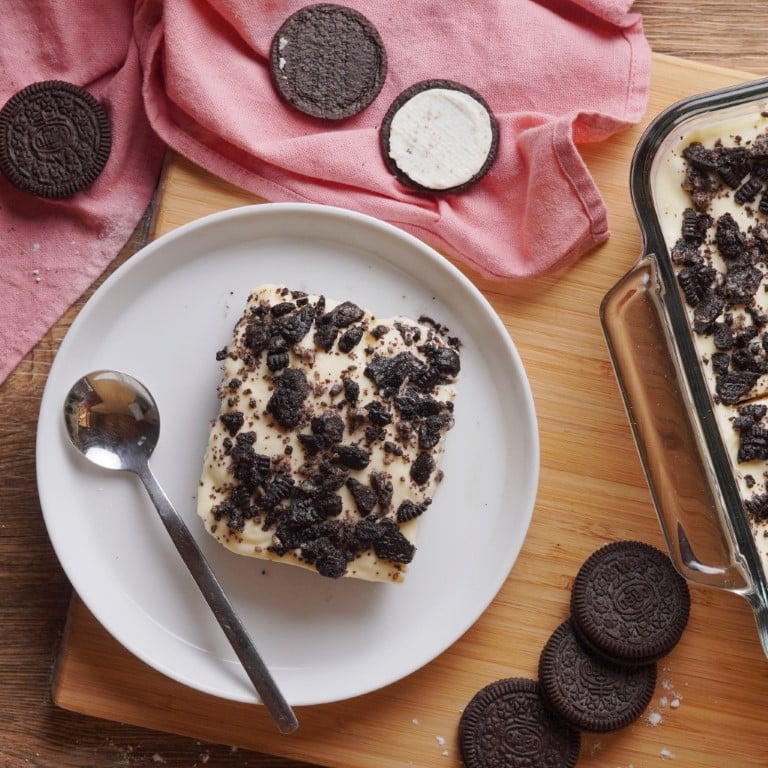 Ingredients
2

boxes instant white chocolate pudding mix

3.3 oz size

3

cups

whole milk

1

tsp

pure vanilla extract

1

package Oreo cookies

8

oz

cream cheese at room temperature

½

cup

butter at room temperature

1

cup

powdered sugar

16

ounces

whipped topping or homemade whipped heavy cream
Instructions
All ingredients ready? Let's begin!

In a mixing bowl, combine the pudding mix, milk, and vanilla. Refrigerate for 5 to 10 minutes so it will start to set. Proceed with the rest of the recipe while the pudding is chilling.

Place Oreos in a gallon-size plastic bag and crush with a rolling pin or a meat mallet. Fill the bottom of a 9 x 13 baking dish with 2/3 of the Oreo crumbs. Set this aside.

Place the cream cheese and butter in a large mixing bowl. Using an electric hand mixer, cream the two until smooth. Add the powdered sugar to the cream cheese and butter and mix again to combine. Gently fold in the whipped cream and set it aside. Note: If making your own whipped cream, use the hand mixer to whip heavy cream in another bowl.

Carefully old the pudding into the cream mixture.

Pour the pudding and cream mixture over the crumbled cookies in the baking dish.

Top the pudding filling with the remaining 1/3 of the cookie crumbs in an even layer.

Cover the dish with plastic wrap and refrigerate for about 3 hours until the filling sets up completely.

Serve in bowls and enjoy with spoons.
Nutrition
Calories:
497
kcal
|
Carbohydrates:
49
g
|
Protein:
6
g
|
Fat:
32
g
|
Saturated Fat:
17
g
|
Polyunsaturated Fat:
2
g
|
Monounsaturated Fat:
10
g
|
Trans Fat:
0.3
g
|
Cholesterol:
75
mg
|
Sodium:
474
mg
|
Potassium:
263
mg
|
Fiber:
1
g
|
Sugar:
32
g
|
Vitamin A:
849
IU
|
Calcium:
142
mg
|
Iron:
5
mg
Notes & Tips
Be sure you are using instant pudding mix and whole milk. If you don't, the pudding will be soupy. Also, use softened butter, not melted butter.
It helps to use chilled metal mixing bowls for the filling set up properly.
When adding the whipped cream, fold gently. The same goes for the pudding. Folding in will help keep the structure of the filling intact. Don't be tempted to over mix.
Store the dirt cake in the refrigerator for best results. It should keep for about 3 days. You could even make this a day ahead of time. If you do that, I recommend putting the final layer of cookie crumbles on just before serving for that crunchy texture.
Substitutions & Shortcuts
You can make this a decadent chocolatey dessert by using chocolate pudding mix. You can also make this with vanilla pudding. If doing that, omit the vanilla extract.
While the original recipe calls for the whipped topping that comes in a tub, I prefer to use whipped heavy cream. I just love the silky texture and flavor of the real thing. Whipped topping may help to hold everything together because it has oil solids, xanthan gum, and stabilizers to maintain its structure. This is definitely a convenience food that will save a step and it won't melt if the cake is left out on the counter for a long time.
I have seen a version of this refrigerator cake recipe calling for margarine instead of butter. I find that the butter offers a creamier texture and a great dairy flavor that oil-based margarine can't replicate.
If you are in the holiday spirit this winter, you could substitute regular Oreo cookies with mint Oreos. Also, you can crumble the cookies in a food processor if you prefer a finer dirt texture.
Recipe Variation with a Twist
Refrigerator or icebox cakes are not a new invention. They have been around since the 1930s when Nabisco introduced thin chocolate wafers that were layered with whipped cream and placed in the fridge until the cookies softened into a cakelike texture.
We like a refrigerator cake that takes Kansas city dirt cake over the top. This dessert is chocolate banana pudding lasagna. I know, that sounds incredible. The process and ingredients are similar to dirt cake, but there are additional layers of fresh bananas, Nilla Wafers, and chocolate. This is a dessert that stands out and people will be begging you for the recipe.
---
Recent Recipes