If you are on the low FODMAP diet, you know all too well that you have to keep a close eye on what you eat. But what are you supposed to do when you start craving sushi? Most people will agree that sushi isn't the healthiest of foods to eat, but if there was a low FODMAP recipe?
Well, great news; there is! Today, we're sharing a handy low FODMAP sushi recipe that is sure to excite your diet. Most sushi in restaurants has rice flavored with sugar, usually with some type of sauce. In addition, they often use cheap fish that usually contains a lot of heavy metals and antibiotics.
As such, it can be a real bear trying to find low FODMAP-friendly sushi, as they often contain things like garlic, wheat, or onion. But thanks to this recipe, you can say "goodbye" to your worries and confidently enjoy sushi once again.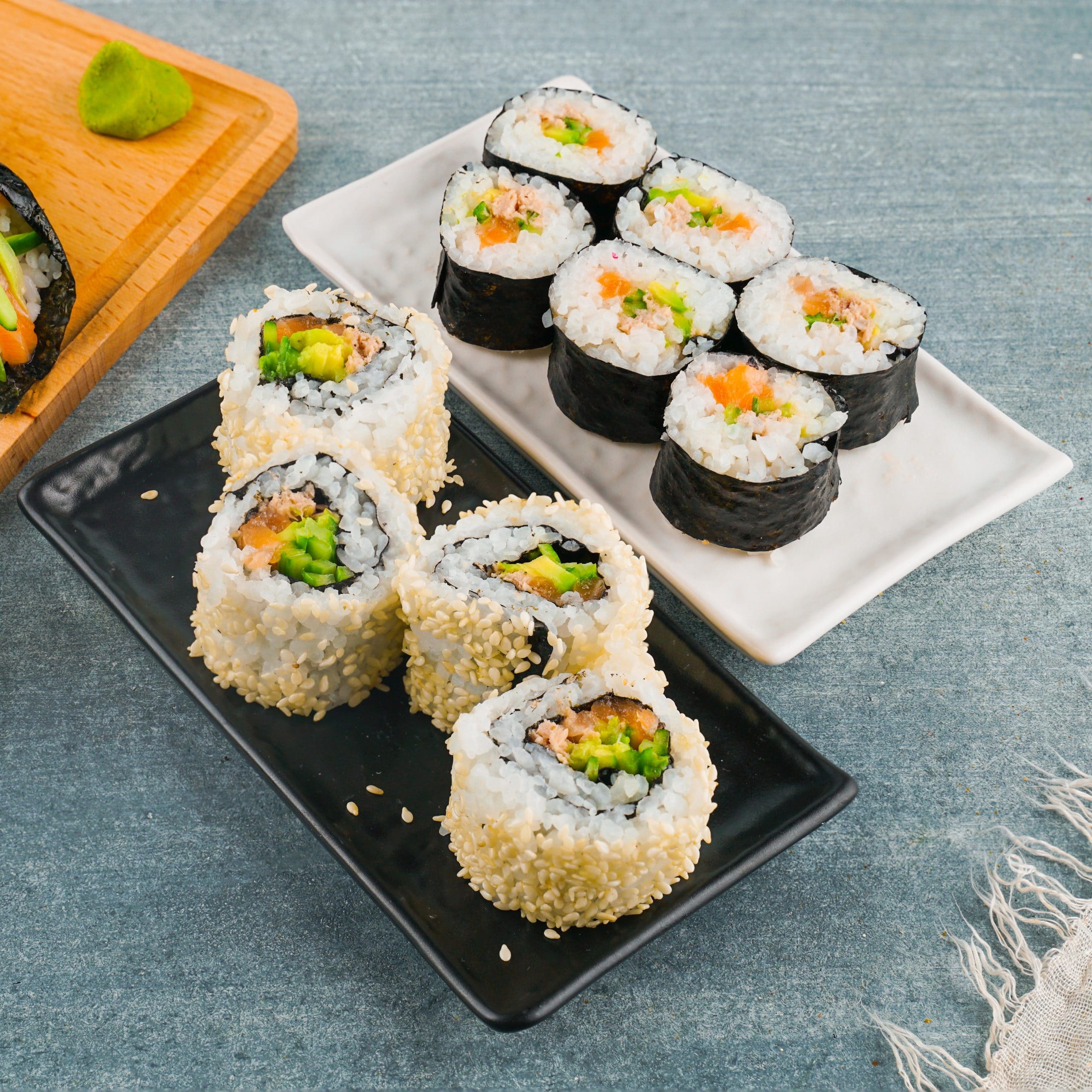 Equipment
Bamboo rolling mat

Sharp knife
Ingredients
Sushi Rice
6 tablespoons of rice vinegar

500 grams of sushi rice

1 teaspoon of salt
Sushi Rolls
1 canned tuna

MSC label

1 tablespoon mayonnaise

600 grams of salmon

5 to 10 nori sheets

Cucumber

1 avocado
Optional
Sesame seeds

Soy sauce

Wasabi
Instructions
Boil the sushi rice and follow the instructions on the package to understand the rice to water ratio and cooking time. After the rice is boiled, transfer it to a bowl and cool it at 4 degrees Celsius (for resistant starch) for 24 hours.

Prepare your work area. Mix the sushi rice with 6 tablespoons of rice vinegar and 1 teaspoon of salt. Mix thoroughly and cover all the rice with a small layer of vinegar and salt. Set aside.

Make sure all ingredients are within reach. Drain the canned tuna and mix it with 1 tablespoon of mayonnaise as a tuna filling. Cut salmon, other fish you may own, avocados and cucumbers, and all other ingredients you own into small strips. Spread sesame seeds or tobikko on a large plate.

Have a bowl of water next to you.

Take a piece of seaweed and place it on the bamboo mat. Wet your fingers/hands and remove some rice from the bowl (wet fingers make the rice not stick to your hands). Spread the rice thinly on 3/4 of the bamboo. At the bottom of the paper, put the sushi material you want on the rice, covering the entire width of the bottom of the paper, and then roll from the bottom. Make sure that the roll is tight and use a bamboo mat to keep it tight, and distribute the pressure evenly on the roll. Keep scrolling until you reach the top, where there is no rice. Spread a little water on the seaweed sheet to make it sticky, and then roll it to the end of the sheet. Place the sushi rolls on the bamboo slices on the cutting board, and cut the sushi into pieces with a sharp knife.

For temaki (sushi bag): Cut the nori slices in half. Put the rice and the required fillings into the upper left corner of the seaweed slices, and make the fillings about 1 centimeter from the bottom of the seaweed slices. Roll from the corner to make the cone.

For rolls from the inside out (these are more troublesome, prepare these last because your bamboo mat will get dirty after that): make sure your fingers/hands are wet. Put the rice directly on the bamboo mat and spread it evenly until the whole bamboo mat is covered. Place a sheet of seaweed on top of the rice, making sure that there is no seaweed 2 to 3 centimeters from the top of the rice. Place the required fillings on top of the seaweed at the bottom of the mat and start rolling. Carefully separate the sushi rolls from the bamboo slices (this may be a bit sticky), and place the sushi rolls on a plate with sesame or tobikko toppings. Roll until it is completely covered by the toppings.

Transfer your rolls to a cutting board, then use a super sharp knife to cut the sushi into pieces.

Once you have finished all the desired rolls and put them on a tray. Add some soy sauce and wasabi in a bowl and dip the sushi in.
Video
Notes & Tips
It takes time to make rolls and cut everything into sushi-sized pieces. However, if you have a few hours of free time or have friends coming over, this can be a fun activity to do together.
Once you have the rice prepared, let it cool. You can then get ready for the sushi recipe. You will need to make sure that you have several items on hand, so make a list and check off the following:
Rolling mat for sushi
A tray for your sushi
Small bowl of water
Clean prep area
All ingredients
A sharp knife
The bowl of water to help keep your hands wet as you prepare the sushi. This is necessary in the preparation of the sushi, so be sure to have one on hand at all times.
Substitutions
There are vegan tuna substitutes that you can find online if you can't eat tuna. To substitute the mayonnaise, click here to explore our vegan-friendly alternate recipe. Everything else is fine for vegans and stays within the low FODMAP guidelines.
Common Questions
How many people does this recipe serve?
This low FODMAP recipe is ideal for serving three people. As you can see, there's a lot of work involved and plenty of prep time. So you will need to prepare accordingly if you plan on serving more people.
Sides & Pairings
Miso soup goes really well with sushi. If you're vegan, you'll want to explore our miso substitutes here. Eggplant and wakame salad are a couple of our other favorites to match up with sushi.
---
Recent Recipes