The cronut is a fairly recent invention. It was developed by New York City bakery owner Dominique Ansel in 2013. It is basically a cross between a croissant and a doughnut. Cronuts are made with a layered, buttery pastry dough that is cut into rounds and fried rather than baked. Needless to say, they are delicious.
When you read the steps involved in making cronuts from scratch, you may feel intimidated. It actually isn't all that difficult to assemble and cook cronuts and the ingredients are very basic. This recipe is for homemade cronuts, but I will give you a shortcut for those not feeling the love for starting from zero.
This cronut recipe was inspired by Youtuber Ashlee Marie who has an entire series on making pastries at home. You will need milk, yeast, sugar, flour, and butter for the pastry. You will finish off the fried cronuts with sugar, cinnamon, and a simple vanilla glaze made from confectioner's sugar, milk, and vanilla. That's it. The pastry does need time to rest and rise, so grab a good book, relax during downtime, and enjoy the process.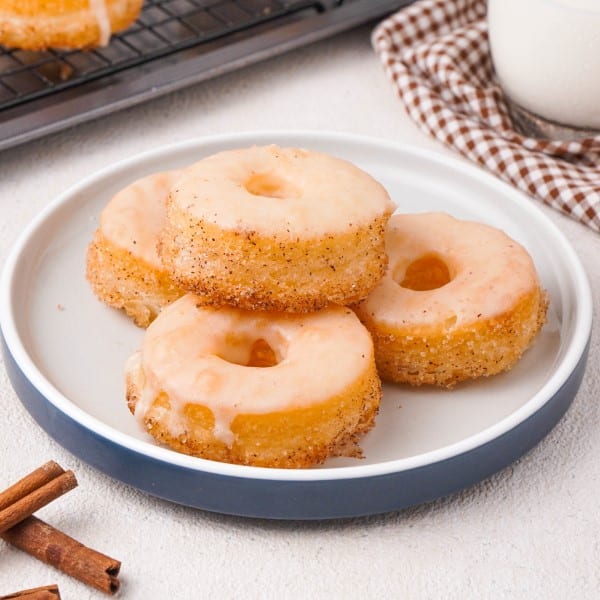 Ingredients
Pastry Dough Layer
1

cup

whole milk

heater to lukewarm

2 ½

tsp

active dry yeast

1

Tbsp

granulated sugar

2 ¾

cups

all-purpose flour

1

tsp

sea salt

2

Tbsp

butter diced and left to come to room temperature
Butter Block Layer
1 ½

3 sticks cups cold butter

3

Tbsp

all-purpose flour

¼

cup

powdered sugar

1

tsp

sea salt
Toppings
½

cup

granulated sugar

2

tsp

ground cinnamon

1 ½

cups

powdered sugar

3

Tbsp

whole milk

2

tsp

pure vanilla extract
Instructions
All ingredients ready? Let's begin!
Pastry Dough Layer
To a large mixing bowl, add the warm milk, yeast, and sugar. Stir gently just to combine. Set this aside for 5 to 10 minutes until the yeast starts to bubble.

Add the salt, flour, and softened butter to the milk mixture. Mix well with a wooden spoon until everything is combined and the dough begins to form a ball. Knead the dough with your hands for 5 minutes until smooth. Alternatively, you can do this in a stand mixer with a dough hook.

Cover the bowl with plastic wrap and place it in a draft-free space, such as an oven that is turned off. Allow it to rise until doubled in size, approximately 1 hour.

Take the risen dough and punch it down just once. Gently knead the dough back into a ball.

Cover and refrigerate for 40 minutes.
Butter Block Layer
In another mixing bowl, place the flour, cold butter, sugar, and salt. Using your hands, mix this all together until there are no noticeable lumps and the mixture holds together.

Place the butter on a sheet of plastic wrap that is at least 18 x 14 inches. Shape the butter mixture into a 9 x 7-inch rectangle. Wrap this in the plastic and roll it into a clean rectangle. Refrigerate for 30 minutes.
Assembly & Cooking
On a lightly floured work surface, roll out the dough to a 15 x 8-inch rectangle. Place the rectangle of butter on top of the dough so there is a 1/2 inch border on 3 sides and 4-1/2 inches on the other. Fold the 4-1/2 inches of dough over the butter. Fold over the buttered side like you were folding a letter into thirds. Seal the edges and rotate 90 degrees. Roll this out to 15 x 8 inches again and fold into thirds once more. Wrap the layered dough in plastic and refrigerate for 30 minutes.

Again, lightly flour your work surface. Roll out the layered dough and butter into another 15 x 8-inch rectangle. Fold this into thirds again. Roll it one more time into a rectangle that is 1/2 inch thick.

Using a 3-inch diameter biscuit or donut cutter, cut the cronuts. Then, take a 1-inch diameter cutter and cut the centers out to make donut holes. Any excess dough can be fried free-form for snacks or discarded. Place the cronuts on a lightly floured sheet pan and set aside (in the turned-off oven) to rise again until doubled, approximately 2 hours.

In a deep skillet or electric frying pan, heat about 2-1/2 inches of vegetable oil to 350°F. You can test the heat of the oil by frying the cronut holes first. You want them to float to the top and turn golden brown in about 3 minutes.

Cook the cronuts in the oil for approximately 1-1/2 minutes per side until puffy and golden. Don't crowd the pan because the cronuts need room to puff up and float. You can do this in 2 batches. Remove the cooked cronuts to a wire rack placed over a paper towel-lined sheet pan. Allow them to cool while you prepare the toppings.
Toppings
In one shallow bowl, combine the sugar and cinnamon.

In another shallow bowl, whisk together the powdered sugar, milk, and vanilla.

When the cronuts have cooled enough to handle, roll the outer edges in the sugar and cinnamon. Then, dip the flat tops into the glaze. Place them back on the rack until the glaze sets.

Serve and enjoy.
Nutrition
Calories:
841
kcal
|
Carbohydrates:
79
g
|
Protein:
8
g
|
Fat:
56
g
|
Saturated Fat:
35
g
|
Polyunsaturated Fat:
2
g
|
Monounsaturated Fat:
15
g
|
Trans Fat:
2
g
|
Cholesterol:
149
mg
|
Sodium:
1030
mg
|
Potassium:
160
mg
|
Fiber:
3
g
|
Sugar:
42
g
|
Vitamin A:
1736
IU
|
Vitamin C:
0.03
mg
|
Calcium:
74
mg
|
Iron:
2
mg
Notes & Tips
Making cronuts from scratch involves a few steps, as any good pastry recipe does. It is worth taking the time with the dough and being patient. This video shows the steps to making the perfect cronut pastry dough.
When you cook the cronuts, be sure to test the heat of the oil with the cronut holes. If the oil is too hot, the outsides of the cronuts will burn and the insides will be soggy. If the oil is too cold, they will fall apart. Adjust the temperature up or down as needed. And be sure not to overcrowd the pan.
A Shortcut Worth Considering
I told you I would give you an important shortcut if you just aren't feeling confident about making your own pastry dough. This is so simple. You can use prepared puff pastry that can be found in the freezer section of your market. You will also need a lightly beaten egg.
You thaw the puff pastry first. Roll out the sheets and brush the top of one sheet with the egg. Place another sheet on top of the first. If you have one sheet, brush that and fold it over for a double layer. Fold the rectangle of puff pastry into thirds, just as described in the homemade recipe. Wrap in plastic and refrigerate this for 30 minutes. Roll out the dough as described, cut it into cronuts, and fry.
You have just saved yourself about 2 ½ hours of work. In fact, this is exactly how Disney World makes their popular cronuts.
More Delicious Pastry Recipes
If you enjoyed this cronut recipe, you might also like these unique pastry dishes:
---
Recent Recipes